TEi guns of Michigan, USA, has sent word advising of a limited restock of the ATEi Gen 4 Glock A9 pistol, in plenty of time for a late Summer purchase.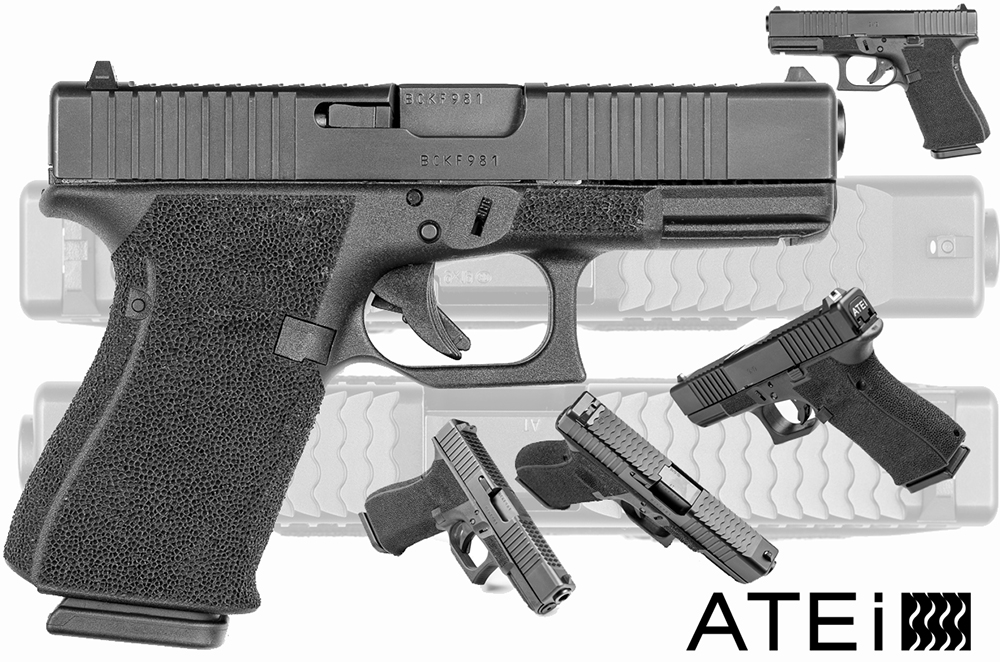 According to the news we received:
The A9 is a "turnkey" upgraded Gen 19 modified to ATEi's high specs and standards. It is intended to provide an end user access to a superior ATEivolved fighting pistol right out of the box.
Features of the A9 include:
· Full Top Serrations
· Enhanced Side Serrations
· 360º Medium Textured Stippling

· Side Index Points, Medium Textured Stippling
· Finger Groove Removal

· Trigger Guard Undercut
· OEM Minus Connector

· Nitride Black Finished

· Optional Trijicon Sights

· Optional Overwatch Trigger
Why a full-size gun for Summer carry? Counterintuitive though it might seem to some, summer weather (shorts, tank tops, flip-flops and all) is more appropriate for full-size pistol carry than winter weather.
"I don't subscribe to that bullshit theory that, oh it's summertime, so I carry a pocket gun, when it's wintertime I'll switch back to a big gun," says ATEi founder and HMFIC Doug Holloway. "That is ass backwards. When do you see large groups of people out doing no good? In the winter when it's just a couple degrees out, or during summer, when it's 80º during the day, and the 70s at night? We're much more likely to get into an encounter in the summer than winter, at least here in a colder climate, therefore we should probably be carrying the bigger gun in that season than the other, and more mags too. Maybe in Florida it's different, but here in Michigan you don't see a lot of people fucking off and hanging around the gas station at night during the middle of winter."
The ATEi A9 is offered as a choice for someone looking to purchase a full size ATEi EDC gun without having to send a weapon in and wait on the custom work involved.
Here is a quick rundown of the A9 features and why they were selected for this model.
Here are a few images of the ATEi A9 taken by Damage Photos (@damage_photos).
Stippling
The medium stippling, provided by Great Lakes Custom Works, is one of several types of stippling available on ATEi guns. In the A9's case specifically, the medium level was selected because it is a "middle of the road" choice. Additional textures include Carry, Aggressive, Hybrid, and others, but would require special arrangements to include on an A9 purchase. Stippling on the A9 grip is 360º, and additional stippling is provided for index points on the side – one for the trigger finger, when it's not on the trigger, one for as a reference point for the support hand thumb in a two-hand grip.
Trigger Guard Undercut
This modification is intended to eliminate "Glock knuckle." The advantages of this will vary depending upon the geometry of the shooter's hand. Some shooters find that a proper master grip, with the middle finger touching the trigger guard, causes a rub point. The corner of the bottom of the trigger guard will wear on the first knuckle of the middle finger. Some people develop a sore or callus there, i.e. Glock knuckle.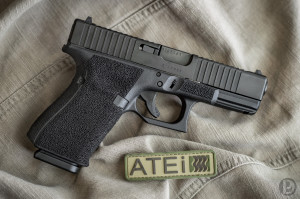 Top and Side Serrations
The ATEi Top Serrations on the A9 are primarily intended to aid in one-handed weapon manipulations. While a good rear sight can be used to rack the slide of a weapon, a properly serrated slide face provides a larger area to hit and will work off more surfaces.  ATEi Side Serrations are machined with wider valleys and narrow peaks so it will bite into the hand better. Two additional serrations are added to the rear for a larger purchase area. Front serrations are provided to assist with a press check.
Note: the small Glock logo (right side of slide) has been cut through with these serrations, as well as the letters on the left which does leave some remnants. This is a case of function over form. Removing the letters would require the milling of an additional .010" because of the compressed steel under the roll-mark, which would leave the serrations half as deep and half as useful.
OEM Minus Trigger Connector
The OEM Glock Minus connector is installed to take advantage of the superior angle of its engagement surface. This reduces the pull poundage of the trigger.
Optional Sights
Sights are an extremely personal choice. Fiber optic, night sights, red vs. green fiber optic, there is a vast number of choices. The A9 usually ships with stock sights to reflect this, but buyers can opt to have ATEi install Trijicon HD orange or Trijicon yellow front night sights as well as 10-8 Performance sights instead.
Optional Trigger Upgrade
An Overwatch Precision TAC Trigger flat face trigger upgrade is offered as an option on the A9. This Overwatch trigger reduces pre-travel as much as practical without compromising firearm safety, and features a small indexing hook to ensure consistent trigger finger placement. Its flat face reduces trigger reach by 0.24 in., idealizing it for small framed shooters, while simultaneously providing for a good, straight rearward press.
OEM Quality Refinish
The refinish on the A9 is a salt-bath Nitride, more commonly known in the industry as Glock "Tennifer" or Smith & Wesson "Melanite". This provides good corrosion resistance and a durable black finish on the weapon.
Additional information can be found on the ATEi Guns FAQ page .1  Specific ordering information is on the ATEi A9 page .2  The ATEi A9 retails for $1,147.00 and will ship to your FFL almost immediately, except in cases of Hilary Clinton voters or card-carrying Communists, in which case the cost is $2,294.00 with an indeterminable ship time.
Connect with ATEi on Instagram, @ATEiguns3, or follow them on Facebook, /ATEiGuns/4. You can also follow them on Twitter, @ATEiGuns5, but they've never tweeted anything. Ever.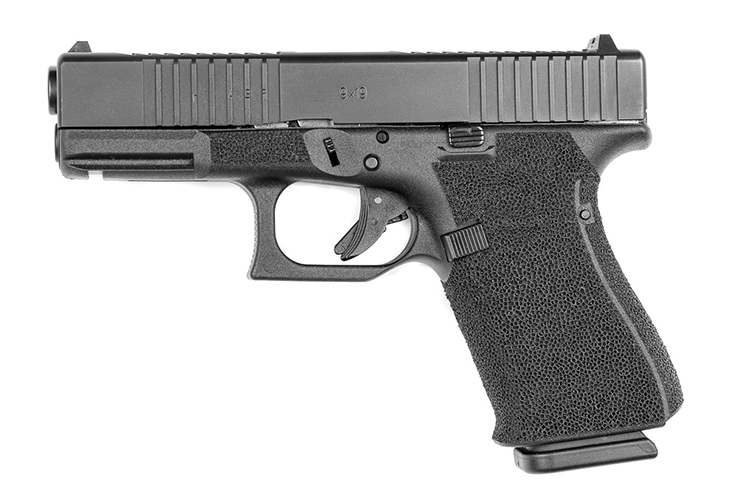 For further information, contact info(at)ateiguns.com.
#ATEi #ATEivolved
ATEi. Turning good guns into combat weapon systems.
2 https://ateiguns.com/product/atei-a9-g19-gen-4/
3 https://www.instagram.com/ateiguns/

4 https://www.facebook.com/ATEiGuns/