I took way more pictures then last year so in order to not break peoples modems I have decided to break the photos up into categories.
FOX Knives
http://www.foxcutlery.com/en/home.html
I heard about FOX earlier this year and was quite excited to hear that they would be at the show.  They offer quite a few high quality production knives and here are a few edged tools that I thought stood out.
First was a prototype tomahawk.  It felt great in the hand and I am interested in seeing the final version.  FOX was one of the few booths who allowed a picture of a proto so kudos to them.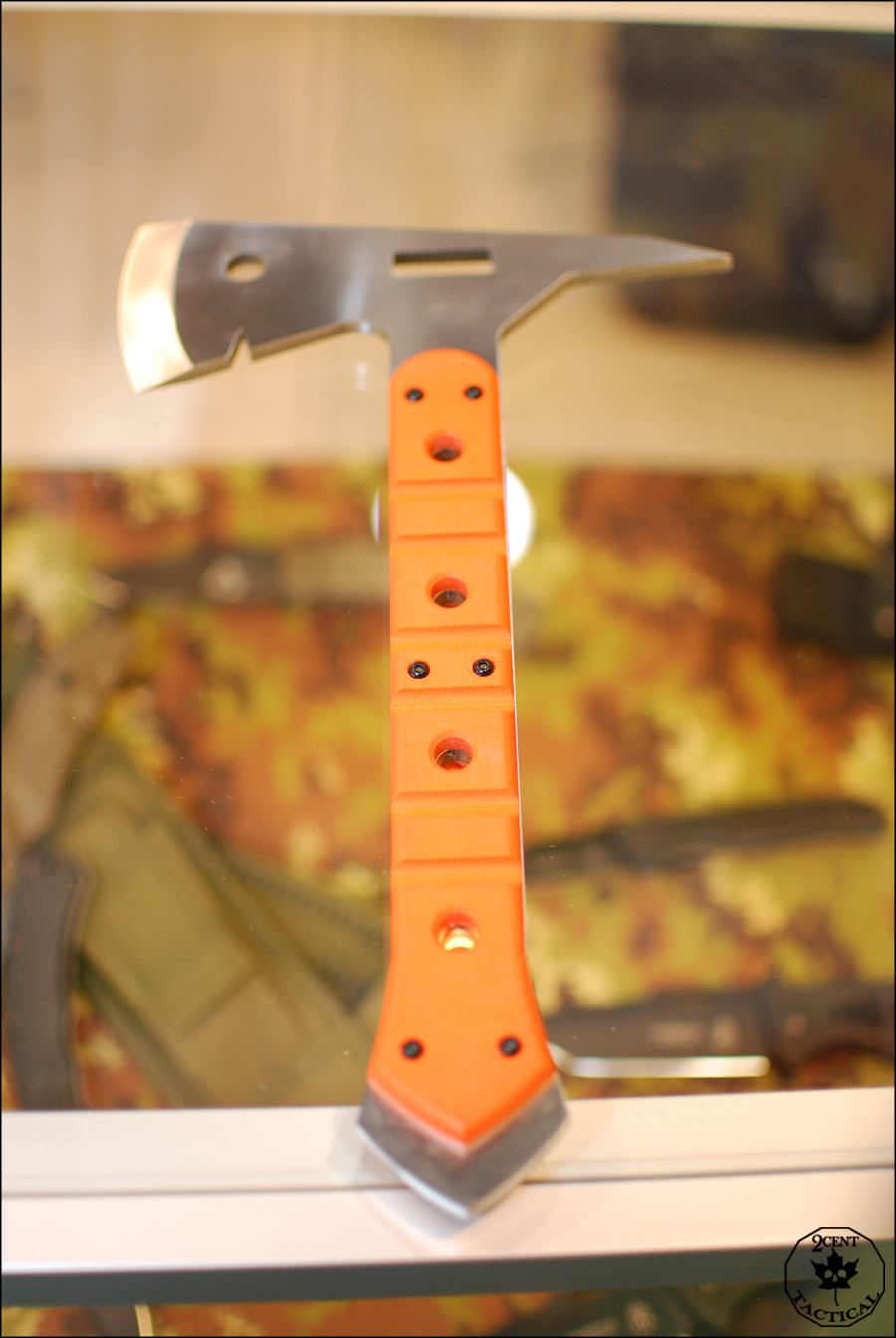 Next is the ERT tools.  They come in two versions.  The first only has the belt cutter, pry tool and bottle opener, glass breaker and philips screw driver.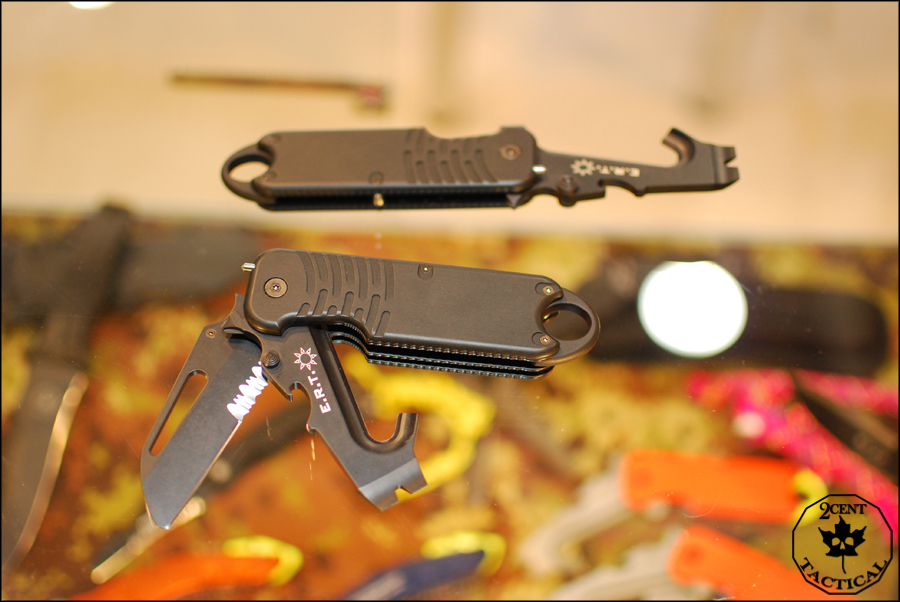 The other version includes a knife with a combo edge.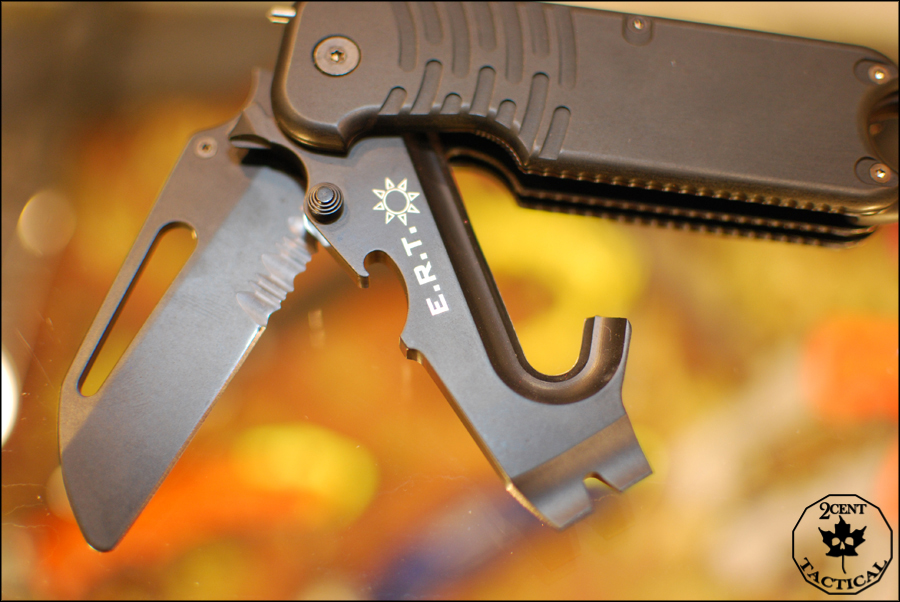 The next item is one of my favorites as I have a soft spot for kukri's.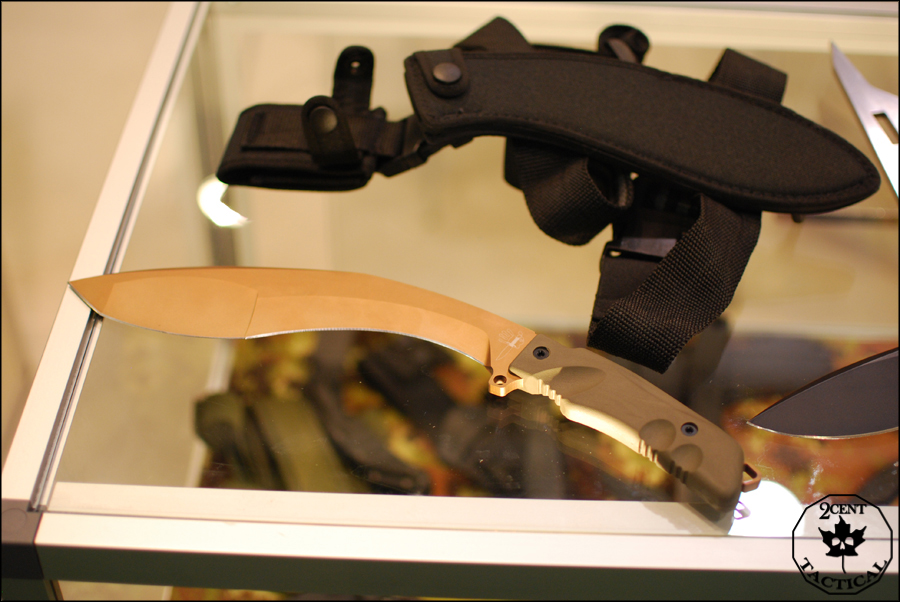 They had them there in two colors.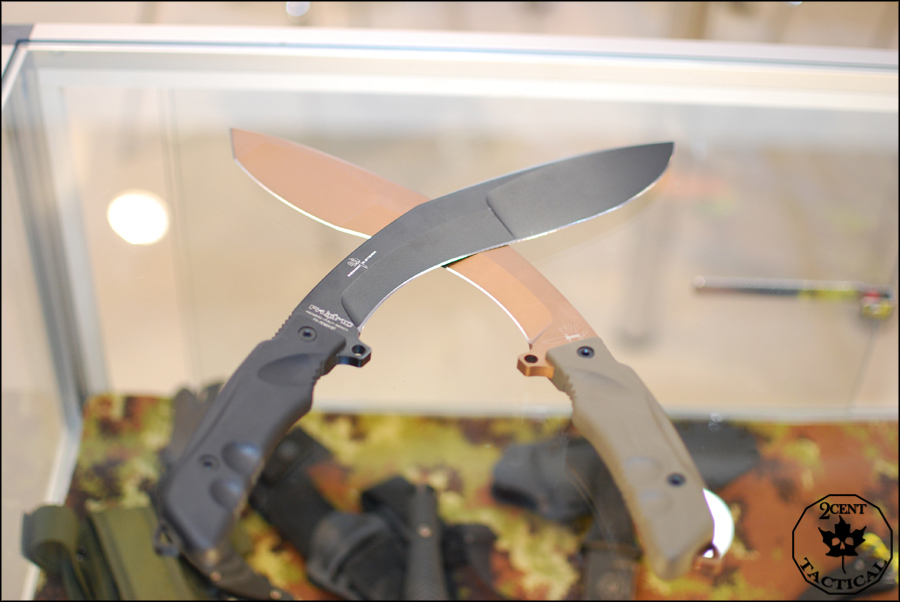 Emerson Knives
Ernest Emerson remains to be one of the major innovators in the knife world.  Not only that but he is an extremely nice guy to chat knives with.
On display amongst Emerson's other quality knives was his newest release the Roadhouse (the bottom of the two) and a prototype.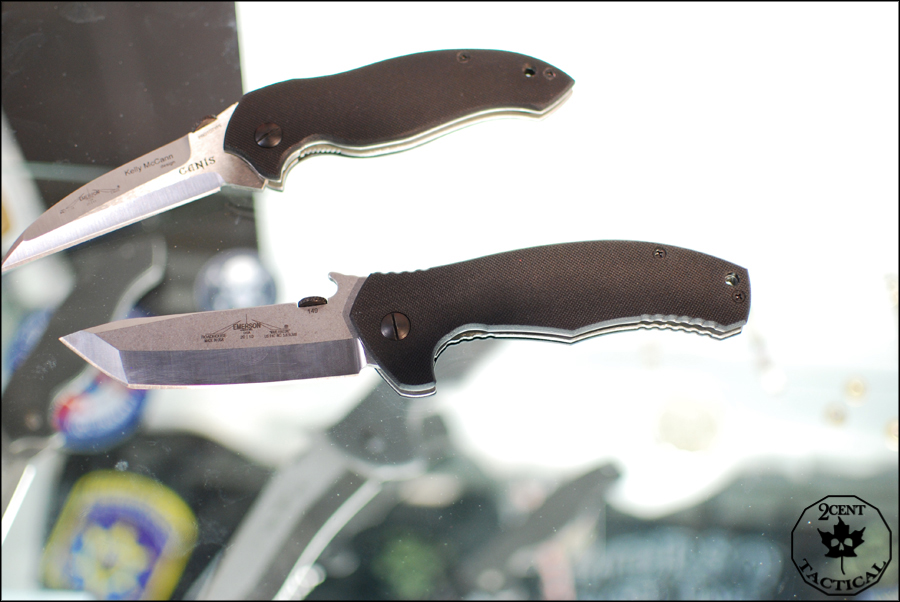 The proto is designed by Kelly McCann and looks like its going to be a real winner when it hits the market.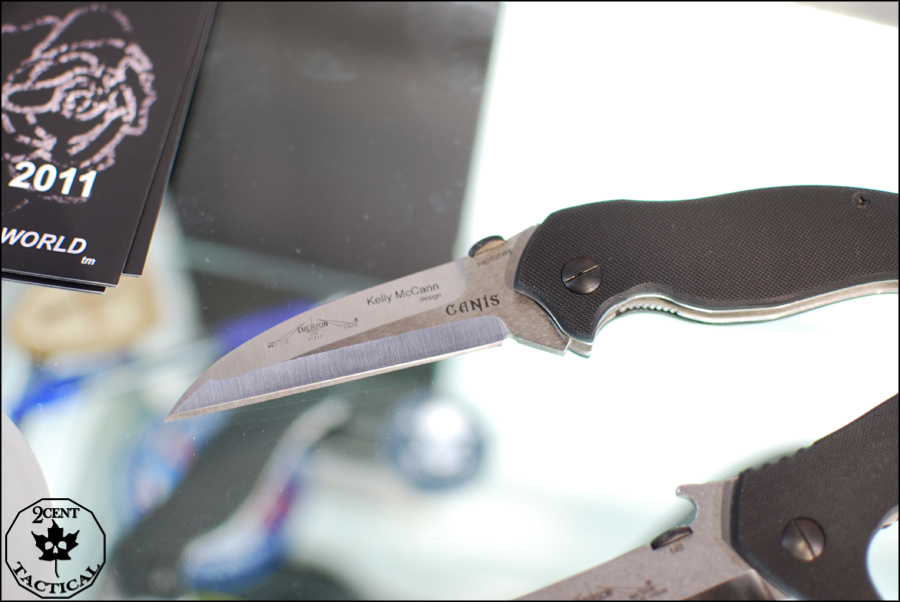 Spyderco
Spyderco continually pumps out winning designs year after year and this one was no exception.
Here you can see some of the upcoming fixed blade designs from them.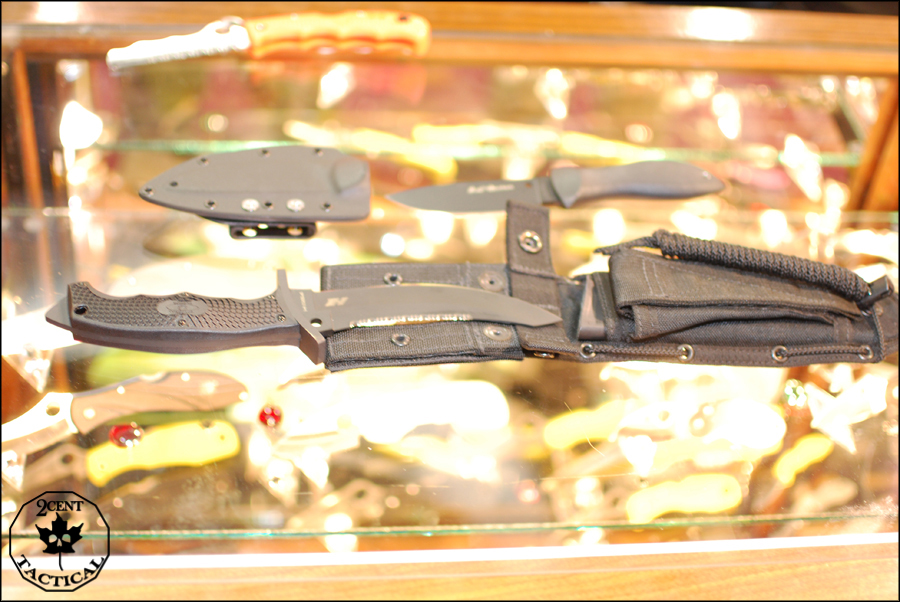 The Spyderco prototype display had lots of interesting pieces but sadly no pictures could be taken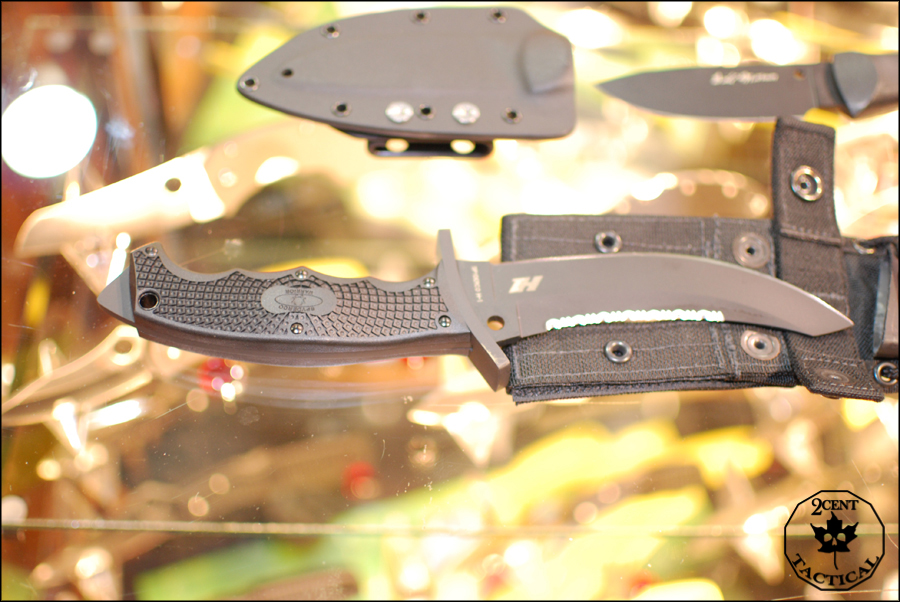 Both knives fit great in my hand and were nice and sharp.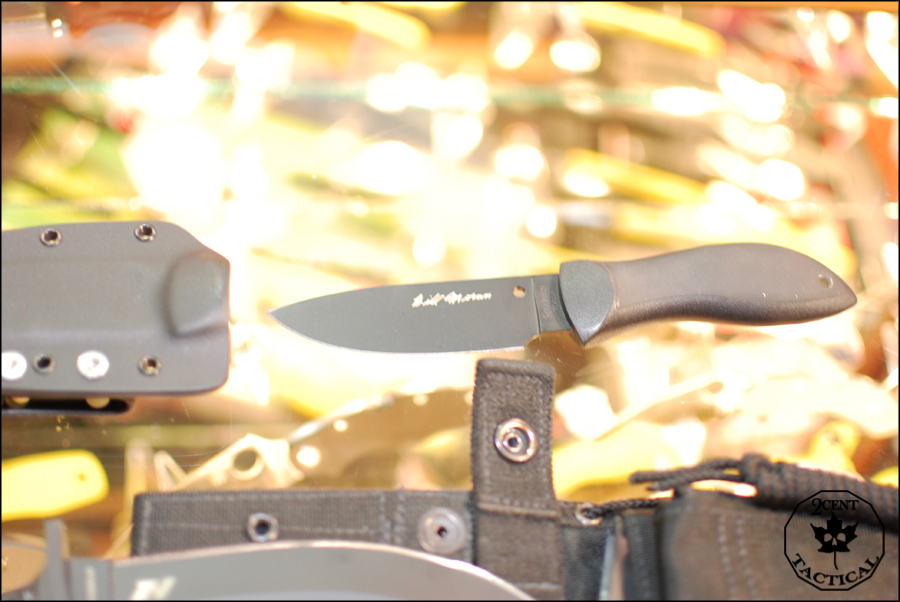 Strider Knives
http://www.striderknives.com/
Strider makes some of the hardest use knives out there and backs them by one of the best warranties.  Not only that but they treat their military customers well.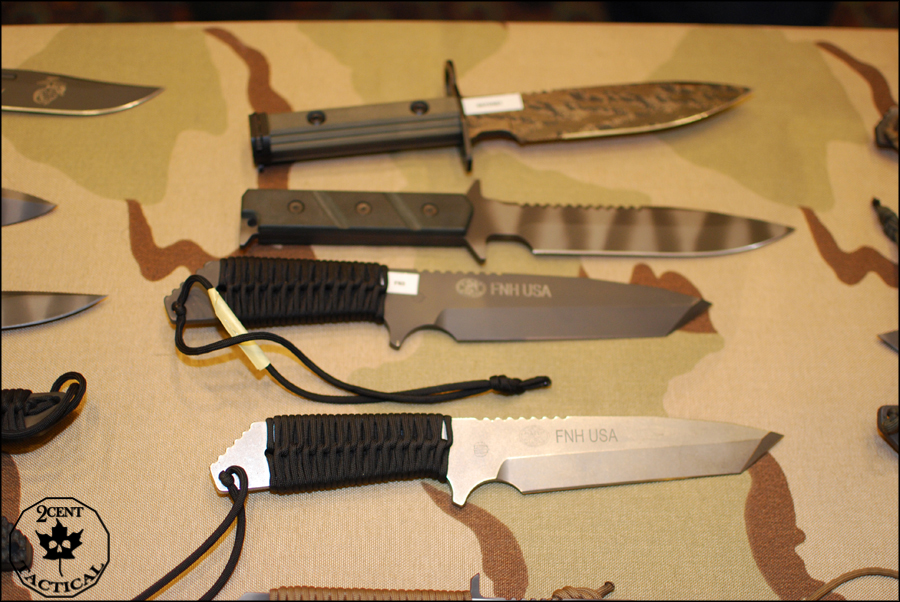 The blades are all a massive chunk of metal made to take the beating soldiers tend to put on a knife.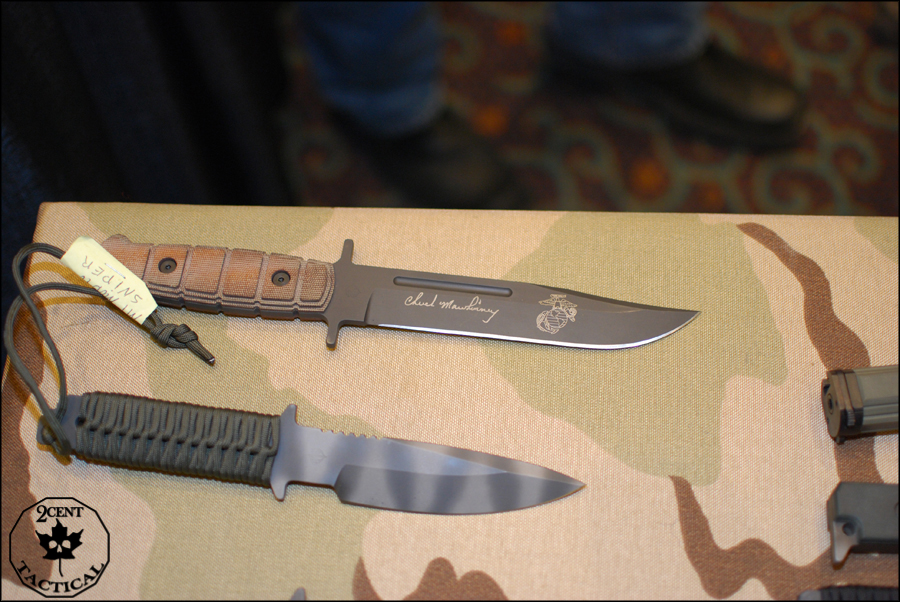 I plan to someday make my way into their fixed blades and the karambit pictured below may be the first.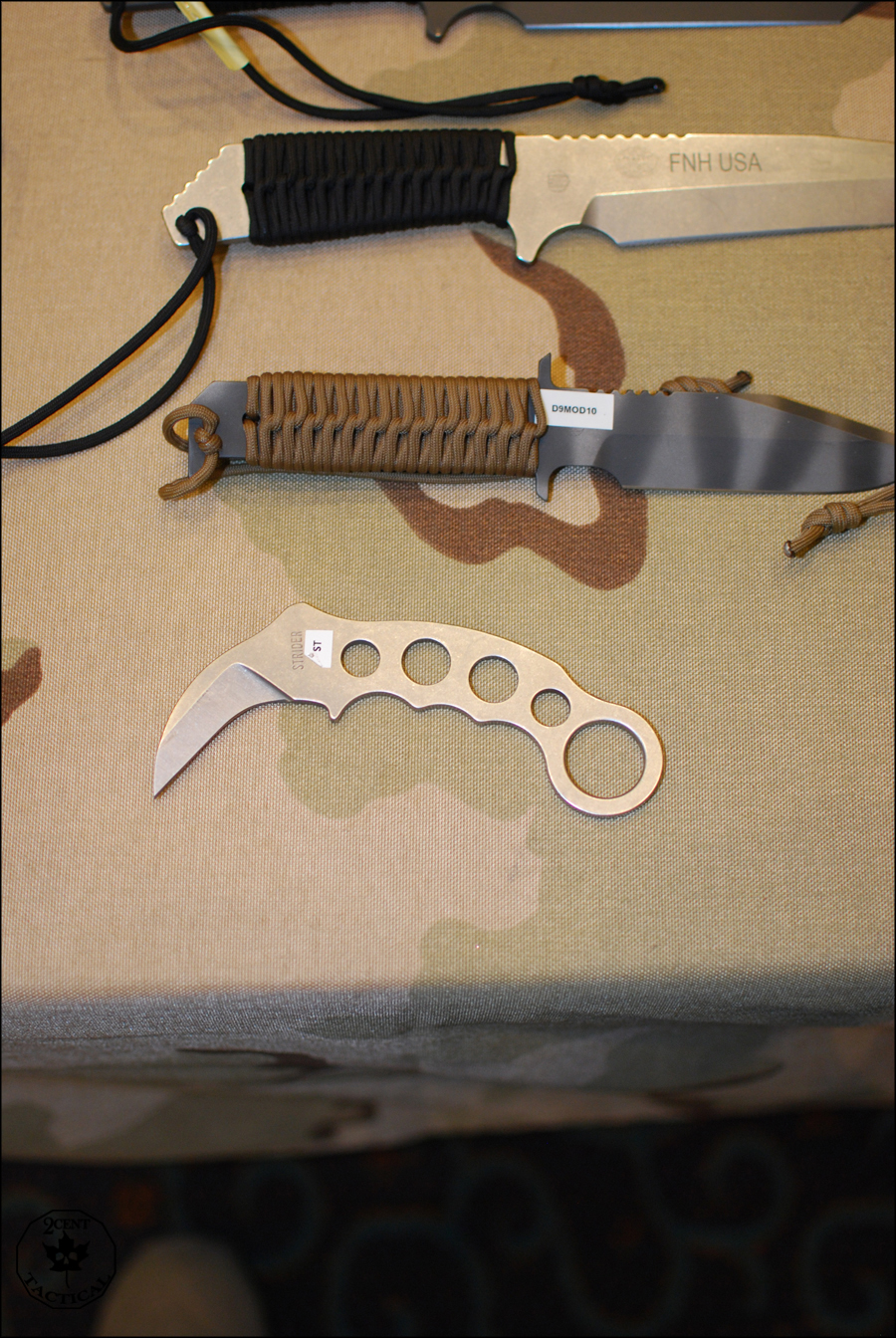 Their knives come in various sizes and with different handle materials.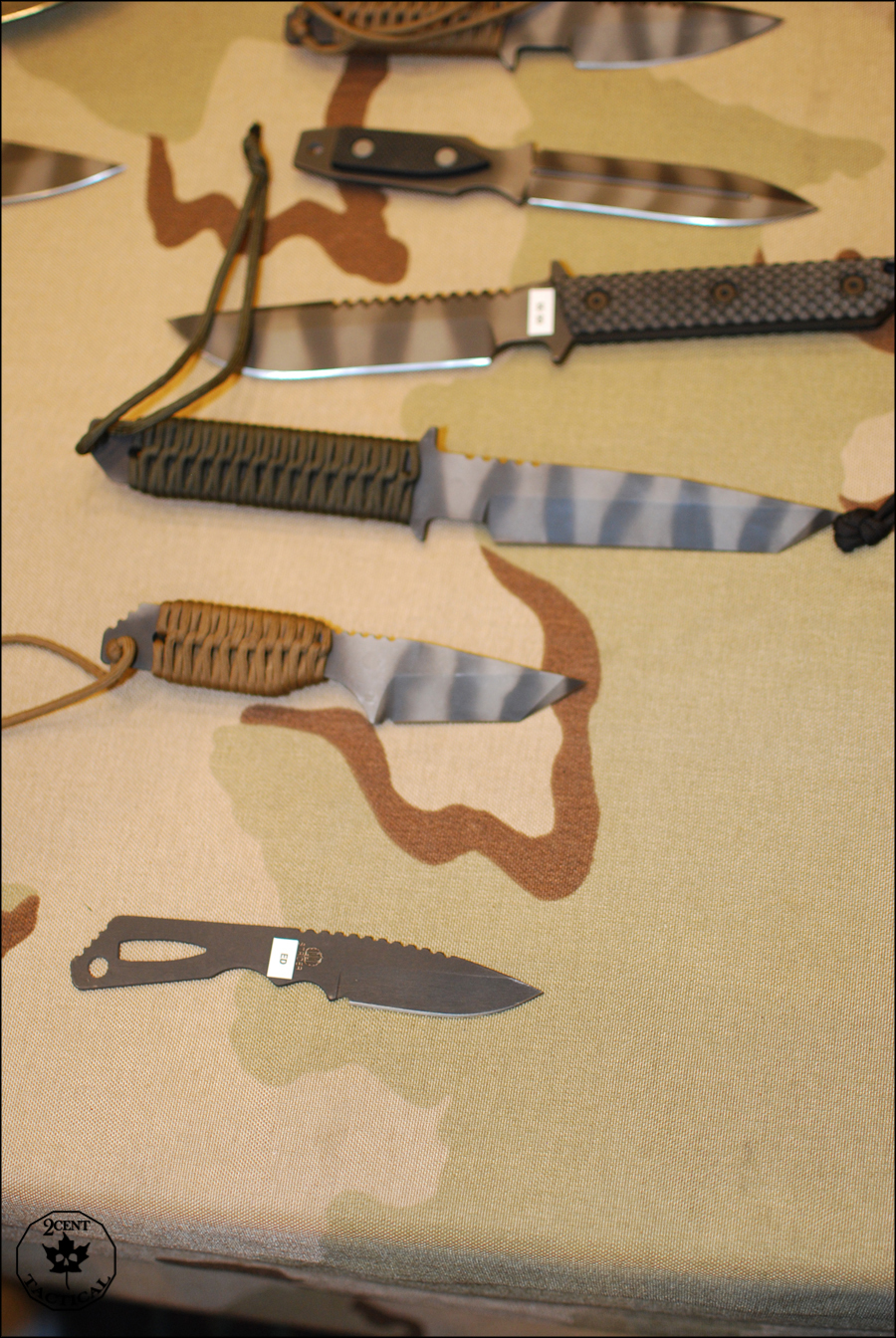 They had both a Knights Armament and FNH USA branded knife on display.  Sadly I didn't snap a picture of the Knights knife.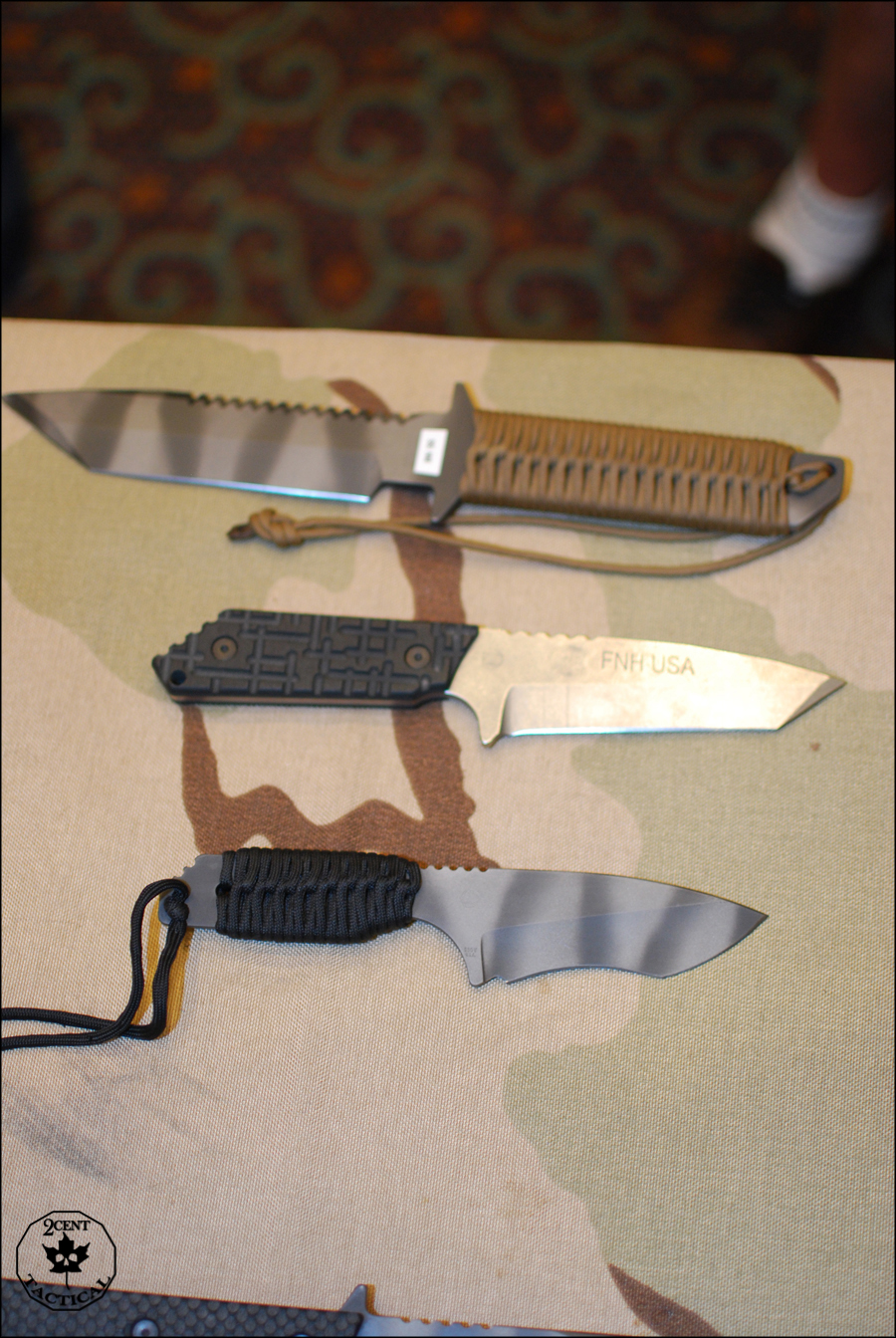 The following knives have gunner grip handles and the tiger strip finish on the blade.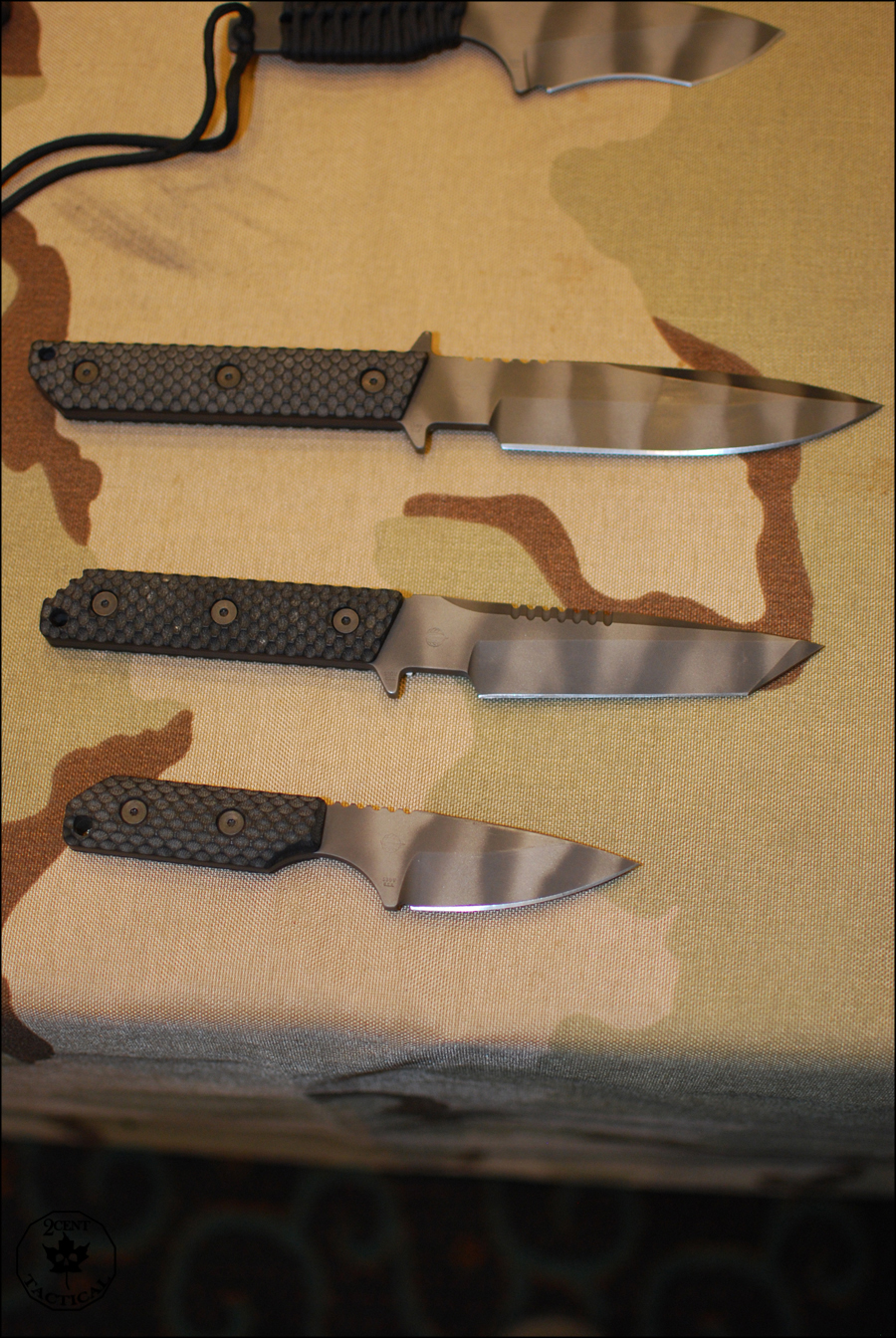 I will have a review of the Strider PT and SMF in the next few months.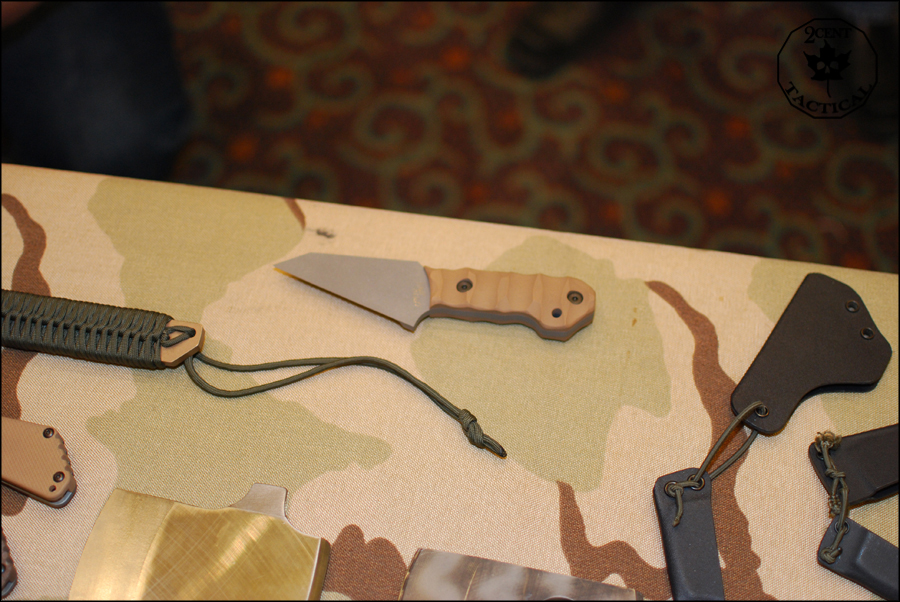 The evolution of the Strider hatchet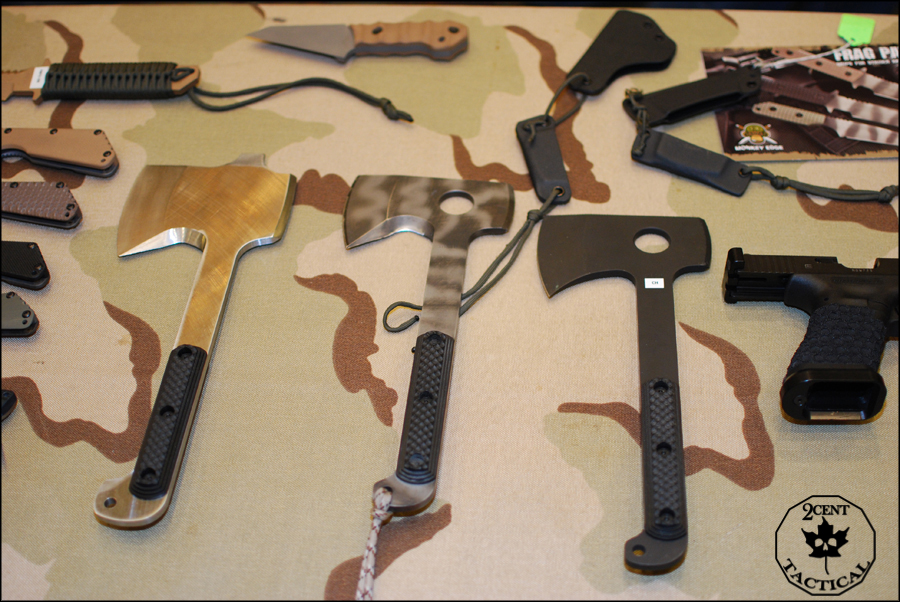 A prototype knife pictured in between a PT at the bottom and a SNG above it to show you the size.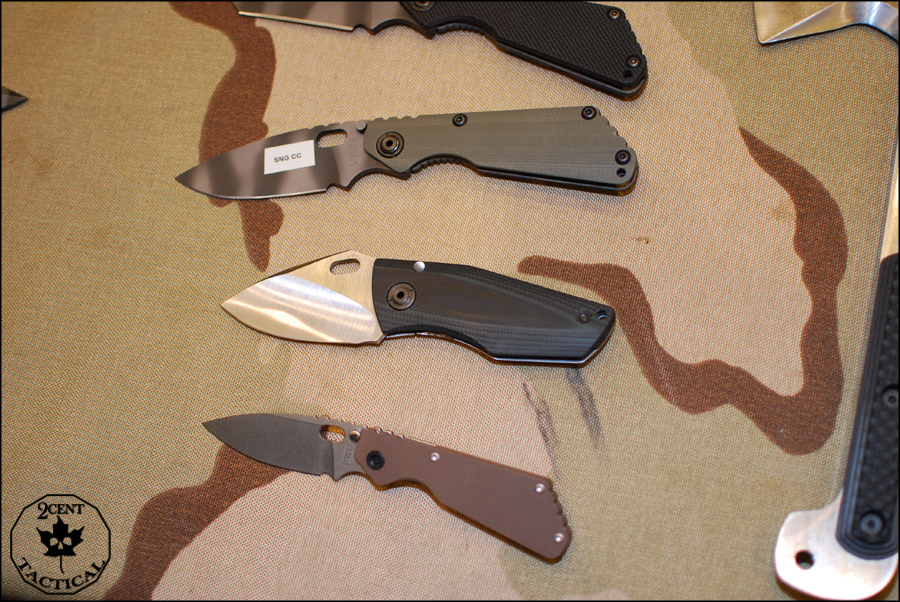 Kellan
http://kellanonline.com/
Kellan had some really interesting lighting systems at the show.  Both of the rifle mounted lights were operated by wirless switches.  They also had a pistol light that I am trying to decide if I like the idea or not.  The light turns on when tipped to certain angles and turns off at others.  It also has an option to do constant on. I can see its uses for drawing quickly when you and the target are at the same elevation but it may cause problems when firing downwards or when the weapon needs to be shot from under cover like a car.
You can see the on and off buttons here that mount to a rail.


Or the pistol grip version.  My issue with this is that the batteries can not be replaced.  They claimed the remote has a battery life of 20+ years but I subscribe to the path of thinking that things can go wrong even with the simplest of designs.  The good feature of these lights and switches is that they are individually paired so you don't have to worry about turning on a squad mates light.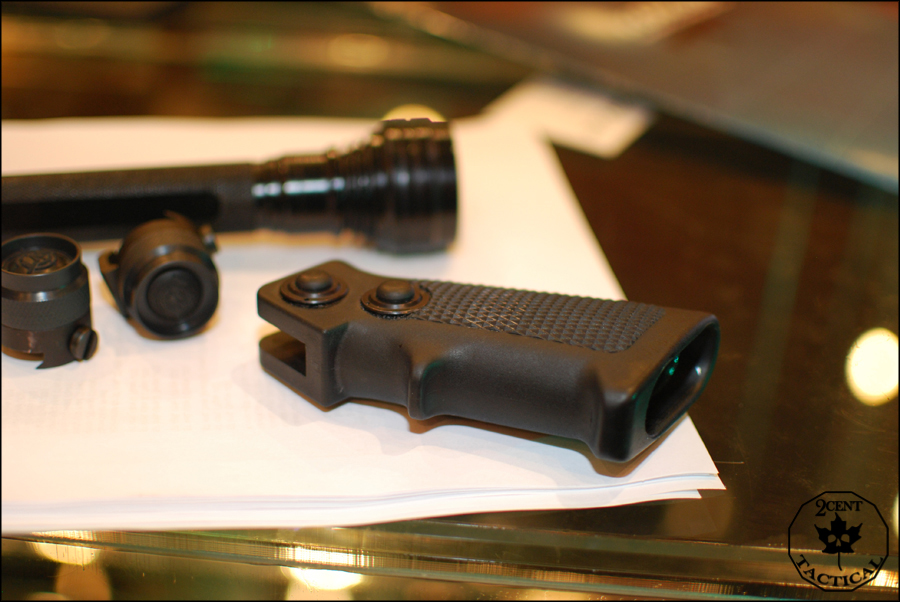 MIL-TAC
http://www.mil-tac.com/
MIL-TAC had some really cool designs of knives, a pen and pistol grips at there booth. The Knives are built by FOX Knives for them.
This folder has a belt cutter, window breaker, a knife with a serated edge on one side and plain edge on the other and a saw blade.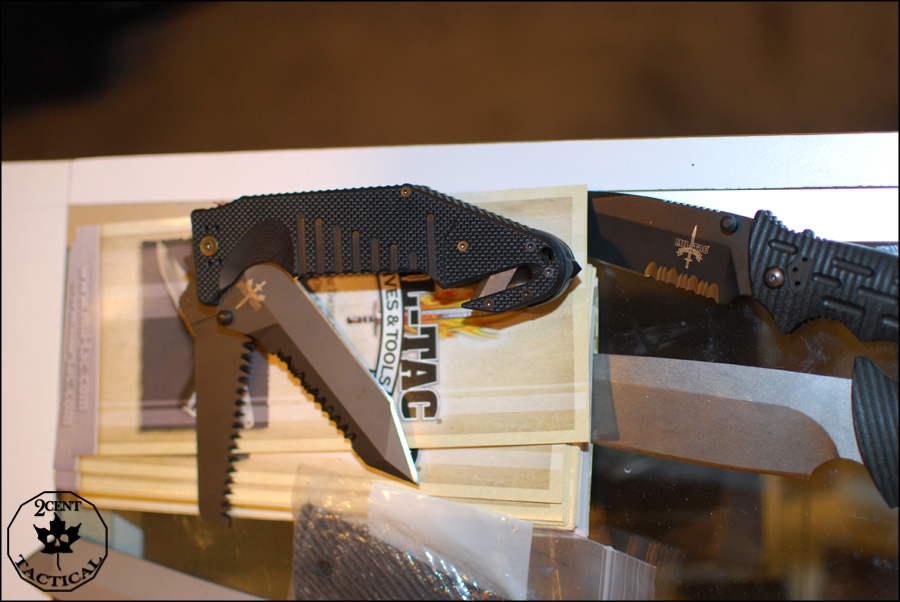 This shot shows the blade lock in the back.  With this engaged you cant close the blade.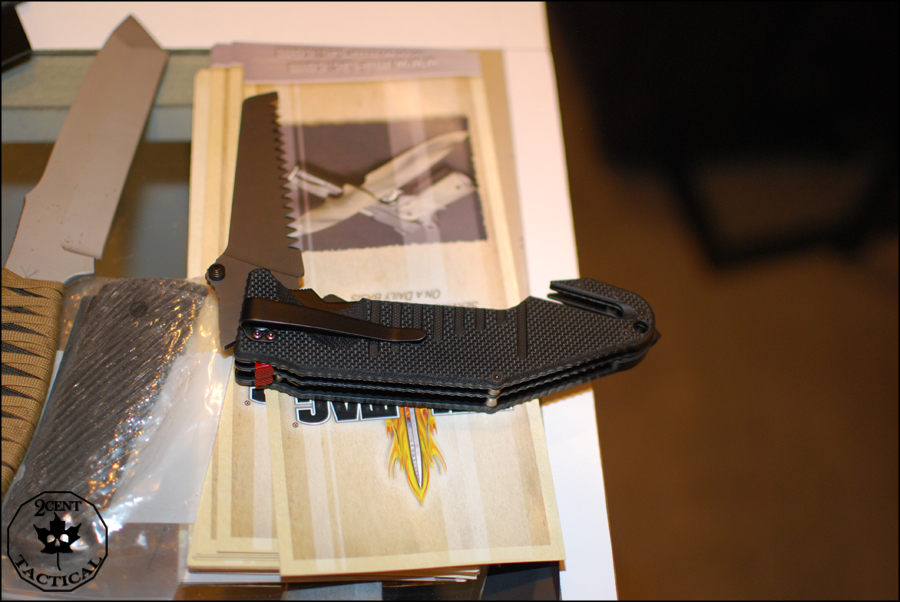 The defense pen version 2 with interchangeable delrin tip for use on pda's.  My issue with all the defence pens out there is every manufacturer claims it to be TSA safe.  Someone has already been charged with concealing a weapon when they flew with one.  Until a company specifically gets the go ahead from a TSA member in writing these sort of pens will ride in my checked baggage.  I will just fly with my space pen.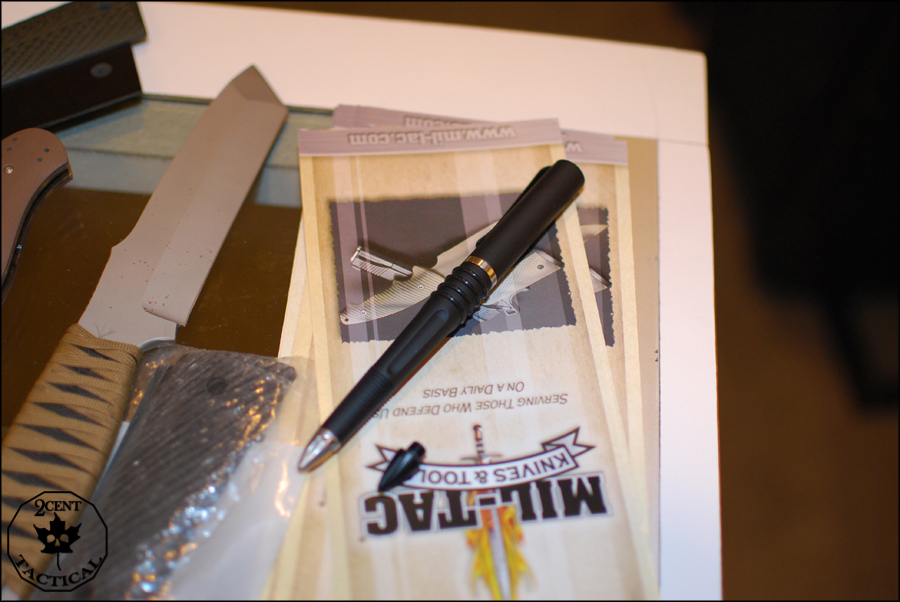 The cordwrap job done on the handle of this knife was extremely well done and was one of my favorite knives at the booth.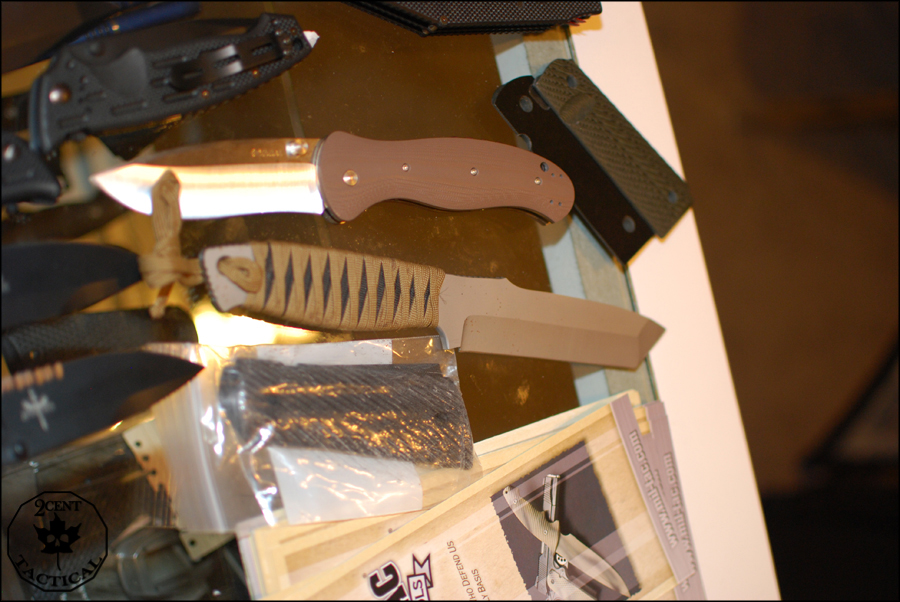 The knives have handles in varying color and grip details.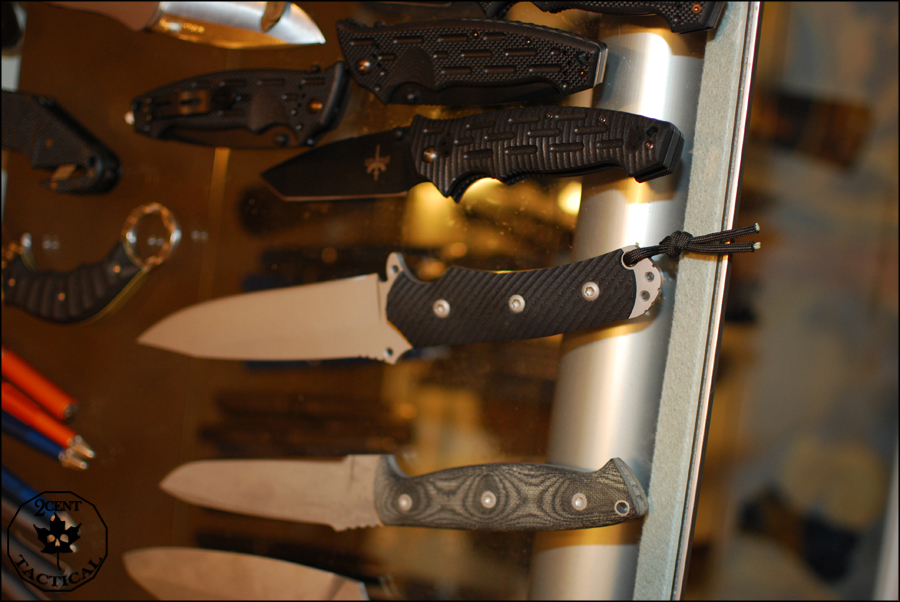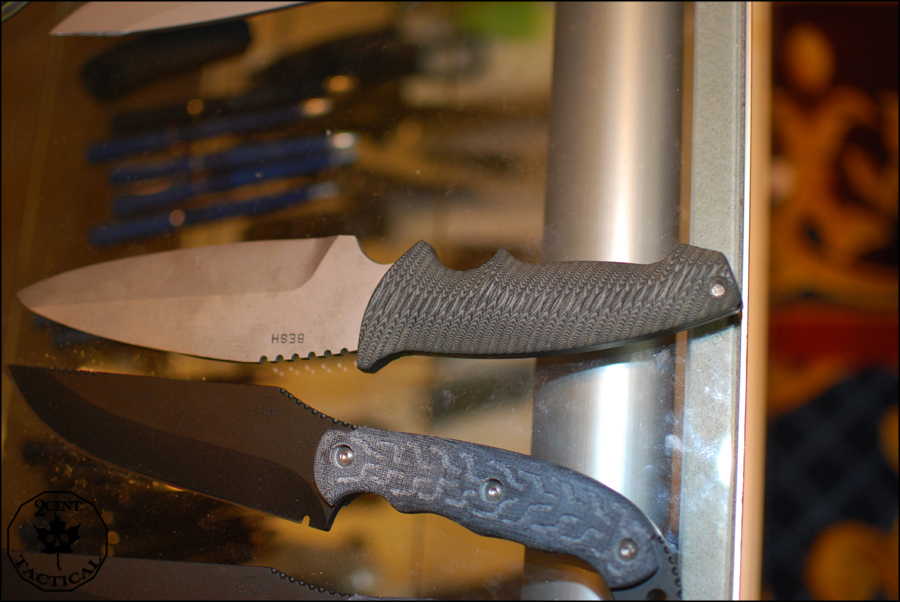 It was cool to see a knife with a carbon fiber laminate to allow the knife to be rigid but shed some of the weight.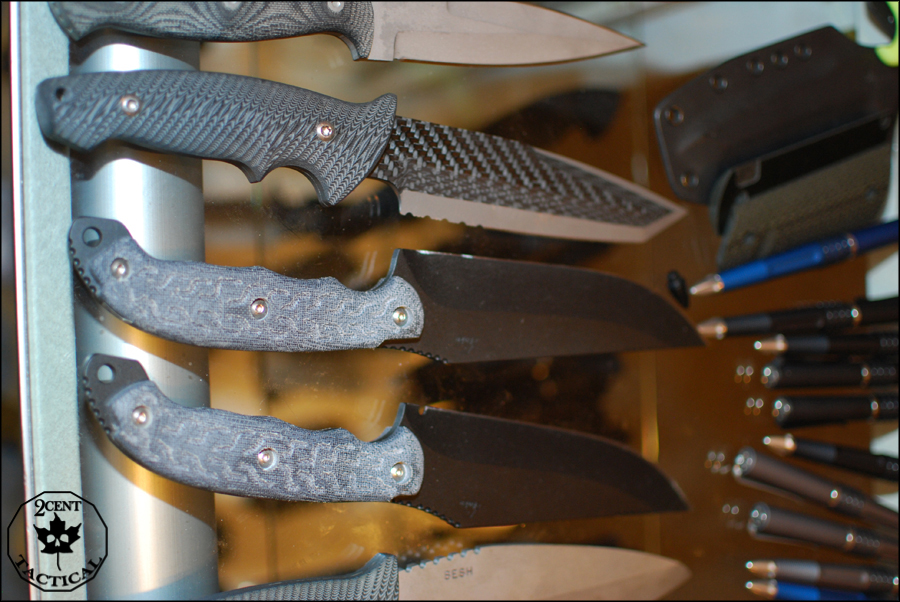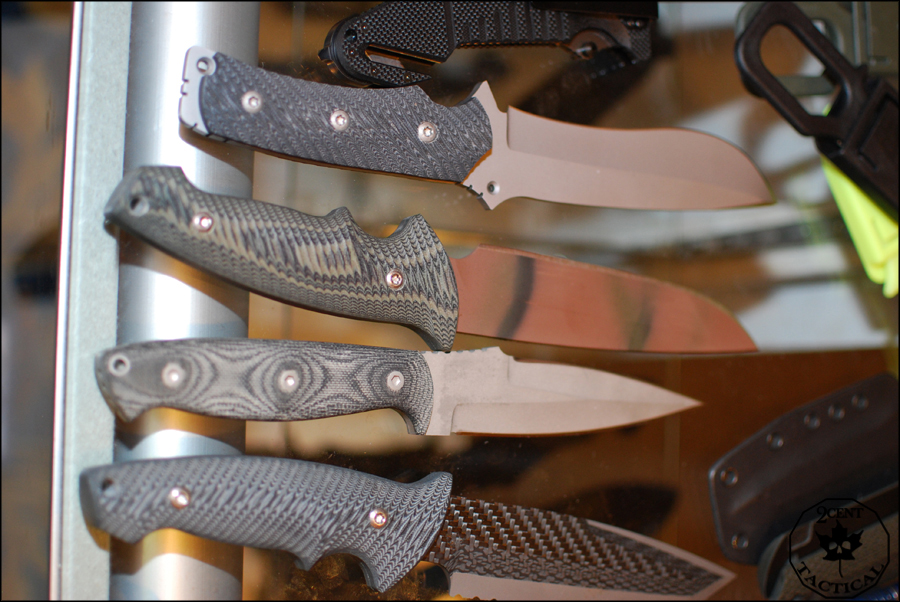 Mantis Knives
My first introduction to Mantis was at last years SHOT and I was impressed with their unique designs.
I like the knife designs but am not keen on the magenta anodized accents.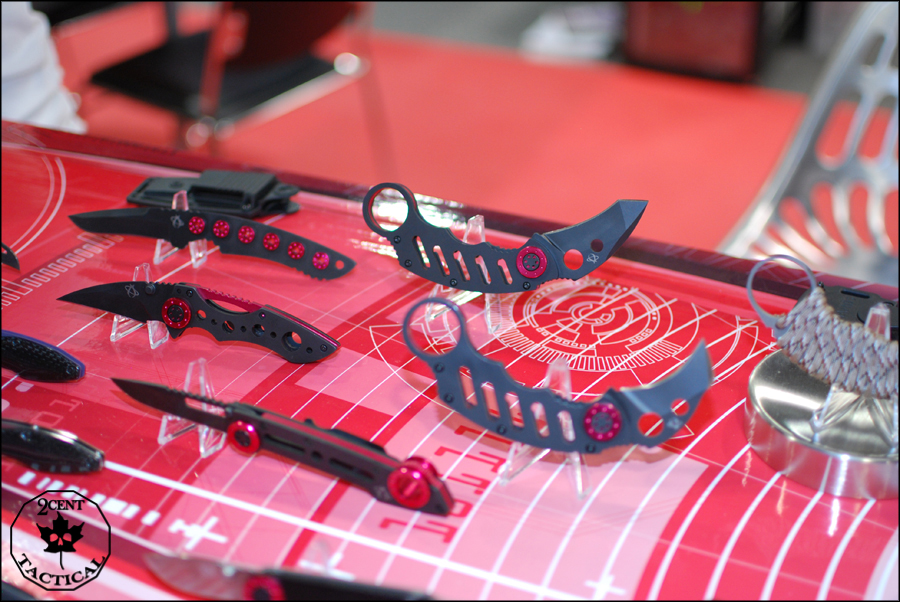 A really cool stubby knife with a carabiner style clip at the rear.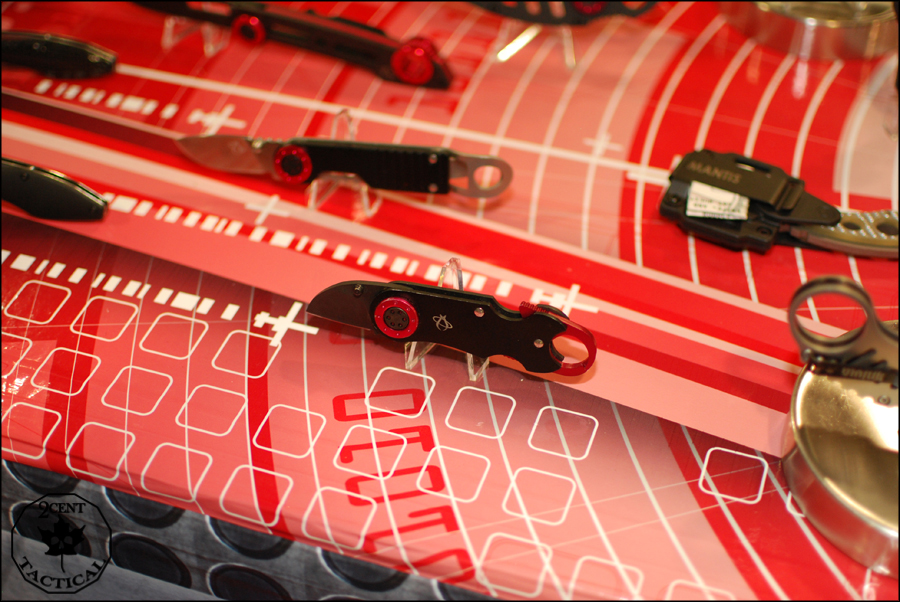 This knife has a seatbelt cutter at the rear and a really unique looking thumb hole.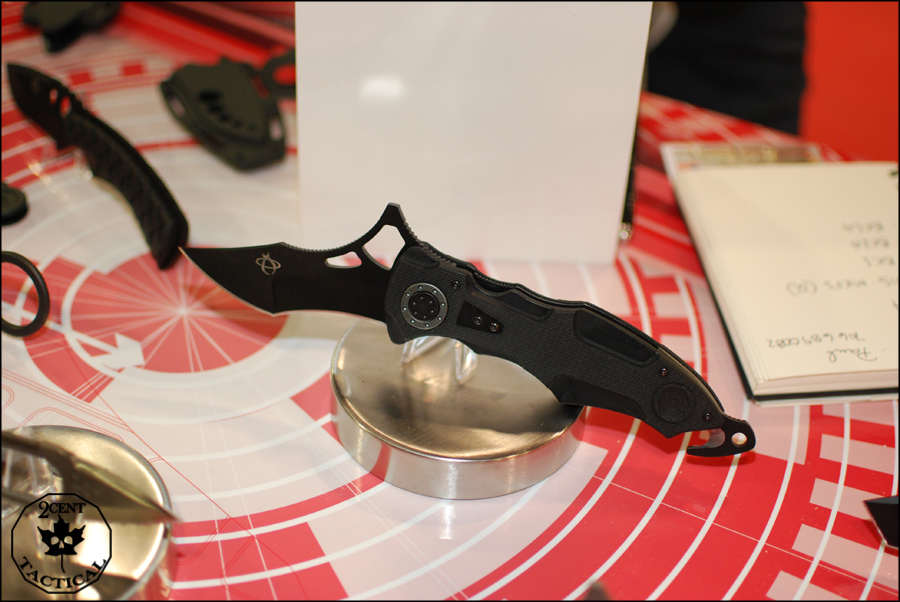 This little mantis was hiding off to the side of the booth just above this high polish knife.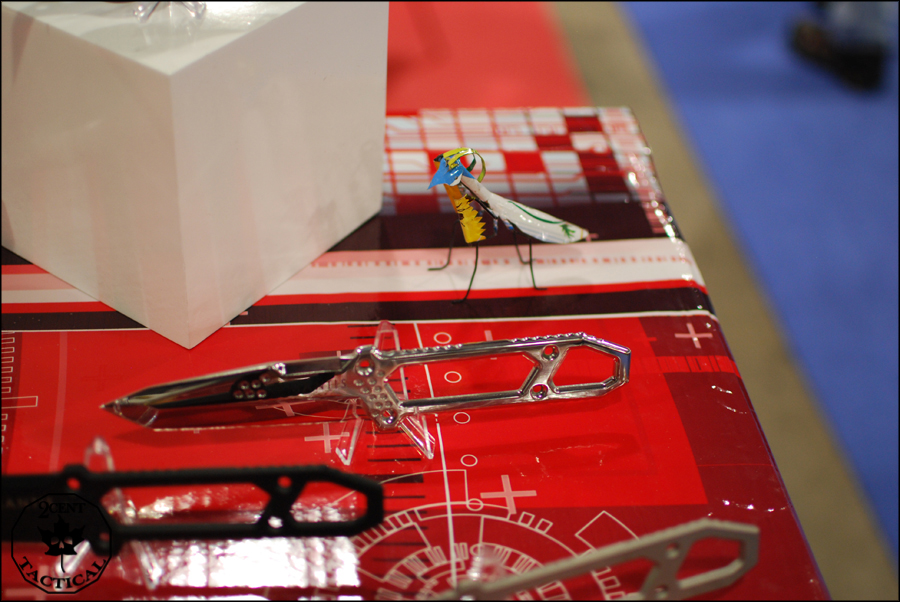 Two tiny balis with two different blade options.  When the handles are closed over the blade the rear works as a bottle opener.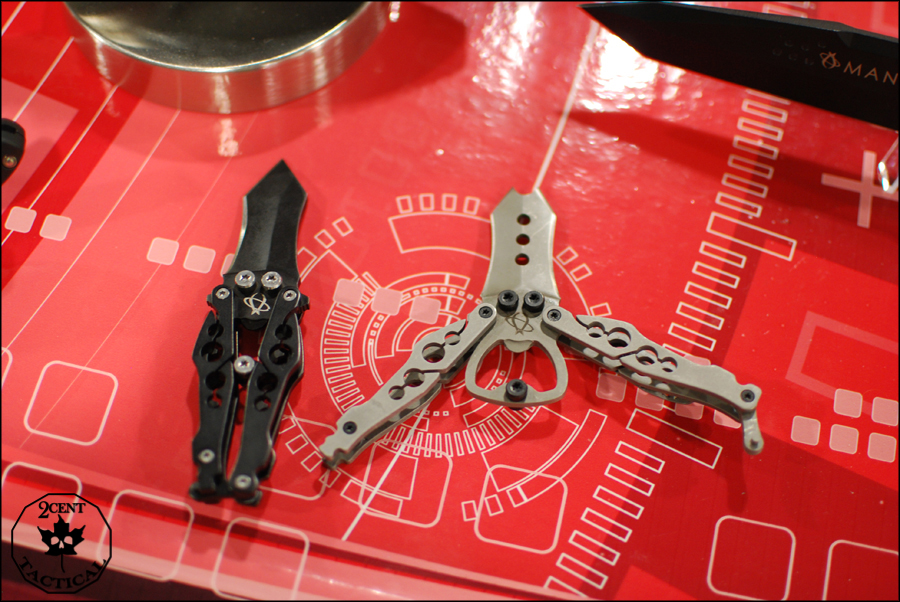 Stone River Ceramics
Having never seen a ceramic folder in person it was nice to have a chat at the Stone River booth.  The rep who chatted with me made no effort to hide the pro's and con's of a ceramic knife.  The pro's are most certainly sharpness and edge retention.  The big con is that ceramic is really hard making it have no give.  These knives are meant to cut and that's it.
If you want a damascus look then this ceramic blade with lasered finish will work for you.  This is the most expensive of their knife line at a msrp of $119.95 USD.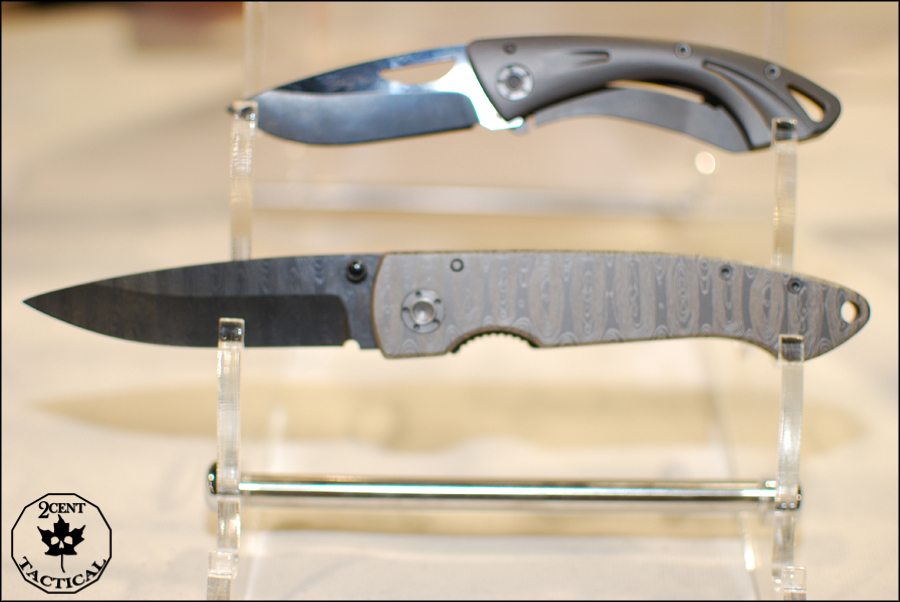 A couple of other designs, the top showing a white ceramic blade.  They also have a line of very nice and affordable kitchen knives.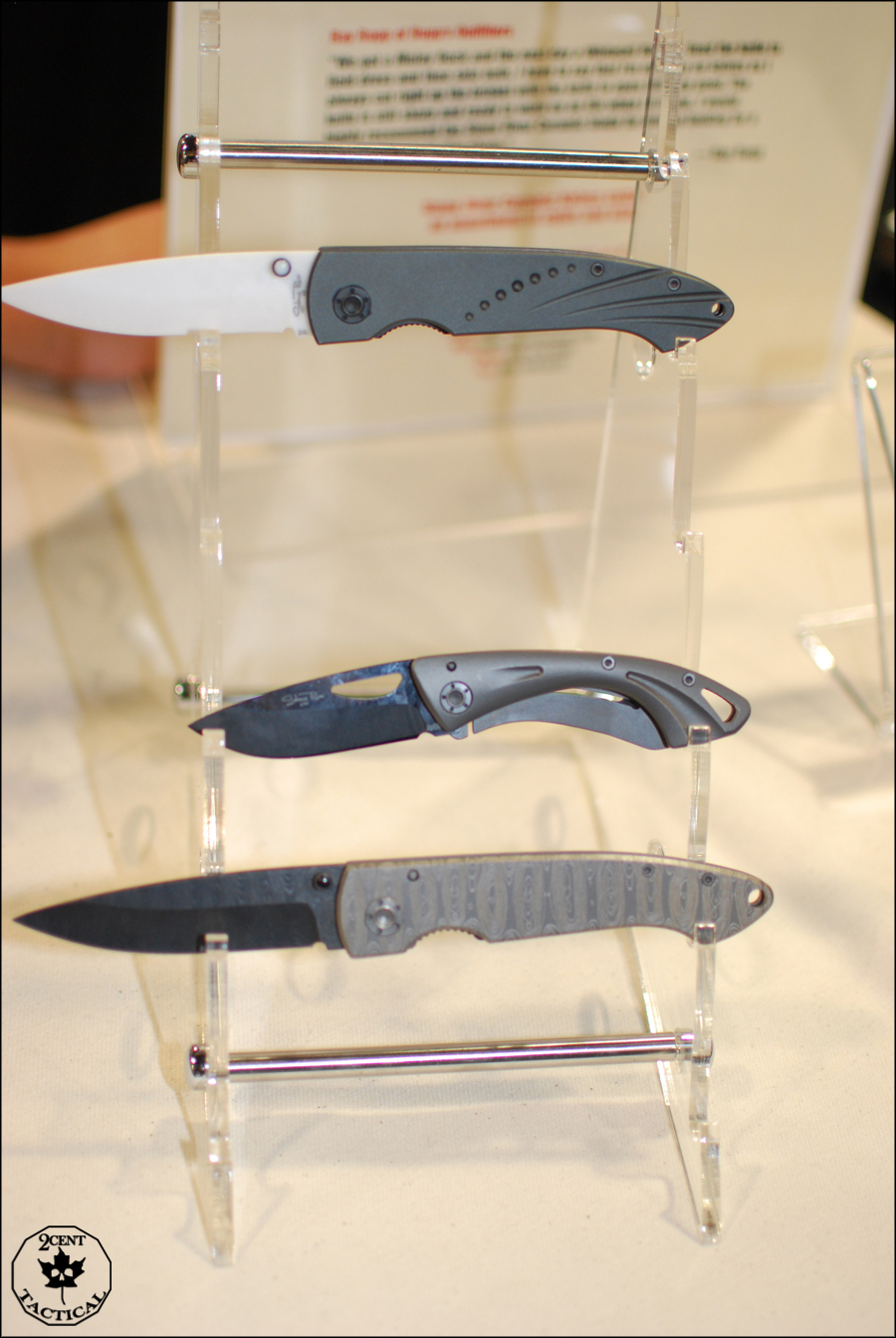 Wicked Edge
http://www.wickededgeusa.com/
I popped by the Wicked Edge booth after hearing about them on a knife forum I visit.  I am glad that I did.  There knife sharpening system was extremely idiot proof and there demo included putting a shaving sharp edge on my new Strider SMF.
The unit comes with several sets of stones and higher grit versions are available for purchase separately.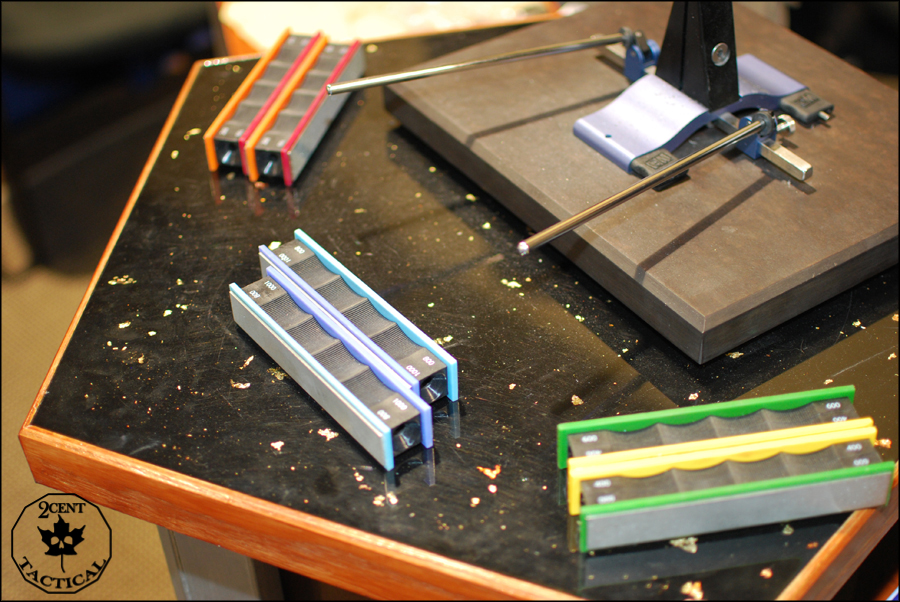 Mounting the knife only takes a few seconds with the included stop and allen key.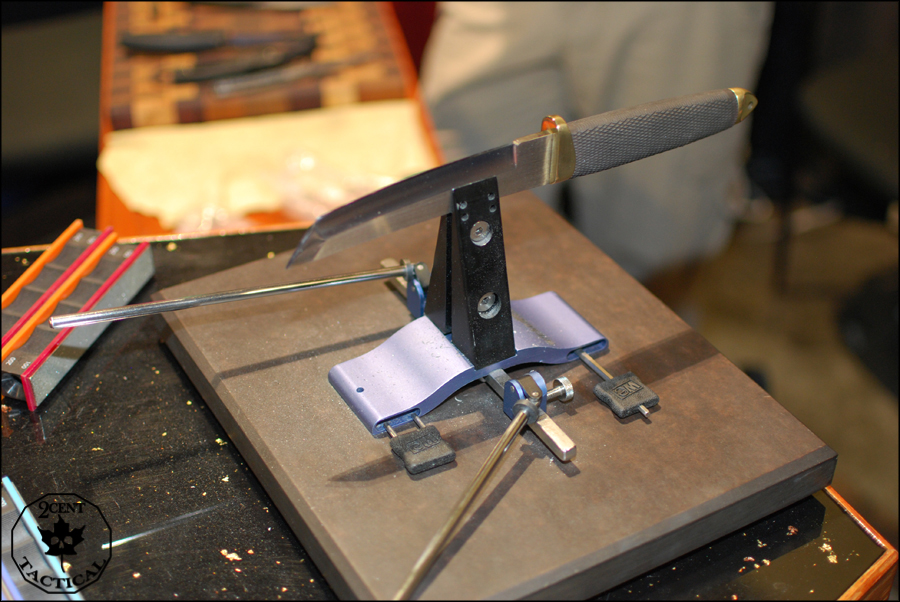 Next you adjust the the guide rod and stone to match the angle of the grind on your blade.  You should also mark the blades grind with marker to help show areas that need more work then others.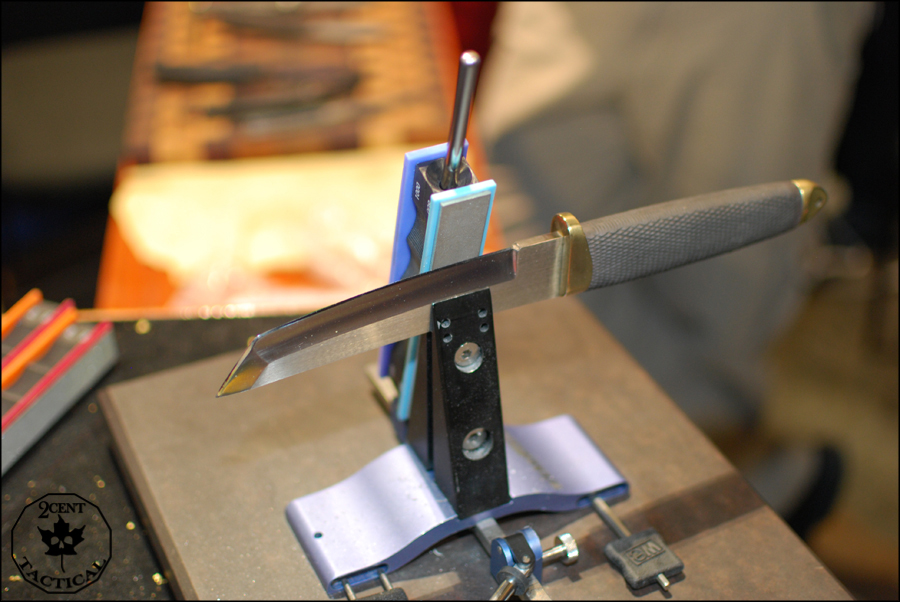 Then its just alternating strokes with the stones as you work your way up through the grits and if you buy the strops a mirror polish edge is easy to accomplish.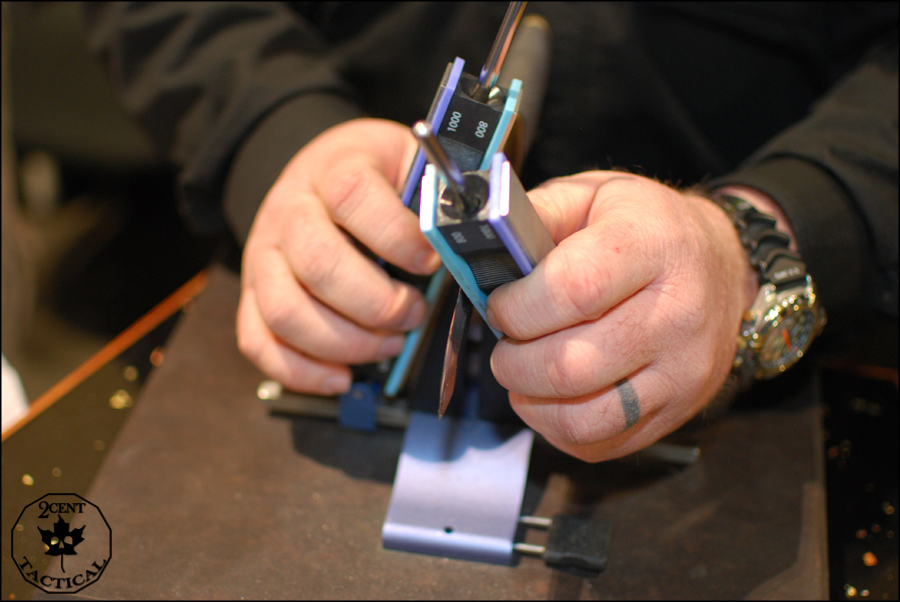 Chris Reeve Knives
http://www.chrisreeve.com/
Chris Reeve's knives often blur the line between custom and production.  They also have a variety of styles of knives from a dressy folder to a fixed blade survival knife.
The newest blade they have released is the Ti-Lock with a very different locking mechanism then you may be used to.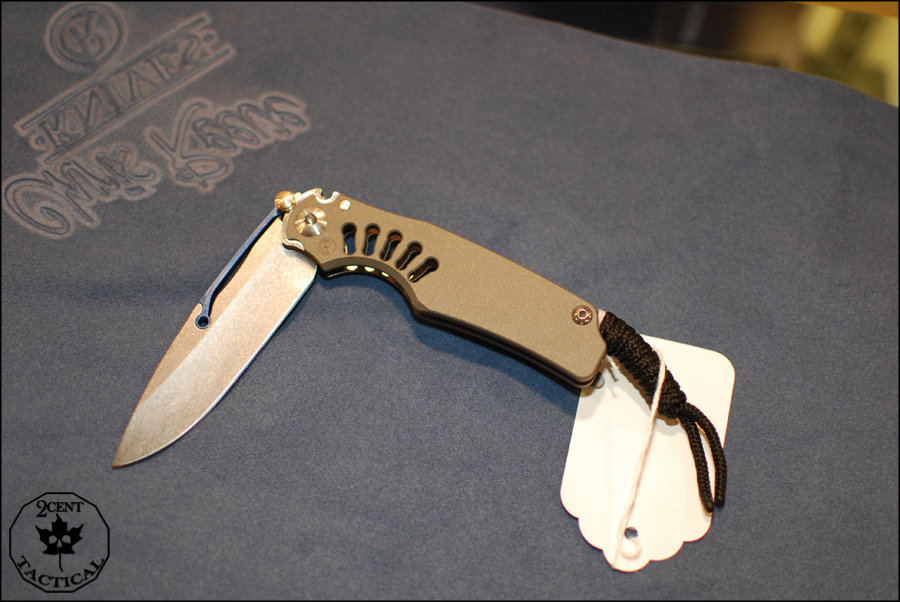 The titanium spring attached to the blade has a bronze or aluminum knob that sits in a recess in the handle.  The design is completely ambidextrous.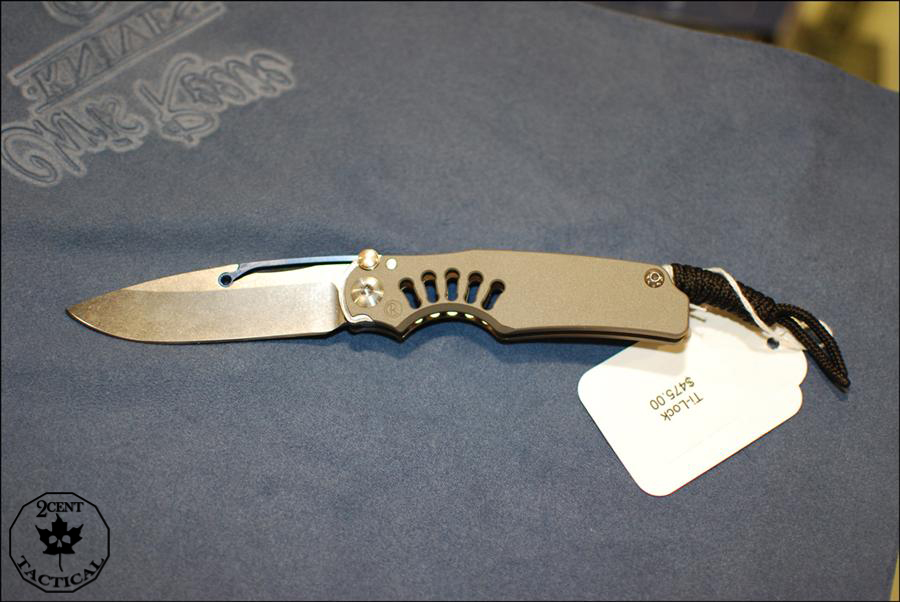 Seber Design Group
http://www.seberdesigngroup.com/index.html
The Seber Knife with Claw Lock Ratcheting Design may not be the most bad ass knife at SHOT but was certainly an interesting piece.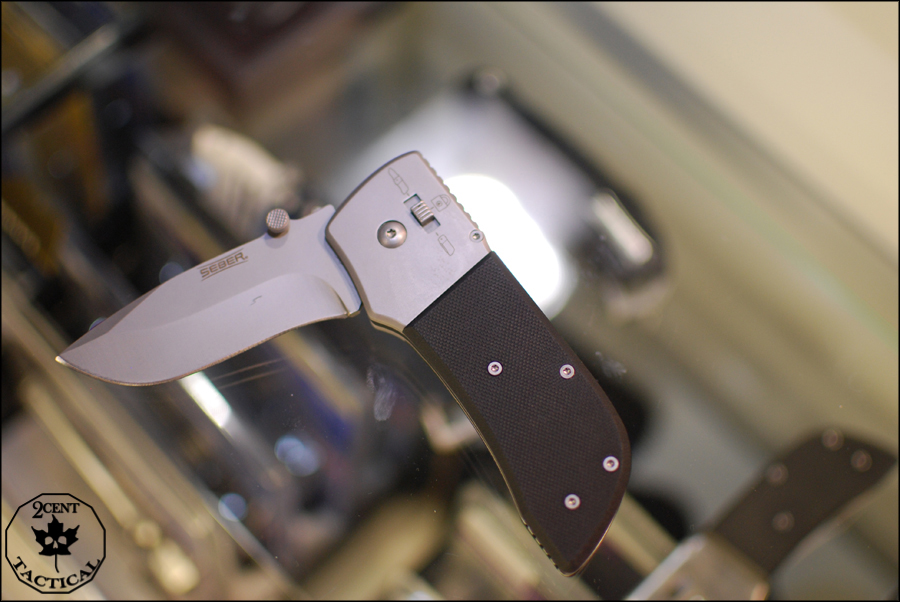 The ratchet system allows the blade to be opened to any angle and locked in place.  This is good if your cutting rope but the best part of the demo was when he was using it to cut plastic pipe.  You just closed it like so and rotated the pipe between the handle and blade.  It will be interesting to see if this design is licensed by any of the tactical knife companies.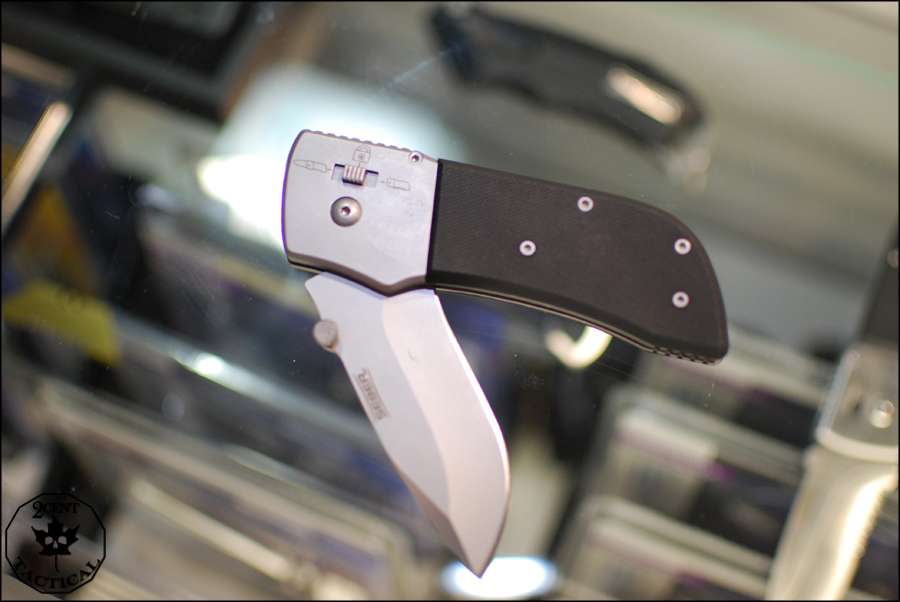 Tuff Writer
http://www.tuffwriter.com/
Probably the most normal looking of the tactical pens and if you own a sterile version with no markings that much better.  Plus it uses Fisher Space Pen cartridges which are near bomb proof and are made to work in almost any climate and writing condition.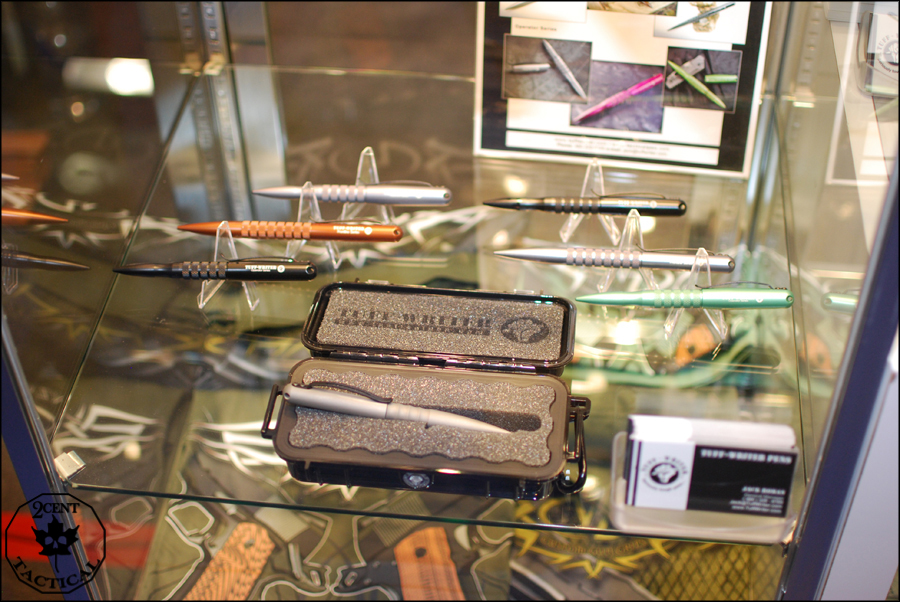 VZ Grips
http://vzgrips.com/
Not only do VZ Grips make fine looking pistol grips but their knife scales are something to love also.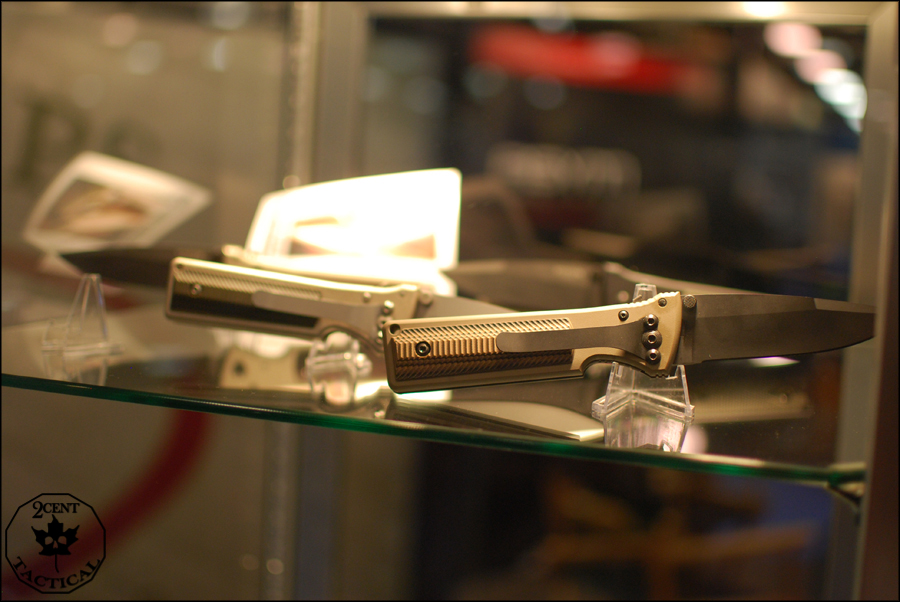 You can see various Strider's with new grips mounted to them.  They make grips out of G10 or Micarta.  You can grab these grips at http://www.monkeyedge.com/Strider_Knives_Fixed_Blades_s/146.htm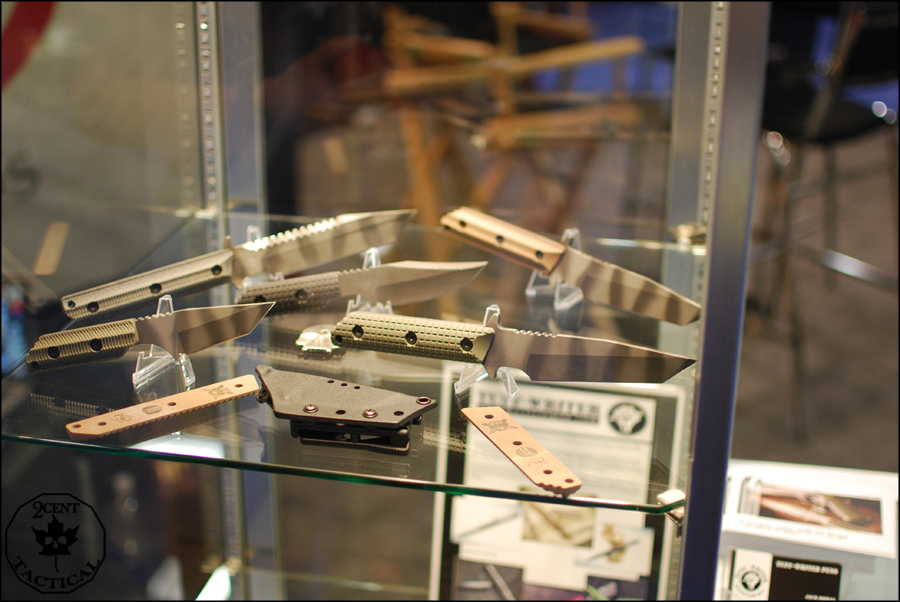 Ultimate Equipment
http://www.ultimate-equipment.com/
I first saw this knife on Soldier Systems and thought it would be a perfect present for those who own a 1911.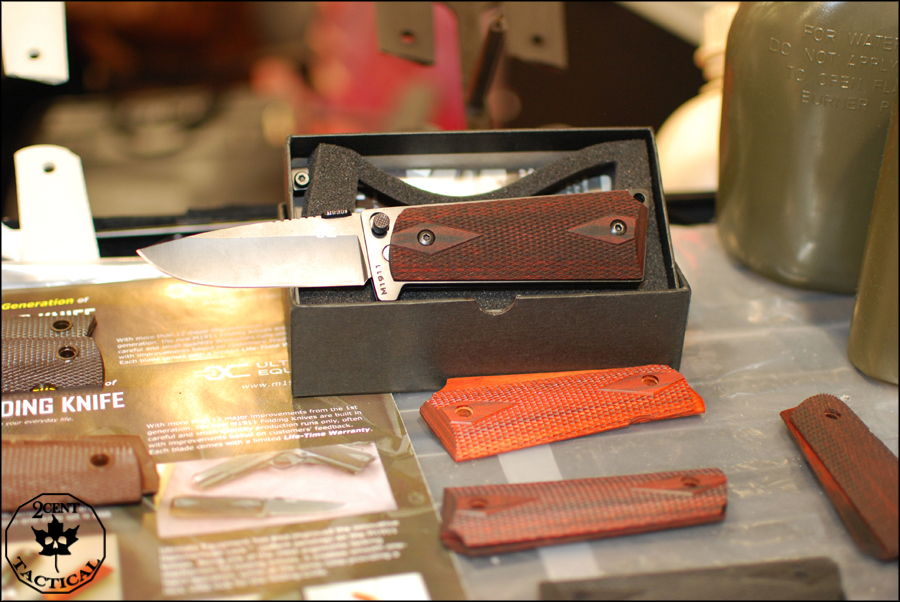 The knife can take 1911 scales so if there is another scale you prefer its easy to swap out.  This means there are near endless choices of grips you can strap onto one of these knives.  You can even make it match your 1911.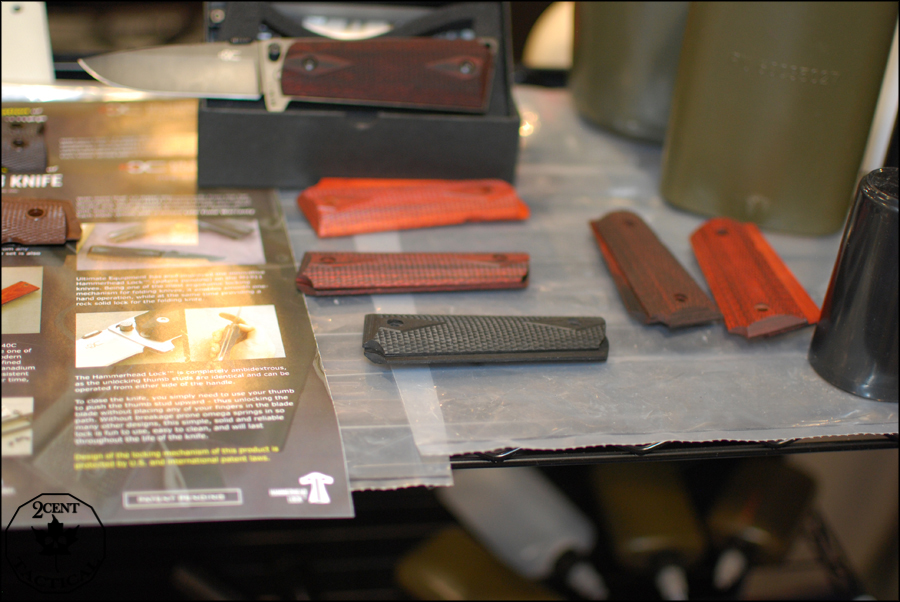 Eagle Tac
http://www.eagletac.com/
Eagle Tac had a good variety of lights at the show and the best part is they make super bright ones that run on AA and AAA for those of you who don't like CR123A batteries.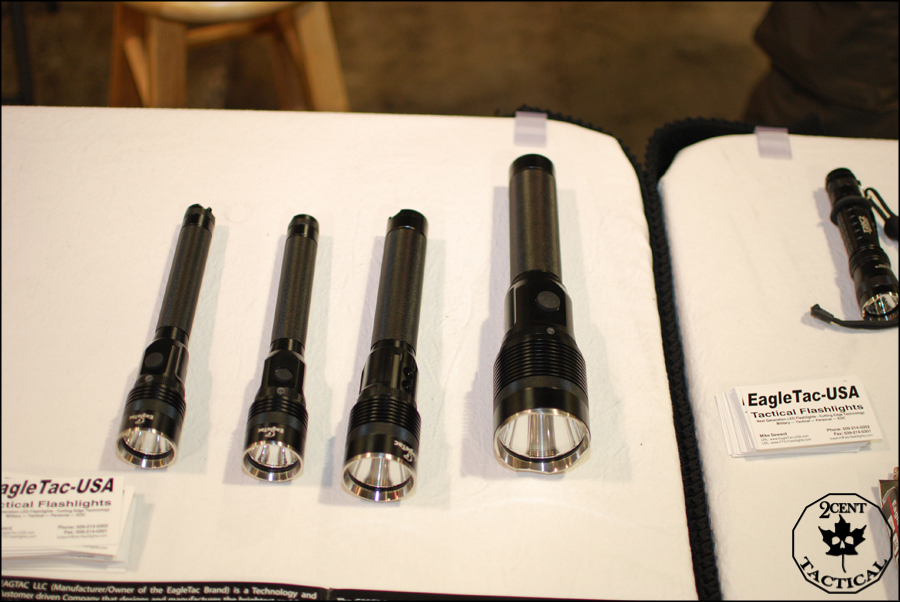 The lights that run on the more common batteries were more then bright and would make great every day carry lights.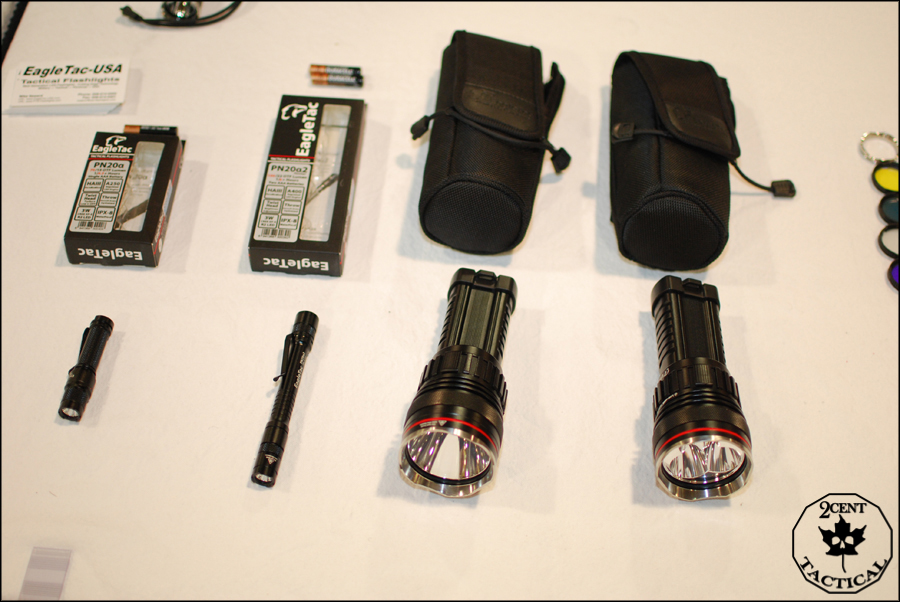 More companies should do what Eagle Tac does and have screw on filters.  I am tired of having filters fall off and then some poor guy ends up using white light in the field and is ripped a new one.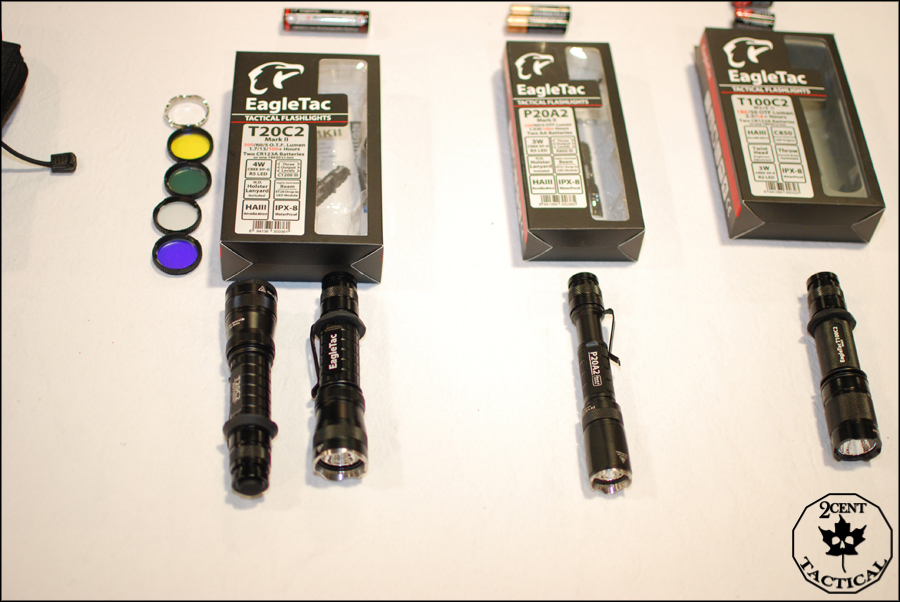 I hope to pick one of these up to write a review up in my planned population of the lights section of this site.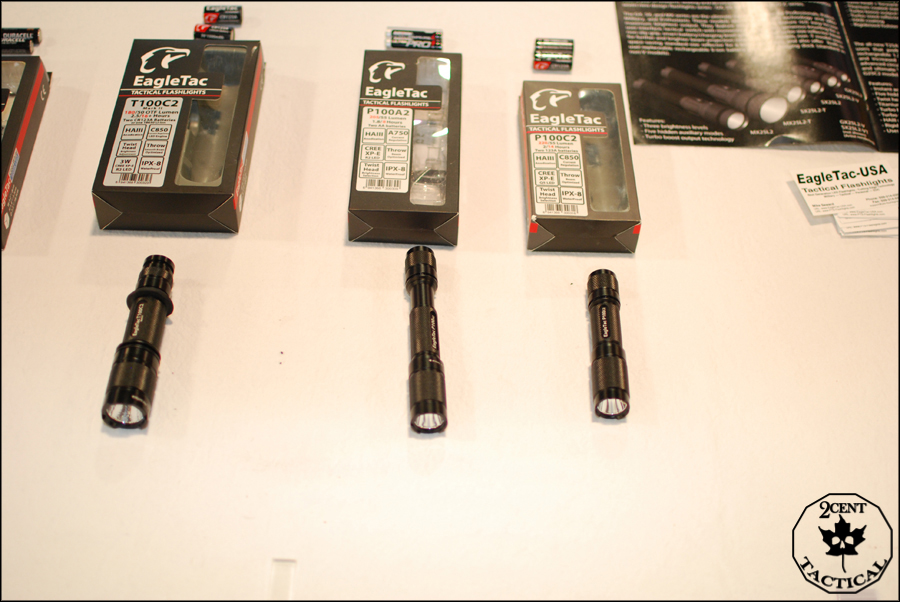 Energizer
http://www.energizerlightingproducts.com/productlines/hard-case-tactical/Pages/hard-case-tactical.aspx
The tactical line from Energizer came as a bit of a suprise a few years ago.  After having checked out the products and talked to the people in charge of the tactical side of things I am excited to see future products by them.  The Romeo is a nice angle light that has screw on filters.  It can attach to your vest, a pocket or using the magnets a metal surface.  The helmet light they have is also well thought out and very intuitive to use.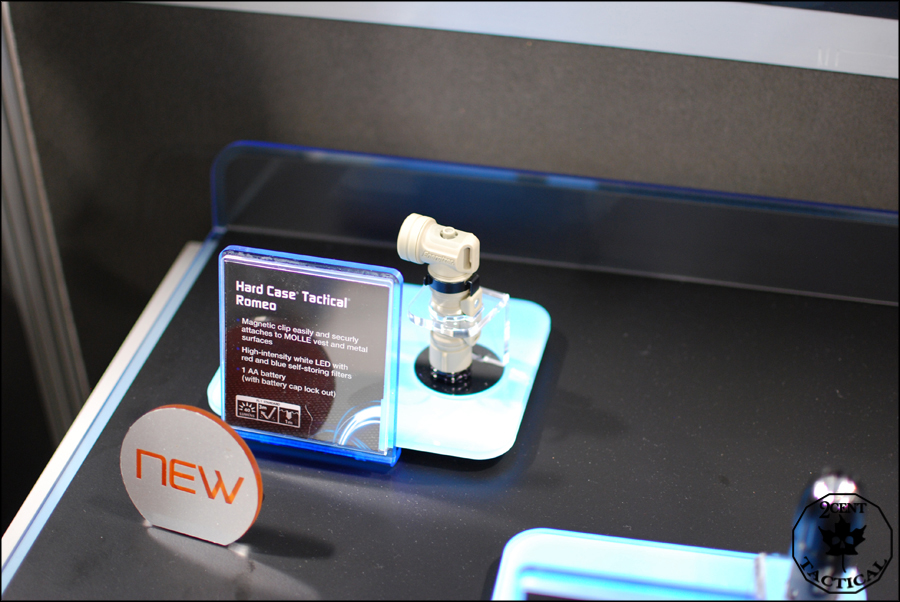 Spartan Blades
http://spartanbladesusa.com/
I first saw some knives by Spartan while browsing the Grey Group store.  The fit and finish of there knives is very nice.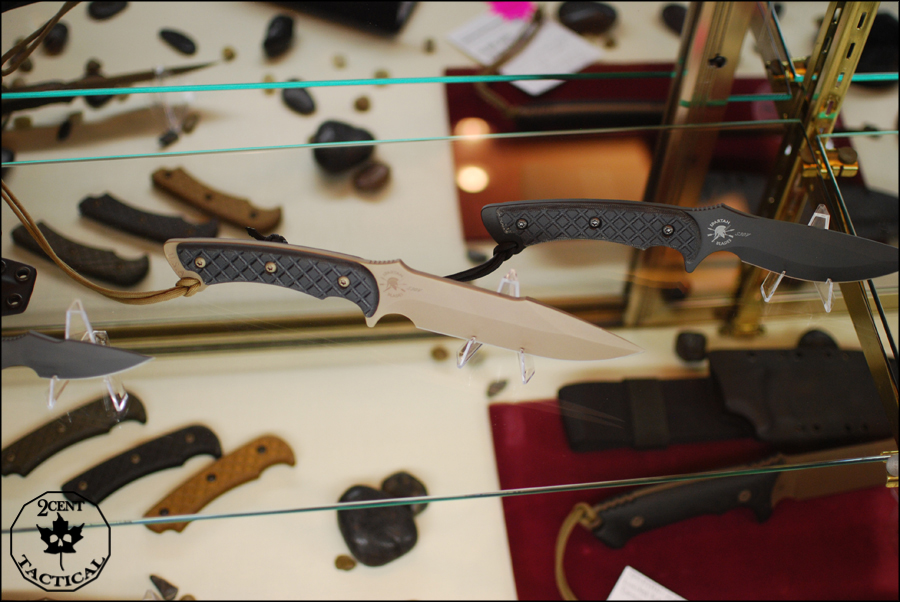 The Enyo is made to be used as a neck knife or worn inside the waist band as a EDC knife.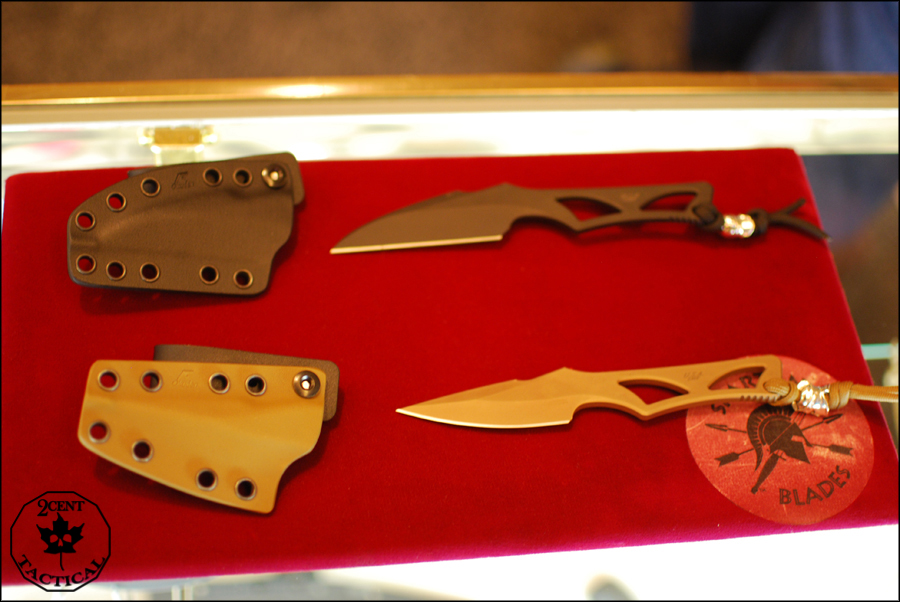 Spartan also has a tactical pen.  Unlike most of the pens out there this one felt like an actual pen in the hand and not a massive chunk of sharp metal.  Its not up on there site yet but should be in the near future.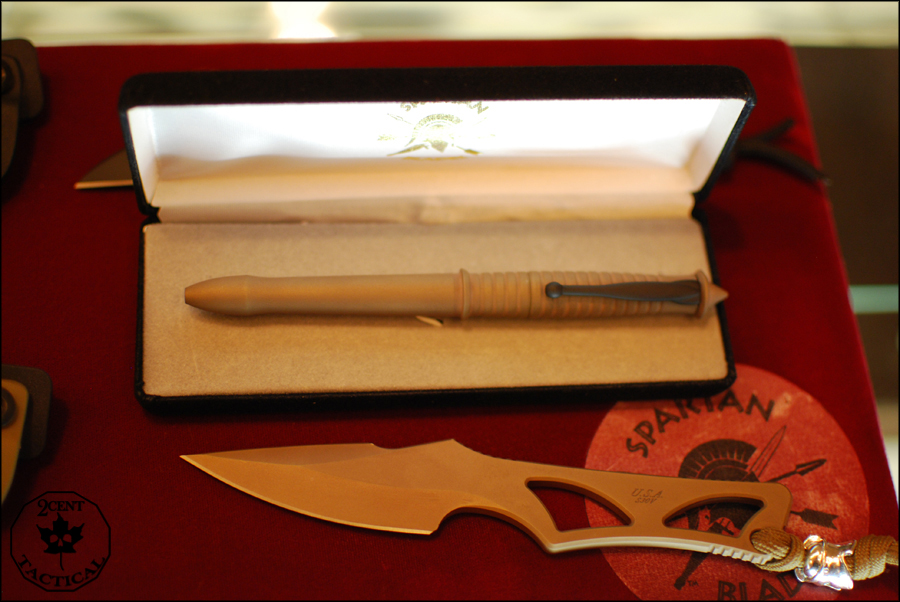 ESEE Knives
http://www.eseeknives.com/index2.htm
Formerly known under RAT knives they re-branded themselves to avoid confusion with the name.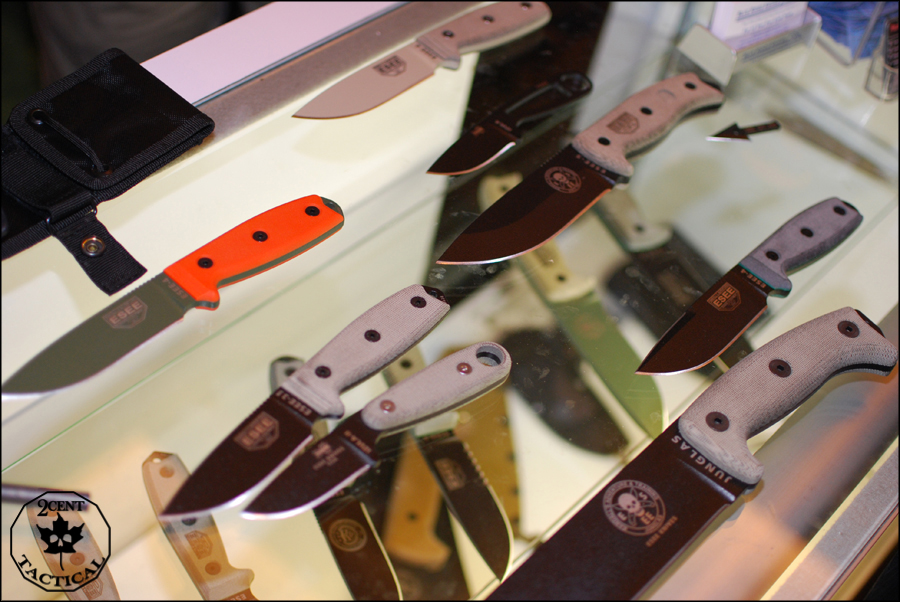 ESEE designs there knives around the knowledge they gain running a survival school.  This allows for no nonsense items that are built to last.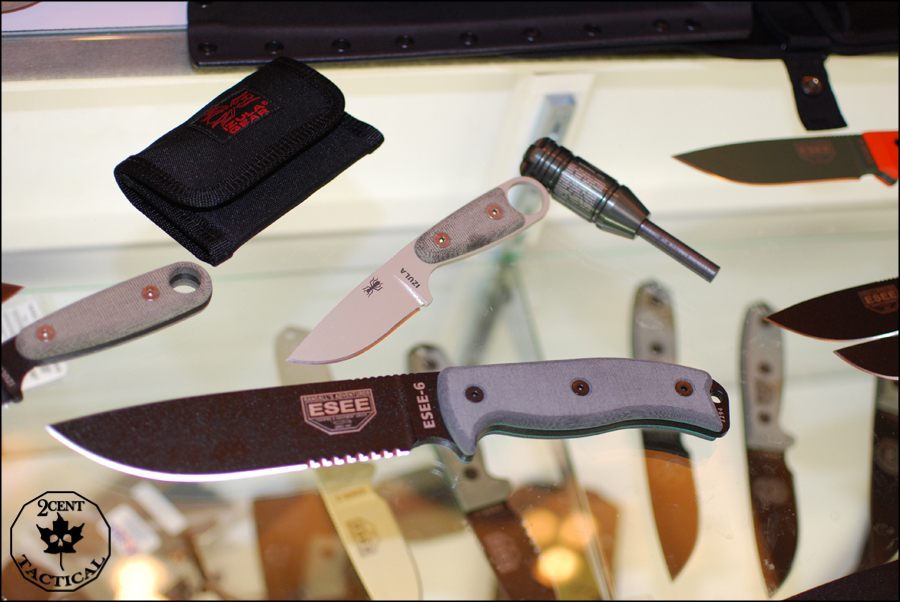 The framelock folder at the center of this picture is a folder prototype.  It is built by LionSteel and will not have the rotoblock present on the final version.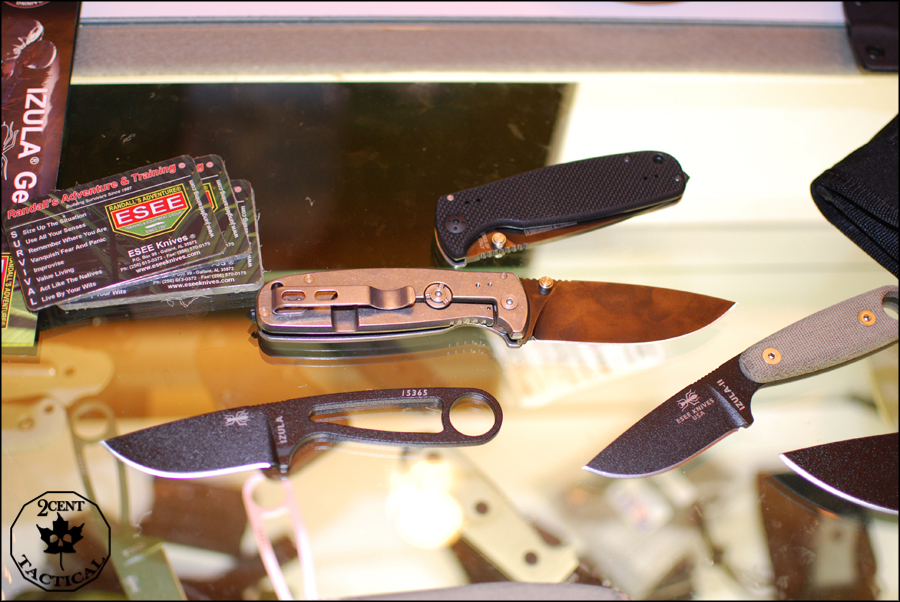 The other side of the folder showing the glass breaker at the rear and the brown scale.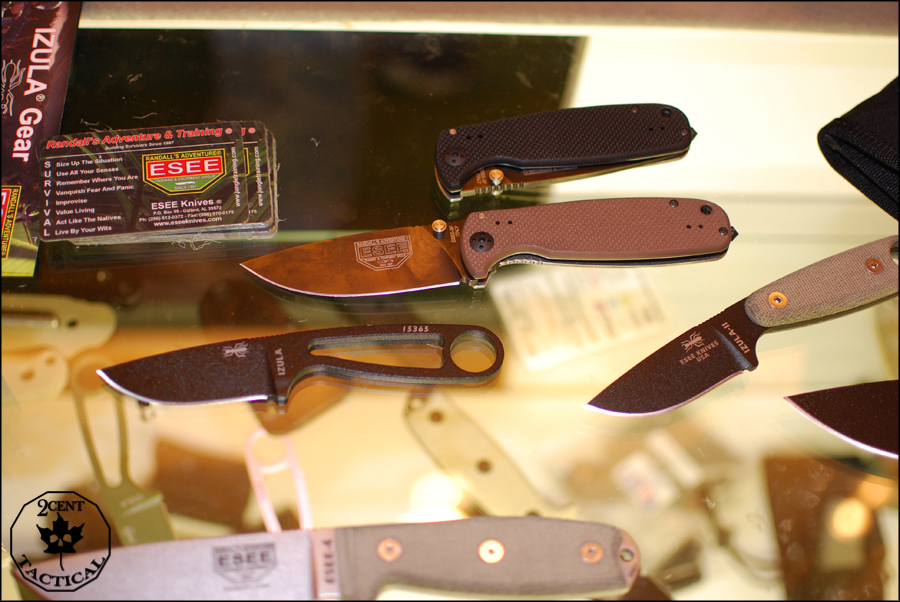 MultiTasker Tools
Having first heard about them on Military Times Gear Scout I was eager to get a first hand look at there tools.  The fit and finish along with the tools included in there kits makes these an awesome piece if you run an AR style weapon.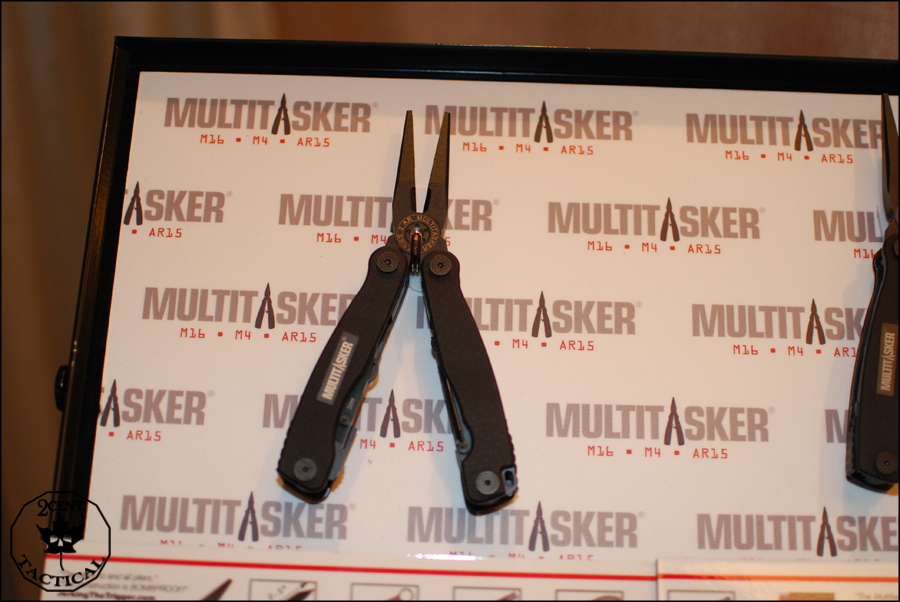 One of these combined with an Otis cleaning kit and you can take care of the majority of your AR cleaning and maintenance needs.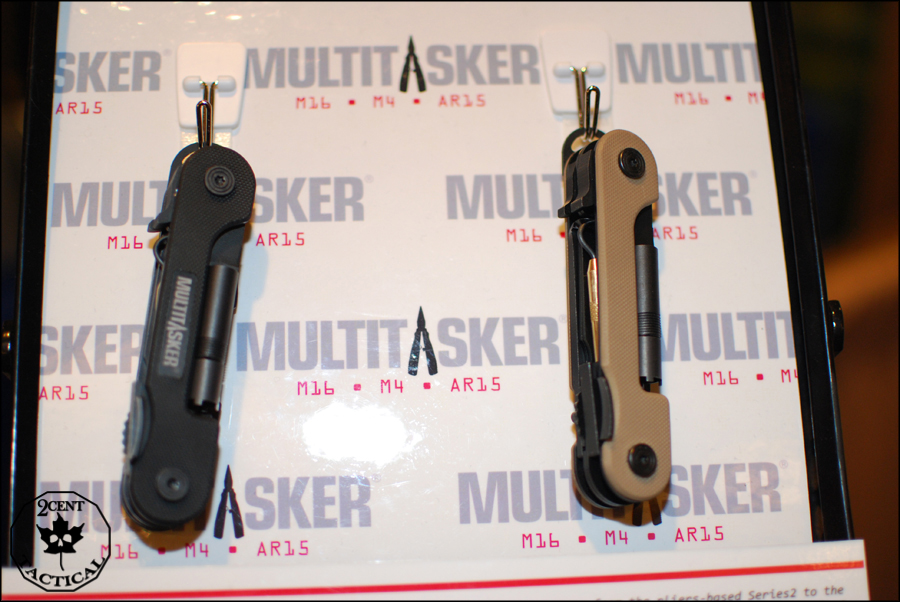 If your looking for something more compact the Tube kit might be what your looking for.  The top of the tube has a pin punch for those times when you need a bit more force to pop the receiver pins out.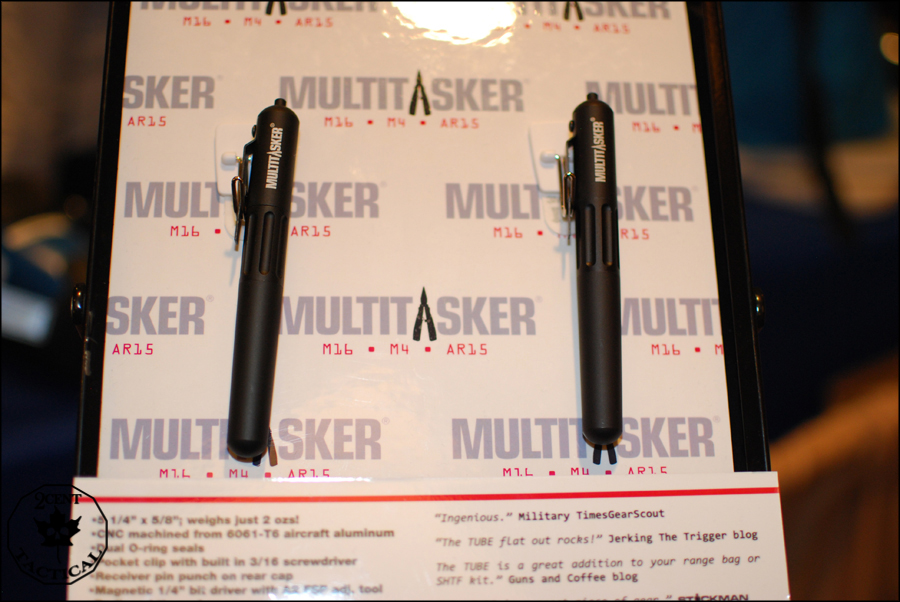 This last one wasn't at SHOT but was at the Antique Arms and Knife Makers show at the Riviera the weekend before SHOT.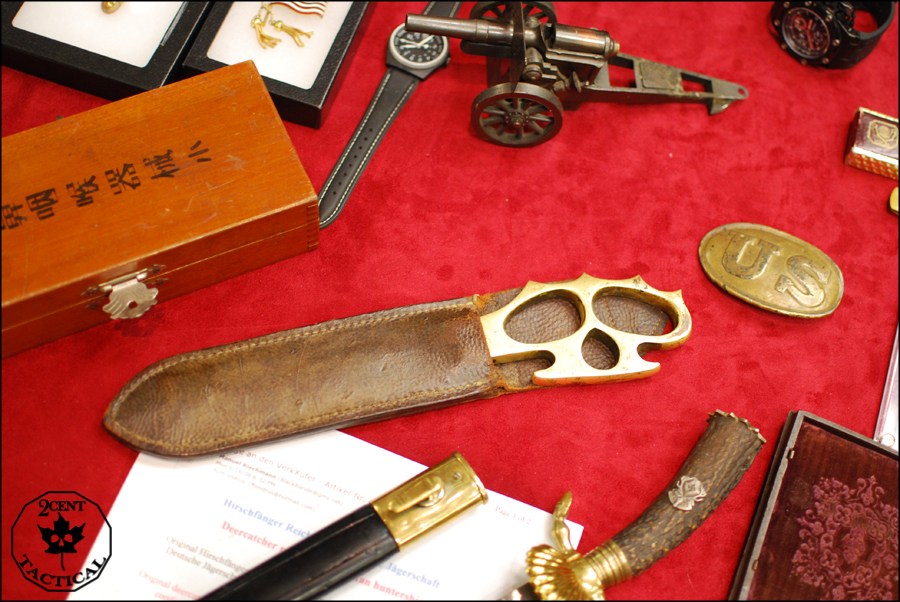 This knife is a British Trench Knife and sadly not something that could follow me back to Canada due to the handle.  It is one of my favorite knives by a long shot.

I most certainly don't have pictures of all the manufacturers at the show.  I just grabbed the ones that I found to be really interesting or were easy to get photos of.  If I took any more even highspeed internet access may have struggled to open this post.