It is no stretch to assume that I am a bit of a gear whore.  Which is why SHOT is one of the best kid in a candy store type places a guy like me can get to.  This year was cool to see all the different camo boots and the A-Tacs patterns rolling out on BDU's.
Bates
http://www.batesfootwear.com/
I have owned several Bates boots over the years.  They have all served me well and I am currently working on a review of the Bates C3 boot which I should have up within a week or so.  When I went to the Bates booth I had one thing I wanted to see and that was the ICS dial.  This dial allows you to adjust how the heel of your shoe works.  You can adjust it to be firm, cushioned, for people who walk on the insides of there sole and for the outsides. (The dial goes under the insole not on top of it.  It was just the most convenient way to photograph it.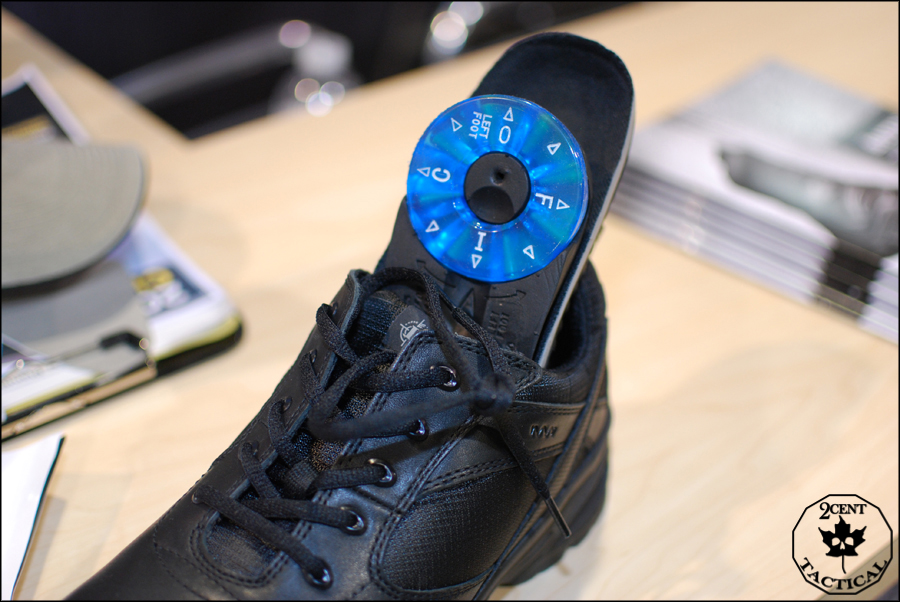 The gel dial has a wave that goes around it leaving space on one side between it and the carrier for the adjustments.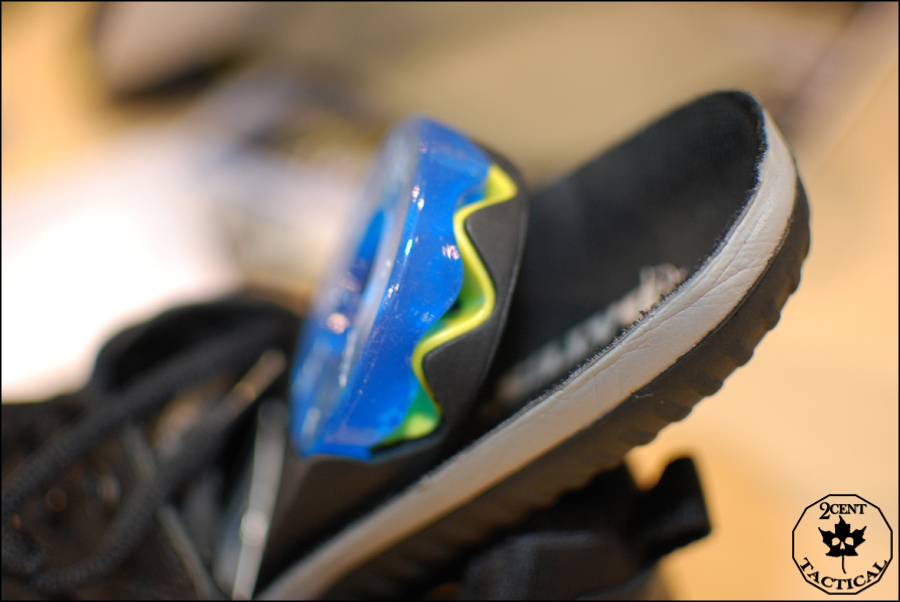 This is what you would see if you pulled the insole out.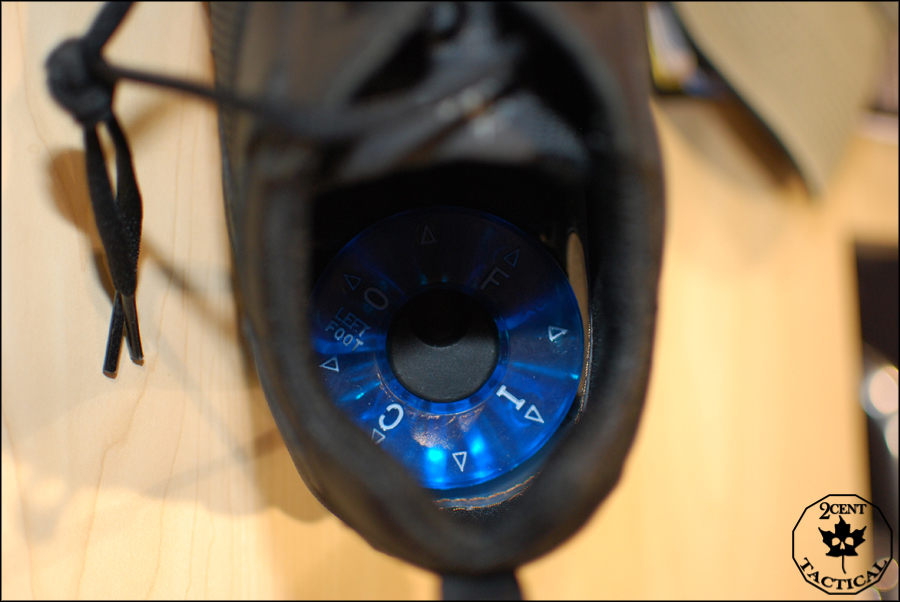 Completely removed you can see the gel dial and carrier.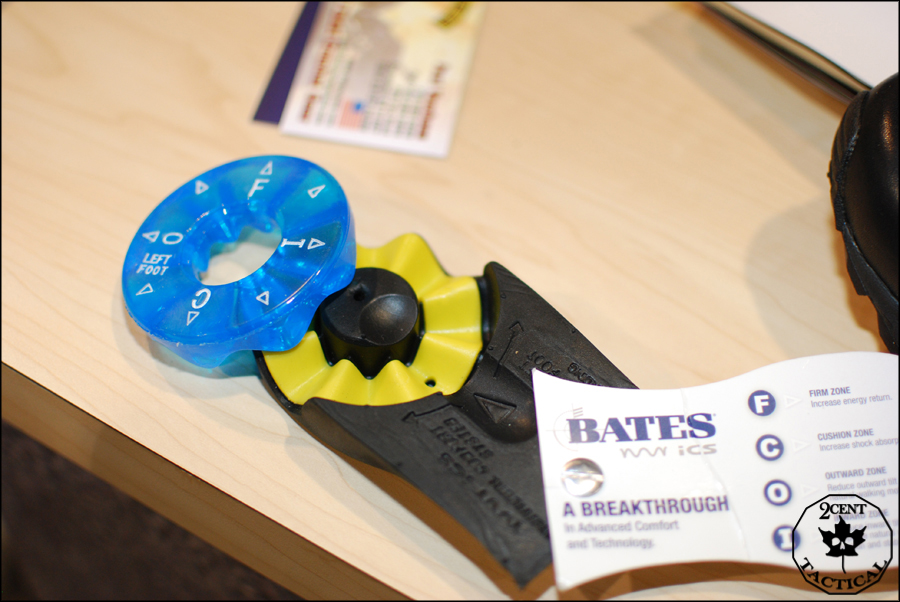 Converse
http://www.warson-group.com/default.aspx
(This was the group who showed Converse at the show.  As far as I can tell the military boots are through them.  If this is not the case please contact me with the correct url)
I have heard good things from friends who have used Converse boots over seas.  Now Converse is following the trend of Multicam boots that has recently started.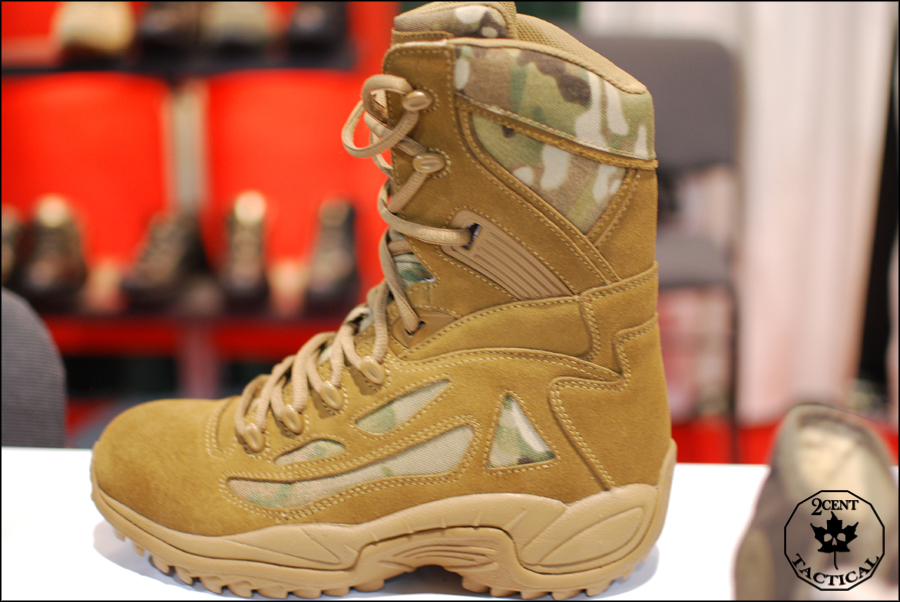 Vans had the first Multicam skate shoe that I know of but the Converse version looks quite good too.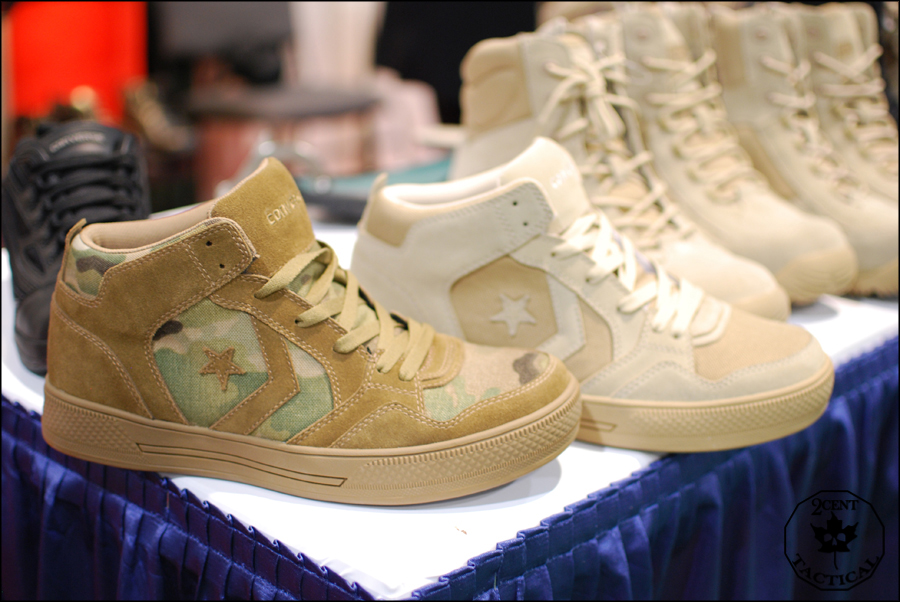 Original Swat
http://www.originalswat.com
Original Swat makes some of the more commonly seen black boots on soldiers feet.  I owned a pair at one point in time and they fit quite well.  Now if your interested in the following boots however you will have to order them off their custom site http://swatid.com/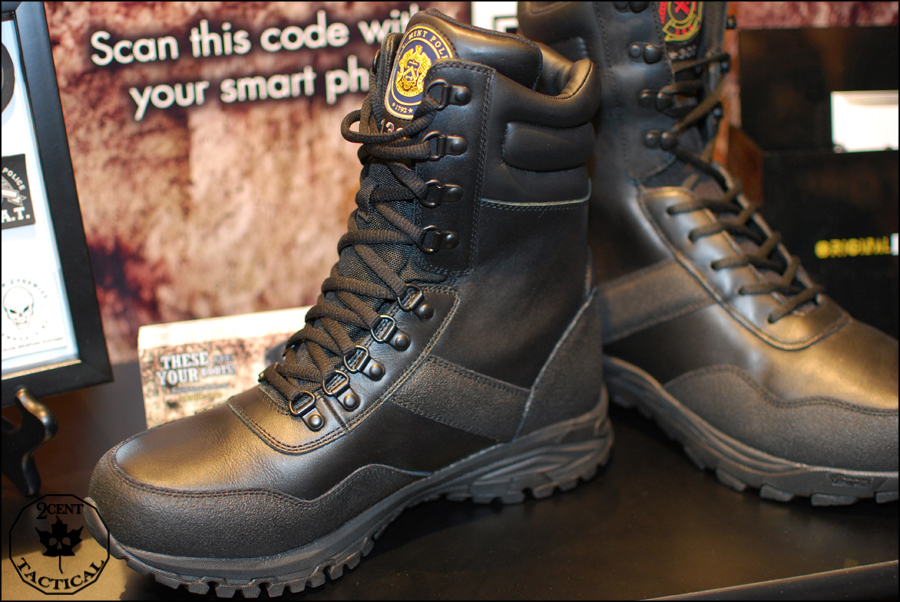 This site allows you to pick the toe covering, if a composite toe is used, if its waterproof, if its insulated, if it has puncture protection or even a side zip.  The really cool part you can see on the tongue of the shoe.  You can have your unit/group crest on the tongue of the boot as well as a stitched section of lettering where you can put your name, call sign or even blood type.  Pretty cool if you ask me and who knows perhaps I will design a 2 Cent Tactical version for fun.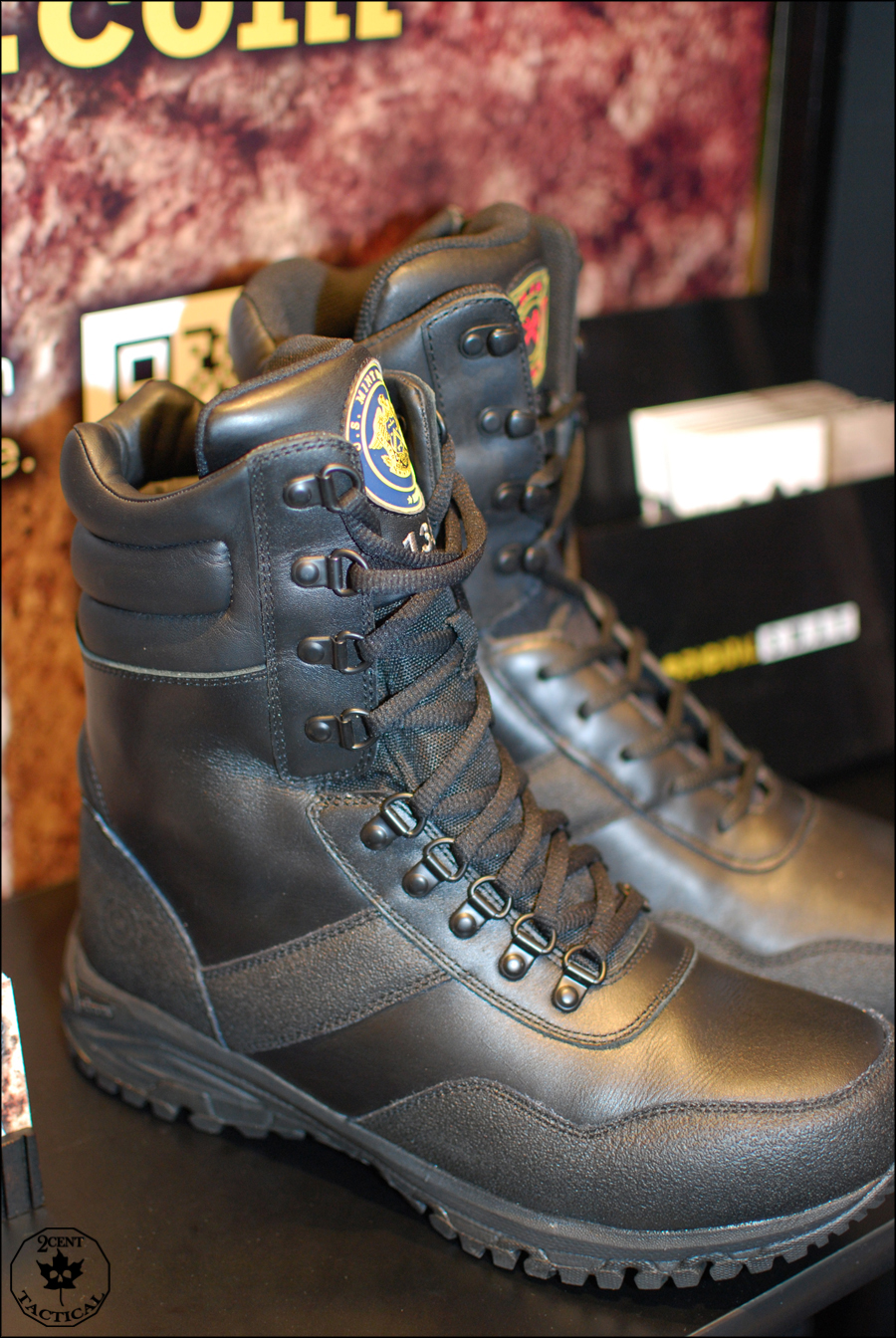 Oakley
https://secure.usstandardissue.com/ (For the United States)
https://www.oakleyforces.ca/ (For Canada)
As some of you may know I have had a love and hate relationship with Oakley.  Some of there older stuff had questionable reinforcements and things kind of fell apart.  That said Oakley boots were among my most comfortable boots.  I met up with them at the show and was pleased they fixed my major issue on their normal boots and now stitch the out sole of the boot onto the boot itself.  I had separation on mine within a few months of owning it because it was only glued on.  So kudos to Oakley.
Here you can see the Oakley waterboot.  Its designed around water to land operations.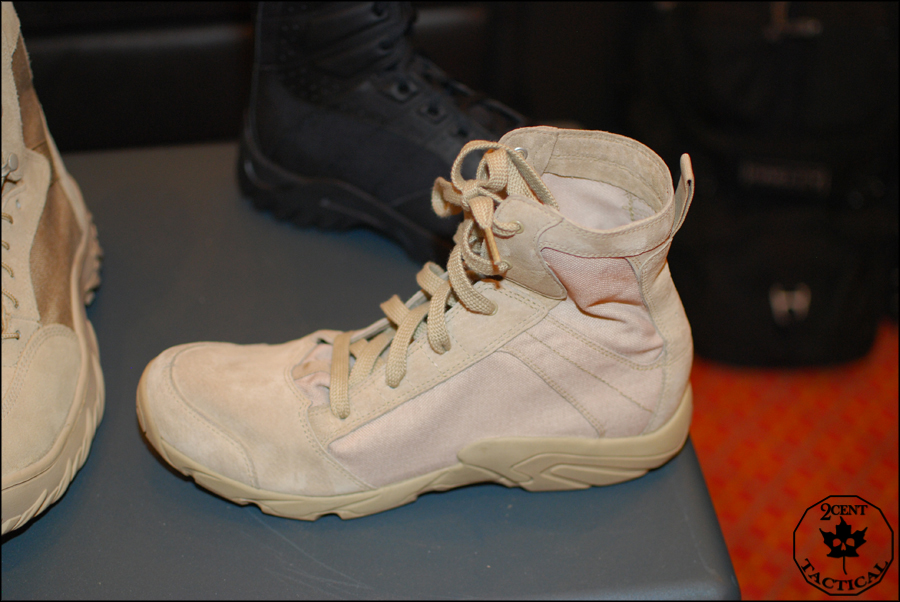 Here you can see the drainage holes in the bottom used to expel the water from the boot.  If you look closely on the tread you can see a wave pattern.  This is the siping which allows for added traction on wet surfaces.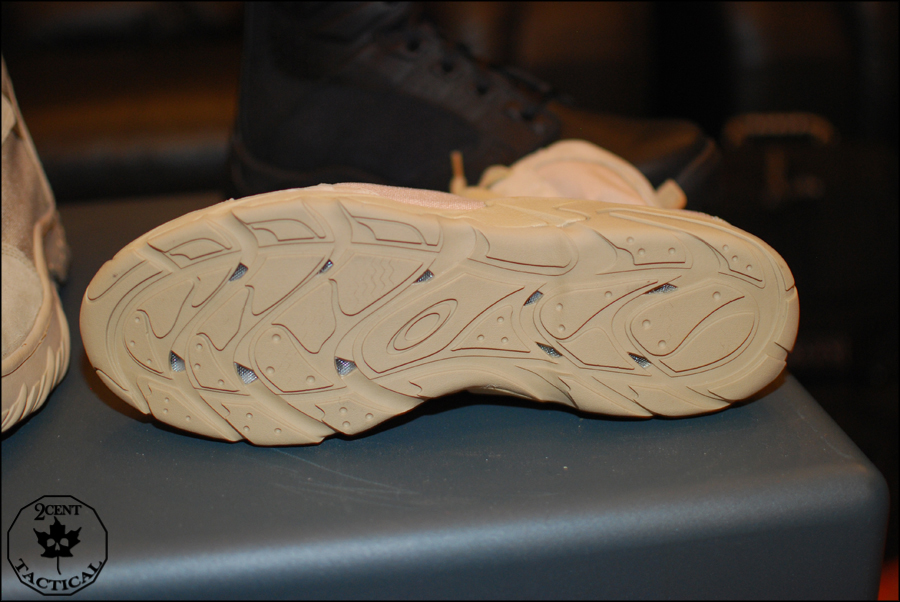 This was another lightweight boot on display at the booth.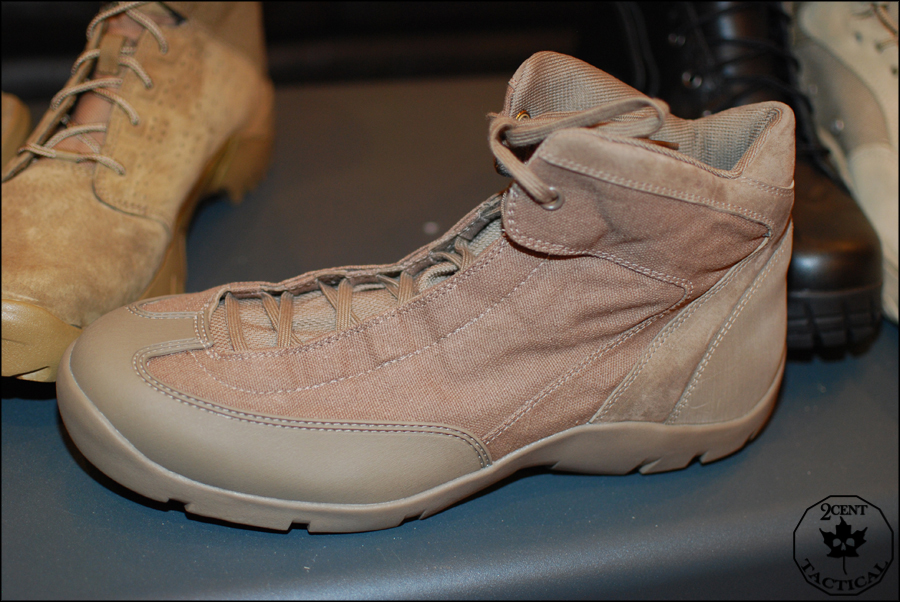 Multicam its not just for uniforms.  I think there are around 5 or 6 manufacturers who currently produce Multicam footwear now.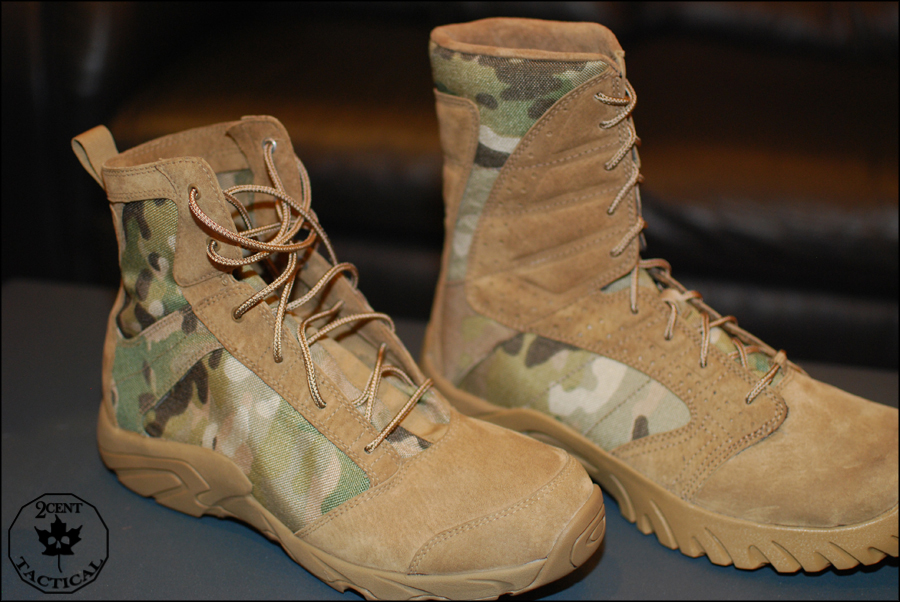 The new colorway for the Panel Pack was hanging out on their couch.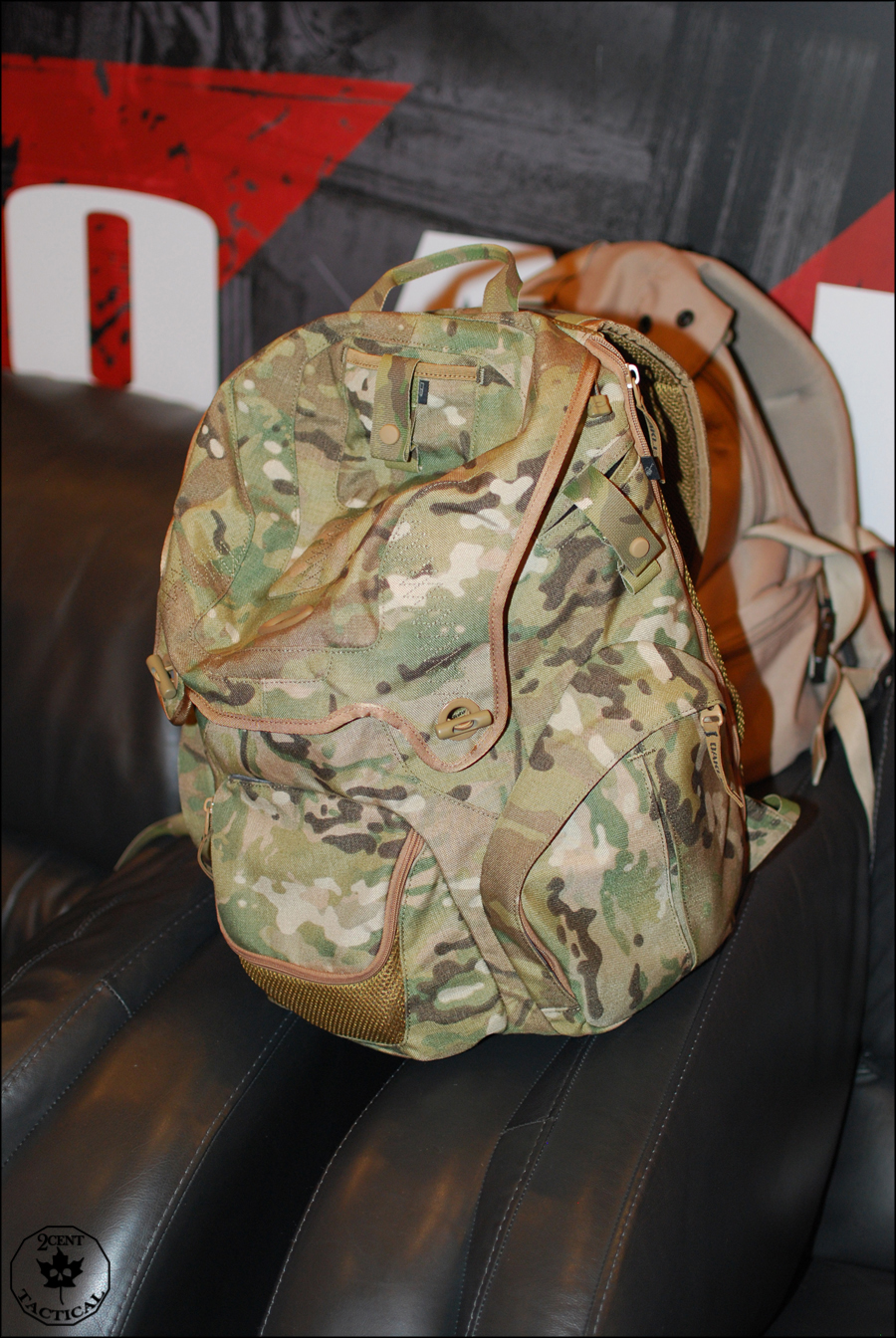 You can see the tan FR glove here but next to it was a pleasant surprise for me.  They will be offering there Pilots in a green color.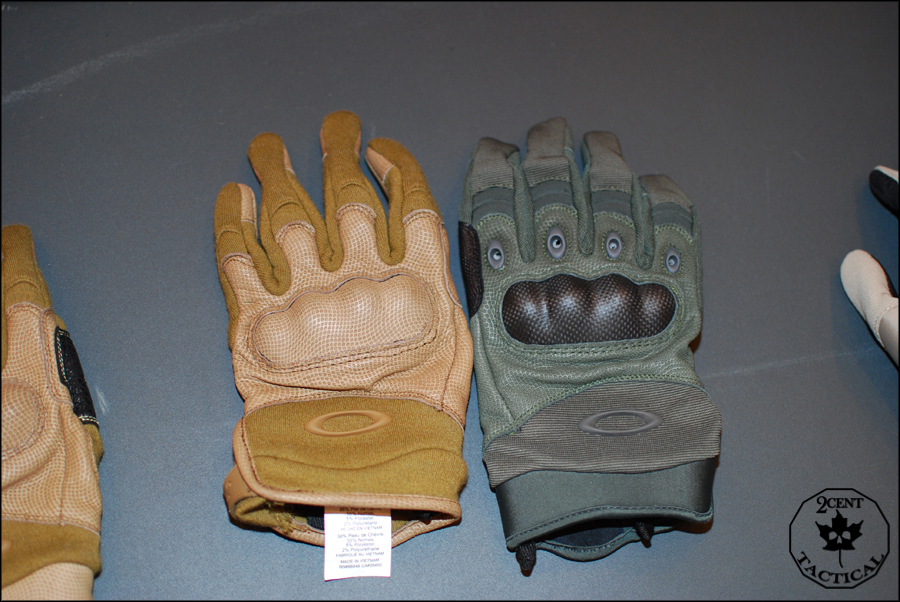 Not only that but a new glove was on display.  This one does not have hard knuckles but should offer the same tactile feedback the hard knuckle ones allow.  Sadly they didn't have size bear paw on display for me to try on.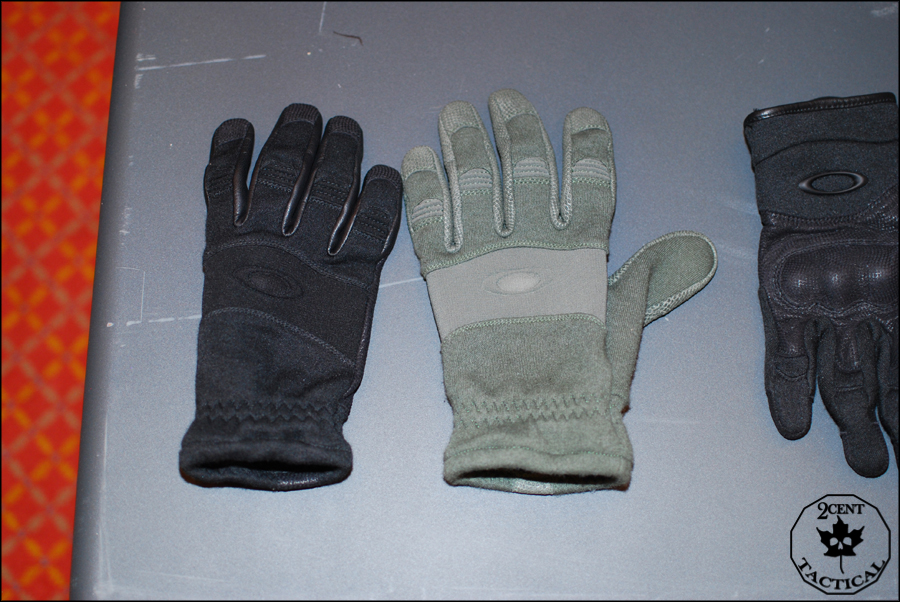 Altama
http://www.altama.com/
Altama has been getting asked to produce more modern boots based on the old jungle boot sole.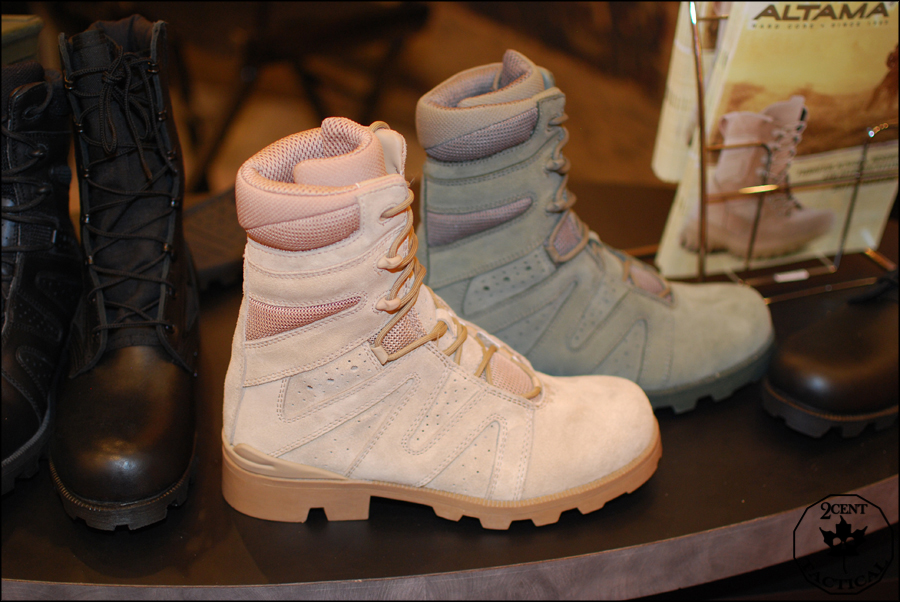 So the newest incarnation uses the following out sole with cushioned sections in it to remove weight and allow for shock absorption.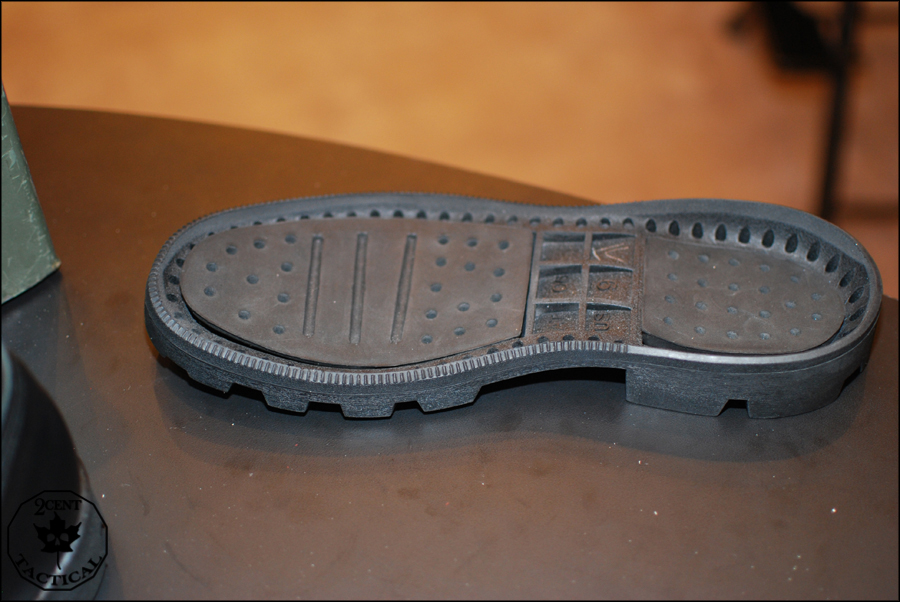 You can see the new black one at the front and the old style just behind it.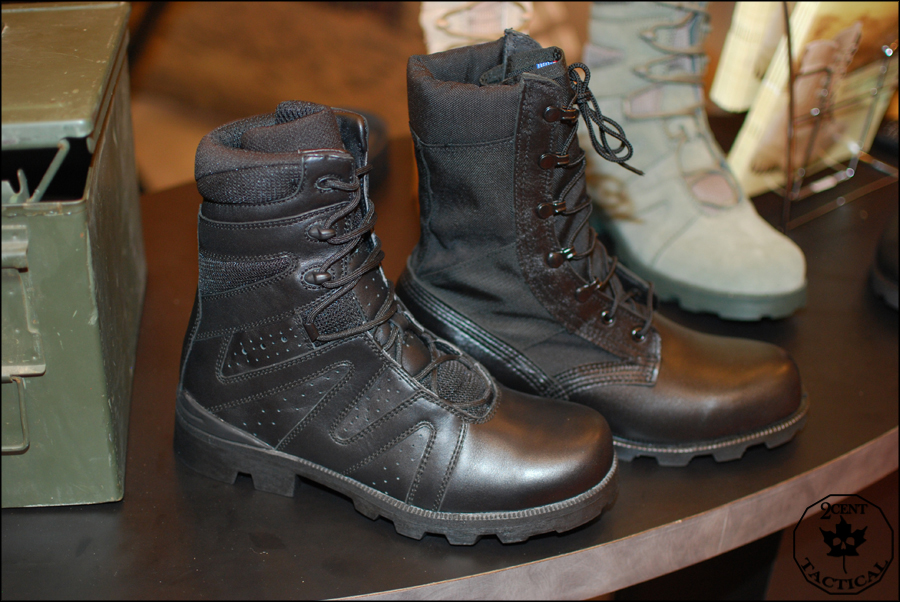 The Ortho-TacX boots now come in a Gore-Tex flavor.  If you ever get a chance to check out the insole for these they are quite nicely designed.  Sadly they don't come in sizes past 13.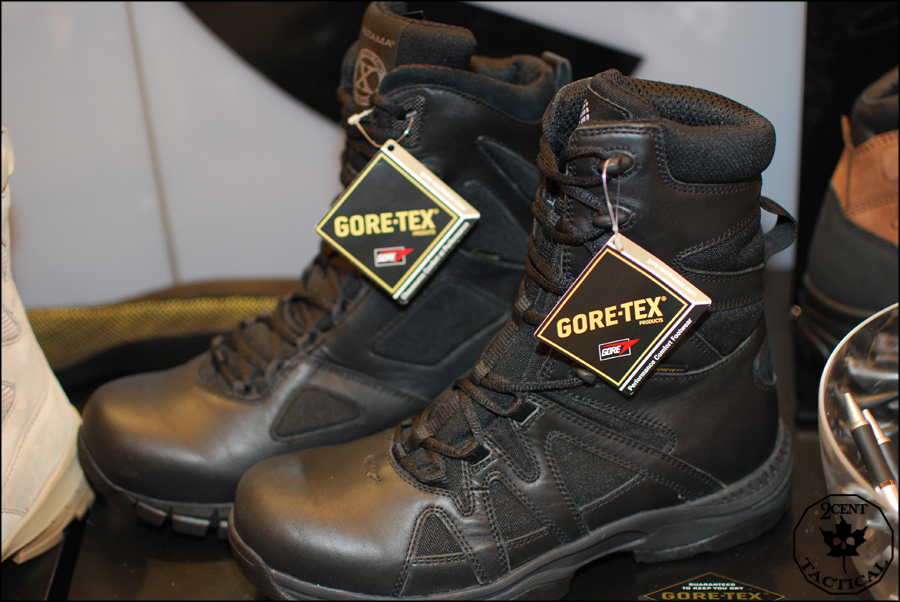 They will even be trialing a trail running shoe.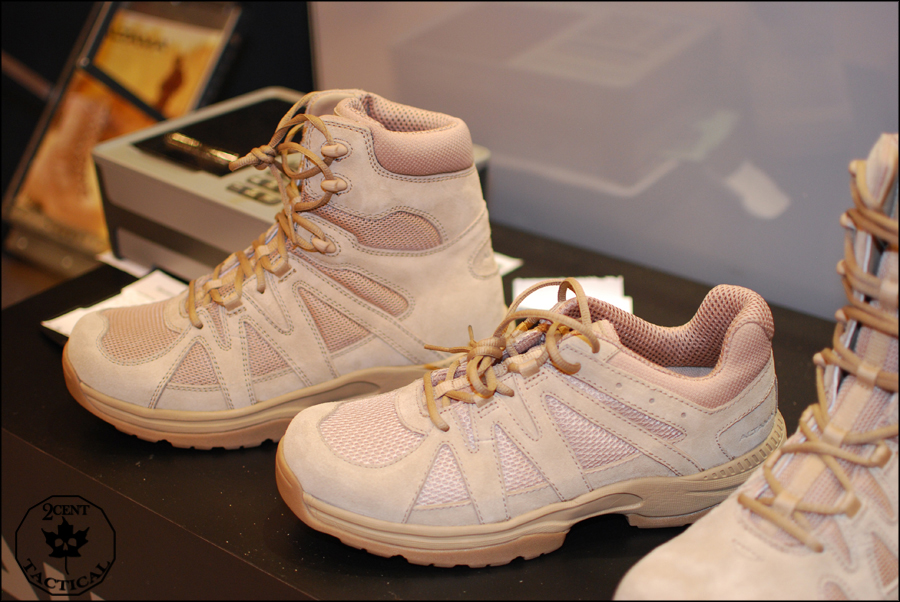 The shoe style comes in boot form in a six and eight inch variety also.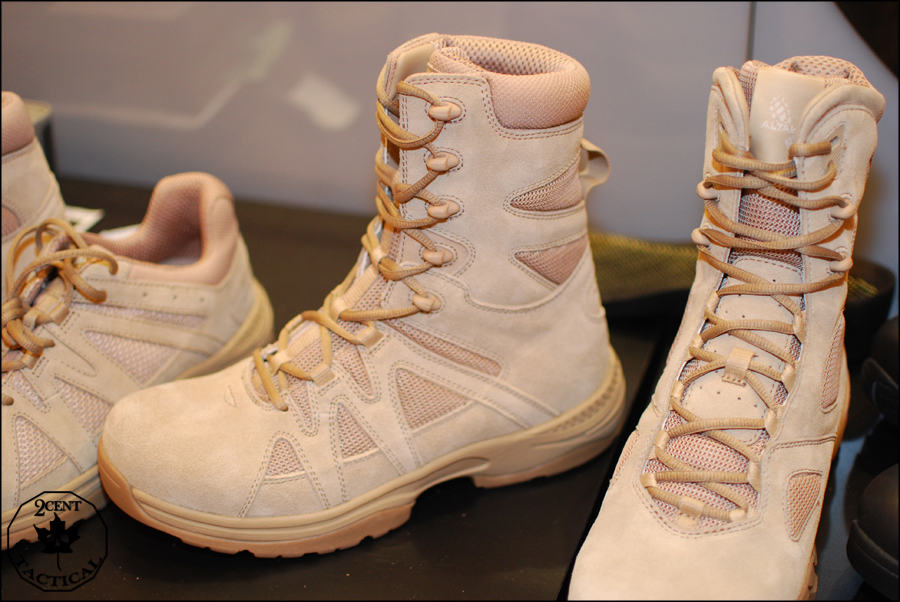 OTB Boots
http://www.otbboots.com/
Just before last years SHOT OTB was acquired by New Balance.  This was part of New Balances N.Tel program read more about it here http://soldiersystems.net/2011/01/23/n-tel-whats-it-all-mean/
On the following boot you will notice there is a hole at the mid section of the heel.  That is because on the newer version of their waterboots they moved the drainage holes from the bottom to the side.  This was done to stop water from being pulled back into the boot through the bottom.  They had a out sole model at the show but pictures were a no go of it.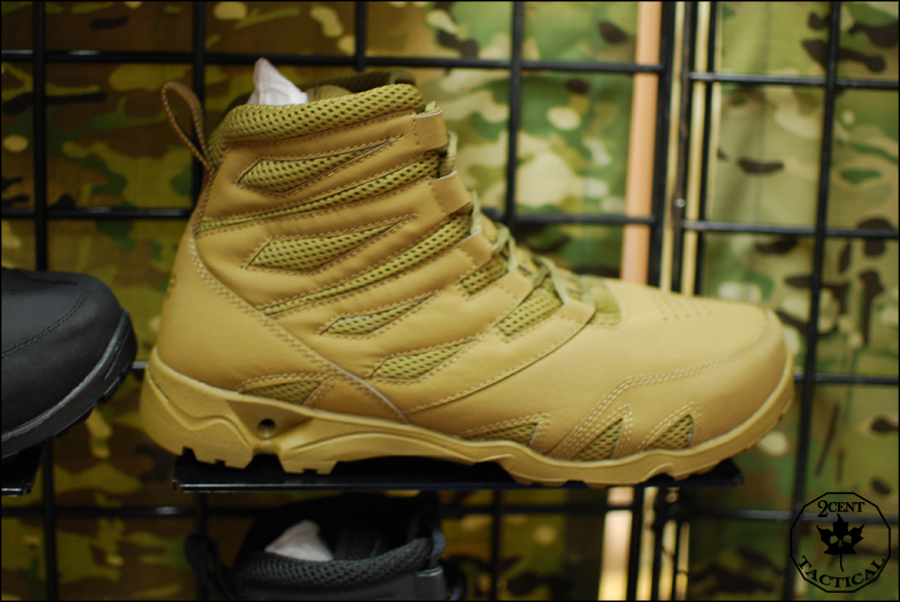 An OTB boot with side zip?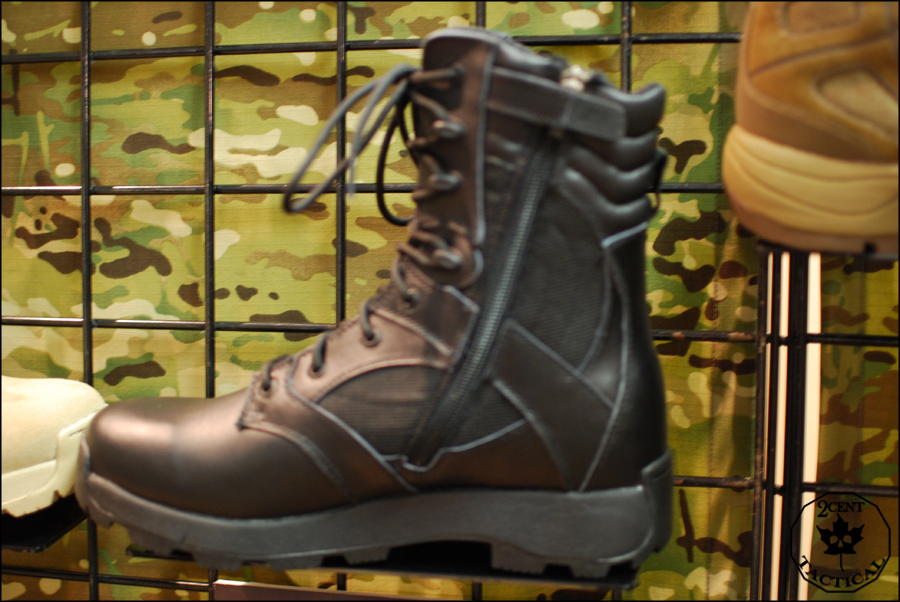 The Odhin and Abyss boots that most people think of when you mention the name OTB.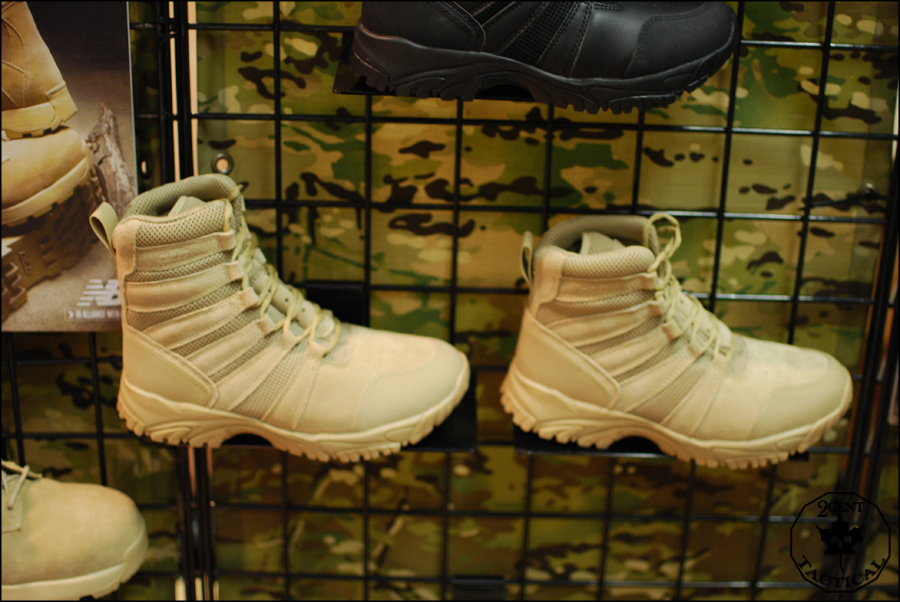 New Balance also debuted a trail running shoe geared towards the military.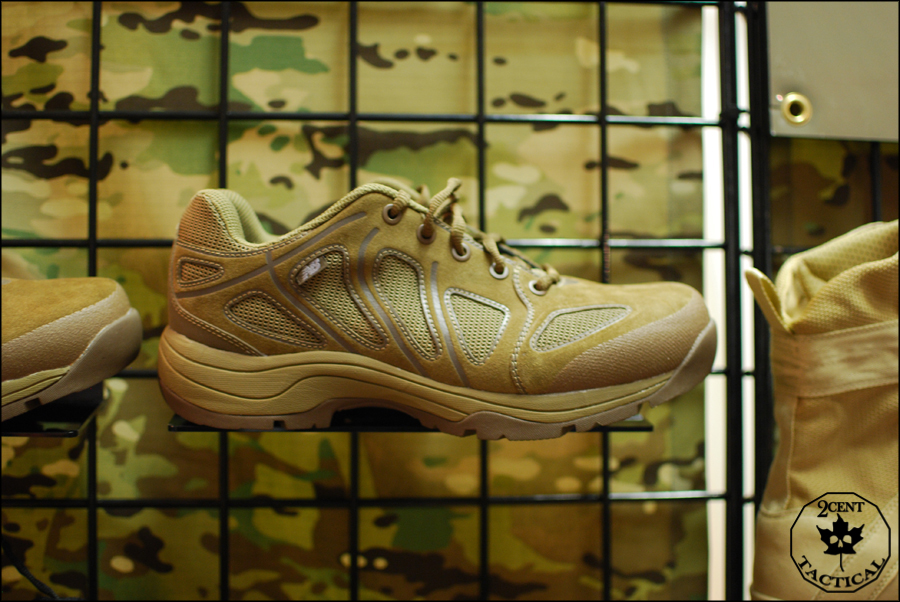 They also had a new hiker on display.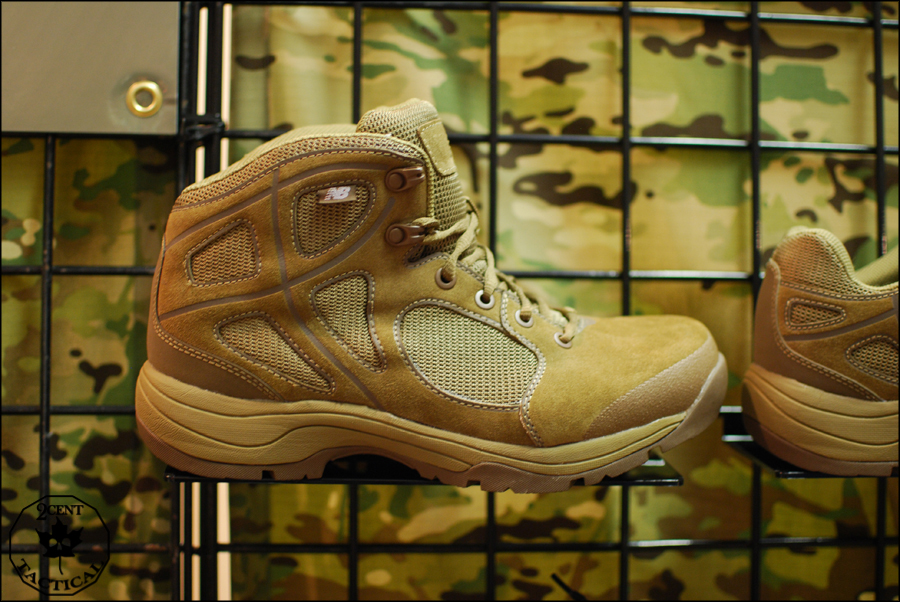 Under Armour
http://www.underarmour.com/
Under Armour had a good showing of their new tactical line of products.  Included in that line were these Multicam boots and a Multicam shirt.  It will be interesting to see where the tactical line goes over the next few years.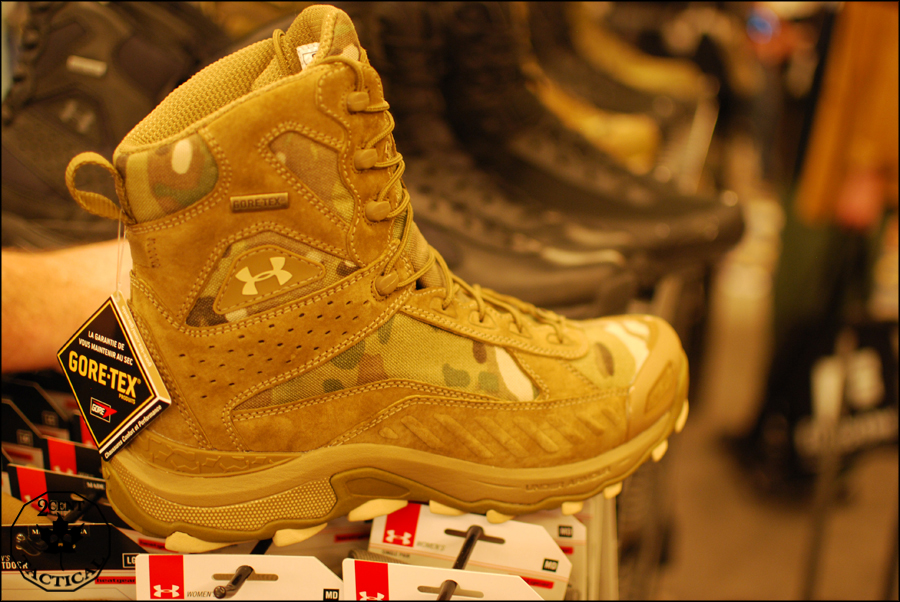 Eagle Industries
http://www.eagleindustries.com/home.php
Eagle did not have a whole lot that was new at their booth.  However they did have two nice products.  The first is the vest for fighting dogs.  This is the sizing rig that Eagle will mail to you.  You put it on your dog and pull the sizing off the letters and numbers throughout the vest.  Then Eagle gets you a vest that is sized for your dog.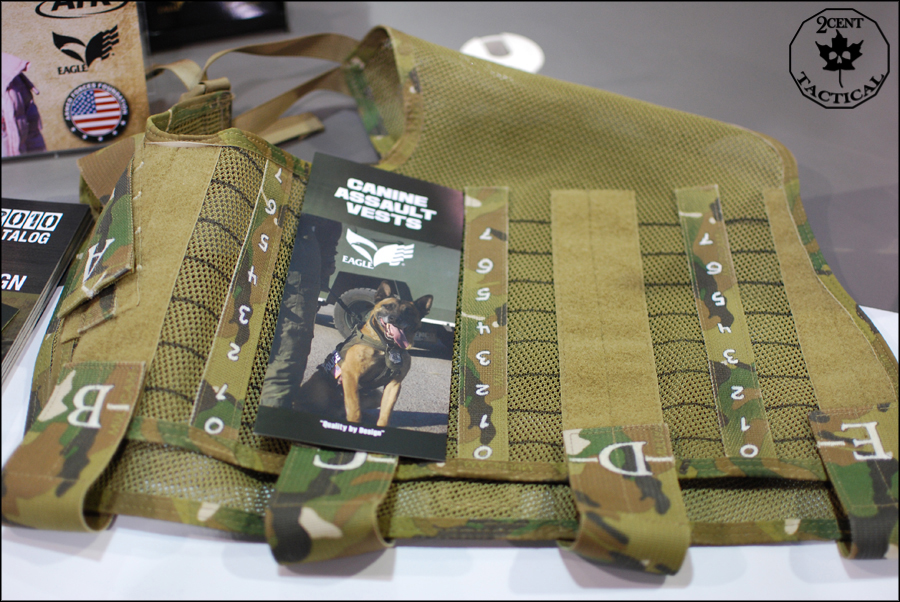 Here the actual vest can be seen on a stuffed dog loaded up with all sorts of things.  Its nice to see companies taking more interest in the dogs of war.  I even saw a company at the show that specializes in dog first aid gear.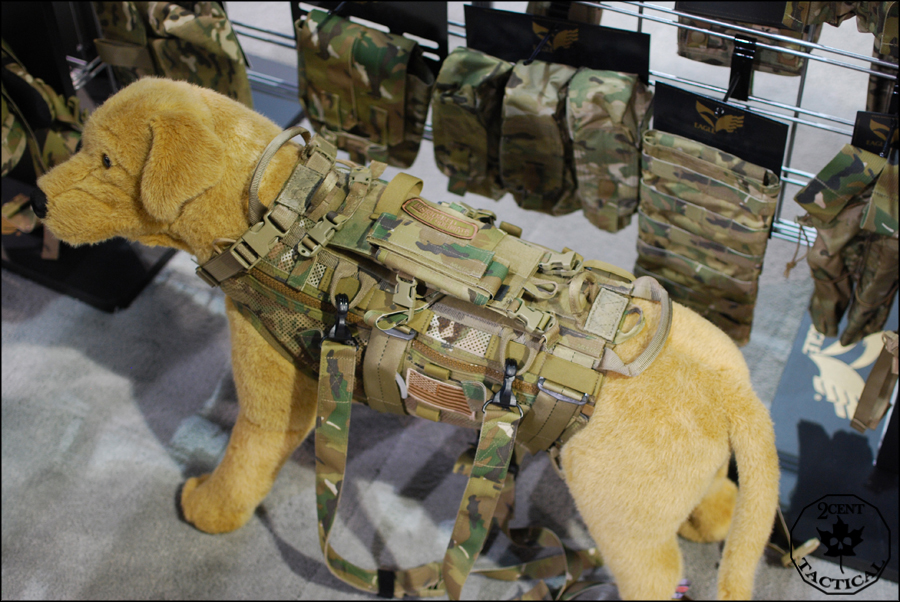 The other new product was the Eagle LCS or Load Carriage System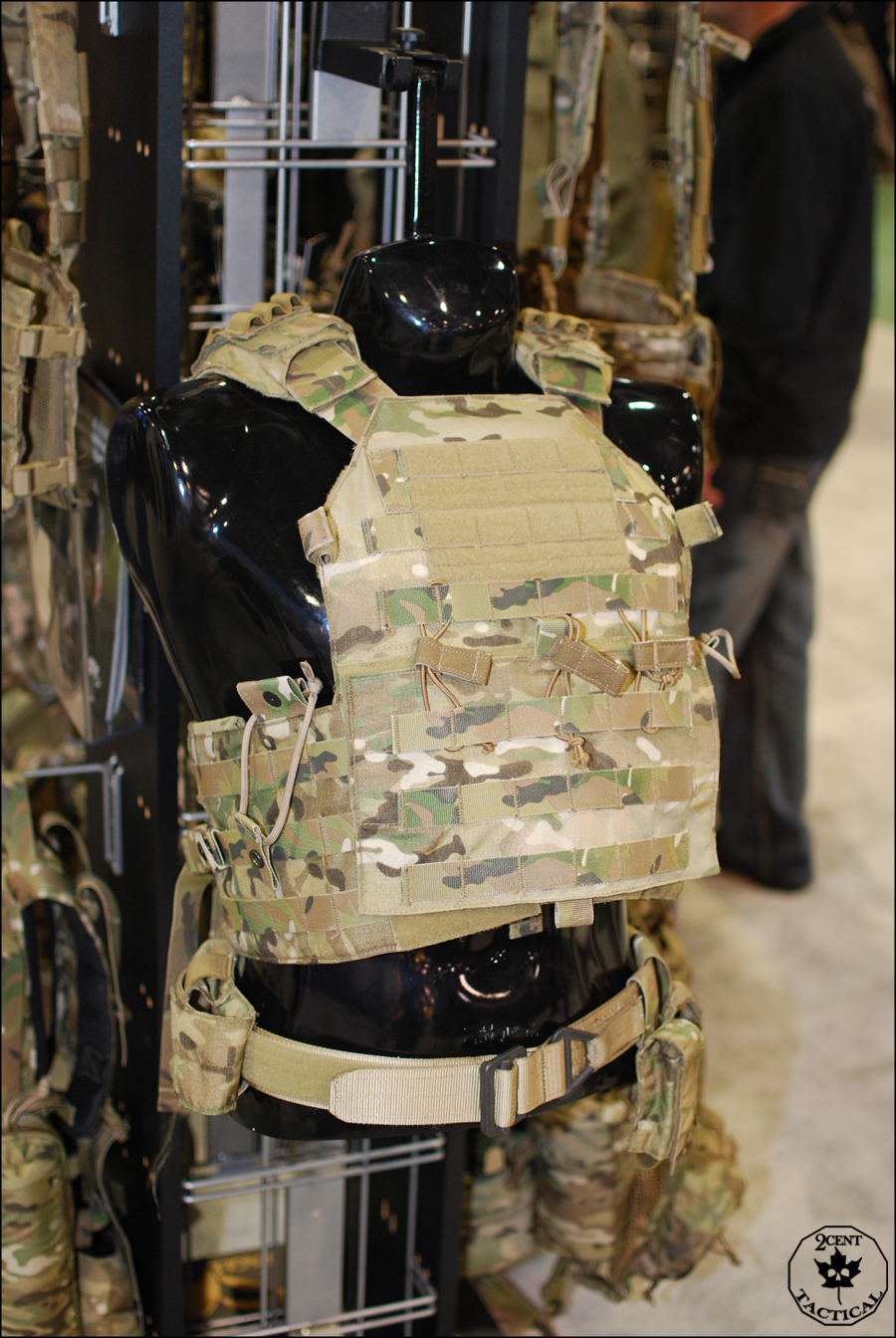 It seemed like a very well thought out plate carrier and the padded straps were a nice touch.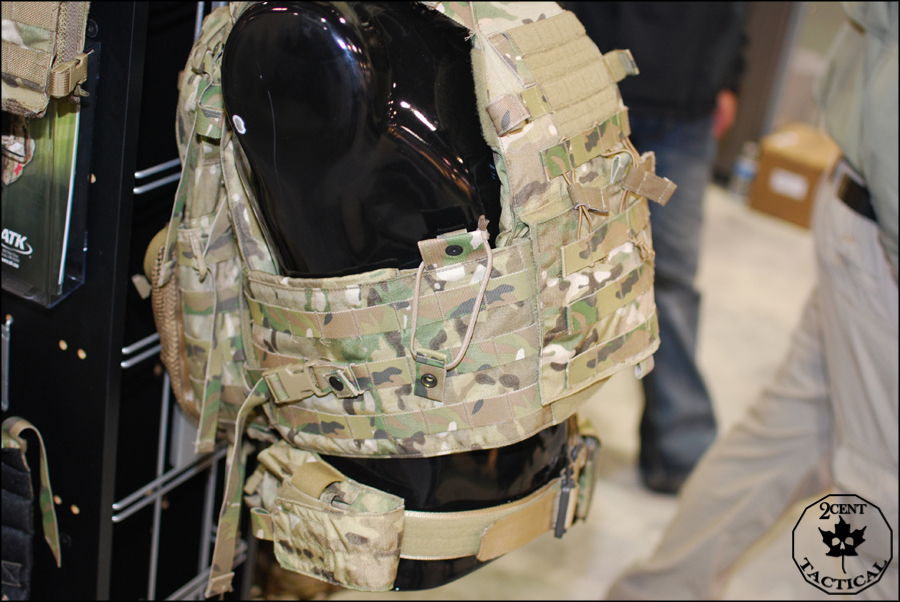 Propper International
http://www.propper.com/
Proper had all sorts of A-Tacs goodies on display at the show including this new combat shirt called the A-Tacs Tac.U Combat Shirt.  If you are just hearing about A-Tacs you should check out http://a-tacs.com/ to gather some information on the pattern.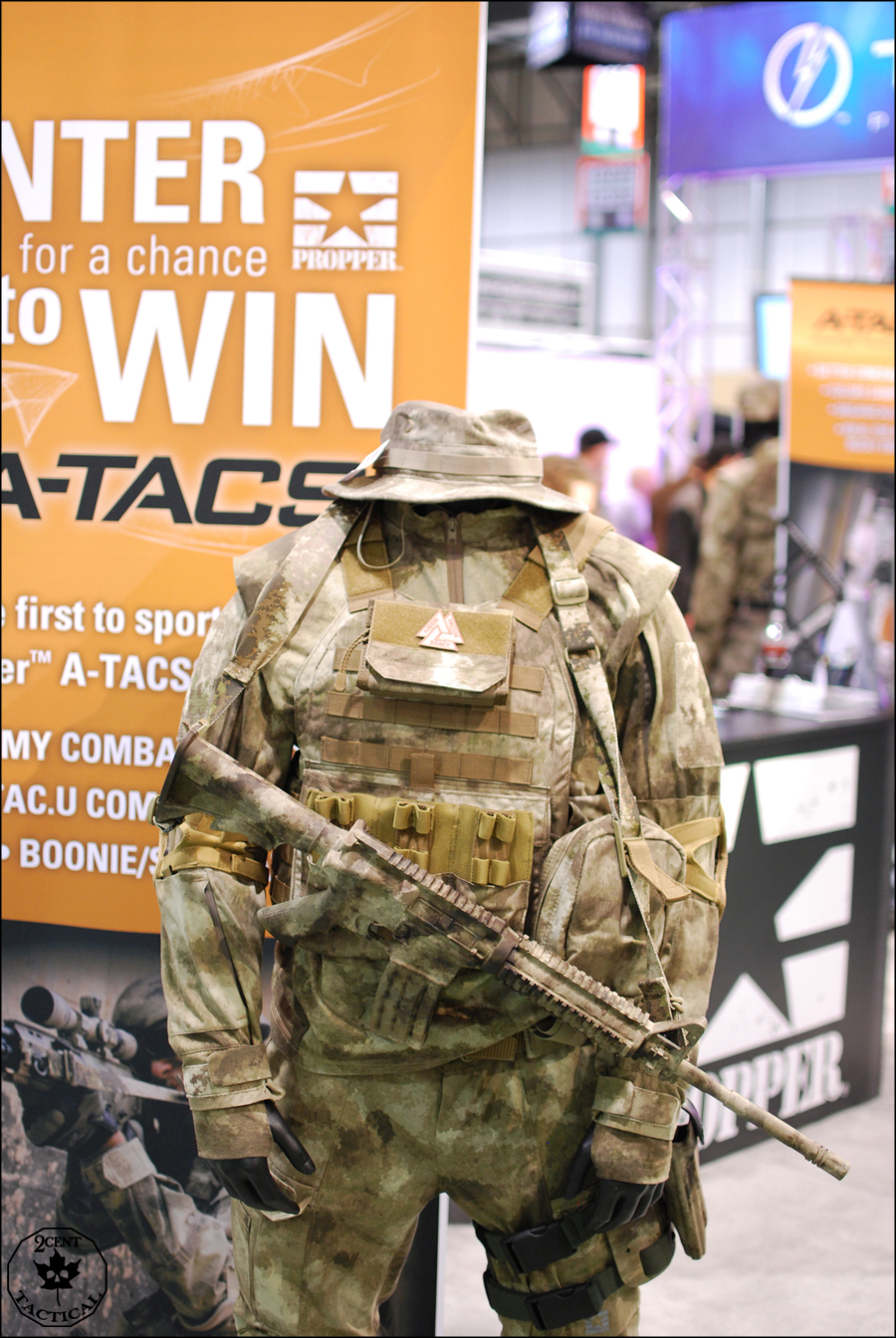 Here you can see the jacket with the vest removed.  You can also see the thumb holes to keep your sleeves at your wrists when your crawling through bushes.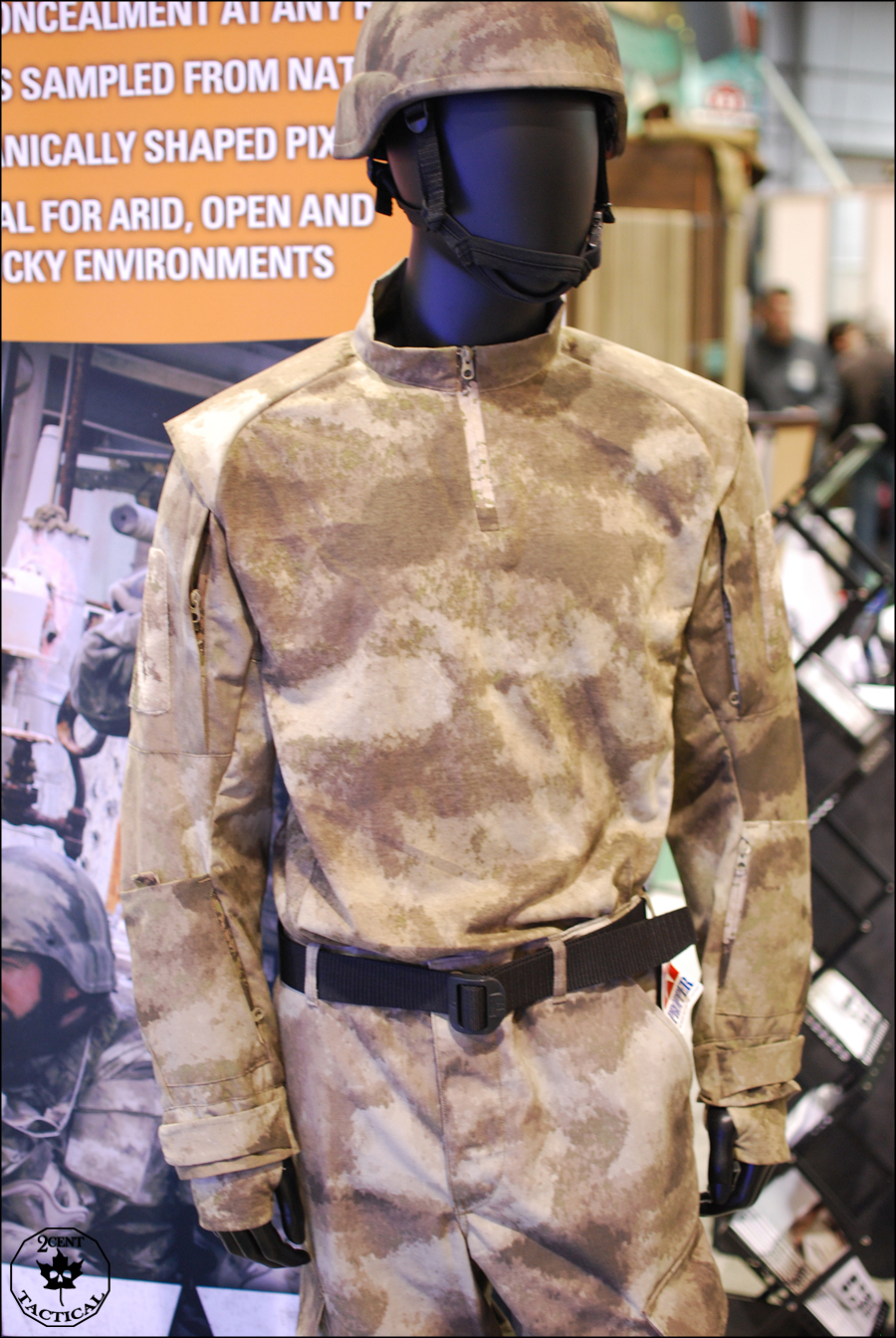 This is the padded shoulder which should give a bit of relief to those who wear armor, heavy vests, big packs or all of the above.  In the background is the mandarin collar.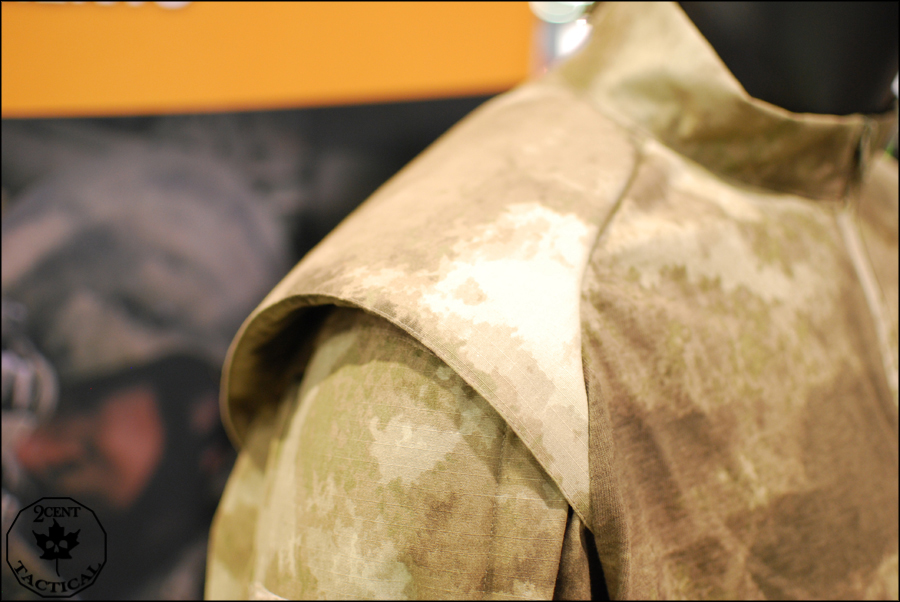 Each arm has a zippered pocket at the wrist.  The right one is a combination pocket with the regular side zip but with a Velcro pocket section at the top.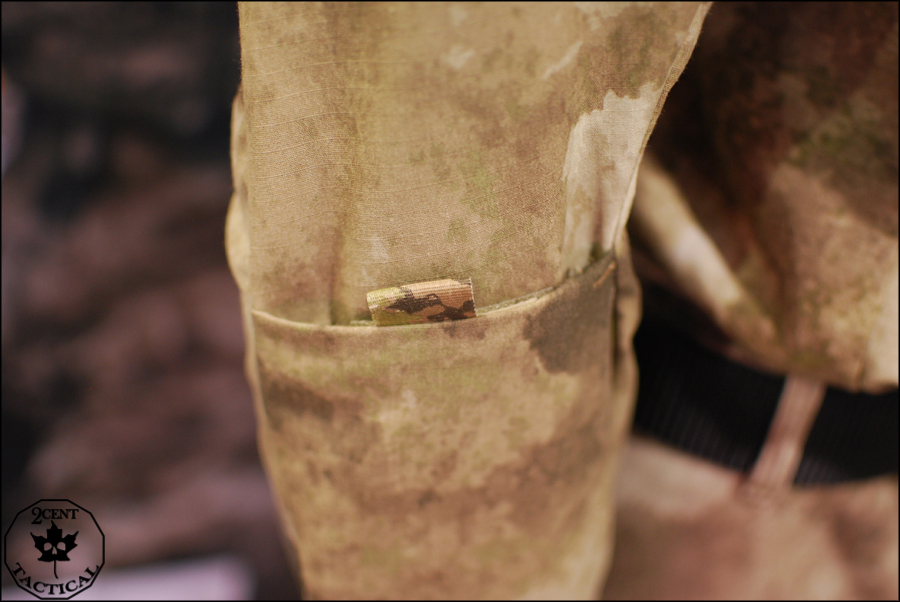 Even the Velcro is in A-Tacs


You can see both the shoulder pocket and the wrist one here.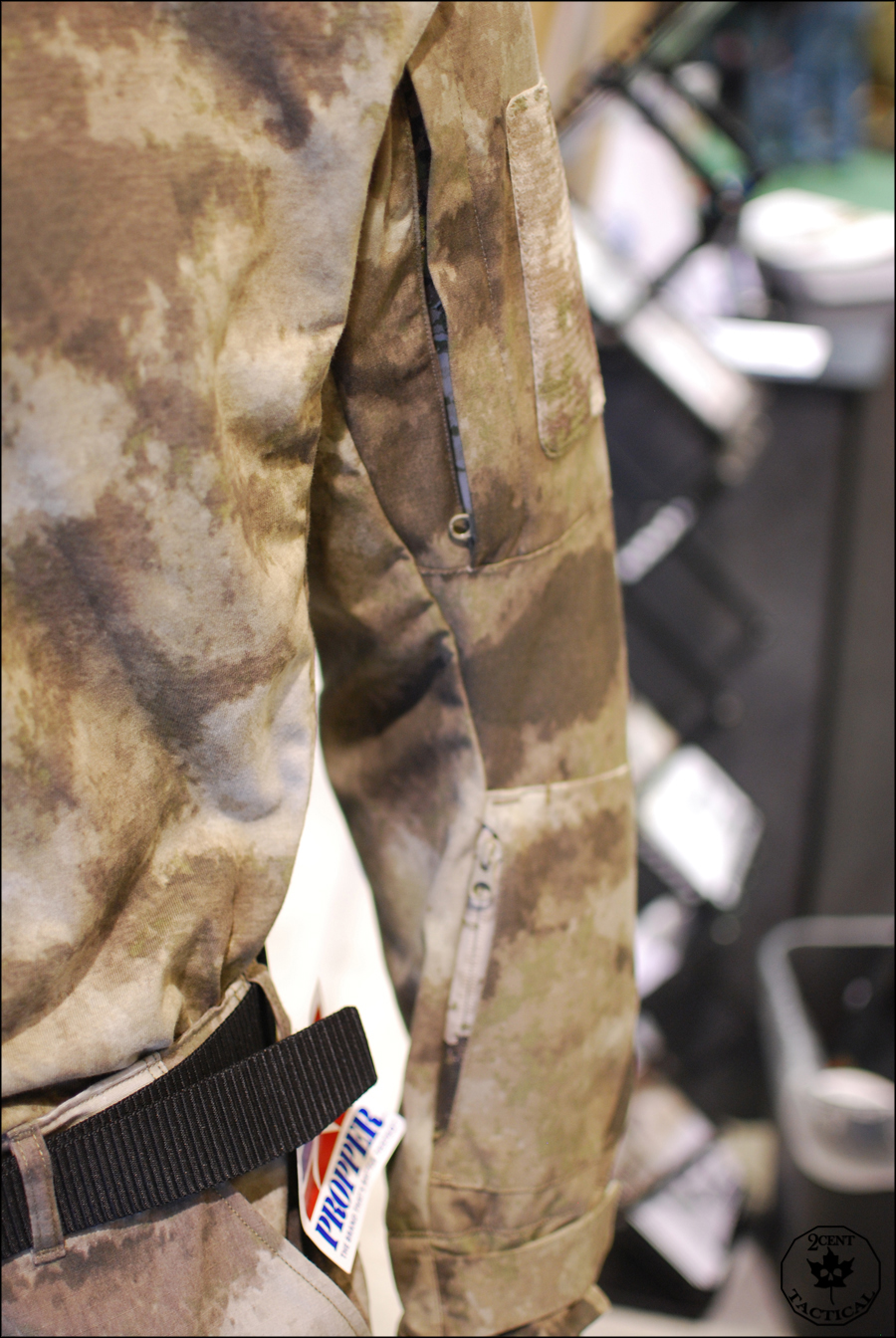 This is just the standard ACU cut in the A-Tacs pattern.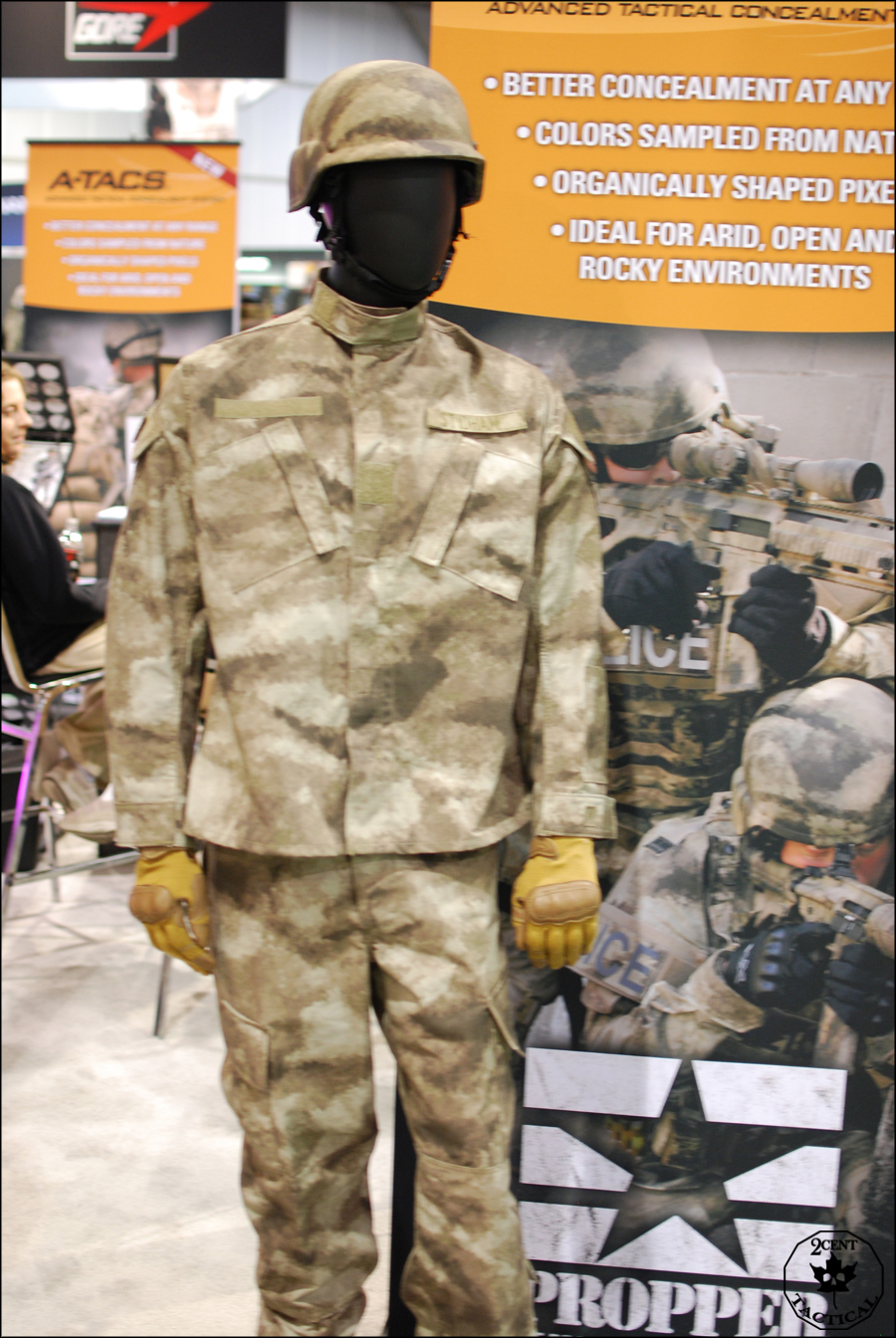 Sandpiper of California
http://www.sandpiperca.com/index.cfm
Sandpiper had this attention getter sitting outside of the booth.  My inner gear whore instantly wanted one not for any practical reason but just to have.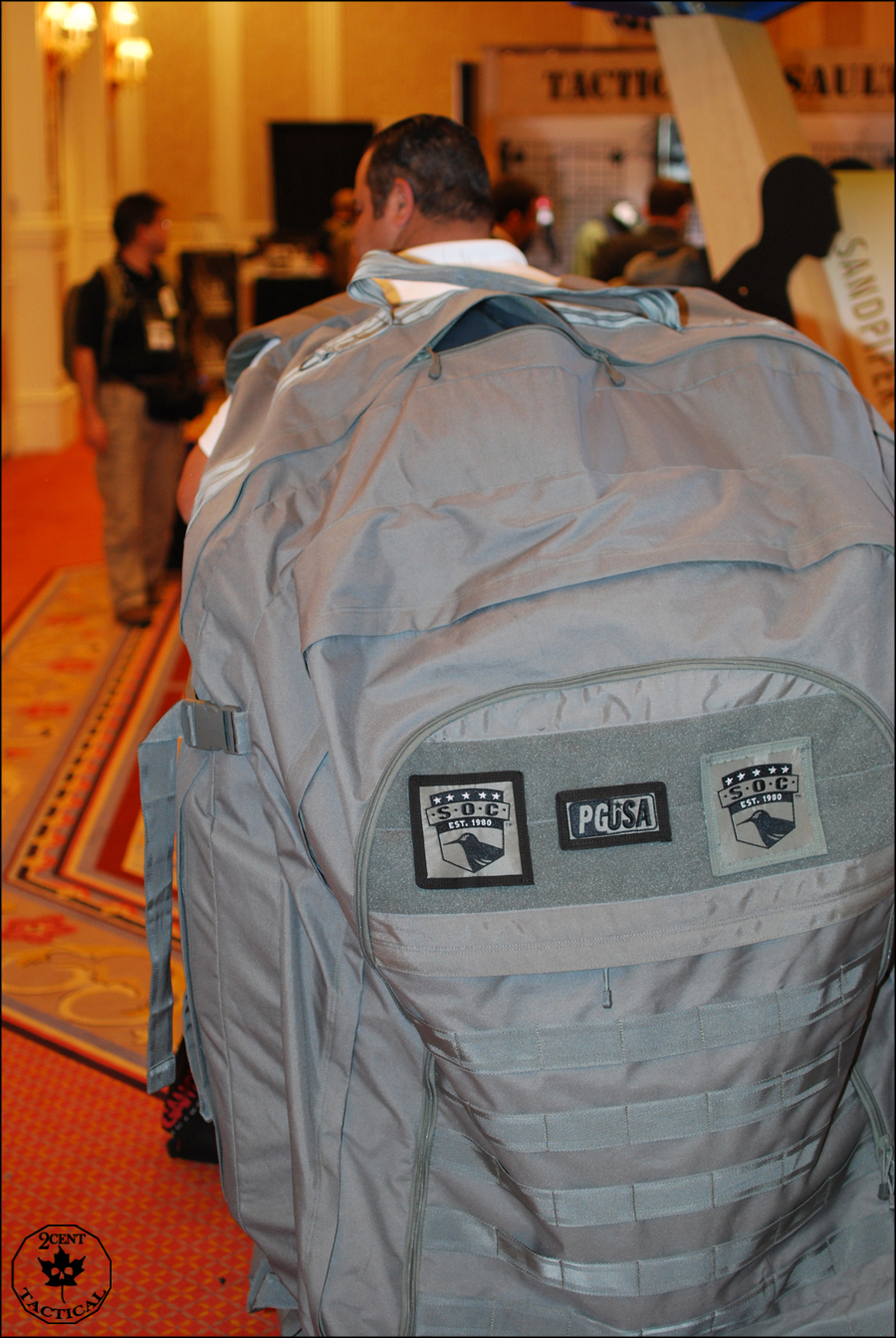 You can see me giving the new large sized pack a thumbs up.  If we evolve into giants Sandpiper has you covered.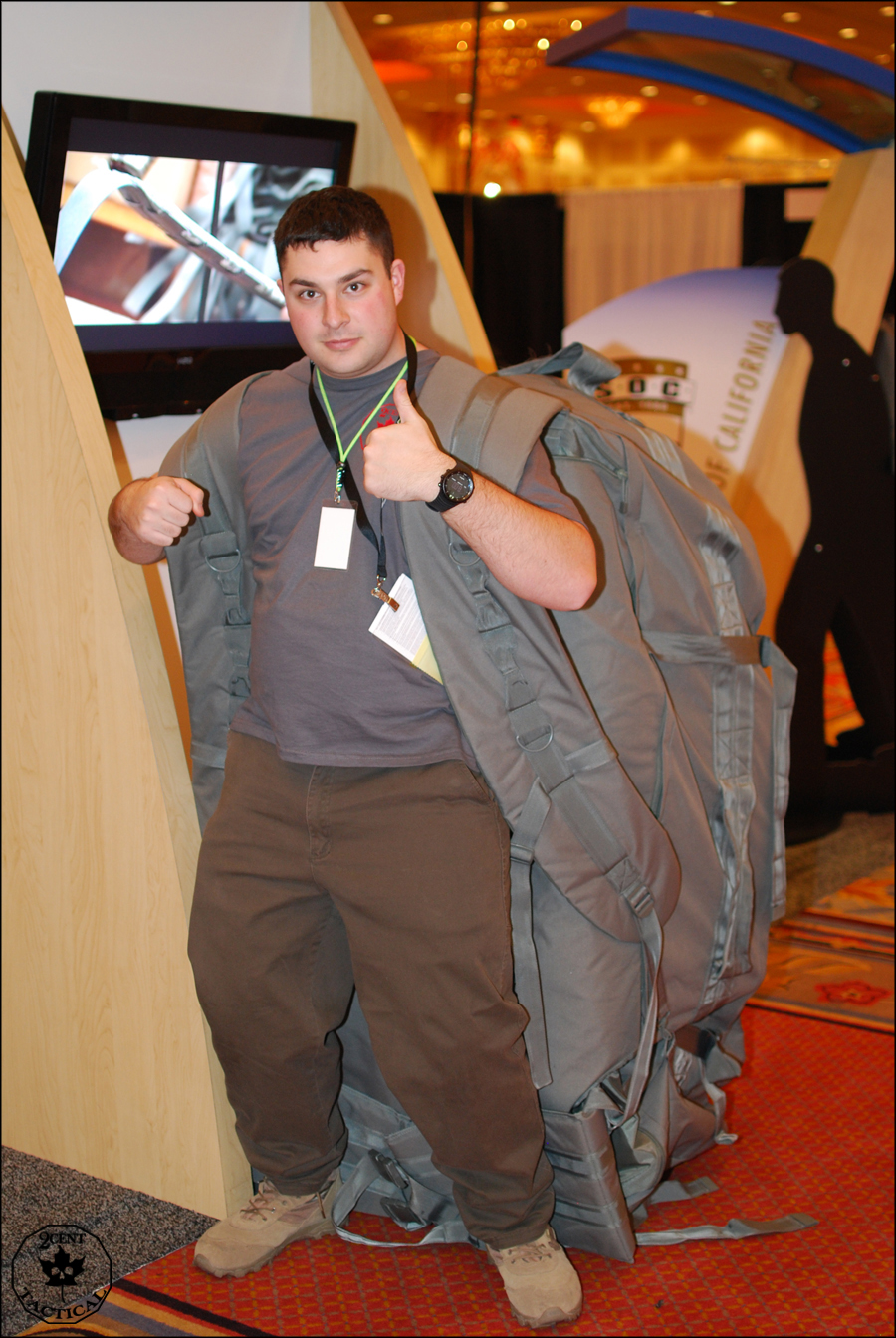 Massif
http://www.massif.com/
Having only heard about the US Army adopting the Massif Combat Shirt in passing I didn't put much thought into it and moved on.  That was until I went by the booth and spoke to the rep there.  He quickly peaked my interest after describing the design process for Massif's clothing.  They design a fabric for a specific task instead of using off the shelf fabric and attempting to adapt it to a need.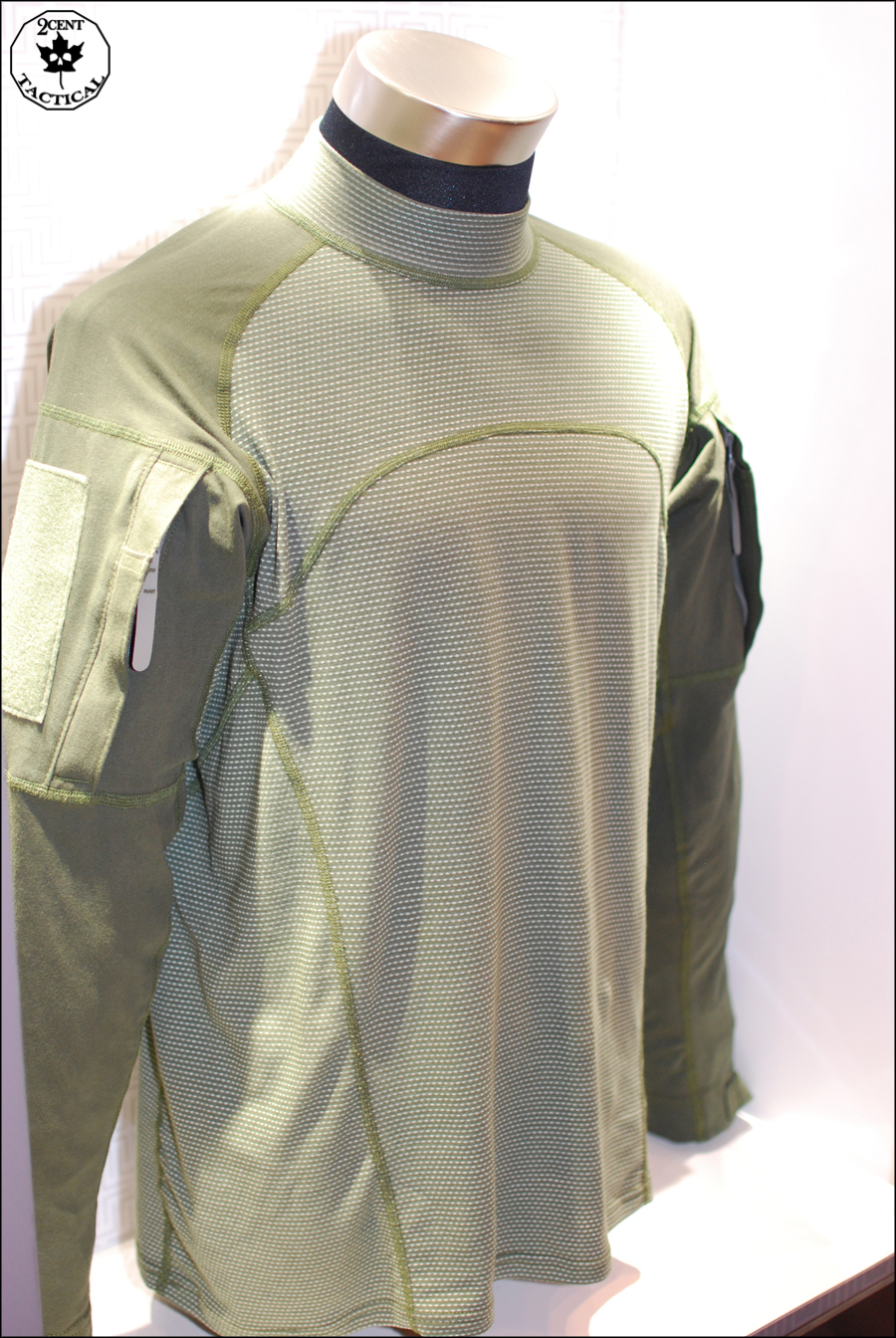 This is the Massif Lightweight Combat Jacket.  They also have some other great designs coming down the pipe and I am glad I wandered past their booth.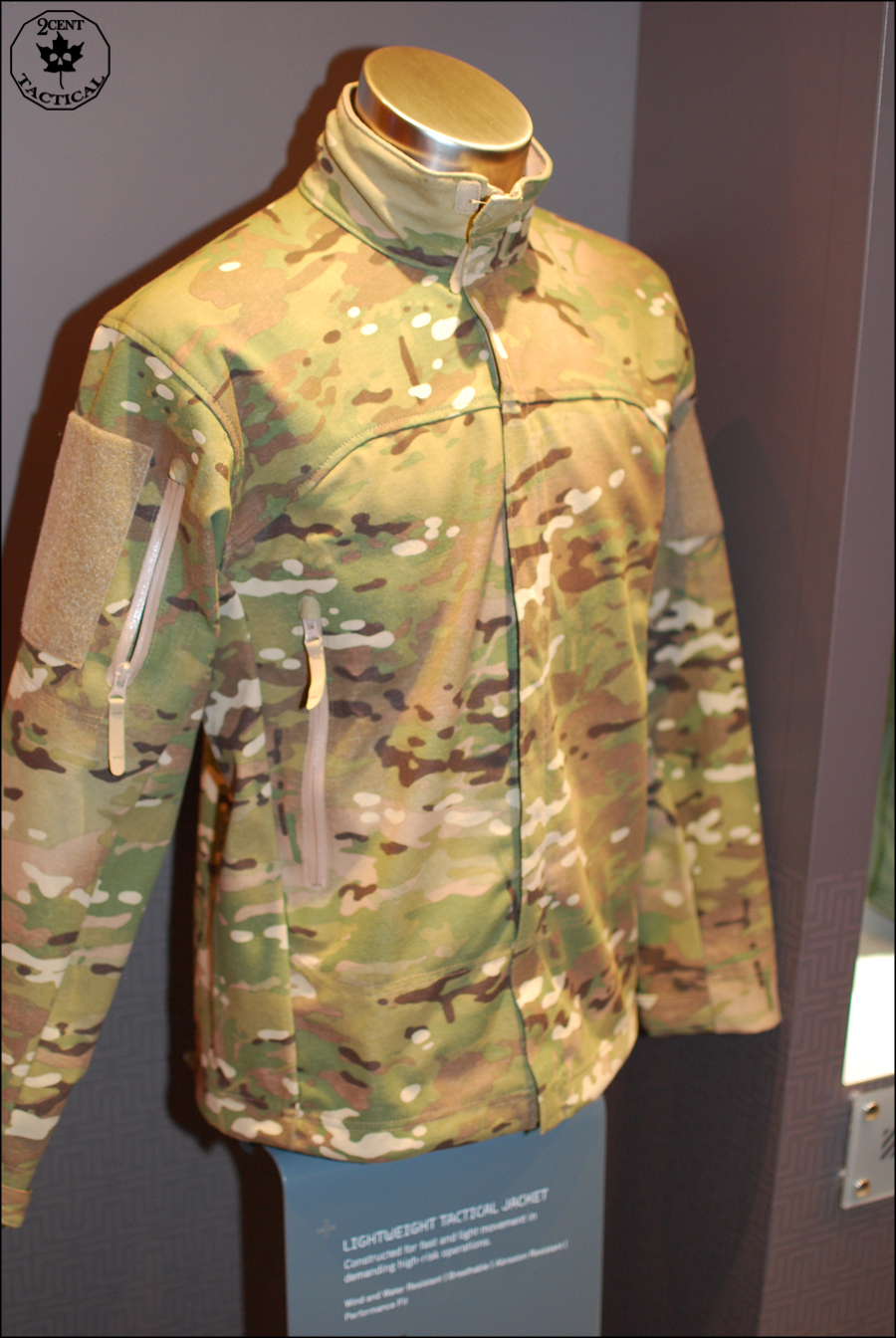 Blue Force Gear
http://blueforcegear.com/
Blue Force Gear didn't have too many new things at their booth but they did have a really nice light weight  plate carrier.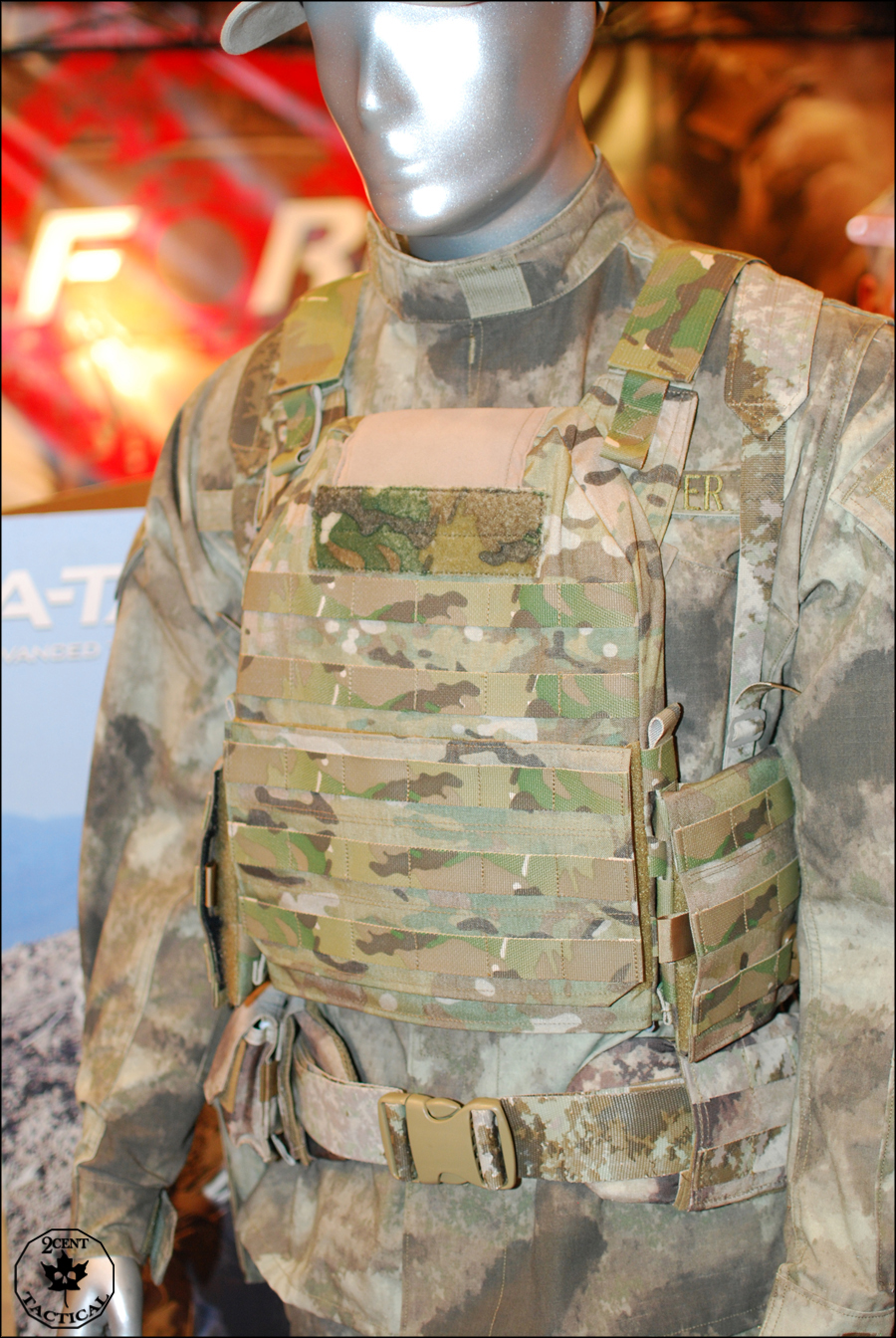 The lower Molle panel can be removed to have a Velcro surface capable of mounting the Blue Force Velcro pouches made for there DAP line.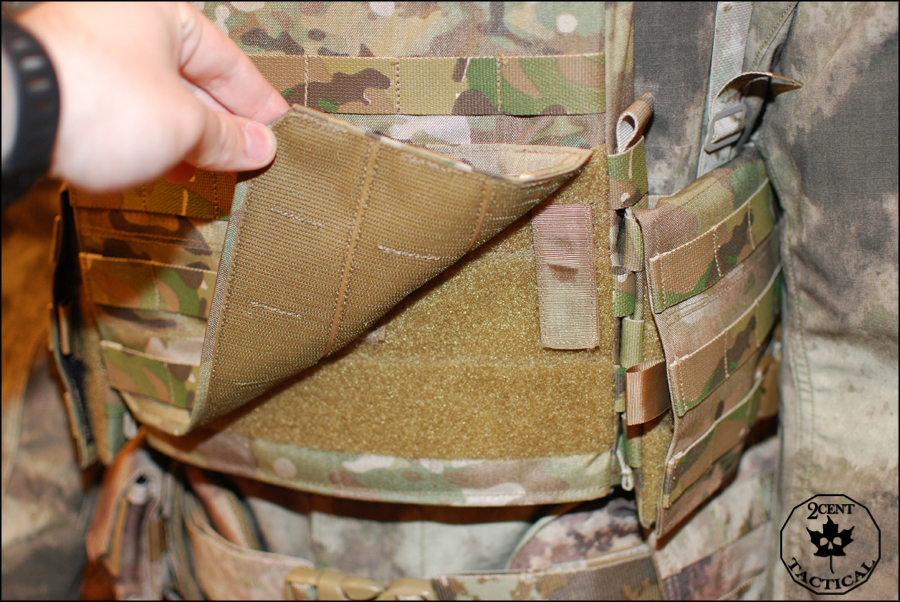 Here you can see the cushioned area beneath your jaw called the chin saver which will help if the plate carrier catches you in the jaw.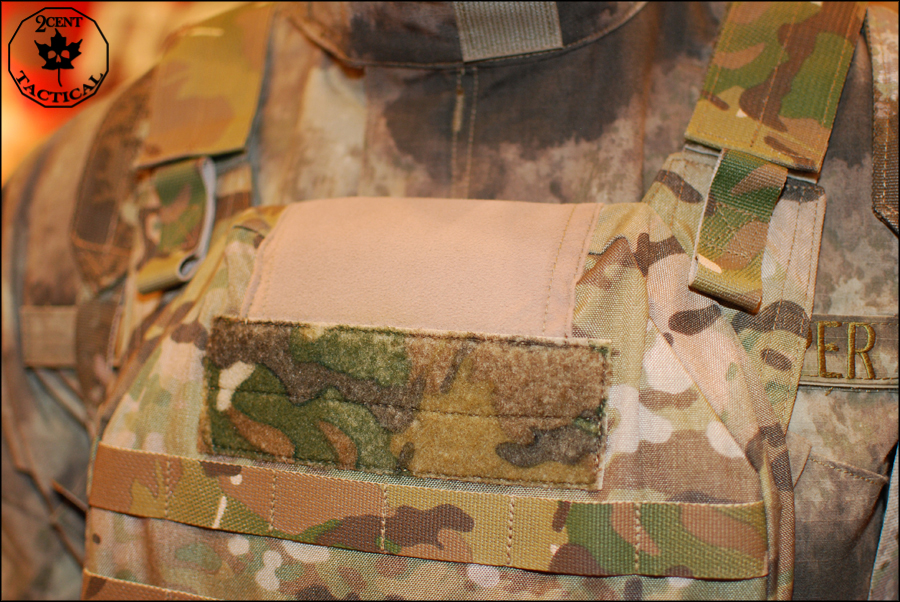 The side panel with pack mounting clip.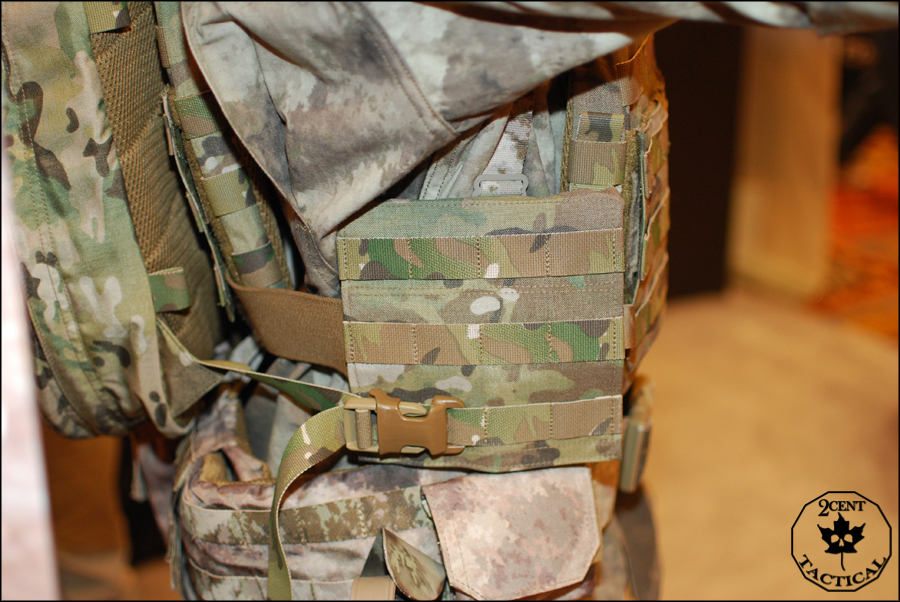 A pack mounted to the rig using the 4 clips (two on the shoulder and one on each side)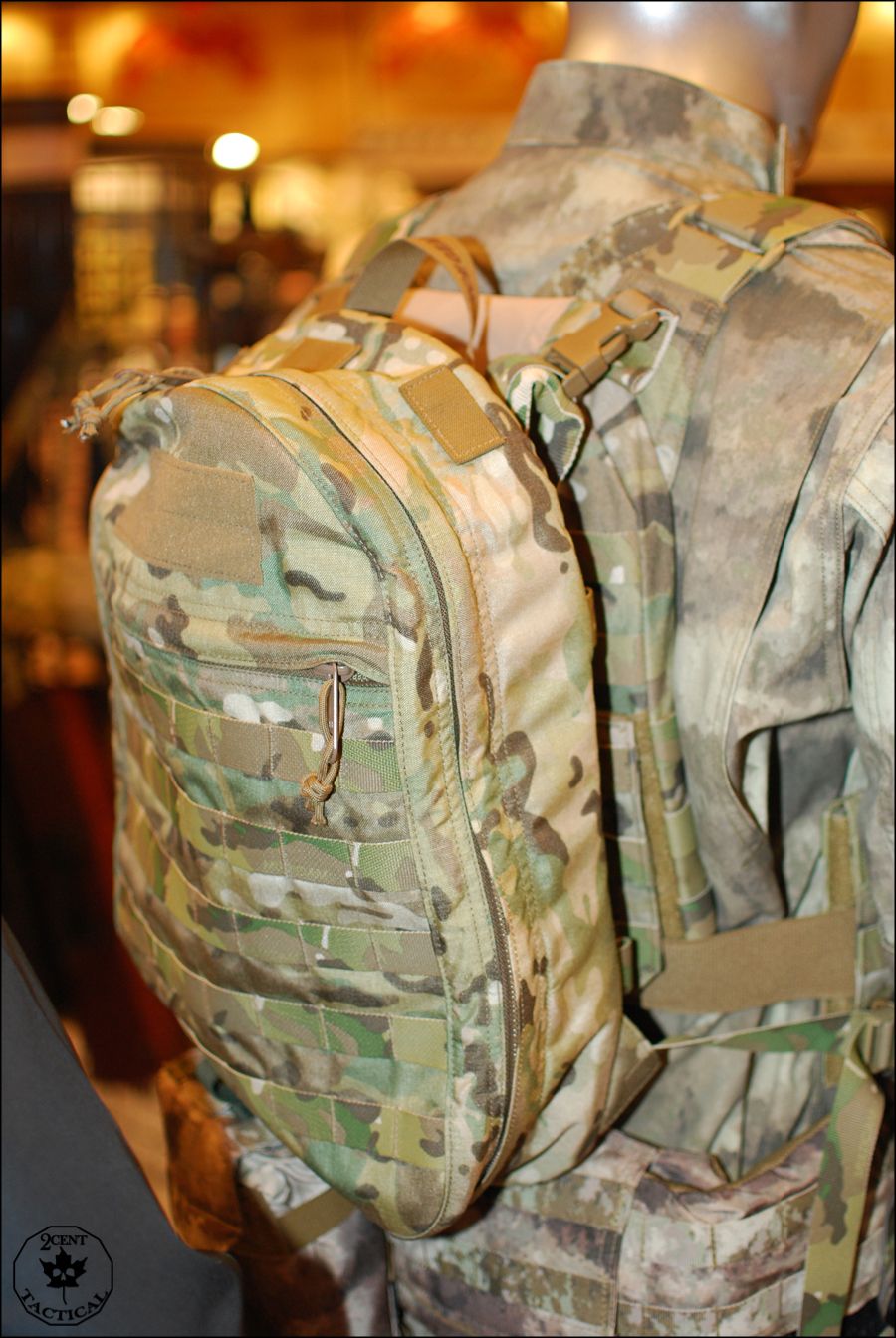 I am a big fan of this because you don't end up with straps everywhere and reduces the overall weight of your rig.  Anything that lowers the weight of a soldiers kit while still maintaining its functionality is good to go in my books.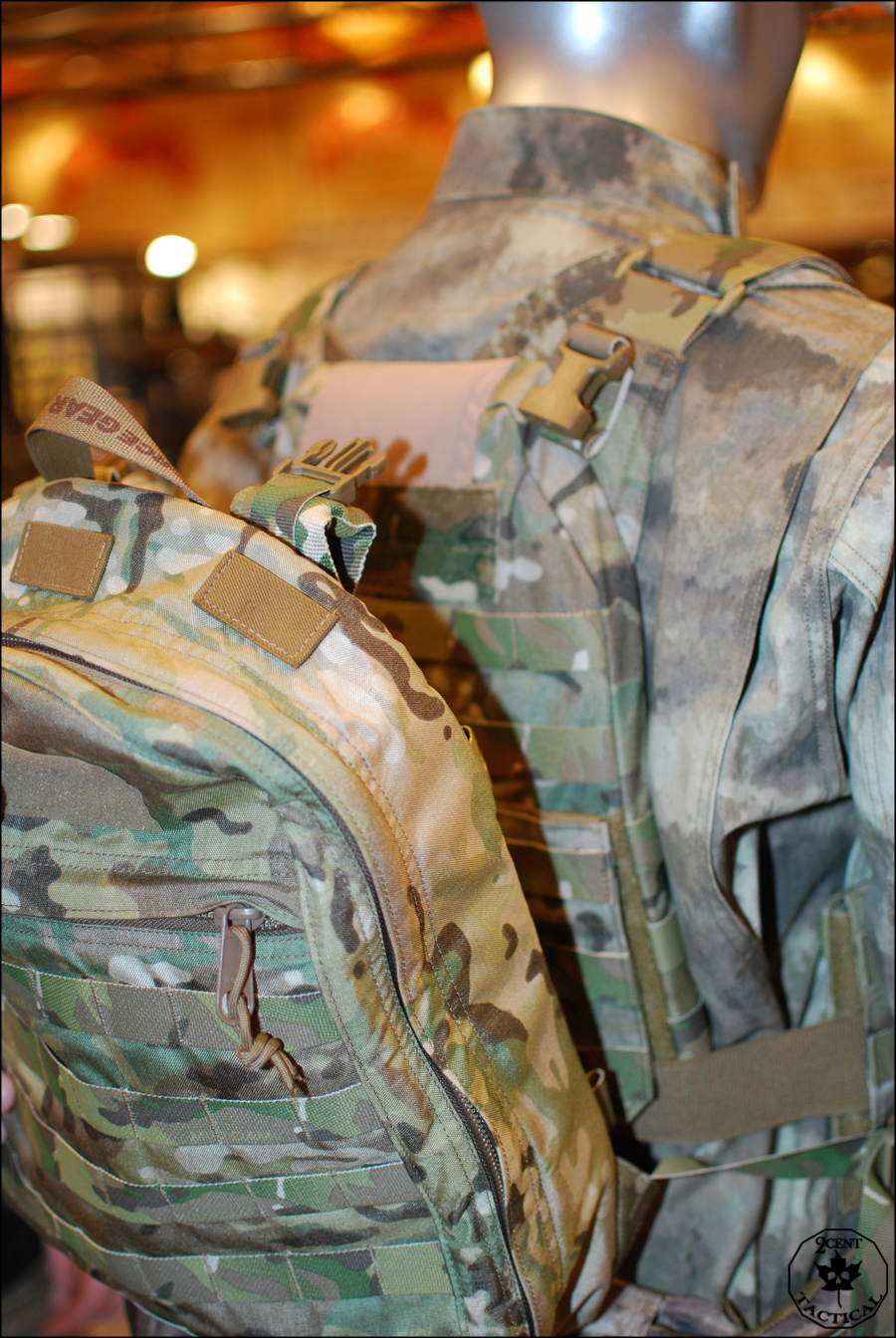 SOD
http://www.sodgear.com/eng/index_sito.htm
I heard about SOD around a year ago when reading about their boonie hat on the Soldier Systems site.  SOD is an Italian company who makes clothes in the Italian camo Vegetato along with a few other colorways such as Multicam.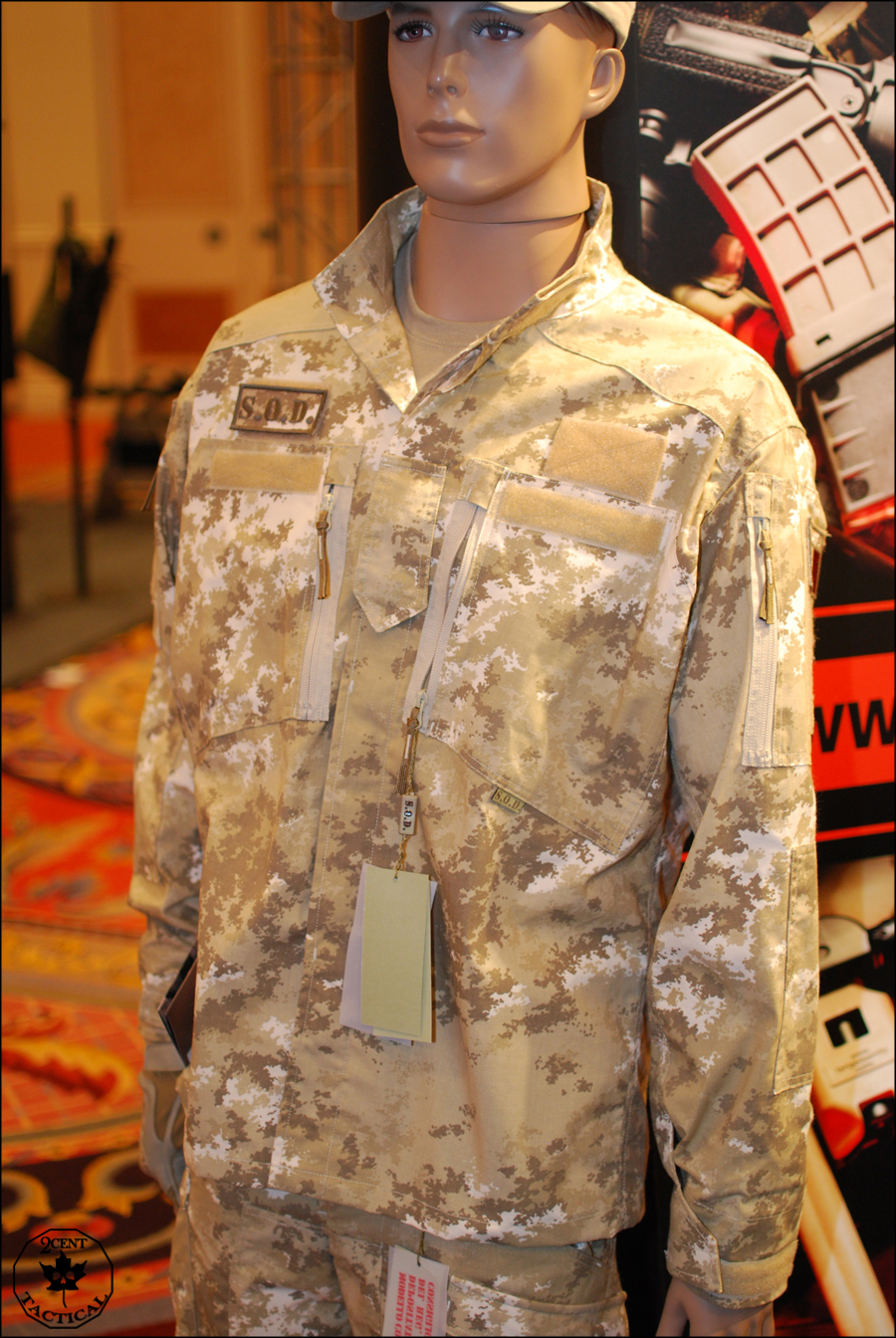 Their items were on display at the Tango Down booth.  These gloves were extremely comfortable feeling.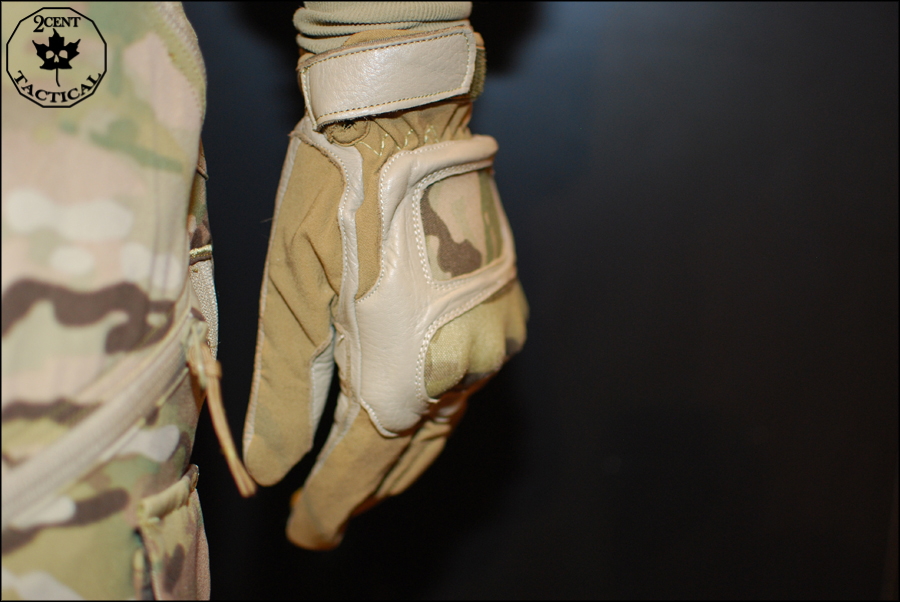 Their combat shirt was also riddled with all kinds of features.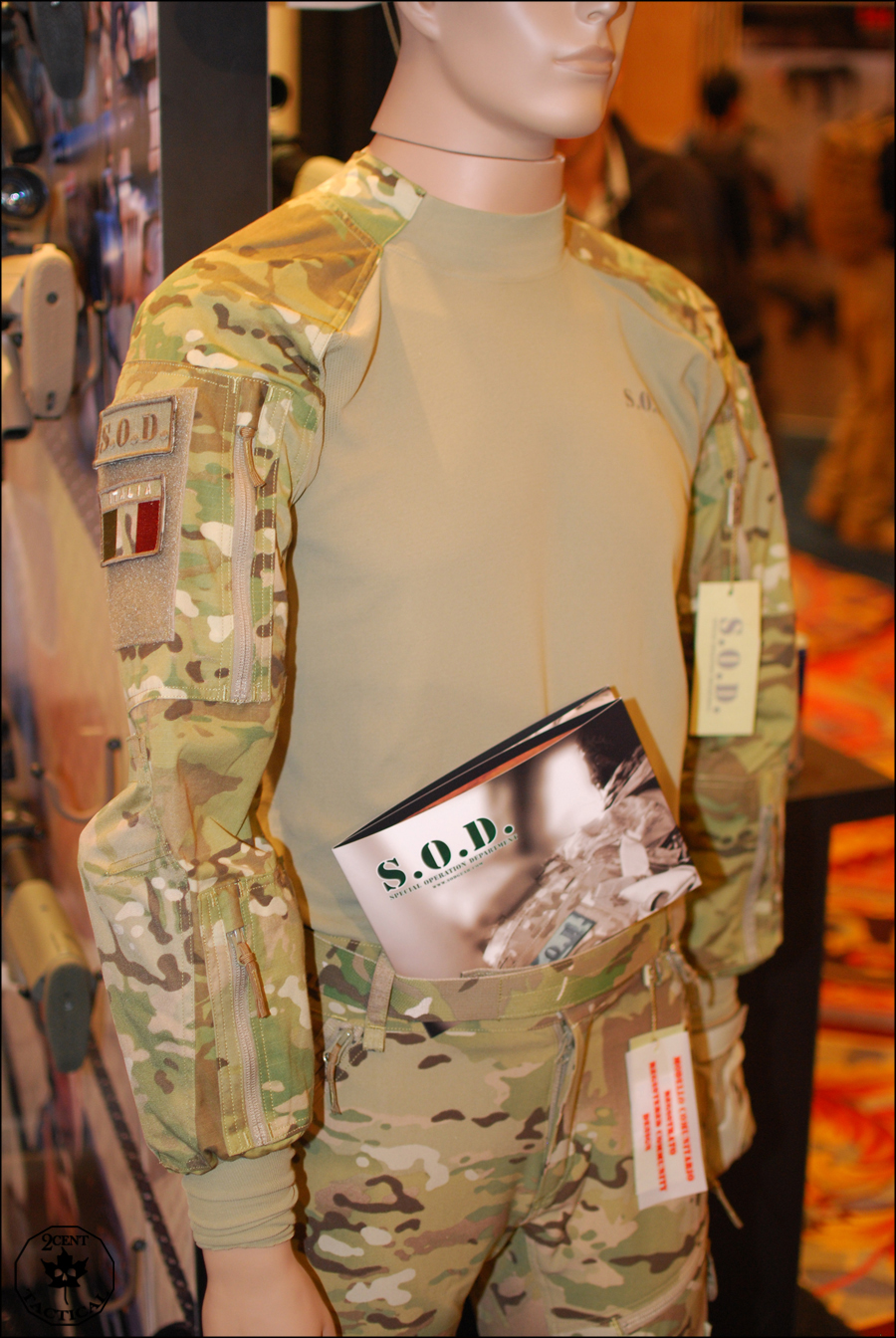 This is the boonie cap that most people have moved to since Crye discontinued theirs.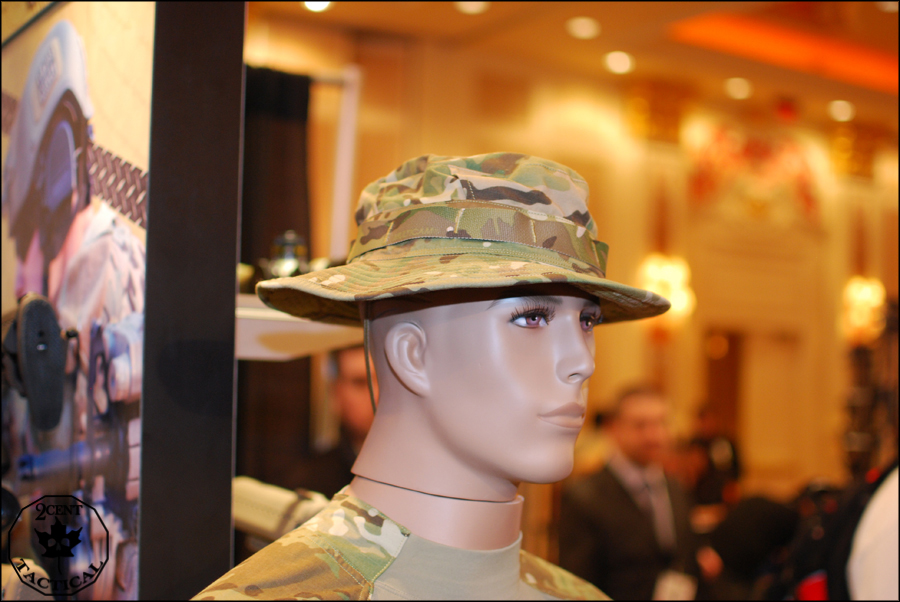 OTTE Gear
http://www.ottegear.com/main.php
OTTE had this really interesting anorak on display that was not named yet.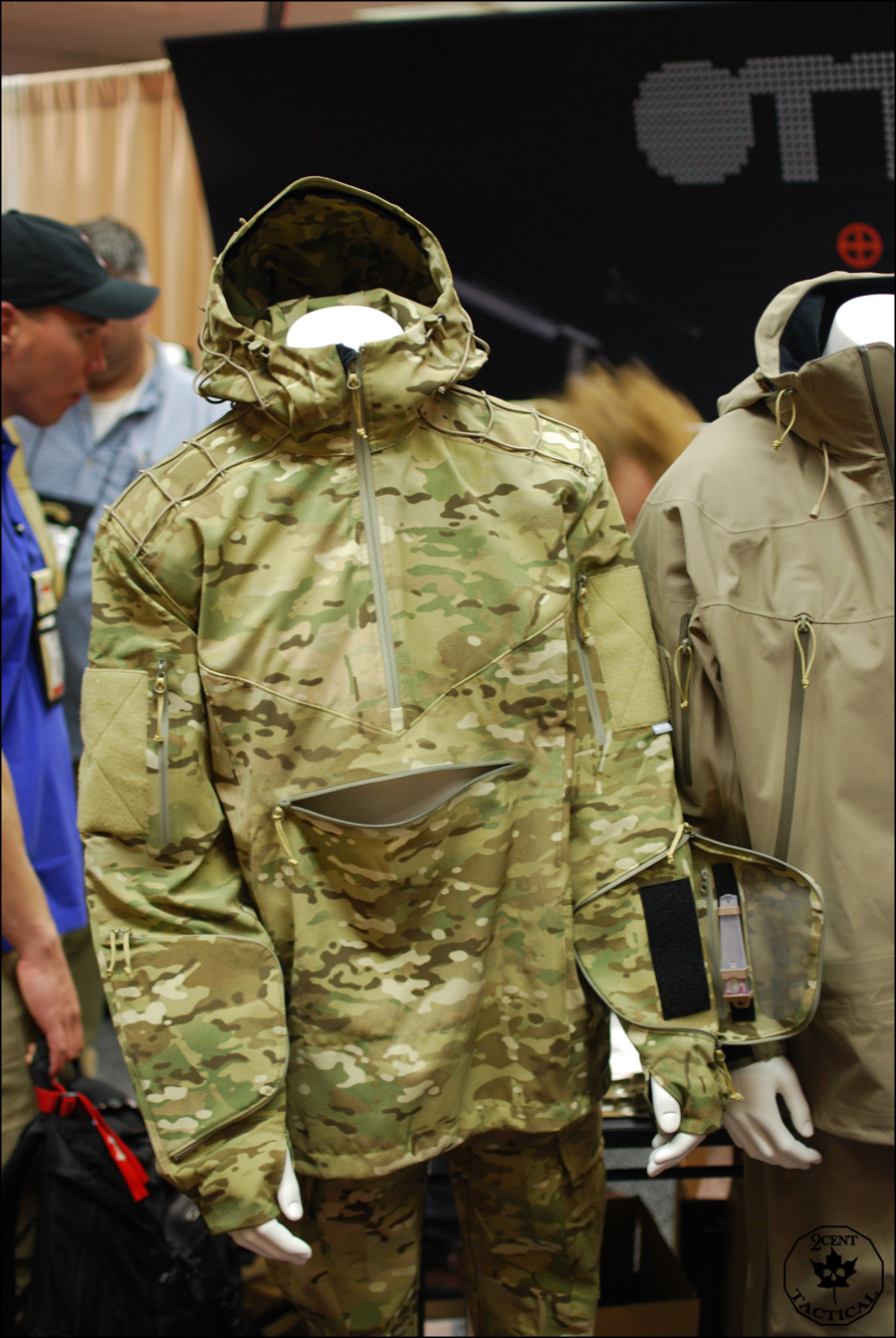 The lower arm pockets open up to store things like a V-Lite.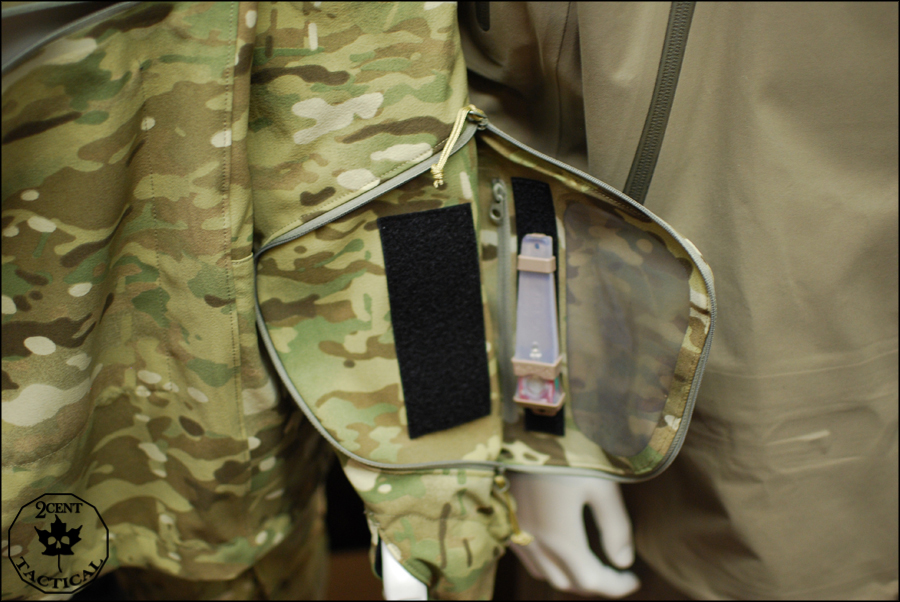 This anorak is designed to be pulled over your gear to help protect you from the elements and break up your outline.  Since its designed to be pulled over your gear the lower chest unzips to give you access to your mags and pouches underneath.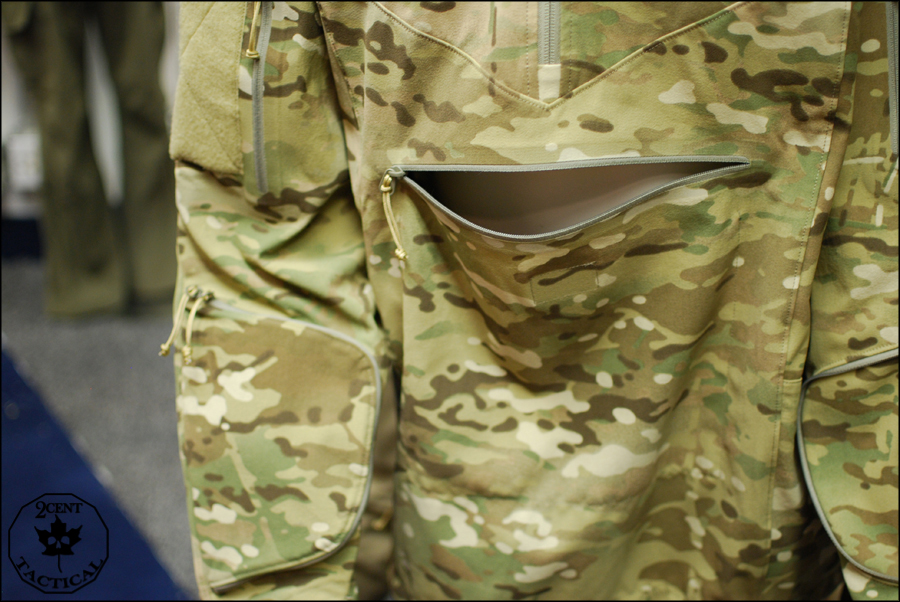 The jacket is a side entry jacket and the zip can be left open for venting purposes or to access things on your kit underneath.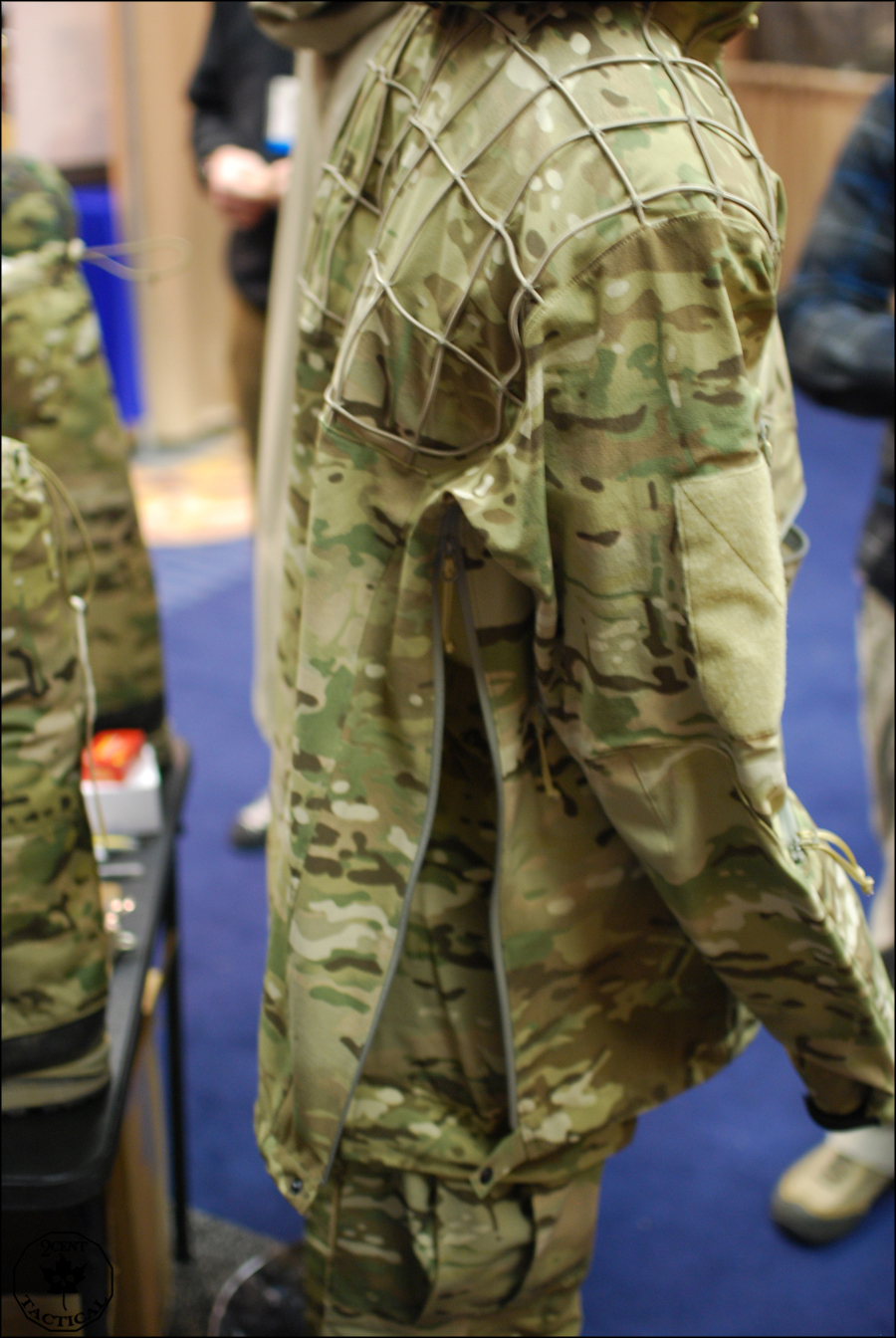 The hood and shoulders are covered in an elastic mesh grid that can be used to attach things from the environment to help break up your outline.  Unfortunatly the reinforcements required for these will bring up the price of the anorak.  No price is set yet but it will likely be upwards of $500 USD.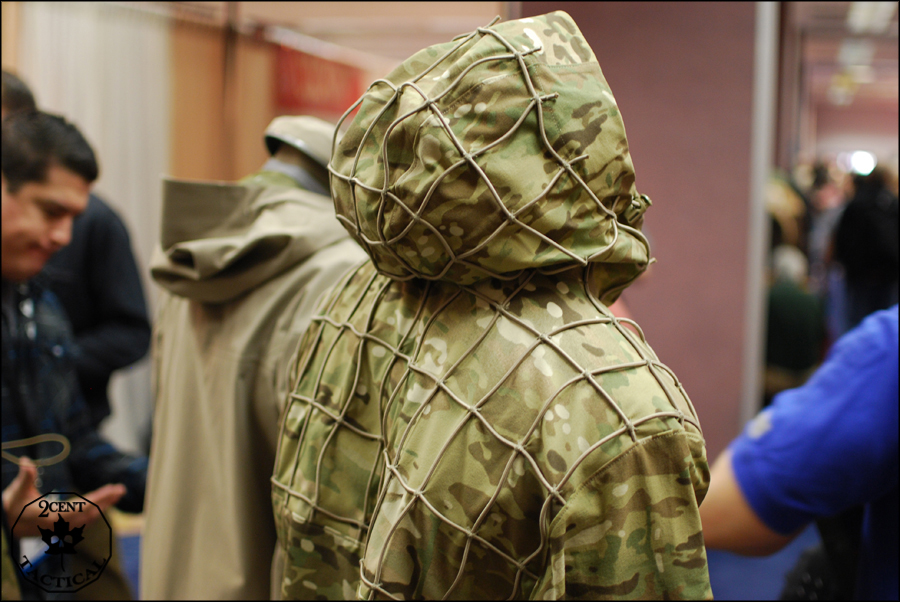 Crye Precision
http://www.cryeprecision.com/default.aspx
Crye like every year had a ton of new things for people to drool over.  The first thing I saw was the AirFrame helmet which looks pretty bad ass with the Chops, mesh cover and Ops-Core rails mounted on the sides.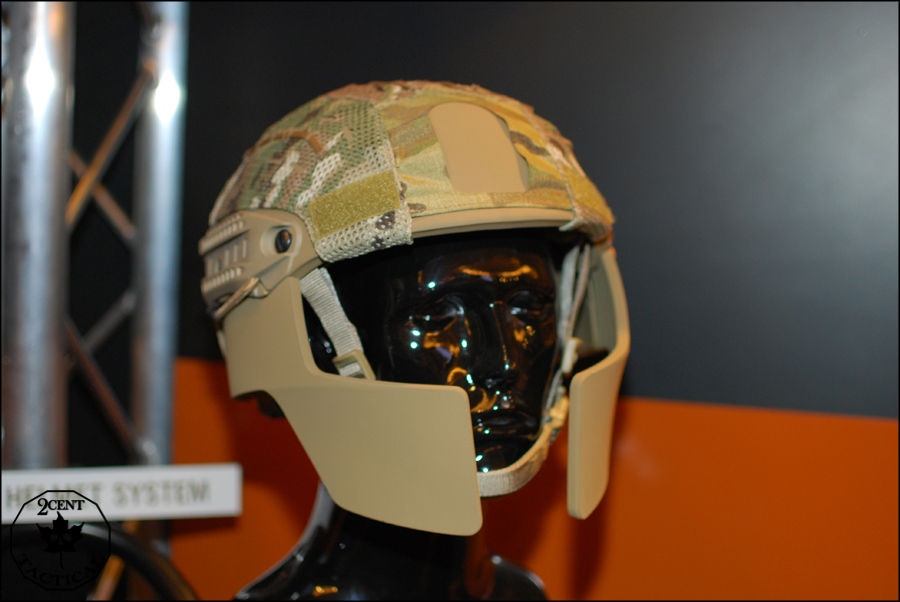 The over glove fast rope gloves were getting a lot of attention at the show.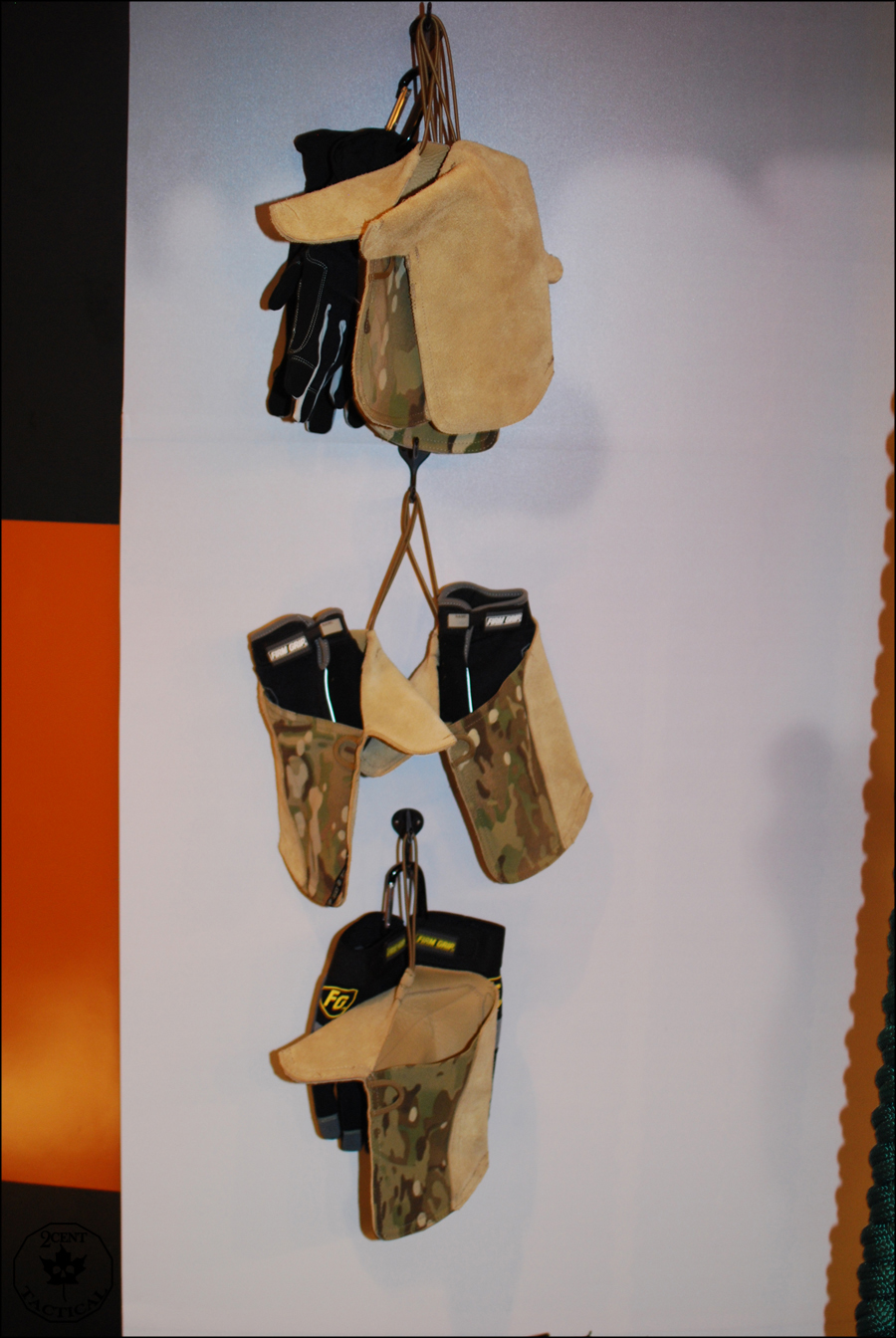 This picture is fairly self explanatory and shows the purpose of the gloves.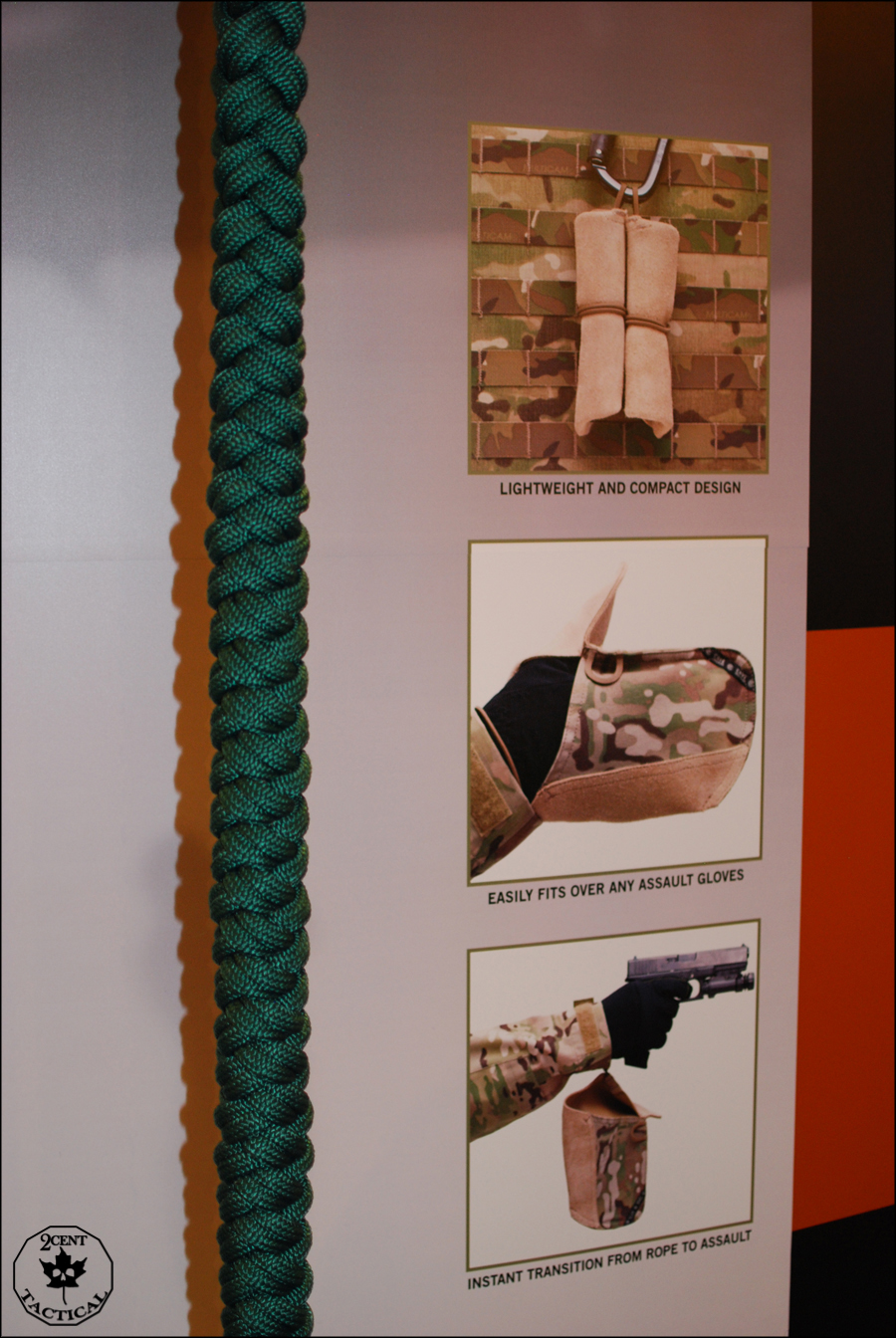 The Crye Jumpable Plate Carrier was debuted last year at shot and weighs a total of 1lb unloaded.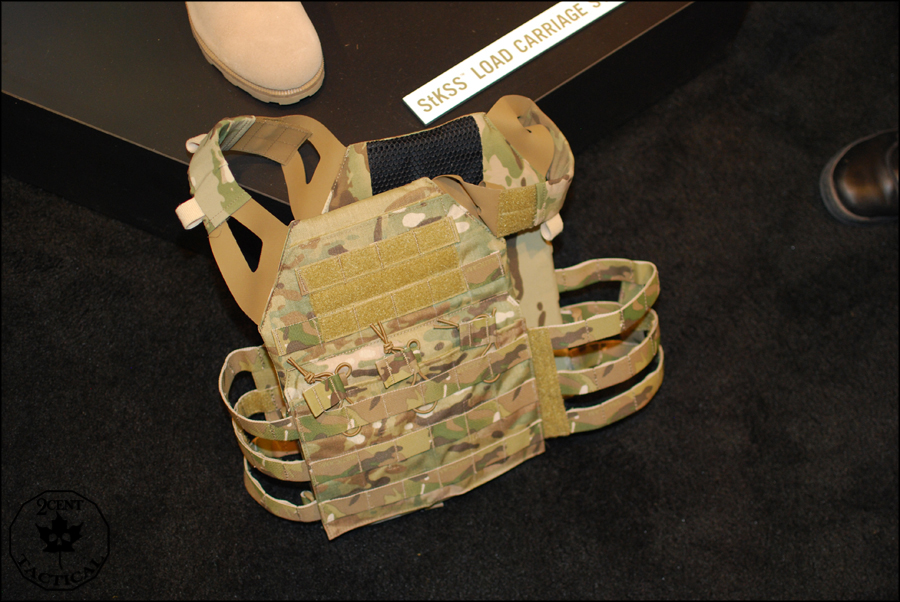 This was the display for the the StKSS (Structural Kinetic Support System).  Basically it allows you to transfer the weight from your shoulders and spine to your hips.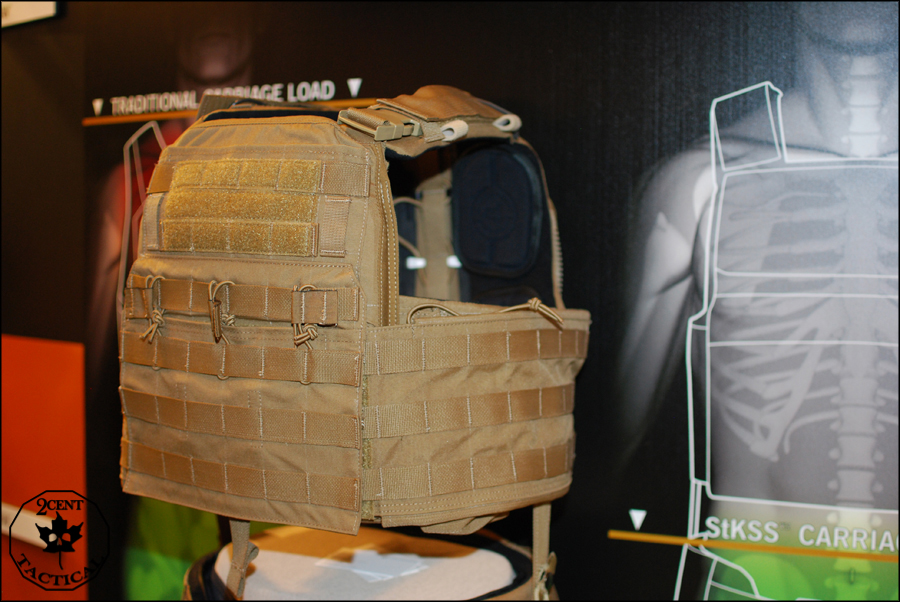 You most likely remember the GunClip from last year.  It allows the use of any silencer and light combo while still providing positive retention.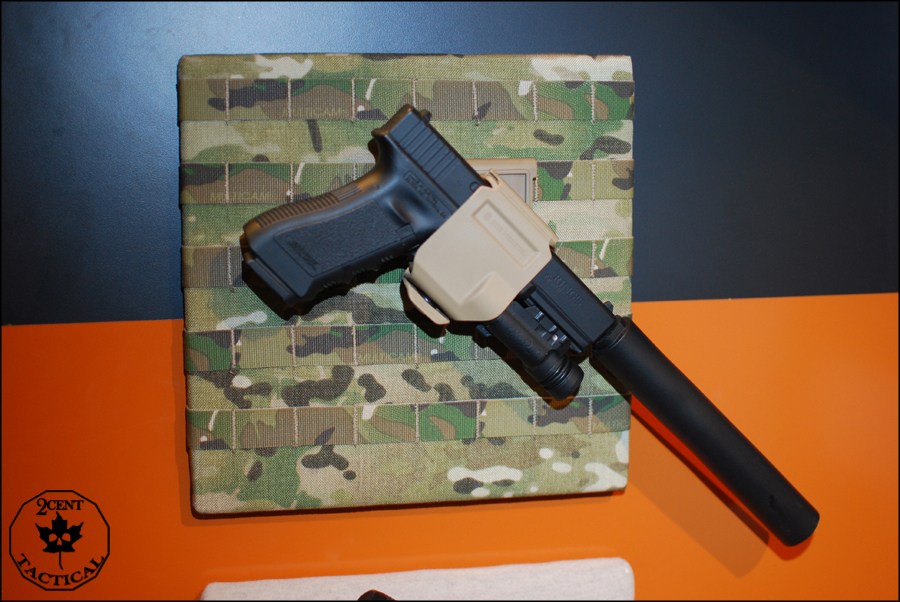 The pistol is removed by using the snap at the bottom section of the holster.  This system allows for both belt and vest mounted options.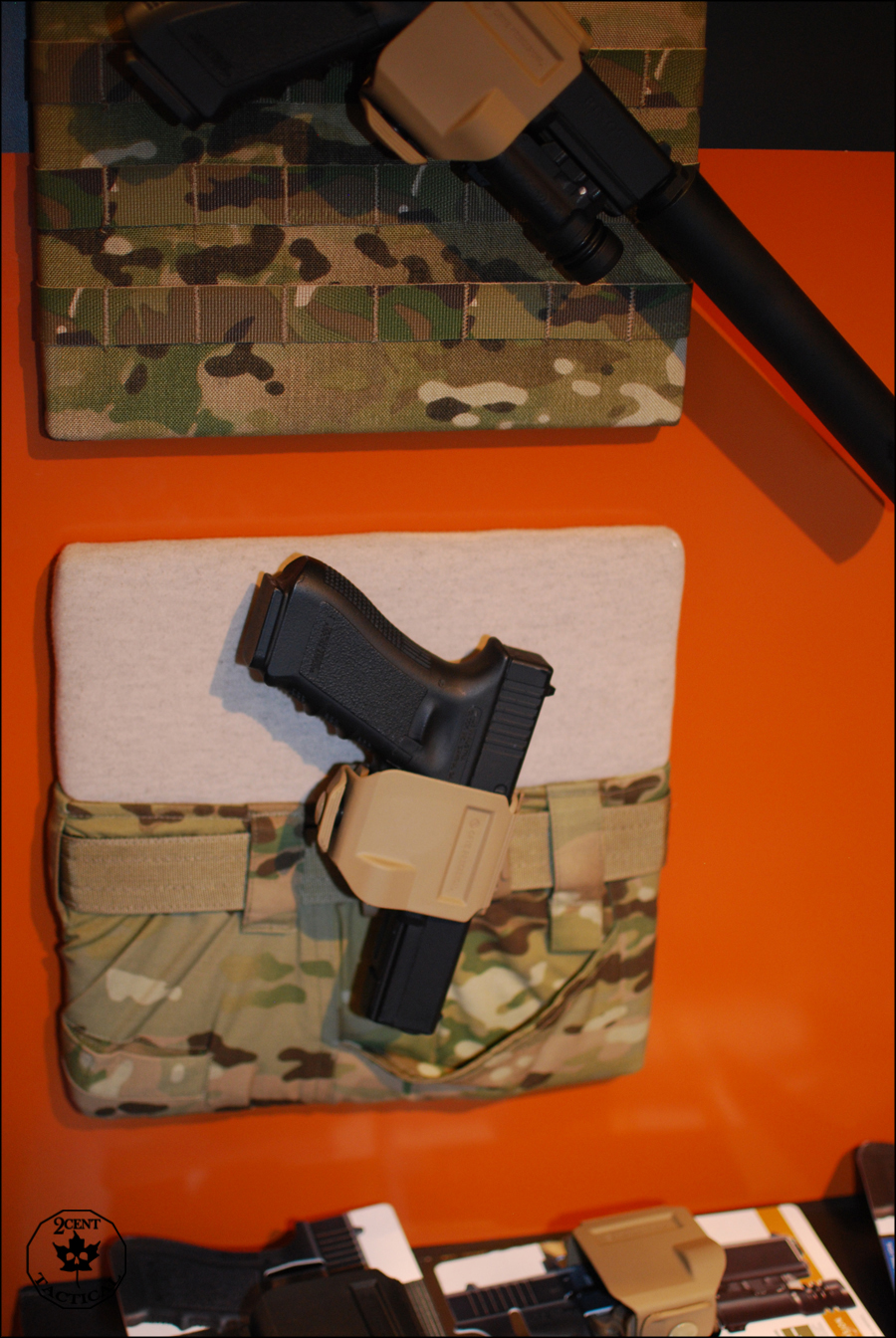 Here is a product that is so simple a lot of people were thinking why didn't I think of that.  To compete with the ITW Fastmag Crye came out with the MagClip.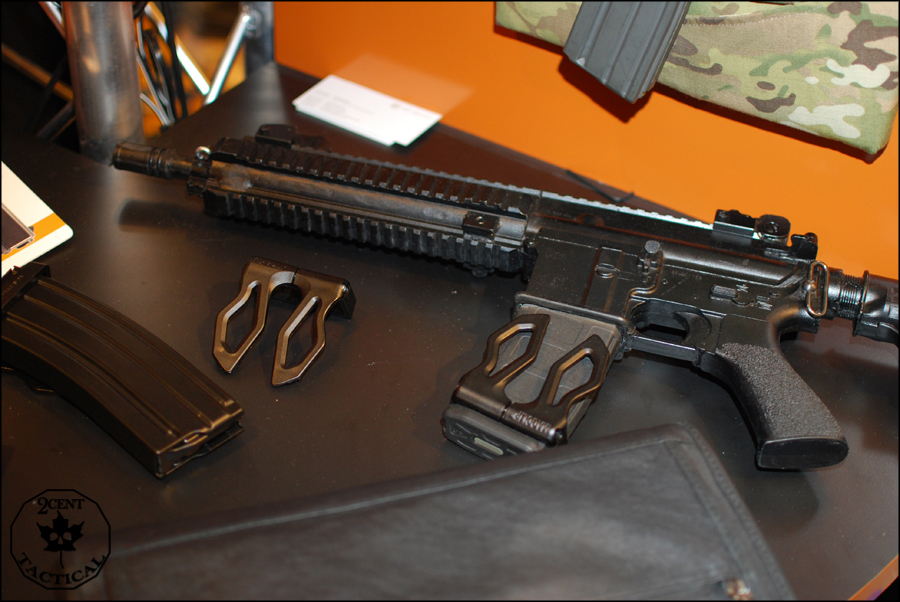 The clip mounts on to both a standard mags and a PMags allowing you to clip it to your Molle vest, your belt or in your wait band.  The mag is lifted upwards to remove and the MagClip stays attached.  You can then insert it into the rifle and it stays out of the way of the magazine well.  This was not designed to do away with mag pouches.  It was designed to allow for an additional mounting option that is light weight and takes no time to remove.