It's a tent, it's a jacket, it's a sleeping bag? It's actually all three and it's called a JAKPAK. After first reading about this jacket on Soldier Systems I was instantly intrigued. Not being a stranger to small tents (I packed a Snugpak Stratosphere until it was stolen) the idea of this multipurpose item had my interest. With a lot of people getting interested in light weight hiking a design like this was bound to happen someday.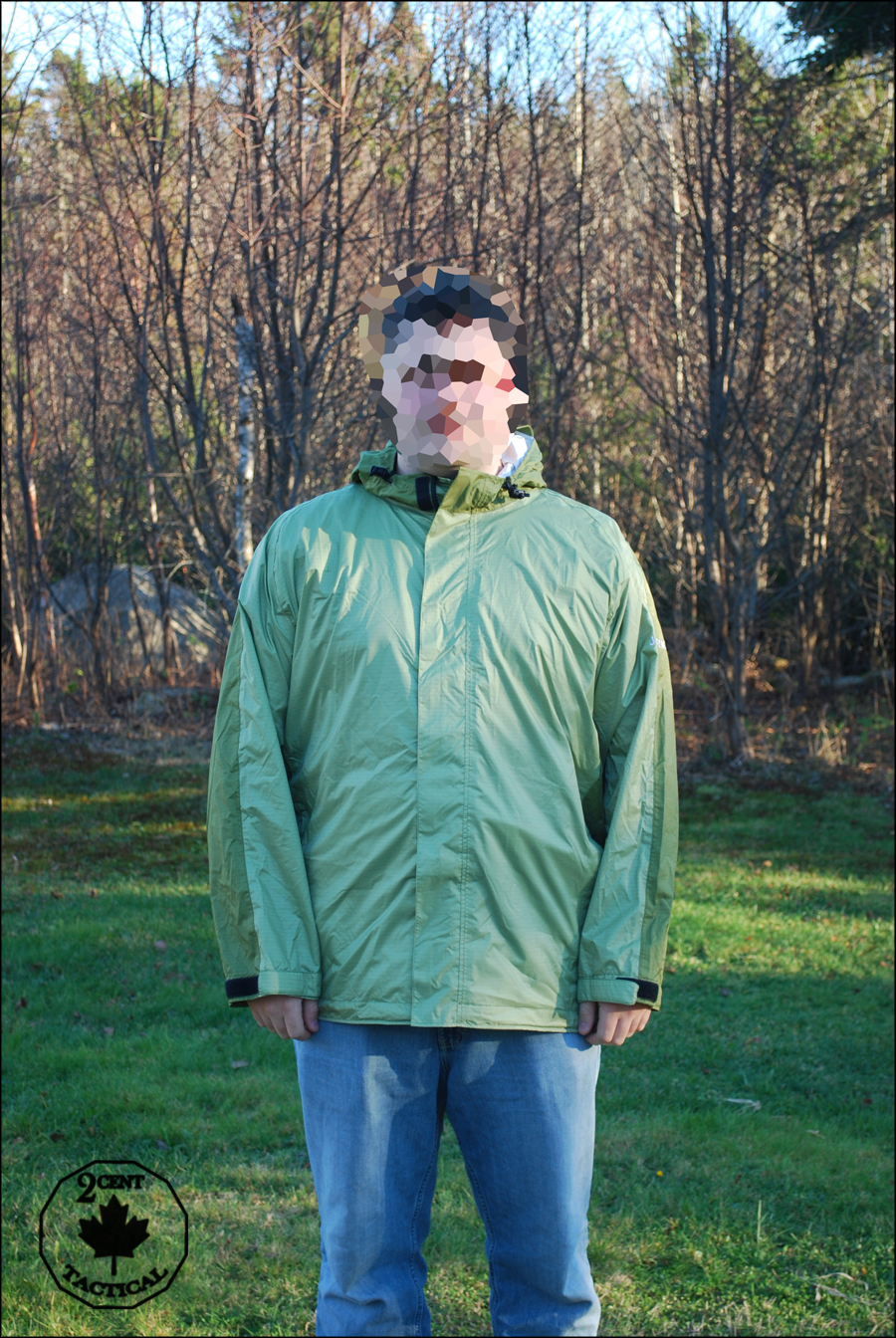 Pros
-Fairly comfortable to wear considering you have a tent and bivy bag in your coat
-Less claustrophobic then other designs I have tried
-Keeps the water out
-Easy to set up
Cons
-Somewhat tricky to repack perfectly
-Gortex or eVent would be my choice for the material over ripstop
-No see-um mesh is thicker than it needs to be and will still let in bugs
Initial Wear
Upon opening the box the first thing I did was pop the coat on. As far as a waterproof breathable urethane coated ripstop jacket it felt pretty standard. The only difference was the strange bulge on the back of the jacket that houses the tent section of the jacket.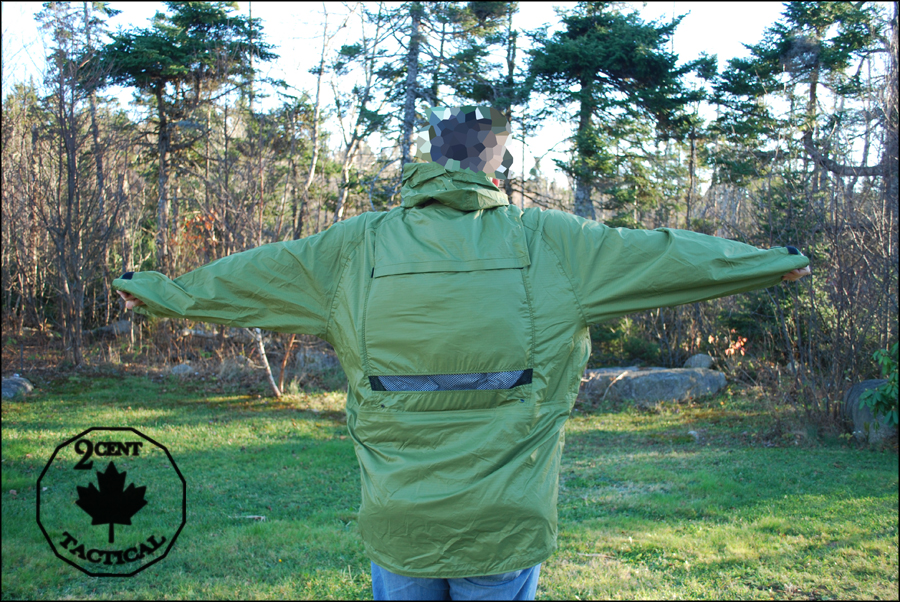 When talking with the folks at JAKPAK about the jacket they said they only make up to a XL but it's roomy. They said they took into consideration that you would be layering underneath it. I normally wear a 2XL to get the length required because not many people make long clothing. I was happy to find this jacket was plenty roomy. My suggestion would be to order a size down from what you would normally wear. Consult with JAKPAK first though as things may be different in your situation.
After playing around with the pit-zips and various pockets on the jacket it was time to be a transformer.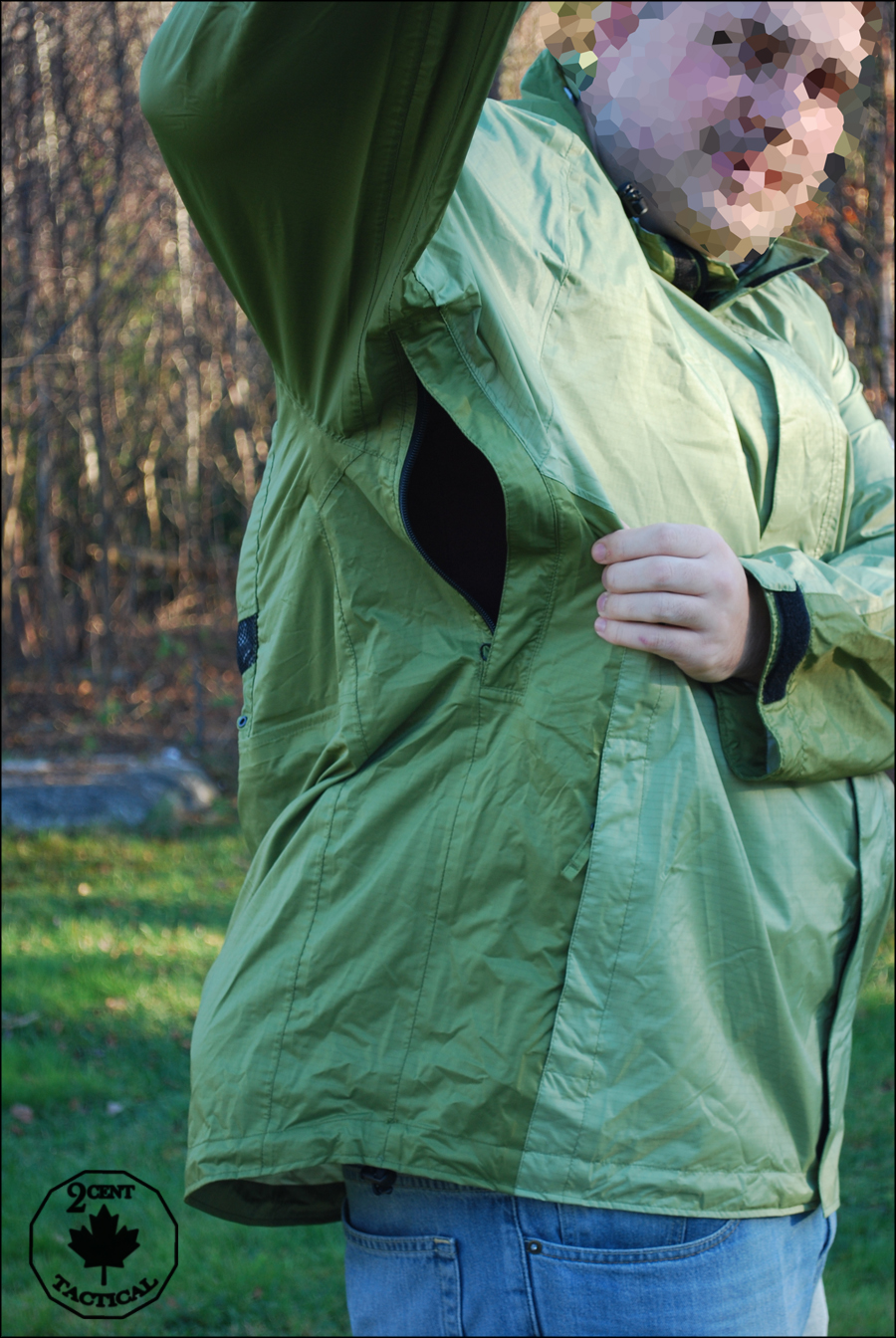 While humming the transformers theme I flopped out the sleeping bag/bivy bag unzipped the side and hopped in.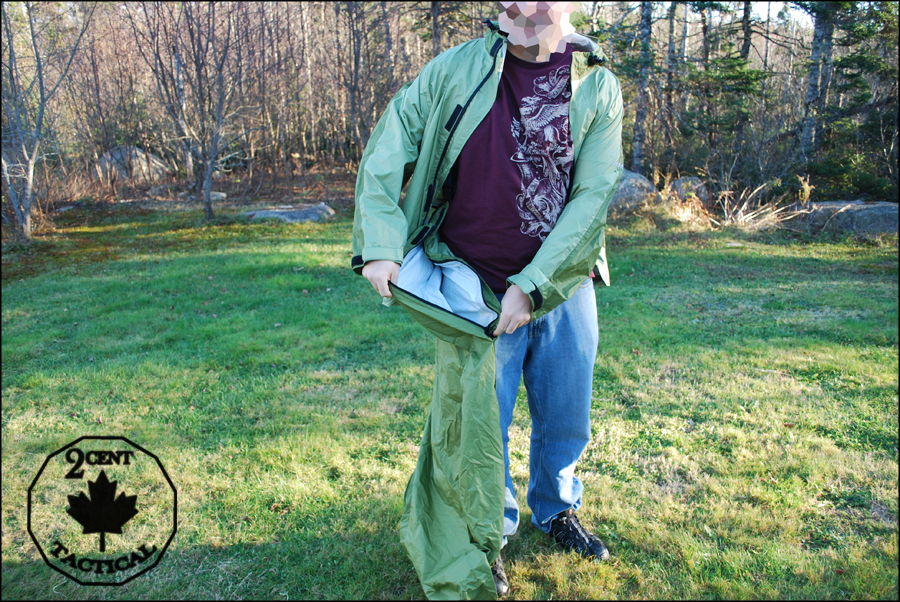 I hate calling it a sleeping bag because it's just a waterproof bag. So from here on in I will call it a bivy bag because that is what it is. Once I zipped up the bivy bag section I attached the suspenders to the front.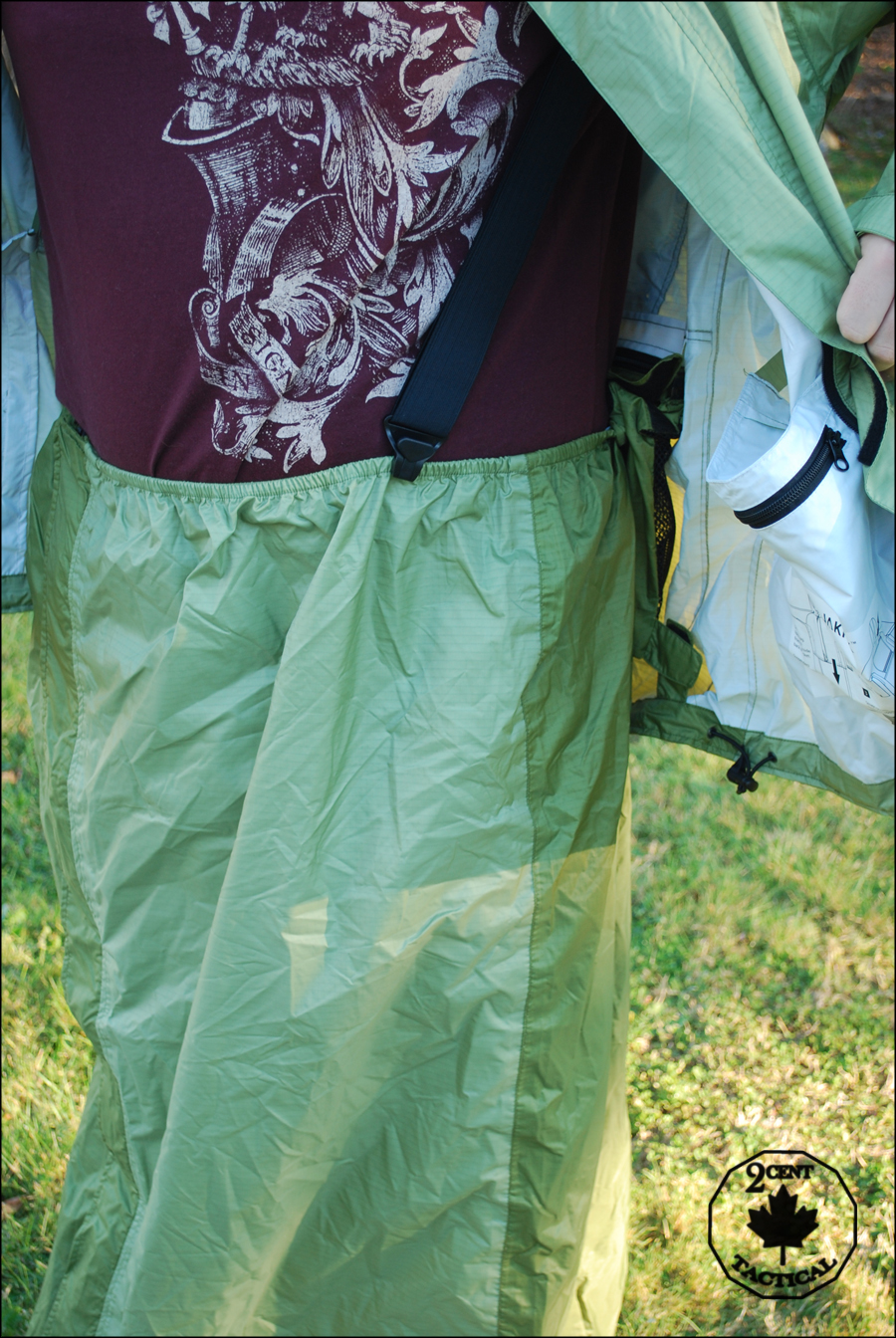 I reached around the back to grab the tent section and came into my first problem. I am not flexible in the least. So off came the jacket and out came the tent.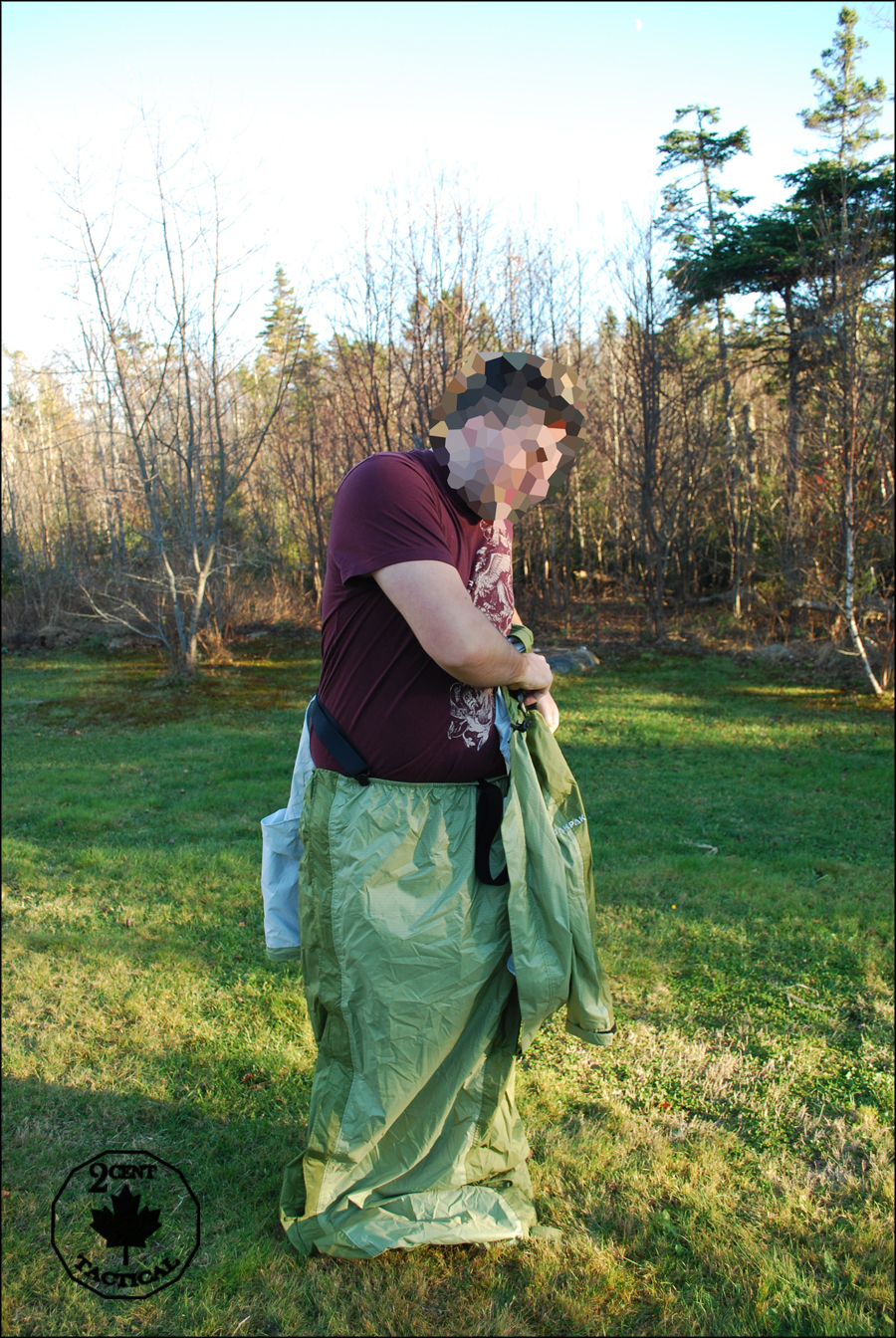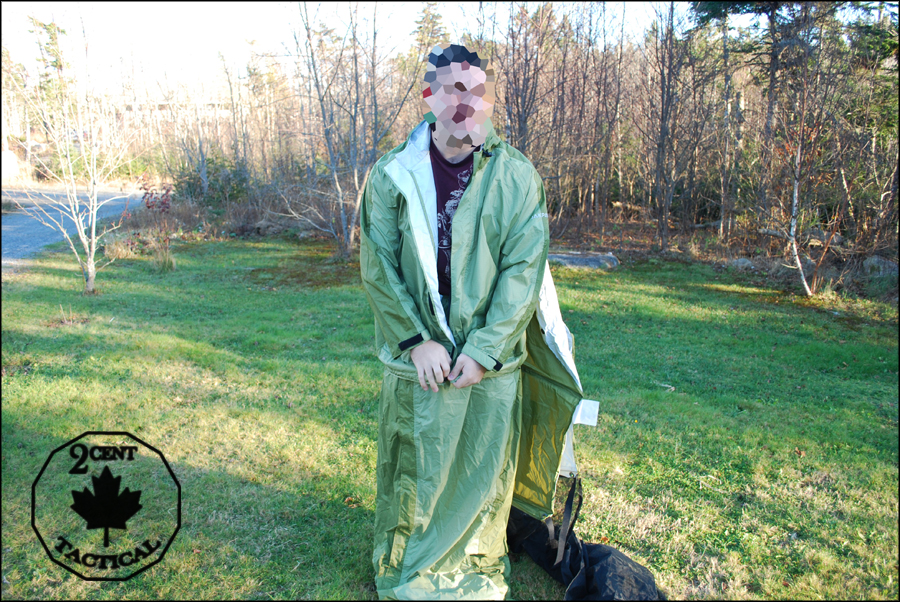 I then put the jacket back on and laid down on my hardwood floor. The first thing I noticed was that there was a bit more headroom then my Stratosphere I used to have. This was a plus as I always found it a bit stuffy in my Snugpak.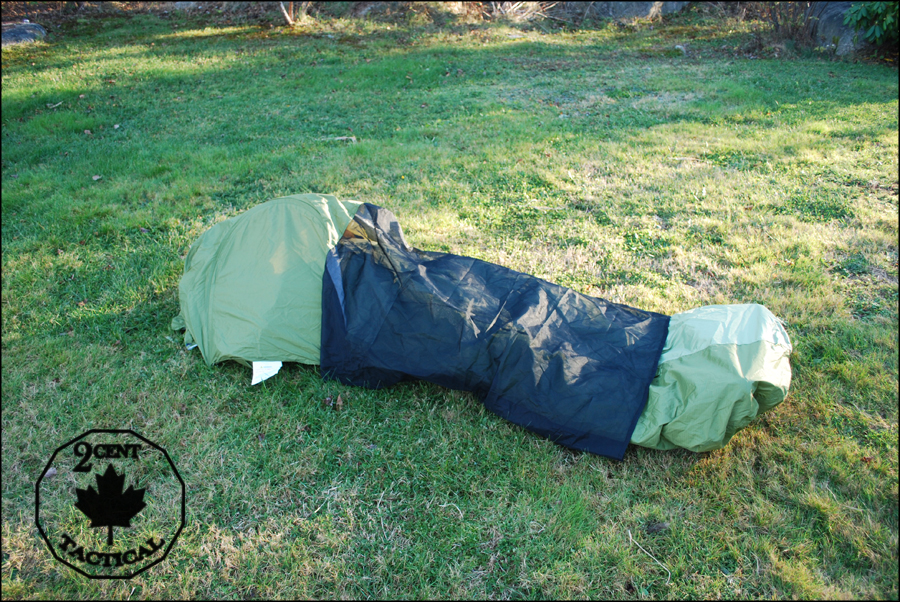 The next thing I noticed is that the mosquitoes in the swampy areas I would normally use something like this in would have a field day with my face. They are smart little winged vermin and can find any weakness in your protection and exploit it.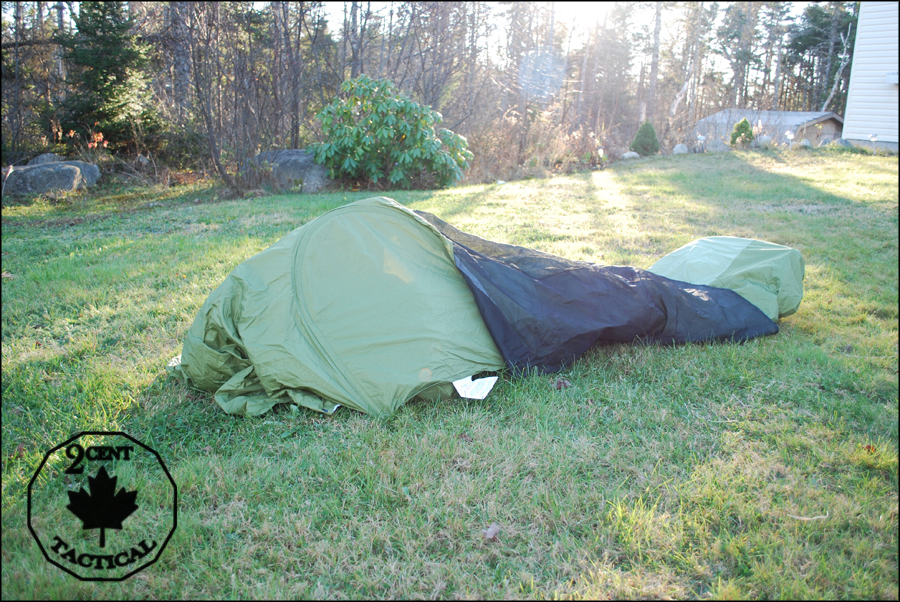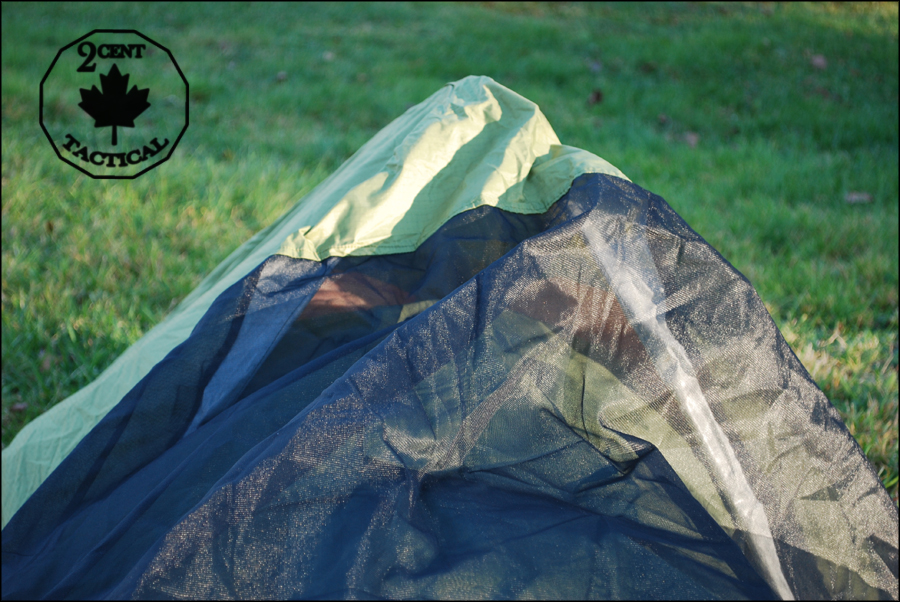 If you live in an area where bugs like that aren't a problem then you are good to go. The next thing I did was roll over and see if I can sleep on my side. I was pleased that it didn't seem to disrupt much and worked great.
Now that I looked like a complete fool (well more than normal) I took everything off and began my least favourite task packing things up. Anyone who has ever owned a jacket where the hood is stored in the collar will know what I am about to say. Replacing things back as they were is a tricky task. It took many many attempts to figure out how to get it back in a way that made me happy. I was far too eager to play with it in the first place and did not take note of how things went in. You should likely do this if you buy one.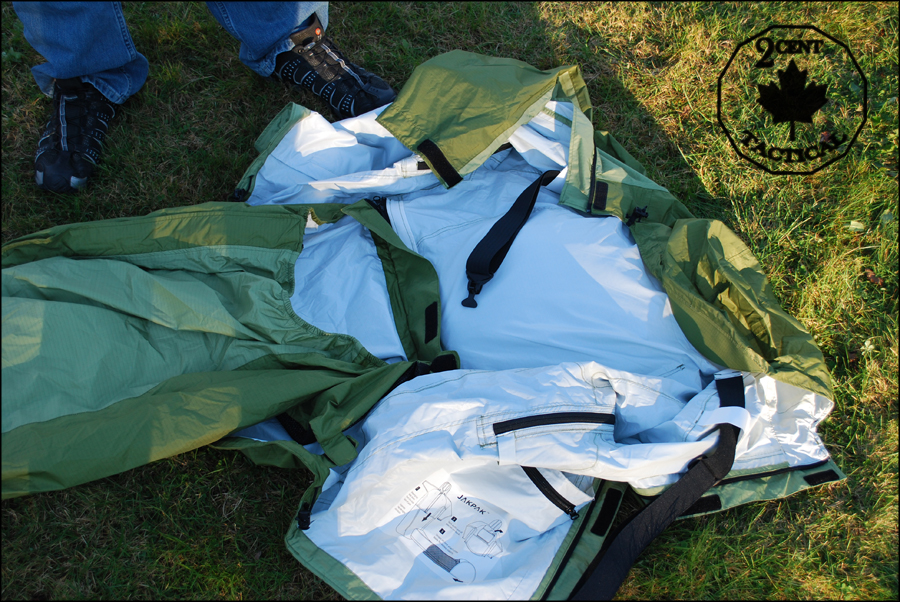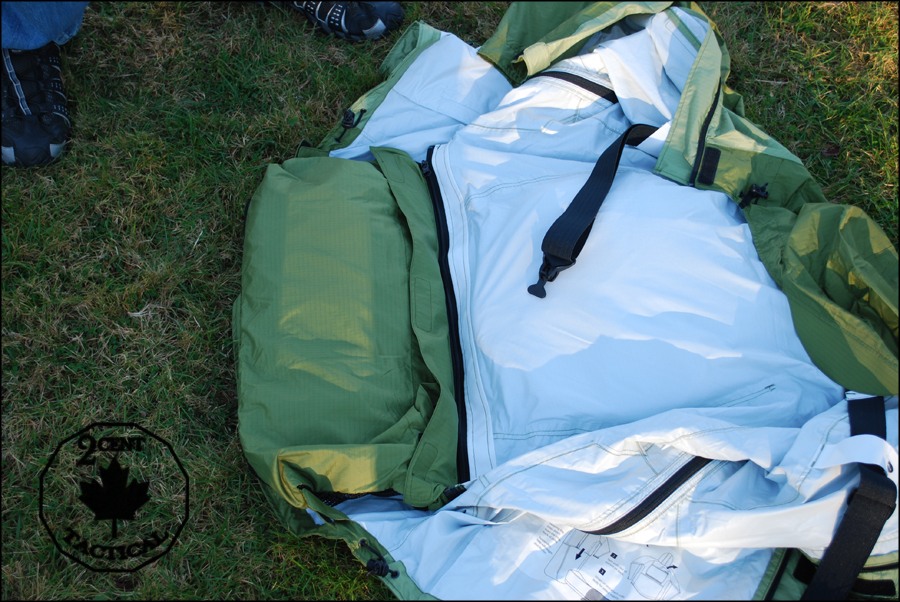 Features
Now that you know a little bit about how things went out of the box it's time to describe some of the features of the JAKPAK. For starters the jacket section has several features I consider crucial in a waterproof breathable jacket. The first being pit-zips. I refuse to wear a coat that is waterproof without them. The reason being is no matter how breathable they claim it to be it will still get stuffy. The pit zips worked great and even with my low flexibility I was able to zip them up and down fine. The next feature I am a fan of is a storm brim on the hood. Having a hood is only good when it keeps water off you and non brimmed hoods end up draining water onto your face.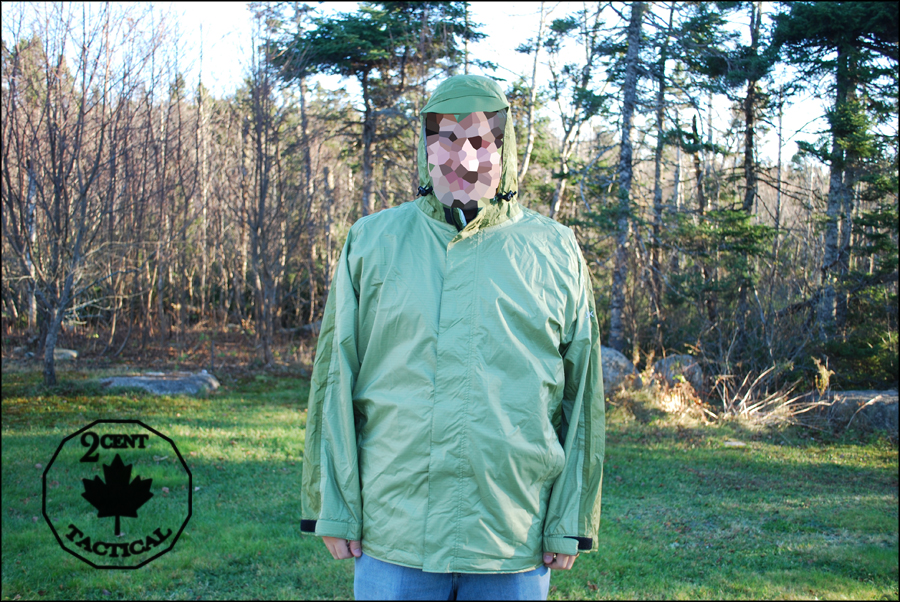 The other feature I was happy to find was a waterproof pocket on the inside. I like my gadgets (cell phone, mp3 player, camera, etc) and dislike the majority of the waterproof zippers I have found on garments. That and normal pockets tend to leak in stormy weather. You should not have a problem with this inner pouch.
Onto the bivy bag section of the tent there aren't a ton of features to speak of. The section that will be closest to the ground is made of a waterproof material while the section towards the sky is made of a waterproof breathable fabric. The right hand side of the bag has a quality zipper that goes all the way down to your feet. This makes hopping in and out of the bag not a problem. The top of the bag that goes under the jacket has elastic in it to make a good fit and help keep the heat in. I found the fit to be roomy enough to accommodate whatever clothing you require for the weather. The bivy bag sections comes out of a pouch behind your butt on the inside of the jacket. Removing it was easy just reach in, un-Velcro and drop it down.
The tent section is stored in the back of the jacket on the outside. To remove it I had to take the jacket off but you flexible folk might have an easier time then I did.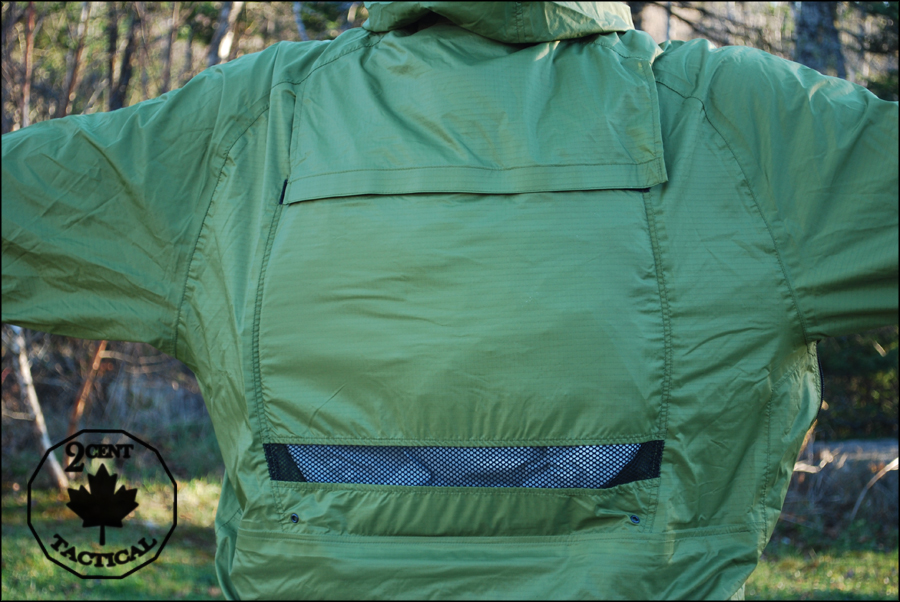 After you remove it you attach the piece of Velcro on the stabilization strap to the other half on the bottom section of the tent. This keeps the tent upright and staying on top of you when your laying down. The tent is removable from the jacket by a zipper.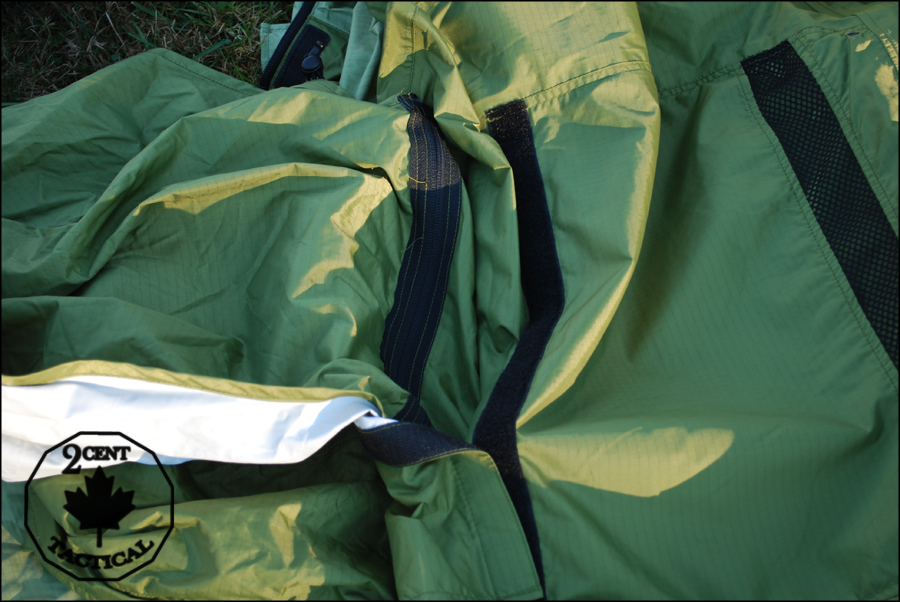 The tent is really where I had two issues. I was not a fan of the way the no see-um mesh was set up and the tent poles were not removable. I would have like a tent pole that can be taken down to allow easier packing. Having a tent pole being removable would have slowed down the deploying of the tent but would have made it much easier to get it into a pack or to strap the jacket rolled up to the outside.
Testing
Not only did I stand out in the rain while I had this jacket to see if it worked as a rain coat but I spent a night in it. I am happy to report that the DWR treatment of the coat kept the water beading off just fine. I was also very lucky the night I spent in the jacket as I lucked out and had warmer weather then we had been having. The temperature dropped to a low of -7 Celsius that night. I grabbed my small rubber surplus air mattress and headed out for my sleep in the JAKPAK. Under my jacket I was wearing snowmobile pants, thermals, my Sleeka and a few other thin layers. I deployed the tent after inflating my air mattress and went to ground. I was happy with the roominess of the jacket and my insulating layers kept me at a good temperature. I woke up in the middle of the night needing to use the washroom. It was good that it only took a bunch of zippers and no scurrying to get layers off to take a piss. I then went back to sleep after checking myself over making sure my arms were not frozen solid. I had some frost on the jacket in various places but I was not to cold and I wasn't frozen or wet. I woke up in the morning after having a decent sleep. I packed everything up and went for a morning walk with the jacket after leaving some insulating layers at home.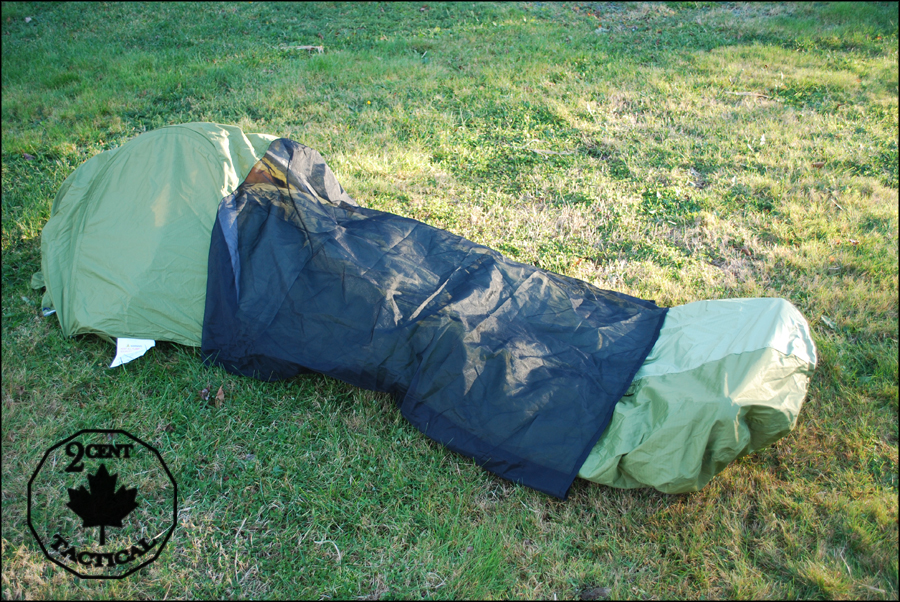 Conclusion
I see this jacket being a great thing for those who want to do some light hiking. If you are out hiking on a multi day hike and you end up in some bad weather it takes no time at all to set up your tent. However the one market I think it excels in is hunting. A large amount of hunters end up getting lost each year in the woods. Having this jacket would be great because with the bivy section deployed they have a waterproof section to lay in. If they get lost they are wearing a shelter on their back and can concentrate on other things needed to survive like fire and water until they are found or find their way back.
Something like this is not quite ready for the military market just yet. A more durable material like eVent or Goretex should be used for the fabric. The finish on the inside seems like it can be easily damaged as was shown by the scraped back material on part of the jacket.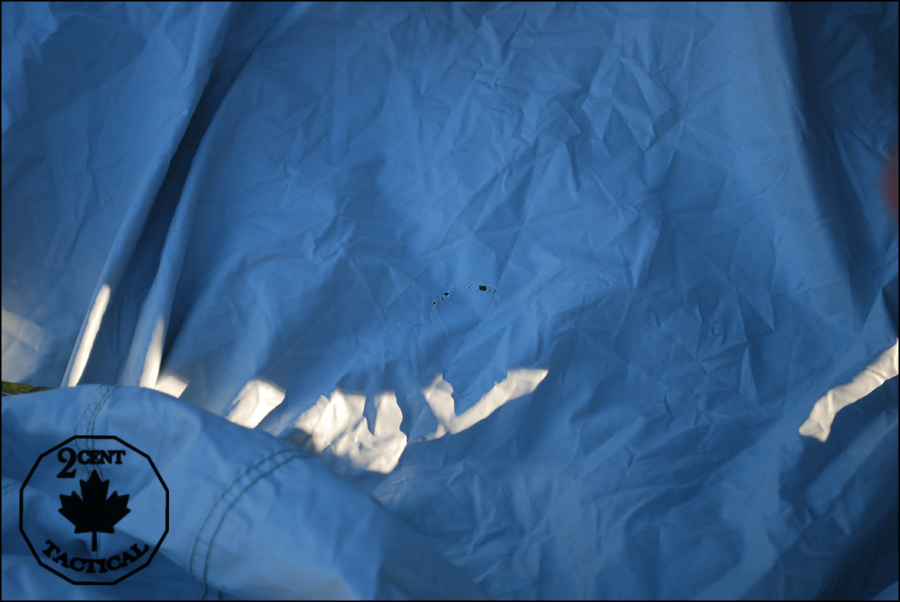 It also needs to have collapsible poles so that it can easily be stowed in a bug out bag or rucksack.
I think the design is very interesting and I am excited to see what the company comes up with next. Thank you to JAKPAK for letting me borrow a sample for this review.
The reason my face is pixelated is I both had a cheesy moustache and normally have the inability to look serious while being photographed. If you want to see my mug click on the about tab at the top.