From all United States airmen I have had the chance of speaking to they have all say the same thing. The issue boots aren't comfortable. Not only this but they always seem to be restructuring there uniform requirements so who knows if a few months down the road if sage will be the official boot color. Thankfully these come in both tan and sage.
Altama sent me these boots and I have been struggling with writing this review. On one hand I see a lot of great features, and the build quality is superb. However they have a few shortfalls one is weight and the other is the angle the foot bed slopes downward. More on these later.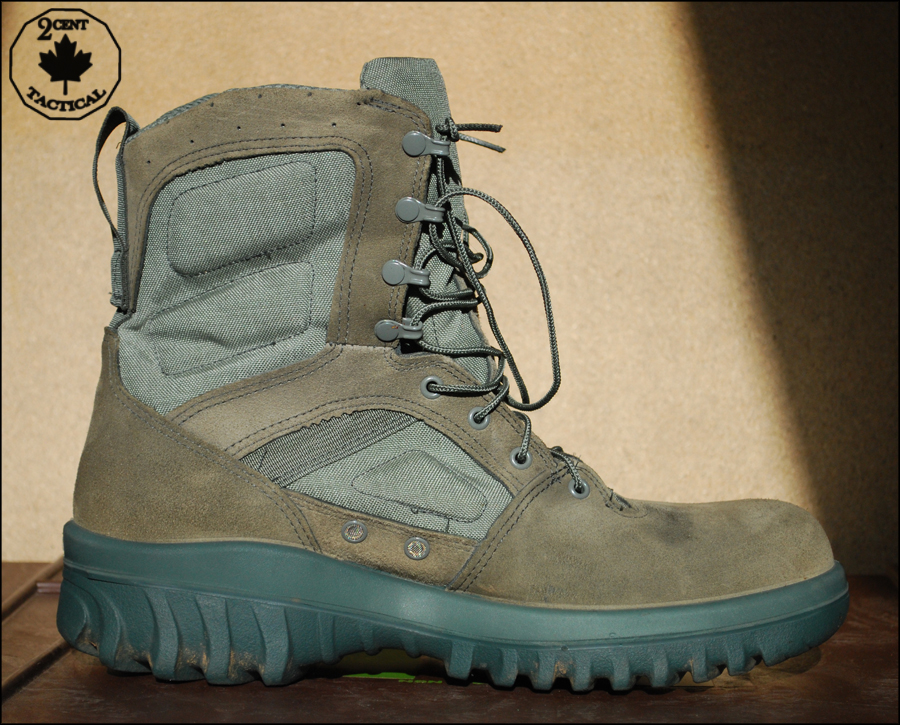 Pros
-Padding on the non leather areas to protect your shins from bumps
-Mesh innards to aid in breathing and moisture removal
-Large grab handle and easy to loosen laces allows boot to be slid on and off quickly
-Sole provides good traction in sand, and on other surfaces
Cons
-Angle of the foot bed feels awkward to me (your experience may vary)
-The sole may be have great grip but it comes at a cost. It makes the boot heavy compared to other boots
Initial wear period
Before I go into this I must state that everyone's foot is different. What I may find comfortable others may not. I am quite partial to hiking boots and combat boots while other prefer skate shoes or sneakers. So what I may not find comfortable with this boot you may.
With that said I unboxed the lovely green boots and had a quick look over them. First thing I noticed was the weight as I lifted the boot from the box. When you have feet as large as mine are any weight savings in a shoe is a plus. This is why I like the Vibram soles that have a heavy rubber on the outside and a lighter foam on the inside. This helps with shock absorption and weight reduction. On the Hoplite Altama has designed their own outsole. It is a nice sturdy rubber with a lighter foam core and a good grip pattern which should cope great with the fine powder sand of the desert. However its quite heavy for an outsole. I think to much of the rubber was used and not enough foam.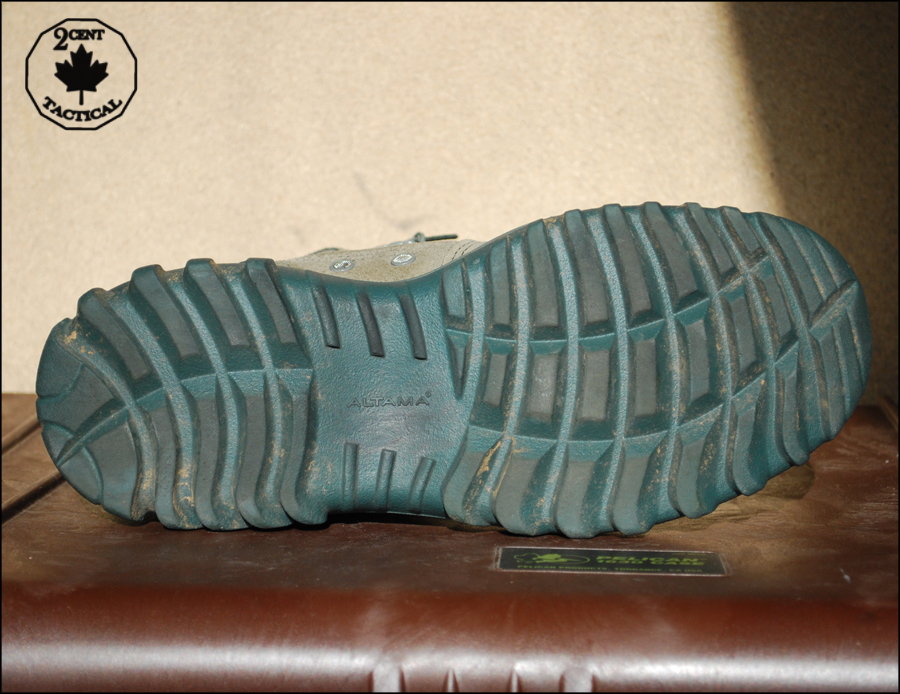 I then popped my foot into the boot and had a quick wander around my floor. The next thing I noticed was the odd angle the foot bed sits at. I sat for weeks attempting to figure out how to describe this oddity and realised my phone has a level in it. It's not 100% scientific but does help illustrate the difference. To check I tested my Merrel Sawtooth's, Blackhawk Blackop's, Original Swat's and the Bates C3's. They all ranged from 3-7 degrees of downwards slope towards the toe. The Hoplite was over double them at 18 degrees. This left my foot feeling awkward like I was perpetually walking downhill. The other problem I could foresee this leading to is if your boot doesn't fit correctly. If your foot can slide around a bit in the boot the downward toe area could lead to some hotspots and blisters. The insole of the boot is actually quite nice and with the heel area being lowered or the toe area being raised in the foot bed would prove to be a quite comfortable stock insole. At first I though perhaps the insole is aiding the weird angle and swapped several insoles I had laying around and often they made it worse due to the padding in the heel.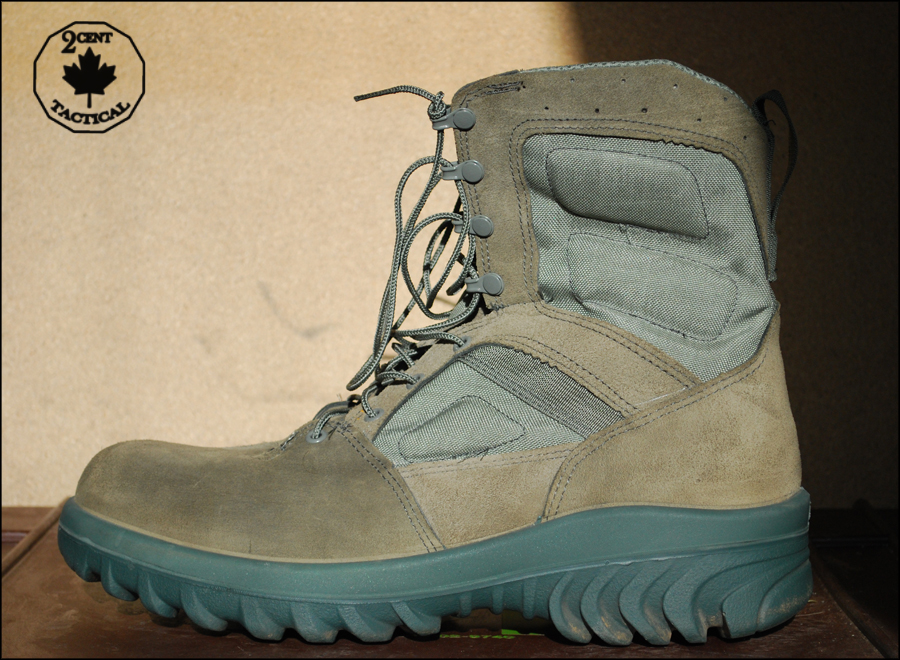 I think if you are to buy these boots you should really try them on first and walk around for 5 minutes. If you do that and don't notice the issues I have then you can't go wrong with these boots. As I said everyone's feet are different and these may actually be just what you are looking for.

Materials
The outer of the upper is a combo of Cordura and suede. All the parts are nicely stitched together however there are a few loose threads that need to be burned down. At the bottom middle of the inside boot are two mesh covered drainage grommets to aide in water removal and breathability. The laces are held onto the boot with some speed hooks and regular eyelets. The lace is a nice thin but strong lace that tightens with ease. I tied knots at the end of my laces to stop them sliding through when I am taking the boot off.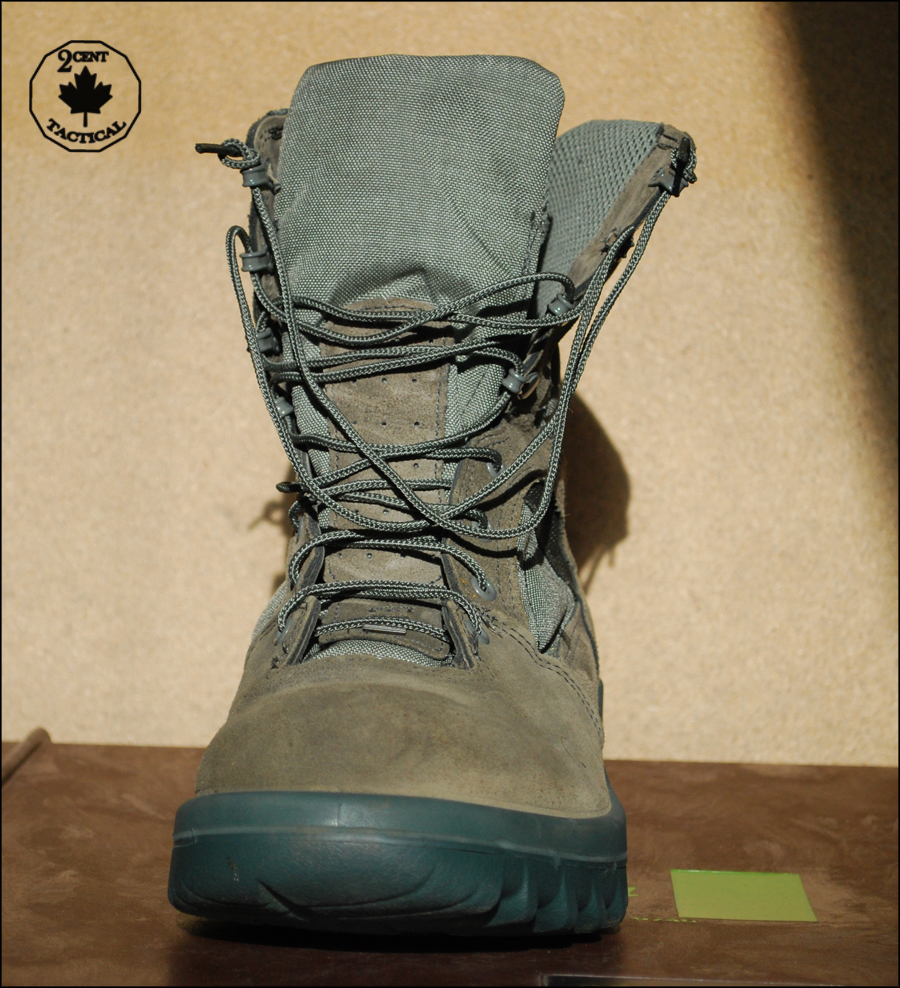 The grab handle is a nice one inch webbing that should allow a normal hand to get three fingers in to help pull the boot on or off (which is not needed because the boot is easily removed when unlaced).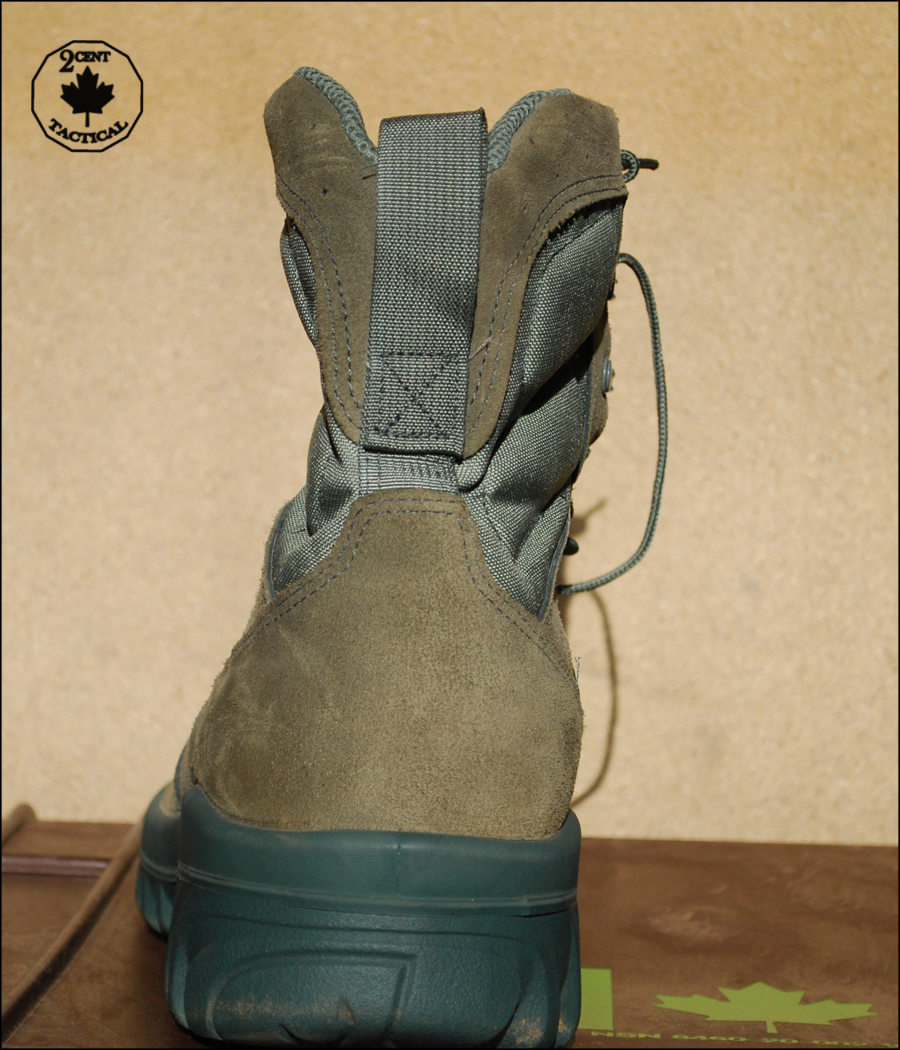 The innards of the boots are a combo of mesh and open cell foam to aid in breathability and moisture wicking. The outsole of the boot is thick rubber with a lighter but still really sturdy foam on top. Had these boots had a Vibram sole like some of the other boots in their line up and a normal foot area I think these would have been a winner in my eyes.
Conclusion
Altama makes some really high quality boots that are made in the USA. These boots are no exception. The fit and finish is superb and there are tons of good design points. I just wasn't a fan of them due to the lowered toe area making walking feeling awkward. The weight is not a huge problem and could be ignored but the angle of the foot area did not feel natural. As I said if you are interested in these try them on at a store to decide if they fit you right. If you don't find it a problem then I have no fear that these boots will serve you well.