Converse C8891 Multicam Boot
http://www.conversework.com/
At SHOT Show 2011 I was wandering around and found a booth called Warson Brands which carried the full line of Converse's military footwear. This surprised me because I had not heard anything about Converse in ages and thought they had dropped their military line. I had heard nothing but good things about their boots from guys overseas but never really saw many stores carrying them. Well it turns out Converse is still pumping out boots and in this case had some new ones in Multicam.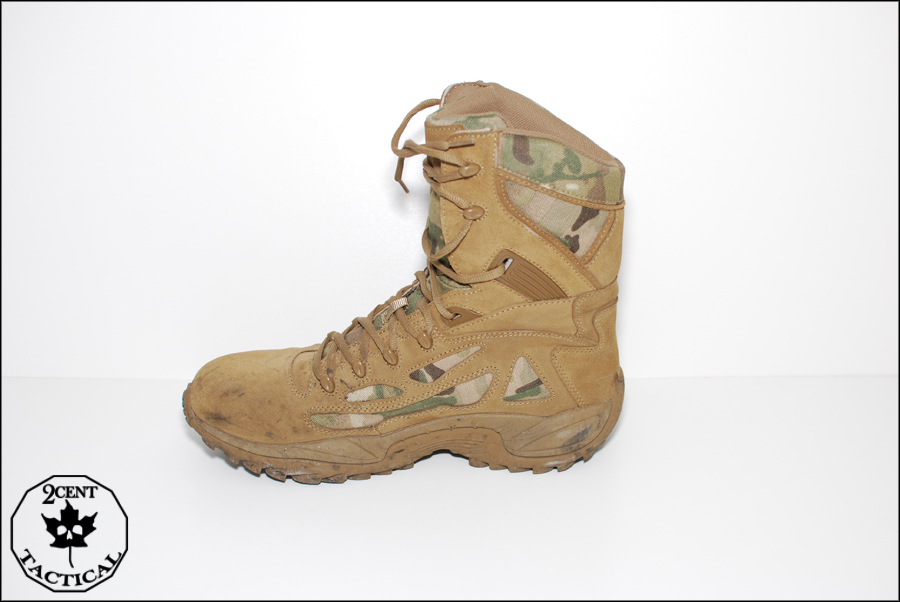 Pro's
-Multicam accents to make your foot look that much more badass when your kicking ass
-Extremely comfortable outsole and insole combo
-Durable double stitching covers the boot
-The padding and construction of the boot lend well to running
Con's
-Multicam panels don't add a whole lot of camouflage to the boot and only really serve for looks
-Converse boots are not as easy to find as other companies are
Initial Wear Period
It has been a very long time since I have had a pair of Converse shoes. I used to really love the ones I saved up for when I was a kid but due to my foot size and the lack of choice around here I haven't managed to find a pair in my size for a long while. So when I inquired if the new Converse Multicam boots came in my size I was pleasantly surprised to find out that I was in luck. After quickly looking the boots outer construction over and insole I slid my foot in. These boots now set the bar for what I consider to be sneaker like feel. The only thing I could think of when I started to wander around was that they are more comfortable then the pair of New Balance runners that I recently got which cost around the same price. This ended in me doing a short jog in the Converse's to see how they held up to a run out of the box. When I got back my feet felt great and their knowledge in the running shoe market transferred over quite effectively in a boot. Normally when I buy a boot I look at the outsole and unless it says Vibram I am initially skeptical. However Converse has been making footwear for a very long time and have certainly learned what the users want.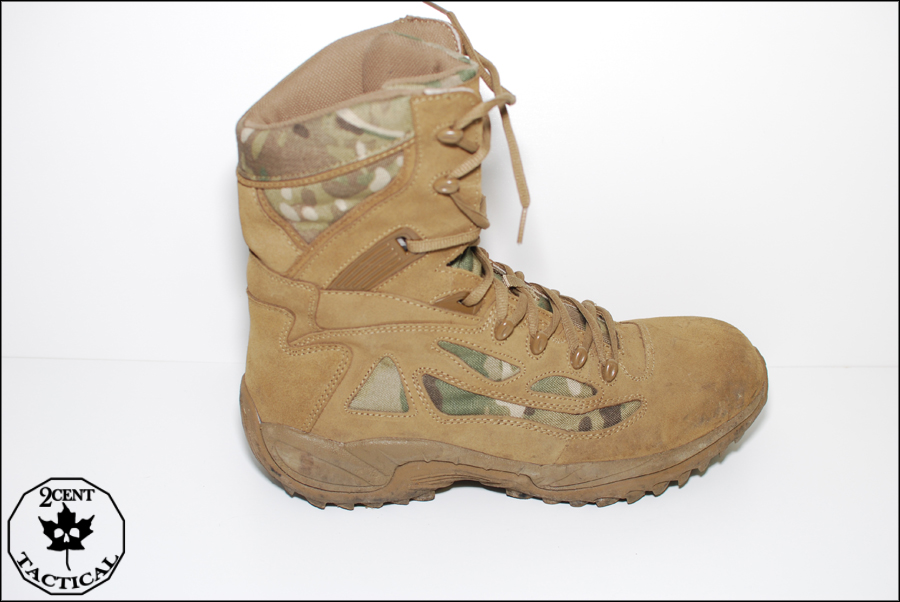 As with all my boots I put it through my ruck test over varying material to see how the soles work along with how my feet feel on return. If my feet feel like death it tends to show issues in the insole/outsole combo. No hotspots were present and the boots grip pattern allowed for good grip on loose surfaces both in the up and down directions. There was minimal squeak on tiled surfaces when wet. Not only did it get put through my ruck test but I have been using these boots clearing trees and working at the camp. They have climbed through swampy moss, around piles of wood and rough granite stones. These remained comfortable throughout the work even when carrying logs to be split over the uneven ground and offer great ankle support. The padding on the inside of the boot worked wonders because a number of times I hit my foot on rocks or had a log roll off the pile and hit me. The weather was fairly warm and humid throughout the work and my socks were only a tiny bit wet at the end of each day. These boots seem to breathe surprisingly well despite not having any noticeable areas to vent moisture.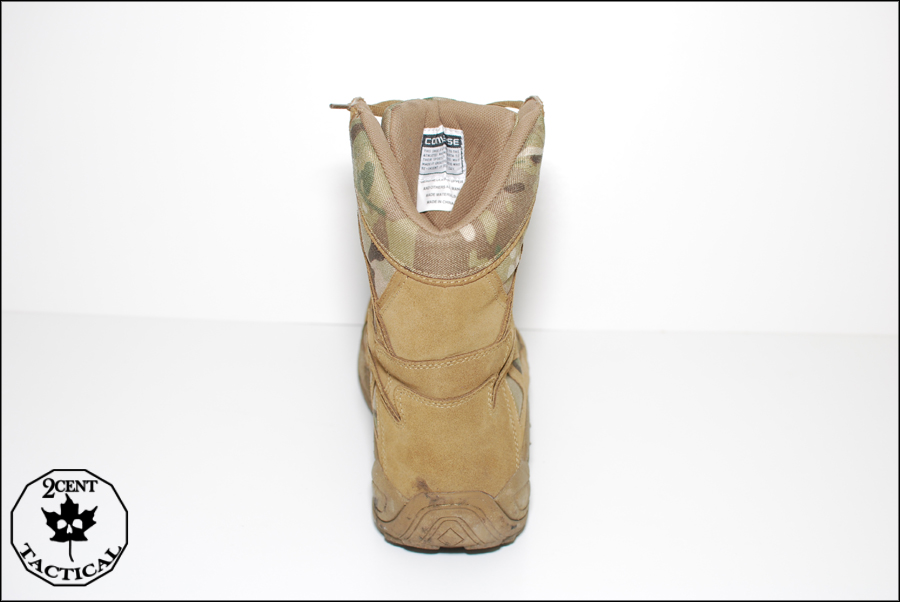 Materials and Build
A comfortable boot is only good if it will stay together as you go about your work. Often comfort ends up being a trade off for durability however in this case that doesn't appear to be the issue. The majority of the outside of the boot is made of panels of suede leather that is close to Coyote Brown in color. Each panel is double stitched to the boot in stress areas with single stitching in areas that don't need as much reinforcement. A few small areas on the side of the boot near the outsole are Multicam Cordura along with the tongue and top of the boot. The Multicam Cordura looks nice but as I said doesn't really offer all that much camouflage to the boot and is there more for looks. That said it does look pretty slick and helps show your commitment to the wonder camo.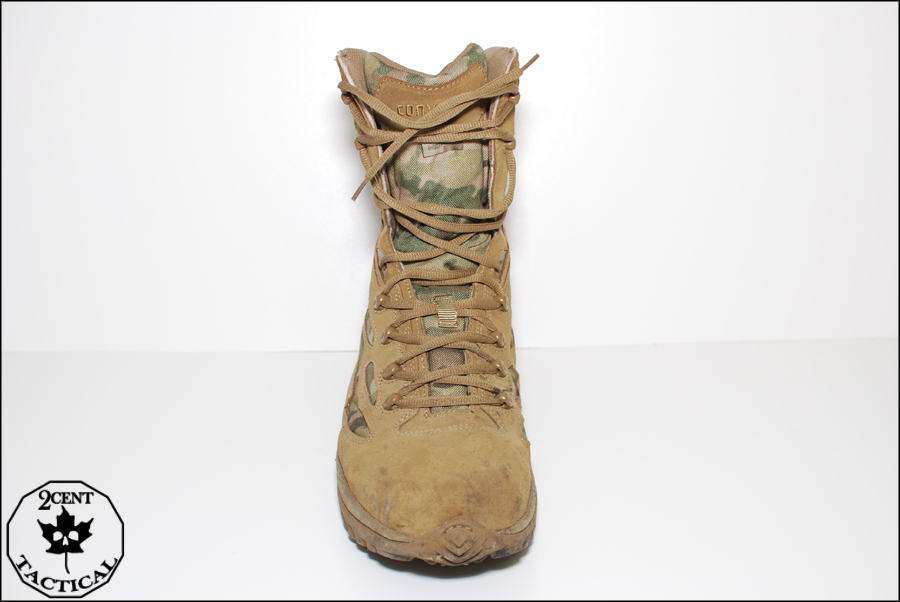 The outsole is made of three materials that I can see. A hard rubber base with the grip pattern on it to take the beating your foot will put out on all the different surfaces soldiers have to walk on. The next material above that is a foam material to aid in shock absorption and comfort. This material has a few nicks in it from rocks and trees but is still holding up well. The last material is at the heel and appears to be sorbothane. This material makes an absolutely outstanding shock absorber. This helps reduce heel strike greatly and is a feature that makes ruck marches in these things really comfortable. I was confused at first when I pulled the insole out and saw the blue disk with star logo on it. I poked at it and it noticed the gel like feel. When I popped the insole back in and took a step it was obvious that it was there to eat up extra shock. The outsole is glued on with a small stitched area at the heel and toe to help it stop from coming undone.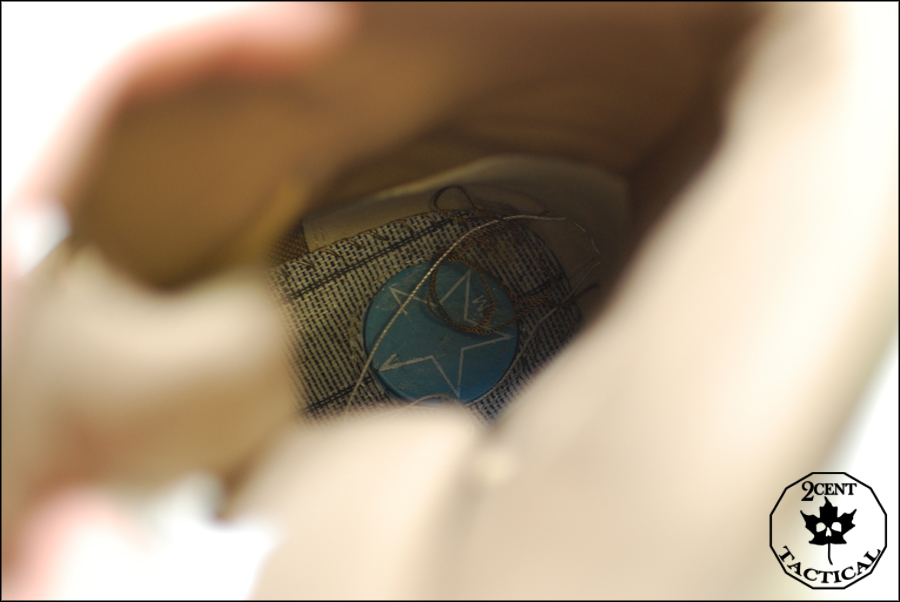 The insole of the boot is fairly decent and has served me well so far. The heel and arch area have a plastic material laminated to it to aid in support this area is called the Fatigue Fighter 24/7.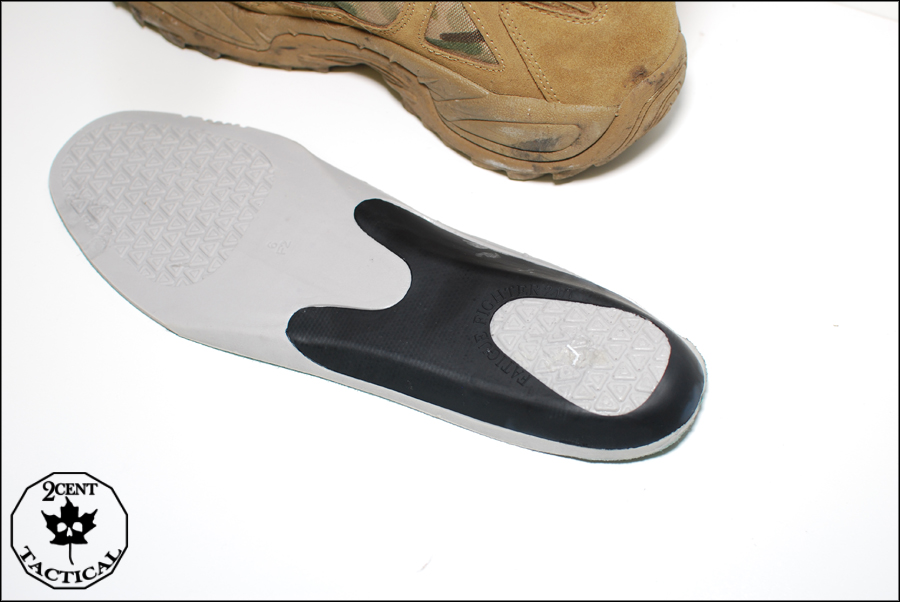 The laminated area leaves a gap directly at the spot the heel puts its force down so that the sorbothane pad in the outsole can work with it. The foam of the rest of the insole is a comfortable foam that is grippy and keeps the insole in place and stops it from sliding.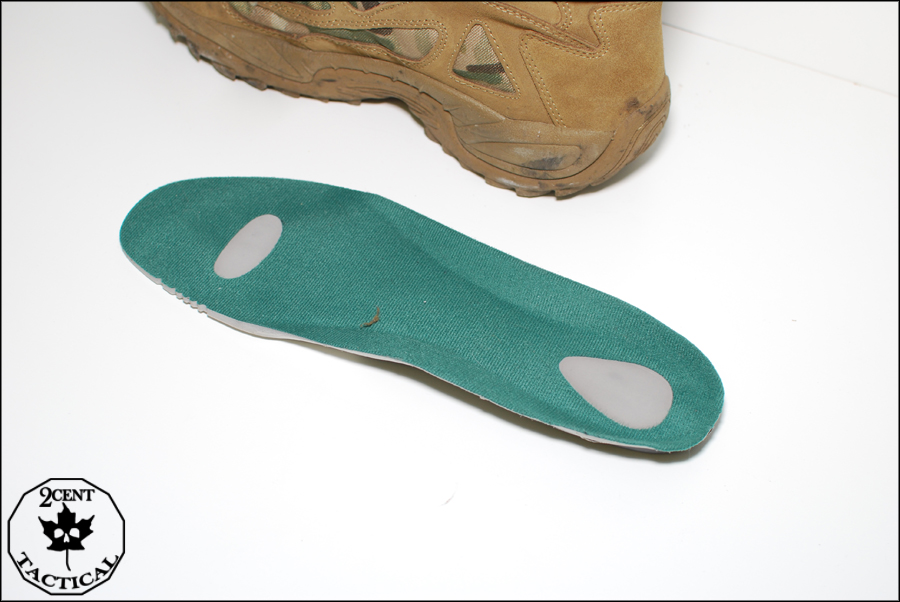 The boot is very comfortably padded from the tongue to the toe box. This padding has saved my foot from a few bumps that would have been mildly uncomfortable. The inside of the boot is covered in a very small mesh to help in moisture wicking. The lace eyelets at the base and upright of the boot are external plastic eyelets. The two eyelets at the bend where your foot meets the leg are inset plastic lugs nicely stitched into the body of the shoe. The laces may seem a bit short for some of the people out there but I don't mind them. They tie easily and stay tied.
Conclusion
As far as Multicam boots Magnum will likely have the area covered in fall when they release the full Multicam boots. However the Converse boots still feel great and look the part. My boots have held up well and embody the running shoe feeling a lot of companies are trying to create. If you can find a Converse retailer please check them out your feet will be happy you did.