Fenix E05 R2 EDC Light
www.fenixlight.com
I had been looking for a light that I can carry on me at all times for quite awhile. I was unimpressed by the small key chain lights you see in the checkout lanes of big stores so I went on a search to find something better. Since a few friends were recommending Fenix to me and after seeing some of Fenix's bigger lights preform in the field that was the first place I went. Many days of reading and price hunting trips across the internet later, I found myself ordering the E05 and a PD31. (More on the PD31 in an upcoming article.)
This was all a few months ago now, so the lights have seen use and the E05 has seen my keychain the whole time. They have been dropped, gotten wet, and still work perfectly fine and show very little wear. One thing that really surprises me is that I have yet to replace a battery!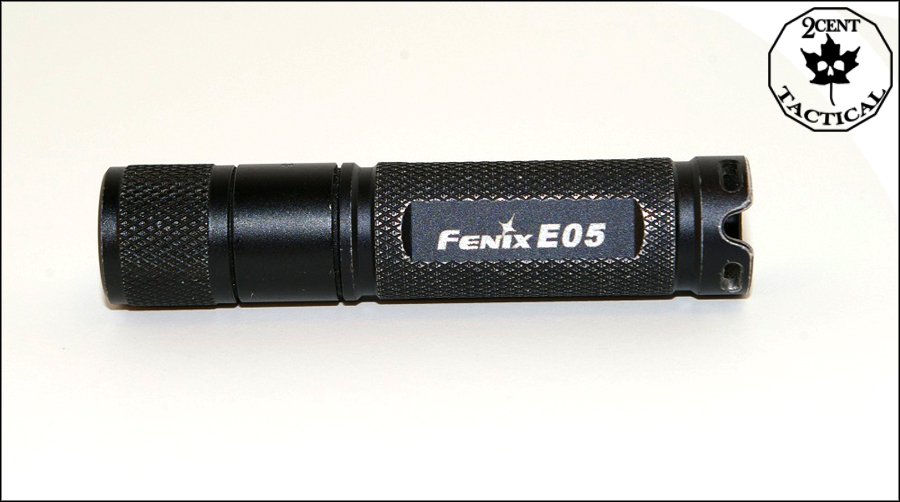 Pros
Small and light
Good dispersion
Very strong body
Long battery life
Cons
May accidently turn on if not unscrewed enough
O Ring and threads came dry
Manufactures Listed Specs
• Uses Cree XP-E R2 LED with a lifespan of 100000 hours
• Uses one 1.5 V AAA (Ni-MH, Alkaline) battery
• 64.5mm (Length)14.4mm (Diameter)
• 11.3-gram weight (excluding batteries)
• Digitally regulated circuit – maintains constant brightness
• Reliable revolving switch
• Capable of standing up securely on a flat surface to serve as a candle
• Made of durable aircraft-grade aluminum
• Premium Type III hard-anodized anti-abrasive finish
• Output – 27 Lumens
• Estimated Run Time – 2H 50Min
Accessories:  Key ring and spare O-ring.
Click  HERE for more information.
The one accessory that the light comes with is a small key ring that was a bit of a pain to get onto the light.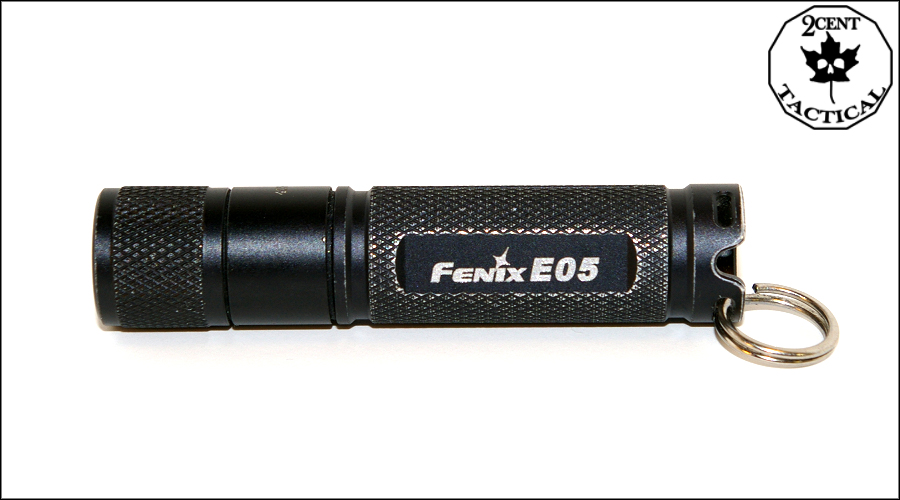 Construction
This is an extremely small light, smaller than most keys. Because of this, it adds very little footprint to your keychain, lanyard, or whatever you want to attach it to.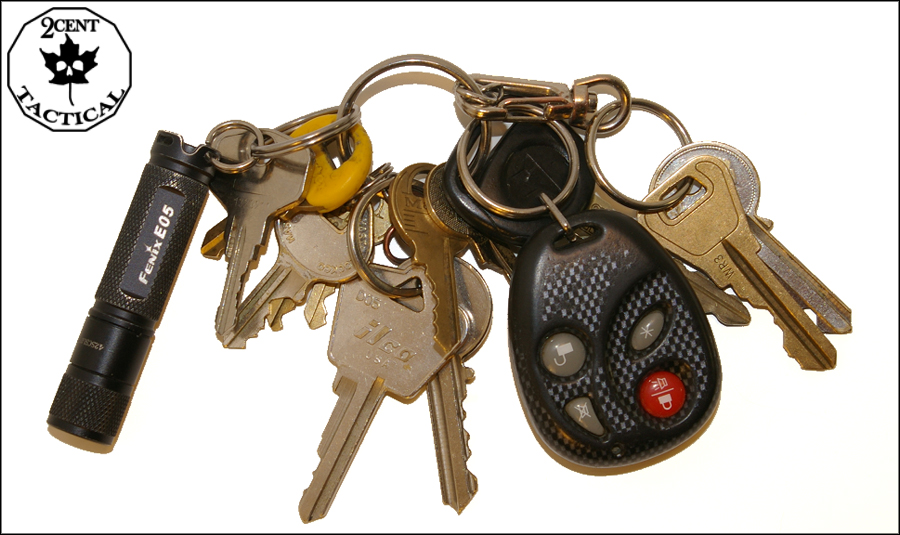 As I mentioned before; the light has very little wear on it, and this is how I have been carrying it every day for 3 months now. When I first put the light on to this gaggle of keys, I was afraid the thin strip of metal that makes up the key ring loop would break, but it has proven to be very strong.
The threads on the body and cap are thick and show no wear at all, the O-ring is large enough to apply ample pressure on the cap and create a good seal for water resistance. The light came to me dry, so I applied silicone grease to the threads and O-ring to aid with the water seal and lube up the threads.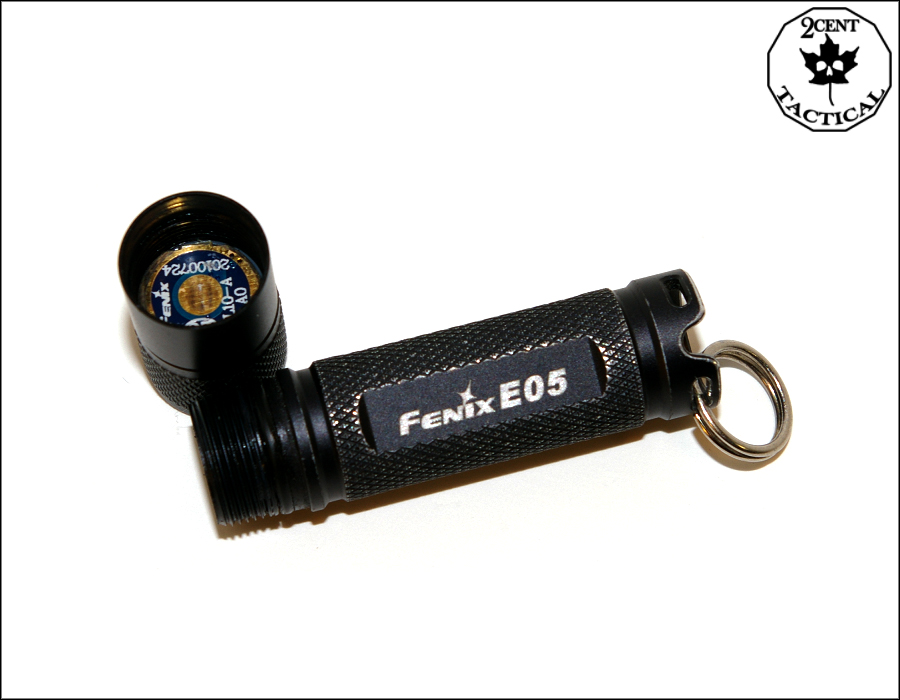 The reflector on this light is not the traditional reflector you see in most lights, it reminds me more of a dispersion filter you would put on a camera flash. Using this instead of a normal reflector helps this lights beam be even and soft, but not have much throw. It also has a very wide beam so it can cover as much area as possible in a short distance. This is ok since it's not made to throw light 300 feet down range, it's made to help me find that screw I dropped under my desk.
The XP-E R2 LED in this light has since been upgraded to a XP-E R4 LED which Fenix has rated for 30 Lumens and 177cd ANSI, so anybody buying an E05 now will get just a little more brightness.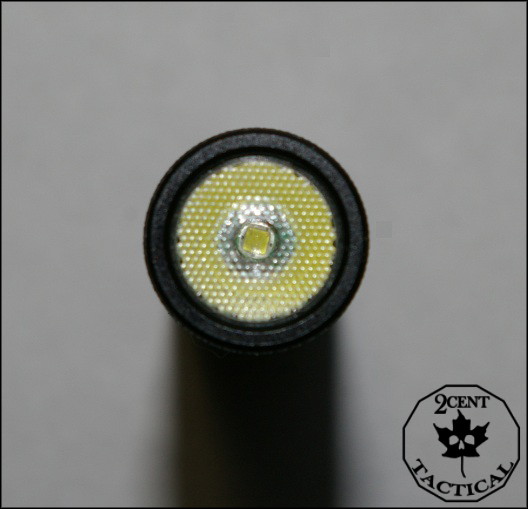 Operation
Since this light has no super fancy features such as strobe or different brightness levels, operating it is very easy. The top cap that houses the LED unscrews from the body and a single AAA battery slides in.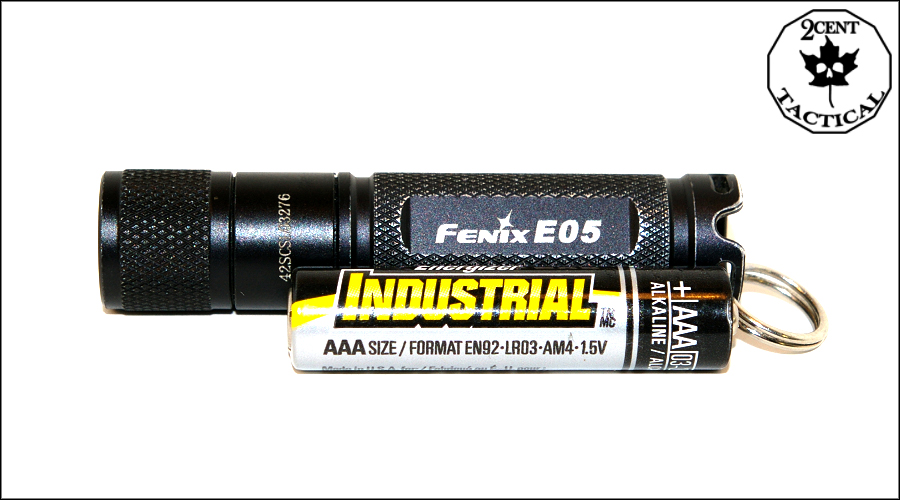 Once the battery is installed, simply screw the cap down tight and the light turns on. Unscrew the cap slightly and the light is off. As easy as this makes using the light, I see one issue. After unscrewing the cap a bit to turn off the light, if you apply pressure to the cap the light can turn back on unless you unscrew it more. This is the only issue I have found with this light and it is very minor.
Beam Shots
These pictures were taken at 3 meters with the E05 R2 beheld just beside the camera.
Conclusion
The Fenix E05 R2 has turned out to be an amazing EDC for me, I use it almost daily when I am rooting around a server rack or looking for something in my poorly lit car. One interesting use I found for it was testing fibre optic cables. The reflector has a hole in it that leads directly down to the LED as you can see in previous pictures. I found that this hole was the perfect size for the ferrule of most fibre optic connectors. I was able to test long runs of fibre with safe light without having to grab a specialized piece of equipment or find a light source bright enough to hold one end up to.