Rail Vise
http://www.railvise.com/
As someone who likes to work on the occasional AR-15 I was eager to try out the Rail Vise, the flagship product for Rail Vise Technologies, to see if it would make maintenance work easier.  In the past I've cleaned and worked on rifles while they sat on the workbench on a towel, held in a rubber-padded vise or just holding it in my hand even.  This was always risky as if you weren't careful you could scratch the finish on your weapon.  If you also find this to be a bit of a sub-par situation then you will likely agree with me that with the Rail Vise this is now a problem of the past.  It is strong enough to support almost any AR but it does have limitations in how much energy it can handle so maintenance is limited to cleaning and basic modifications.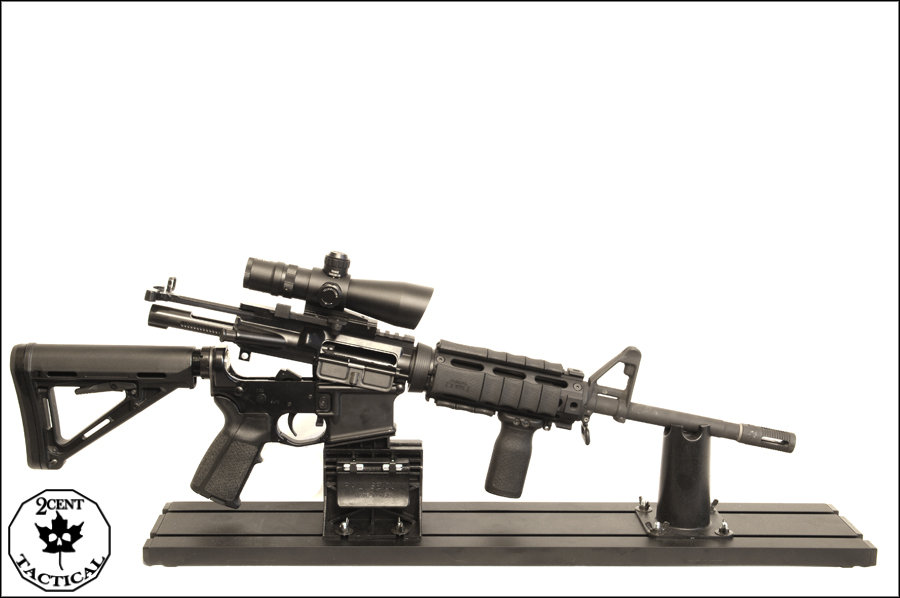 Pro's:
Light and easily disassembled.
Tough but flexible plastic to grip firearm.
Rubber feet of base stick well to smooth surfaces.
Quickly adjustable for various barrel lengths.
Vise can be mounted to any flat surface.
Con's
Good for maintenance and cleaning only
Support post not adjustable in height
Overview
The system allows for holding an AR platform rifle using its Picatinny rail allowing for grip on the upper receiver, if it has a rail, or on the hand guard if that is railed also.  Rail Vise also manufactures adaptors to allow for a variety of double stack pistols to be clamped in the vise as well.  Using special inserts and a molded piece that inserts into the mag well of the gun the lower receiver can be mounted on the clamp for cleaning and maintenance work.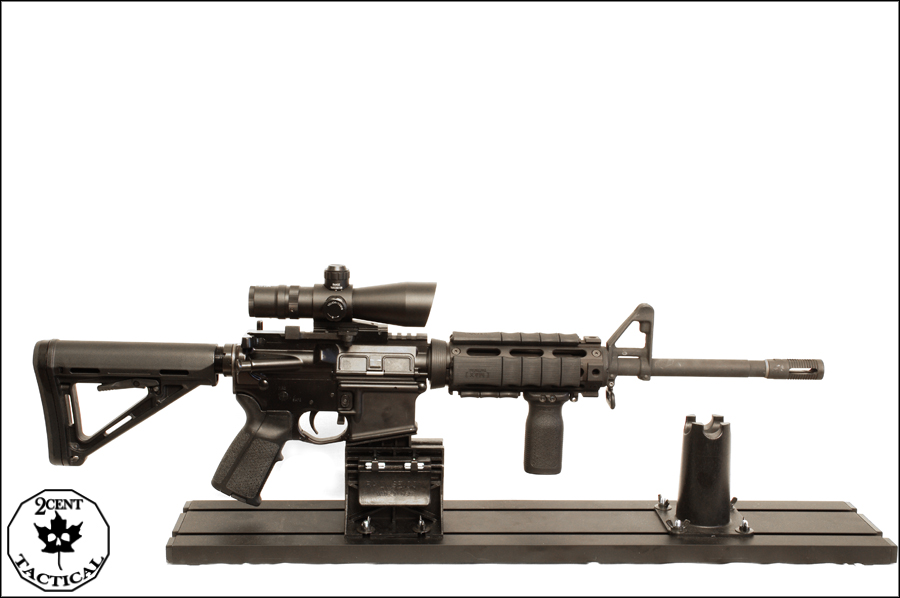 The system comes either as a standalone clamp and offset support or as a kit with a base plate.  There is also an AR Mag Well adapter that comes with the kit so the lower receiver can be held upright by the Rail Vise.  The base plate is manufactured from aluminum and has four rubber feet so it can be used on slick surfaces without slipping.  Two grooves that can accommodate 1/4″-20 hex head bolts allow for the Rail Vise clamp and the barrel support post to be moved to accommodate shorter or longer barreled weapons by loosening the wing-nuts and simply sliding the mount along the base plate.  An adapter rail is also provided to allow for optics to be mounted for cleaning or changing batteries or to mount receivers without removing the optics to maintain zero.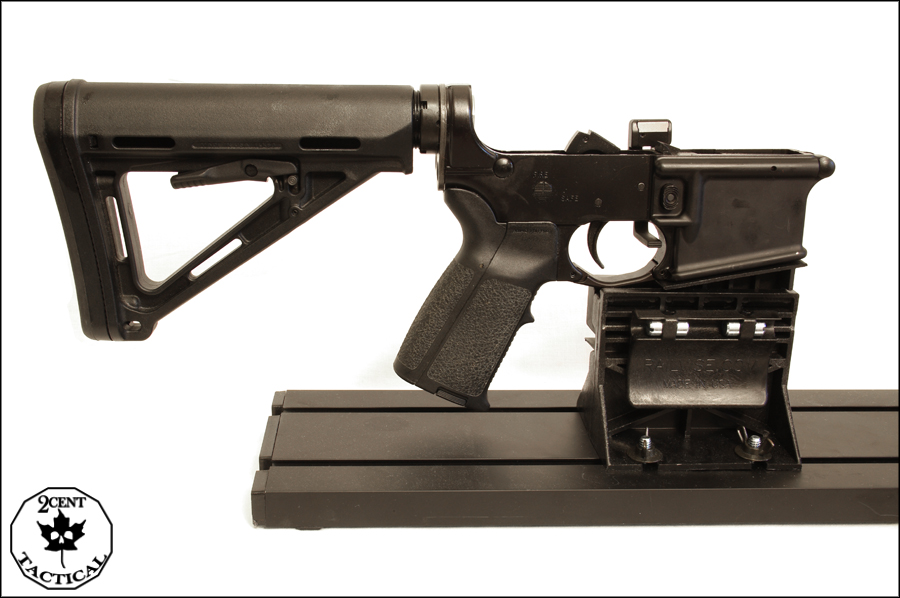 Once in the vise it is very easy to strip and clean the upper and lower receiver as necessary.  There is no risk of the rifle falling or moving around as the platform is very stable.  With the rifle in the vise you can easily focus on the task of cleaning and not have to worry about the weapon falling or being marred by anything on the work bench.  The individual is able to take there time to ensure a more thorough job is performed resulting in a longer lasting firearm.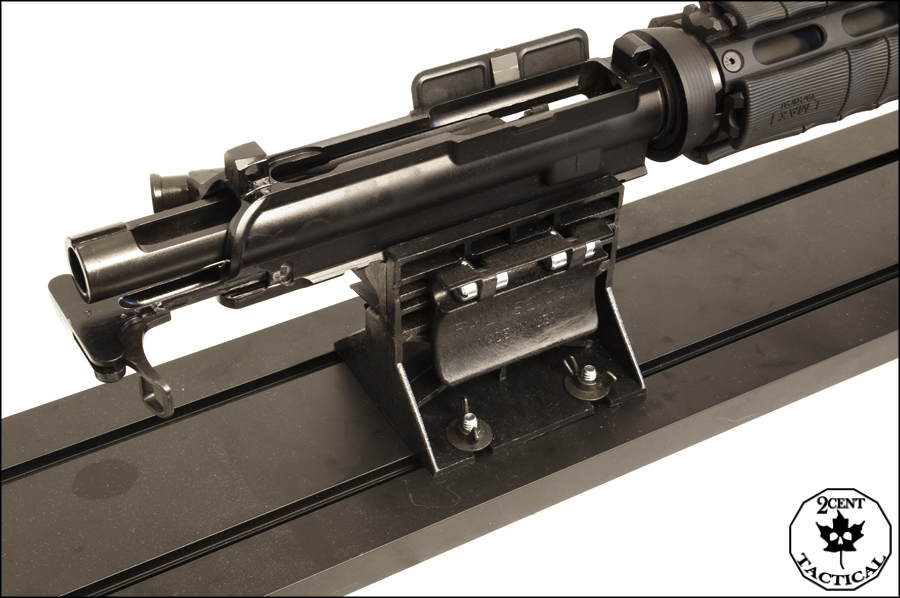 The mount itself can be installed on other surfaces easily, like walls or ceilings of a gun safe or in a display cabinet.  In vehicle use the mount could be installed to attach to the rail on a weapon hand guard to allow for a temporary means of storing it while moving.  There is no mechanism to lock the Rail Vise so this could not be used for any kind of secured storage.  Also there are limitations on the barrel support as it is not adjustable getting other firearms to rest properly on it can be challenging.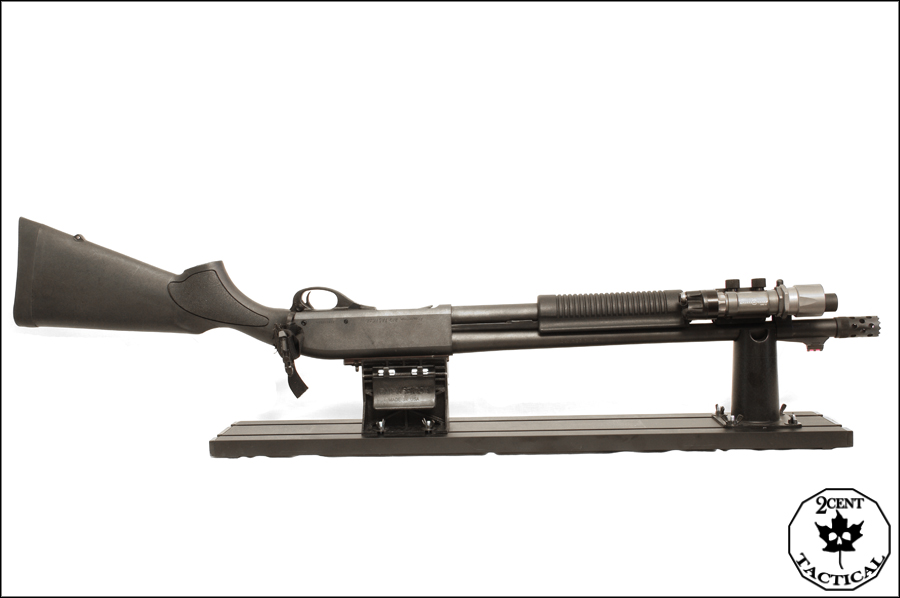 The Rail Vise system is intended for light maintenance and cleaning of AR platforms and should not be used to perform intensive work that would impart exceedingly high levels of stress.  Care should be taken to avoid imparting unreasonable levels of force to the firearm while it is clamped in the vise.  If you aren't going to be installing a new barrel or anything else too major you shouldn't have problems.  Rail Vise does offer a 1 year warranty with their products so if you run into an issue they should be able to offer an exchange or a full refund.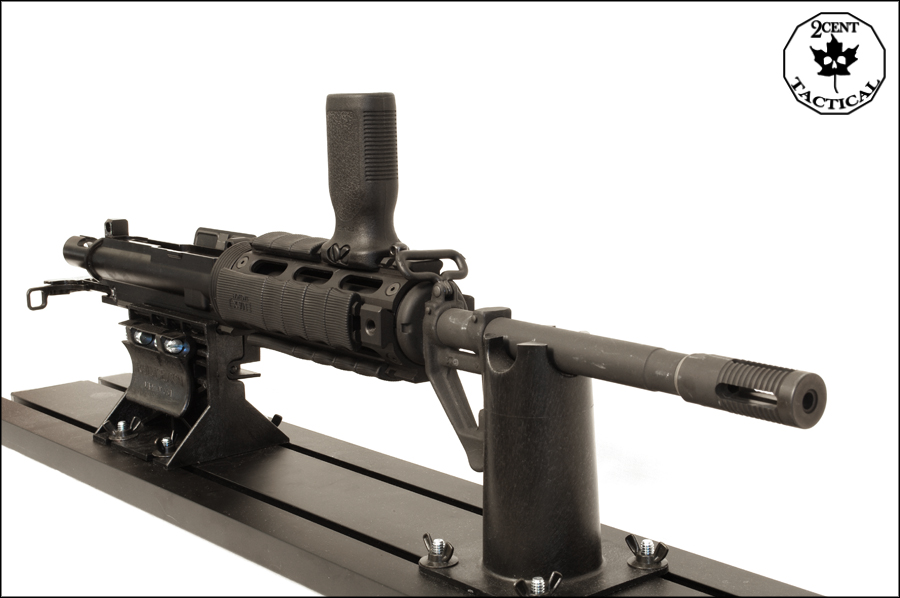 Conclusion
As a firearms owner cleaning Pistols and Rifles is going to be an recurring task.  It only makes sense to get appropriate hardware to make this work easier on yourself so the functionality and longevity of my firearms can be prolonged.  At first using it is a little bit strange but it quickly becomes part of your routine and you'll be thankful for the extra set of 'hands' it offers.  Given the affordable price it is definitely worth the money.  I would recommend anyone who owns an AR and wants to make cleaning easier on themselves to pick one up at their earliest convenience.