Explorer Cases 5122
http://www.explorercases.com/
I have had many cases over the years to house guns, other parts and accessories.  I have used Pelican, Storm and some other cheaper brands.  Pelicans were always good and treated me well.  My friend Xiao put me onto another company I should check out called Explorer Cases.  Apparently they produce hard cases for Accuracy International guns.  These cases are fairly large in Europe and are just starting to get popular in North America.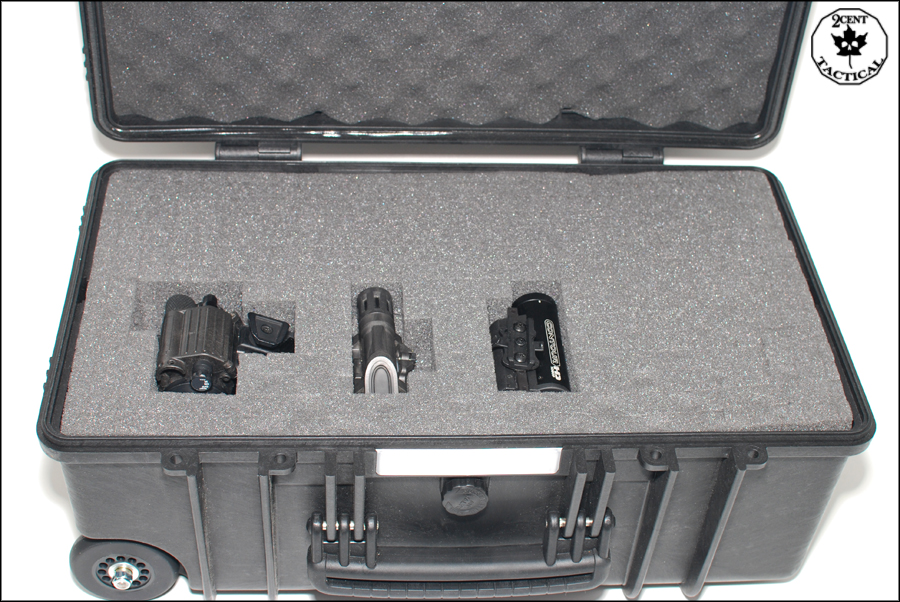 Pro's
-Water tight construction keeps your items protected from the outside environment
-Travel sized and meets airplane size regulations for a carry on
-Sturdy plastic shell combined with foam interior keeps your items safe from bumps and scrapes
-Pick and pluck foam is very easy to shape in order to accommodate the items you put in it
-Rubberized carry handle and telescoping handle make this case easy to carry depending on terrain and contents
Con's
-Name tag is really easy to knock off and lose both the paper and plastic protector
-It would be nice if cases that are air tight would come with a desiccant packet in the bottom
-Side handle may be uncomfortable for people with dainty hands
-Extending handle could use one or two more adjustment notches
Overview
I was interested in this case to house camera equipment for field protection and conventions.  I wanted it to store things like lenses, flashes and shotgun microphones.  As I won't be attending SHOT Show for the next few years as I am currently on courses that overlap with the show dates I have re purposed the case to house optics and weapon mountable items.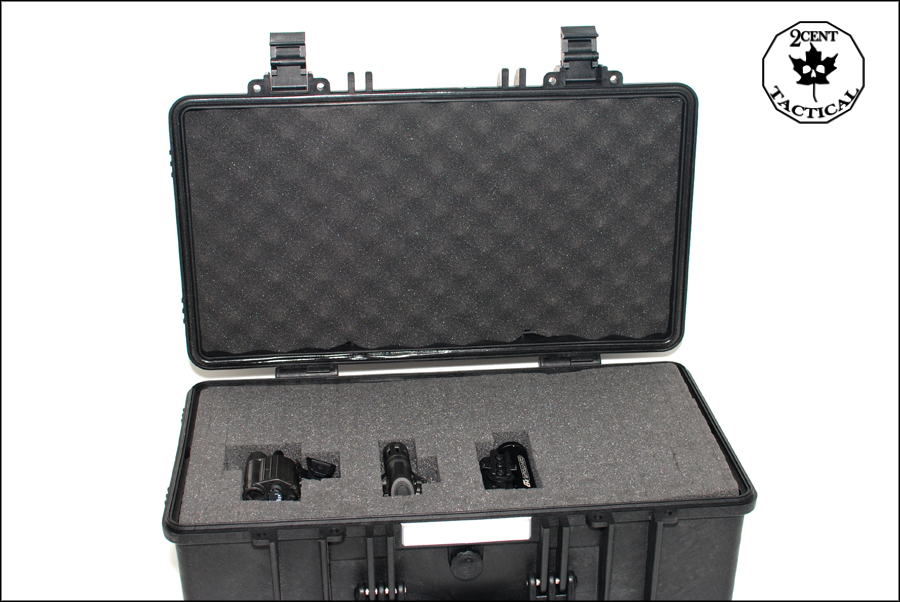 Realistically this case can be used to protect anything from scientific instruments, pistols, optics, sub machine guns depending on size or whatever you may want within the size constraints.  This box is 21.5″ long x 13.5″ wide x 10″ high.  Those numbers are rounded to the nearest place to allow you to have a rough estimate as the cases measurements are in mm and a lot of people find that hard to quantify.  The inside measurements are roughly an inch smaller on each side.
The case itself consists of a few main parts.  The biggest of these parts is the shell or case itself.  The case consists of a sturdy plastic that is roughly a quarter of an inch thick.  Next to each side of the two clasps is a locking point.  This leaves you with a total of 4 locking points that should fit most average sized pad locks.  I like that each clasp has two points on it because if you were to damage one you can just lock the other.  This keeps the case in service longer and your contents secured against any interested parties.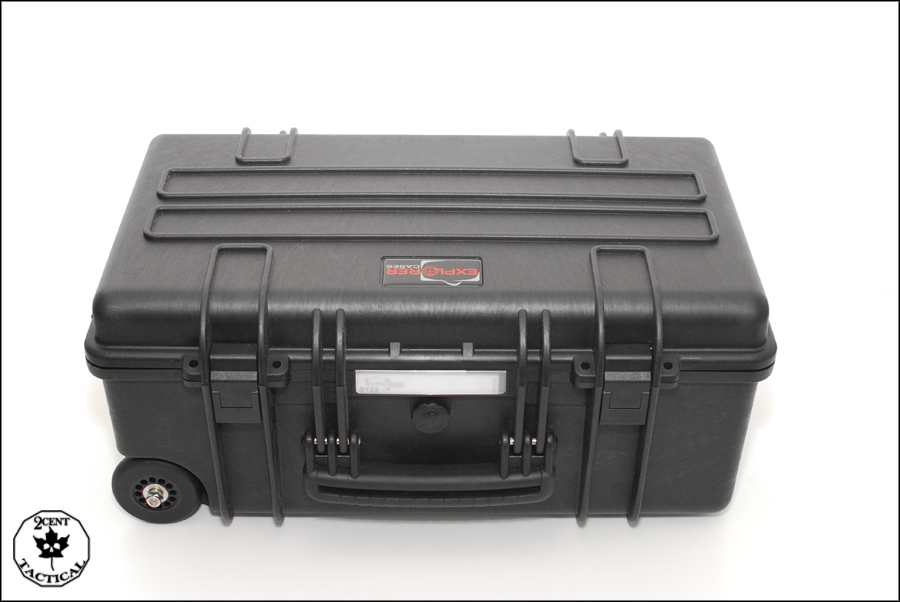 The case has two handles on it.  One rotating handle on the length side and an extending handle on the width side used when rolling the case.  The handle on the length side is a nice rubber over molded handle.  The handle is thick allowing my mitts to get a good comfortable grasp on it.  However smaller hands might not be able to grip this as well.  My fingers wrap around it and just barely overlap with my hand.  The rubber is very strong and should survive the day to day life of a case.  The rotating handle is able to rotate from around 0-110 degree's allowing for it to rotate to a storage position when not in use and upwards when being carried.  I like that it doesn't lock at a direct 90 degree's allowing it to be more comfortable if you carry it with your body against the top of the case.  The metal pin and hinge system for this handle is robust and rotates smoothly.  The other handle is the extending handle that comes out the width side of the case.  This handle can be used in both the extended and non extended settings.  There is a cut-out for your hand allowing right or left hand carry.  The handle is extended or lowered by the use of two plastic locking tabs on the base of the case just under the cut-out.  The two notches are squeezed towards the center line of the case while you pull up or push down on the handle.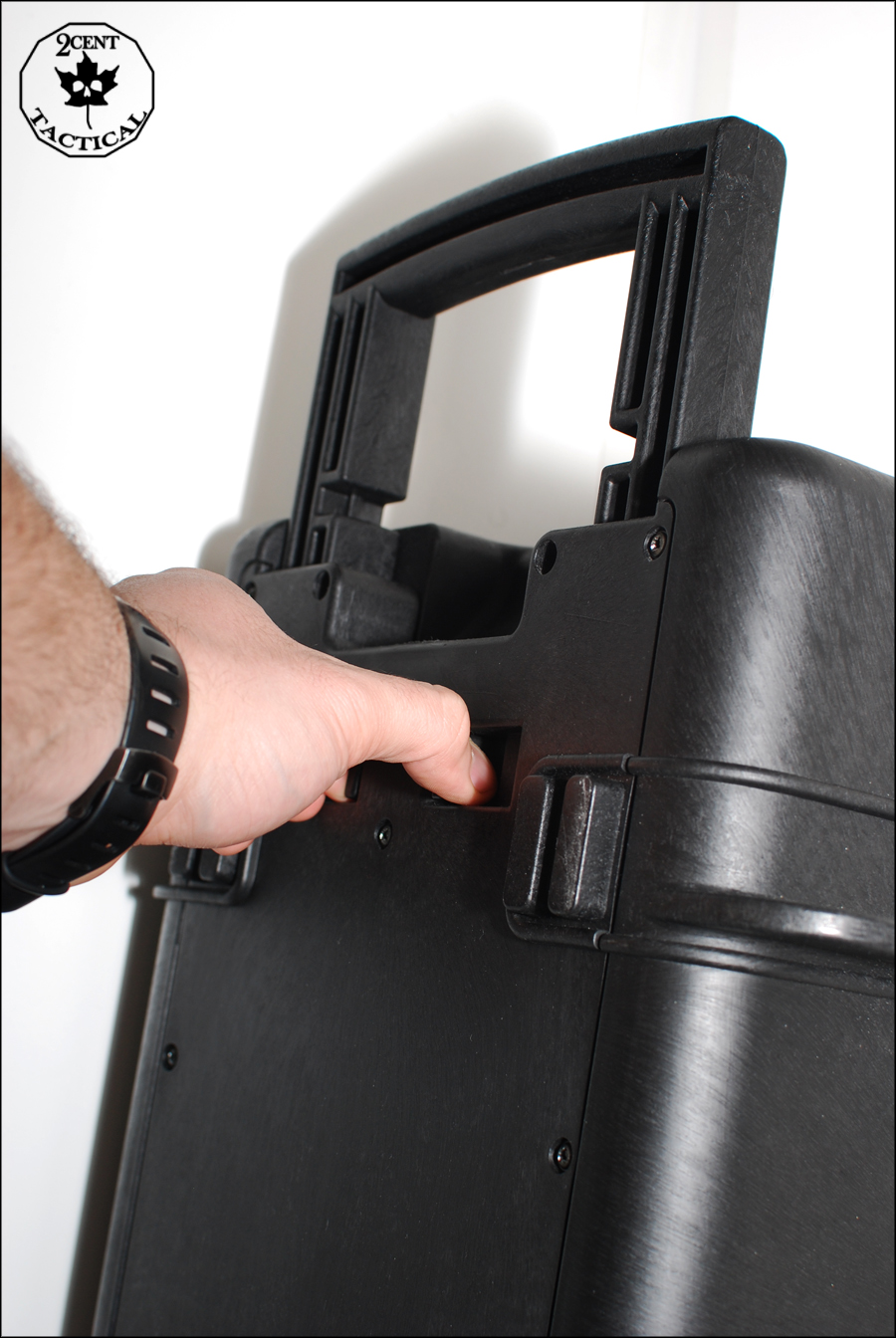 I would have liked to see this handle have a couple more adjustment notches in it as it only has up or down.  These notches wouldn't ruin the structural integrity of the arm.  The notches would allow for shorter users to adjust the trailing distance of their case to keep it closer to them when walking.  This isn't a problem for me as the handle works great for my height but if my girlfriend were to use it the case would trail further behind her.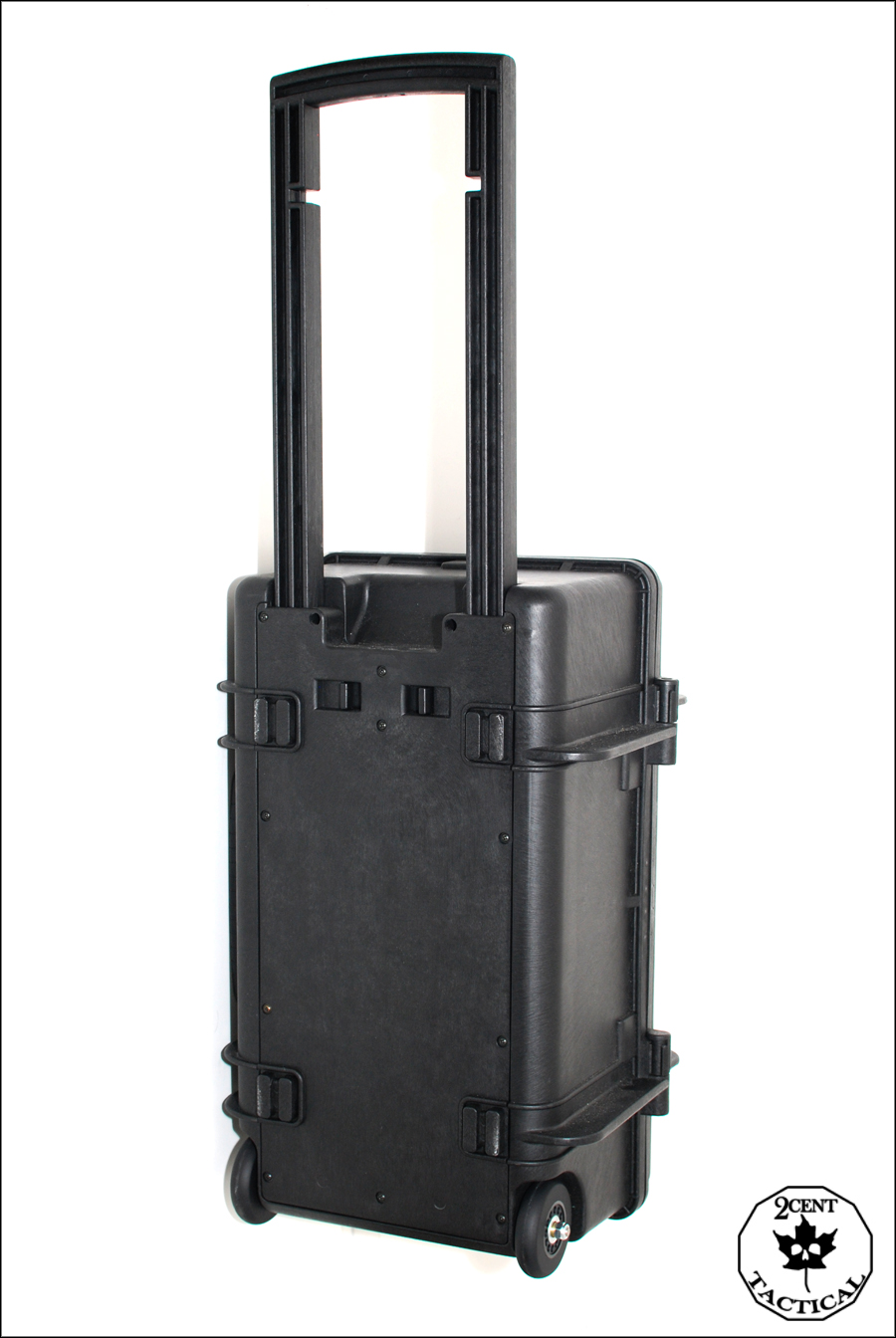 This handle works great in conjunction with the two wheels at the bottom.  The wheels roll quietly on the various surfaces I have used this case on.  The rubber of the wheels is grippy but still very sturdy and doesn't look like it will wear down fast.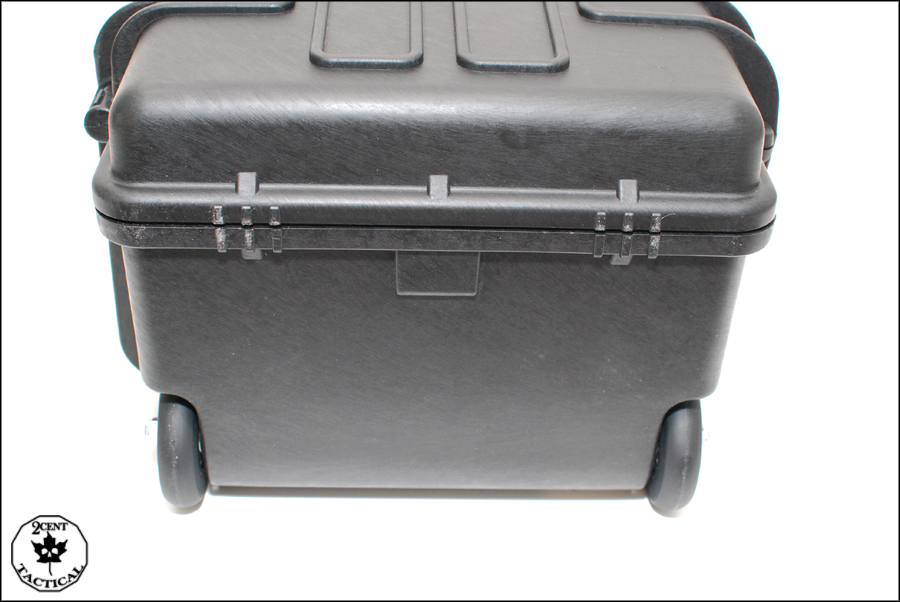 The latches for this case are really nice and easy to open.  I have dealt with latches that were a bugger to open and close but the Explorer Cases ones pop open with ease.  The latch is recessed in a raised channel that runs the height of the side of the case.  This will hopefully stop most things from popping the case open if you don't have locked.  The latch has a locked open position that stops it from flopping down and getting damaged when you try to close the case on it.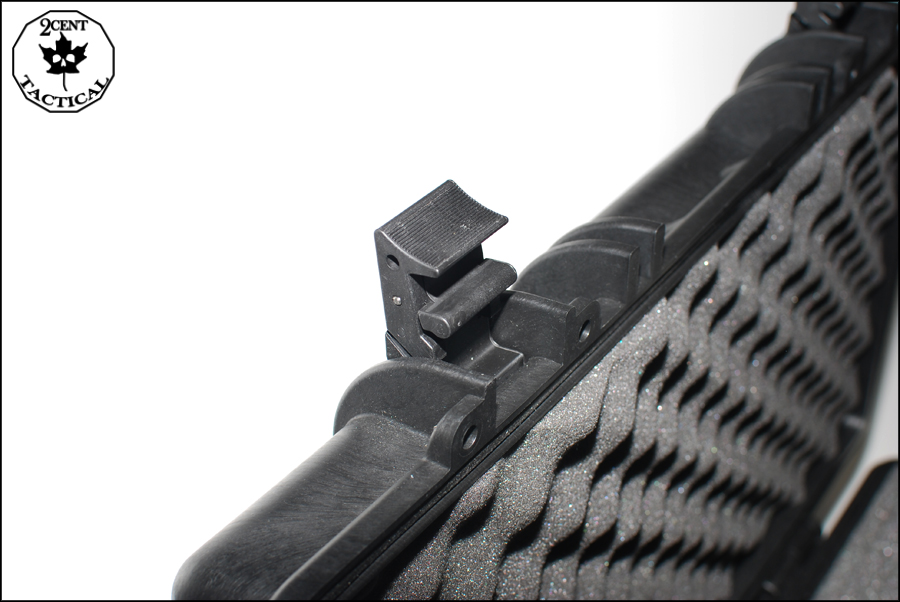 The case also features a purge valve to equalize the internal and external pressures of the case.  The valve is labelled that it is a purge valve and how to operate it.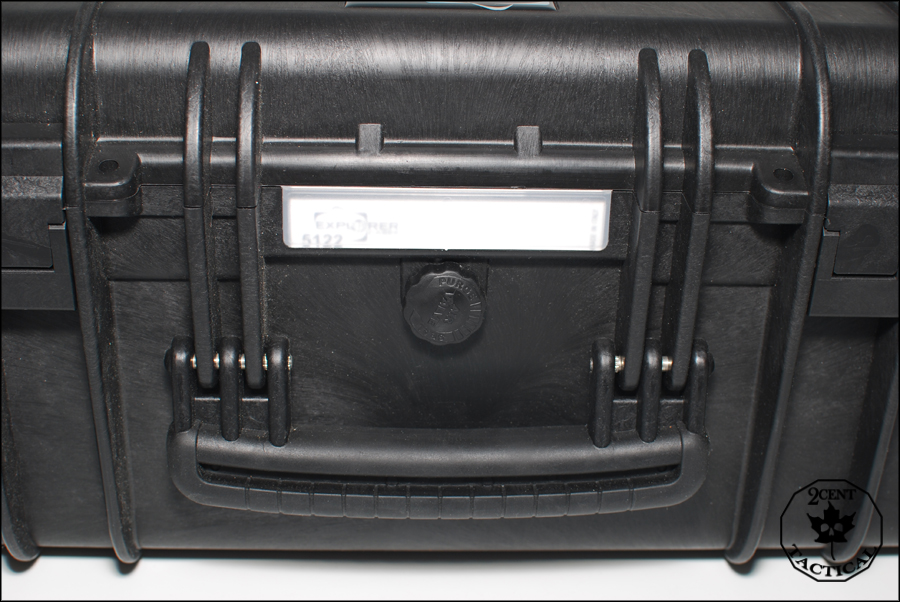 Just above this is the information plate where you can record your name, contact information or contents of the case.  This consists of an opaque protector and a piece of paper behind it.  In order to remove it you must open the case up and just slide it up.  I would have preferred this to be a bit more of a friction fit as it is currently just a rectangular plate sitting in a dovetailed groove.  I have knocked this out multiple time and may resort to either taping it down or adding some electrical tape into the grooves to snug it up.  Apparently there are mould changes in the near future that should fix this.
The case I got was a black version that comes with the pick and pluck foam interior along with an eggshell foam lid top and solid foam bottom.  This is five pieces of foam in total.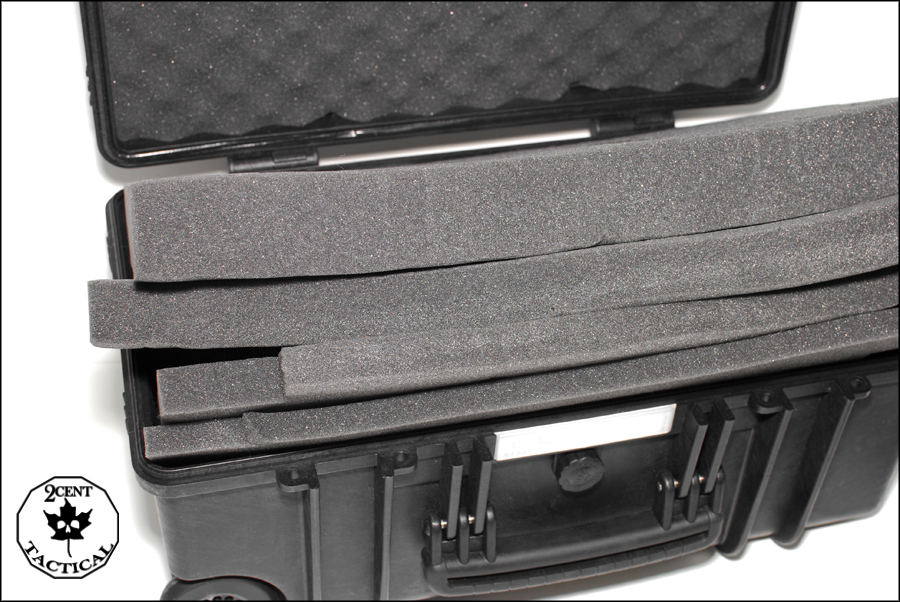 The pick and pluck foam comes is an open cell foam meaning it is like a sponge and will hold moisture in it as its porous.  However a closed cell foam wouldn't be as easy to make pick and pluck and people have to use hot knife setups to create a form fitting outline.  Both of these foam types have pro's and con's.  The pick and pluck foam has one thick sheet and two thin ones.  The thick sheet is good for holding pistols, optics etc while the thin ones can hold knives tools and other parts.  You can also pick through multiple layers and hold deeper items like I plan to do with a set of Peltor Comtacs or when I order more foam my camera and its lenses.  Open cell foam like in this case is typically spongier allowing it to soak up a bit more shock while closed cell foam relies on its relatively tight fit to the object to stop it from moving.  The last two layers of foam aren't perfect rectangles as they have cut outs to accommodate the handle and wheels.  This slightly limits the way you organize the foam within your case but it's not a huge factor.  To set up your item in the pick and pluck foam you just slowly tear at the slits in the foam.  I do this slowly and always replacing the item on to ensure the fit is right.  Others use toothpicks as a guide of where they need to tear.  If you find your item is recessed too deep in a hole you can do what I did and trim the foams depth to raise the item in its hole allowing you to grab it easier.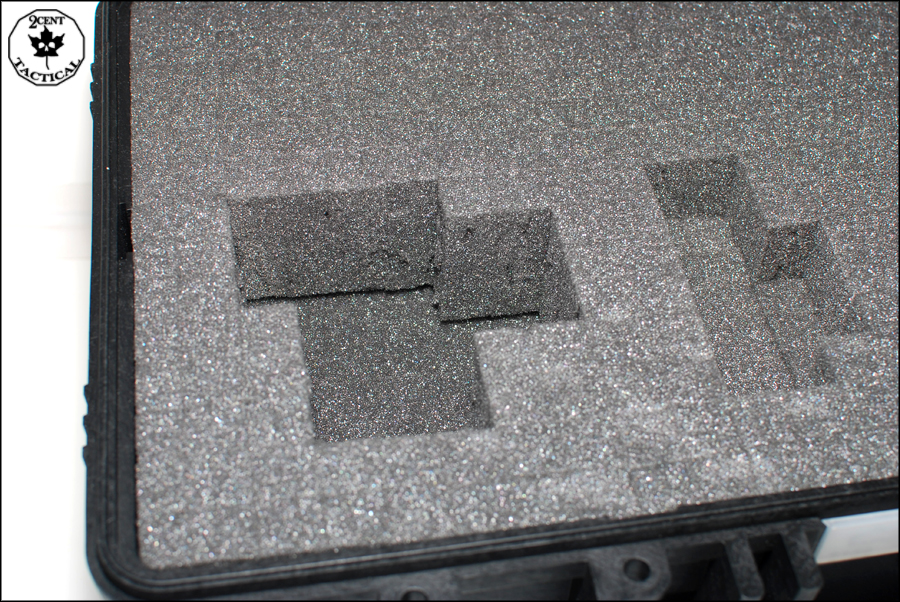 Underneath all of the foam is a recessed area of dead space.  This is good if you have important documents you would like to keep.  I would love to see manufacturers make use of an area like this and produce desiccant packages to drop in.  This would prove to be a good way to keep the moisture that gets in the case from doing much damage in a long term storage setup.  This is apparently an accessory available or going to be available soon.  I can't find it on their site however.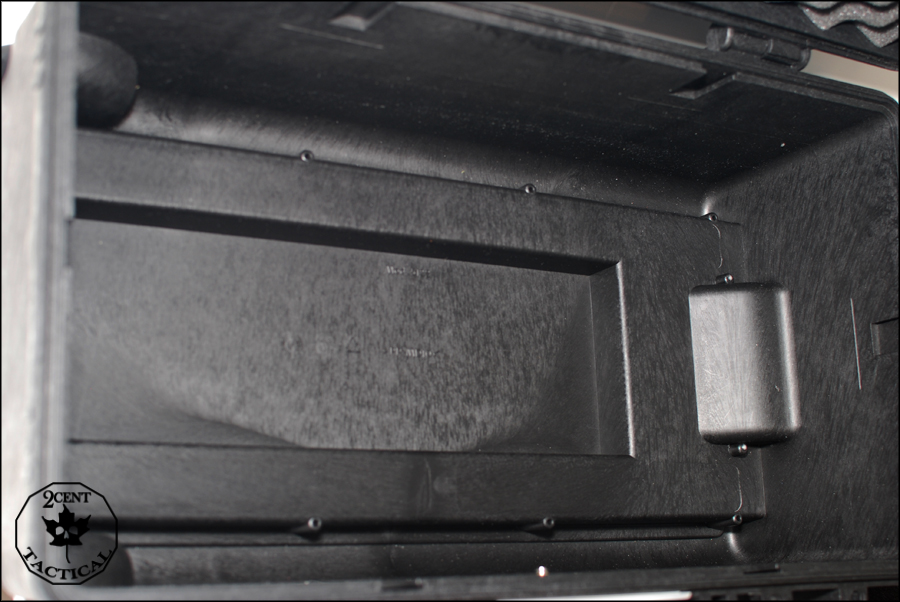 Conclusion
This case is a great size for various things you would take on an airplane that you would want to protect.  The handle makes it easy to drag along with you through the airport or at the range.  The case weighs around 7kg or around 15lbs for you imperial folks.  I can't wait to finish my current setup in this case and order the extra foam for the case to set up my new camera and accessories.  This case has sat in the back of my truck and slid around and bounced all over the place.  I have yet to notice any damage to it other than a few scratches and scuffs.  I love this case and am already eyeing up the barrack box sized case and a rifle case.  This case is available in black, orange and green and with or without the foam.  I know some people who only travel using hard cases as they got tired of their luggage being eaten by the luggage carousels or getting damaged by baggage handlers.  You sacrifice some of your total weight you can have but gain a lot of peace of mind knowing the contents are secure and going to arrive in one piece.