Nuko Tools
Every now and then I am going to be doing mini reviews on gear that I like or use that might not warrant me prattling on for a few thousand words about. In this case I will be writing about my four different Nuko Tools. I met Norman around three years ago and he is the mad scientist behind Nuko Tools. We were at a Usual Suspect Network get together and he hooked me up with a G10 Punchring and a titanium Nukohead (at the time I think it was called GBI which was short for Grin and Beat It). Norman remarked that I had massive fingers and that the titanium Nukohead would fit me better than his current G10 versions. Over the next few years Norman and I have had lots of dealings together and I am happy to call him a friend. He makes some great discreet pocket impact tools and enjoys what he does. As with any sort of impact weapon please check your local laws to determine their legality.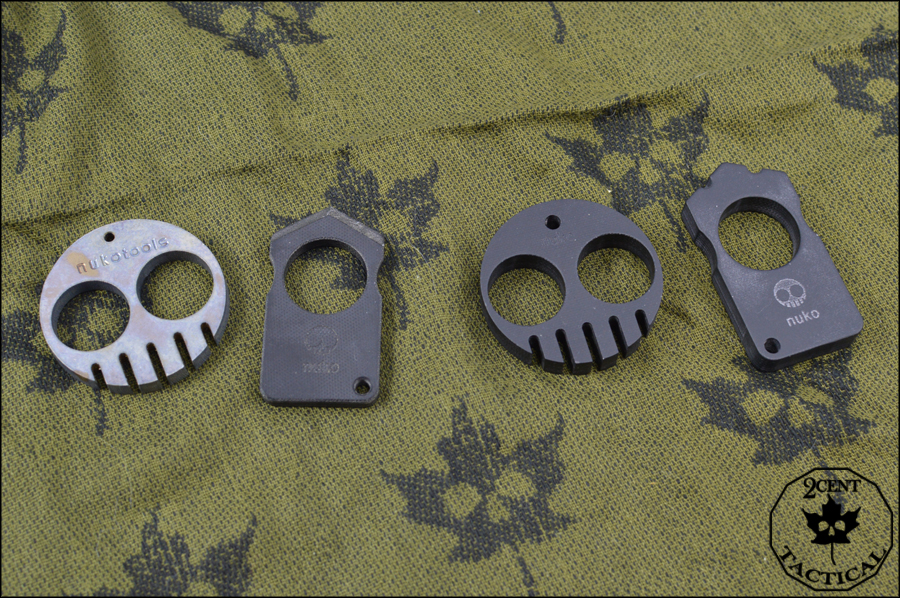 Pros
-Comfortable in the hand
-Discreet looking especially, the Nukohead
-G10 options to avoid laws specifically referring to knuckles involving metal

Cons
-If you have larger then a 14 ring size on your fingers these might be tight
-NukoHead might not butt against palm with XXL-XXXL hands
Overview
Punchring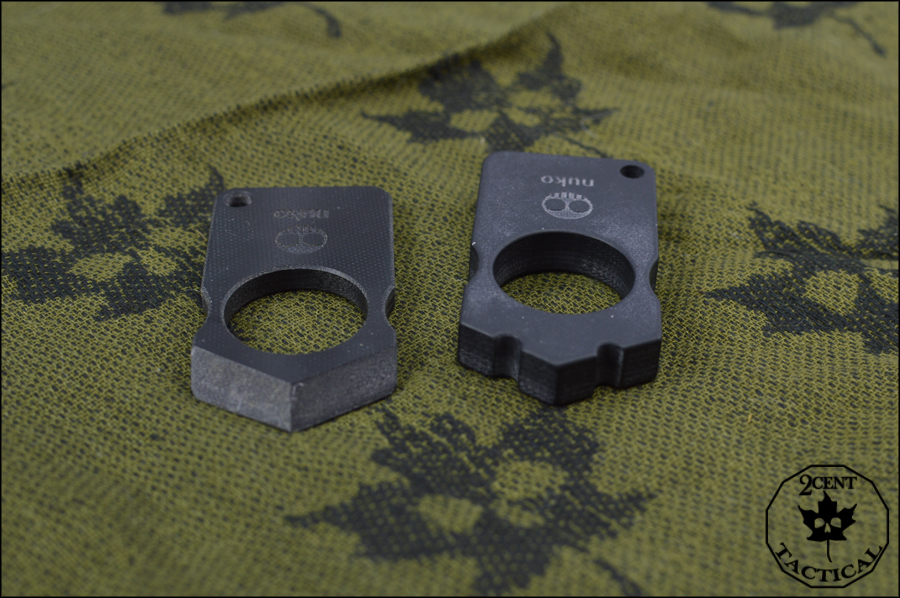 Nuko Tools' Punchrings tends to be my go to impact weapons. I have both the older thin G10 version and the new FatBoy version and I am a fan of the angled grind on the tip of the older style of punchring. The angled point has served me well at non defence things like lifting corners on stickers or doing a scratch and win. The aggressive angle is quite painful to be hit with, however, and if pressed into a muscle serves as a conformance tool when subduing someone. The FatBoy version of the punchring has a more comfortable section that butts up against the palm which is due to the increased surface area bearing down on your finger and palm. I found the older skinny version a bit more painful when laying a beating on some steaks before a BBQ. In the end it's a tossup between which I carry with me the most. The older version disappears into a pants pocket so in tighter pants it's preferable, but the FatBoy is more comfortable and tends to get tossed in my pocket when wearing cargo pants.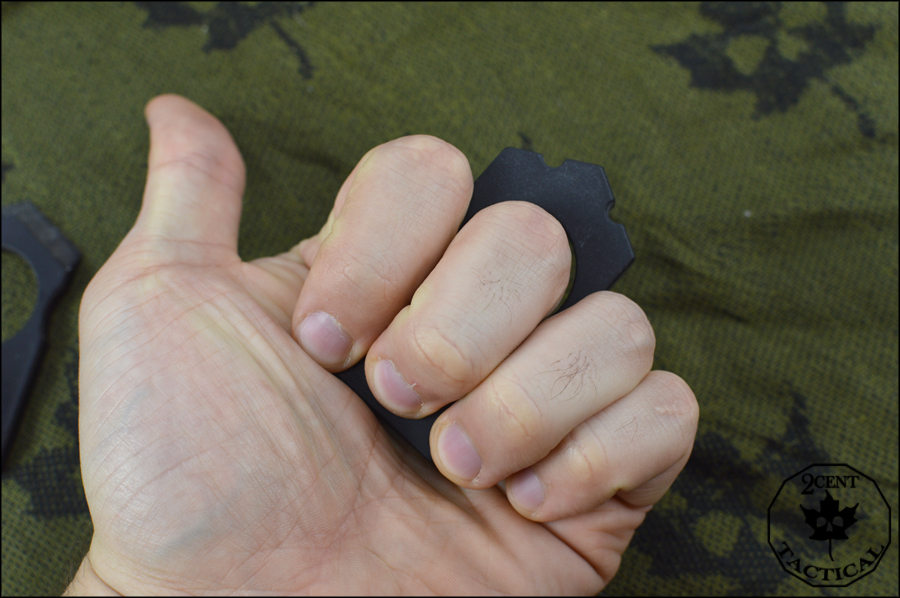 NukoHead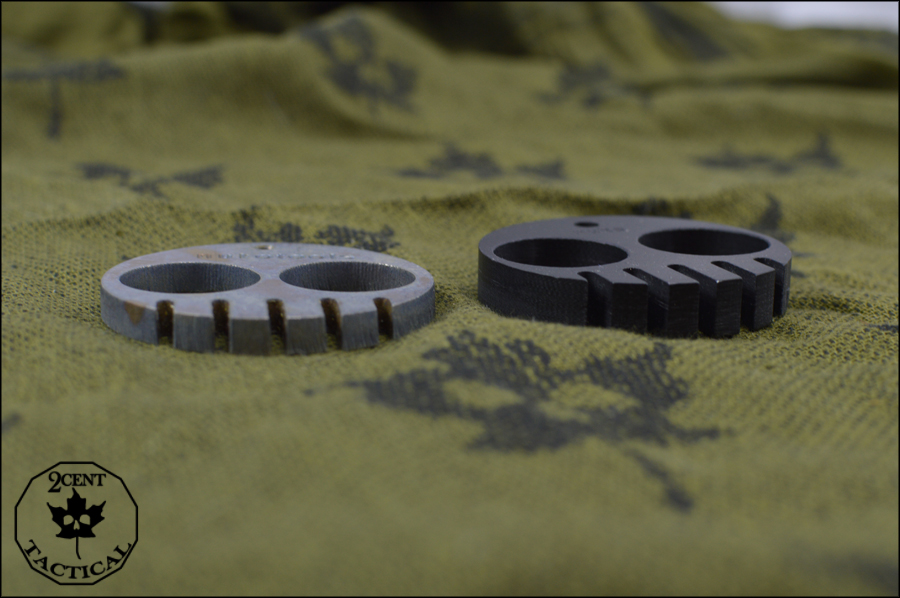 The NukoHead is the most discreet version of my current Nuko Tools impact weapons. The stylized skull face looks like a big key fob when attached to a set of keys and most often won't get a second glance. I use a bit of breakaway cord to attach mine to my keys because having eight keys flailing around when you need to hit someone isn't optimal, however, if you do have to use one of Nuko Tools' items for their intended purpose then your keys are likely the least of your worries. The titanium version of the NukoHead is pretty cool if only for the reason that I think it's made out of a cool metal. I tossed mine on the stove burner to put a bit of color into it and I might hit it with a torch at some point to give it a bit more.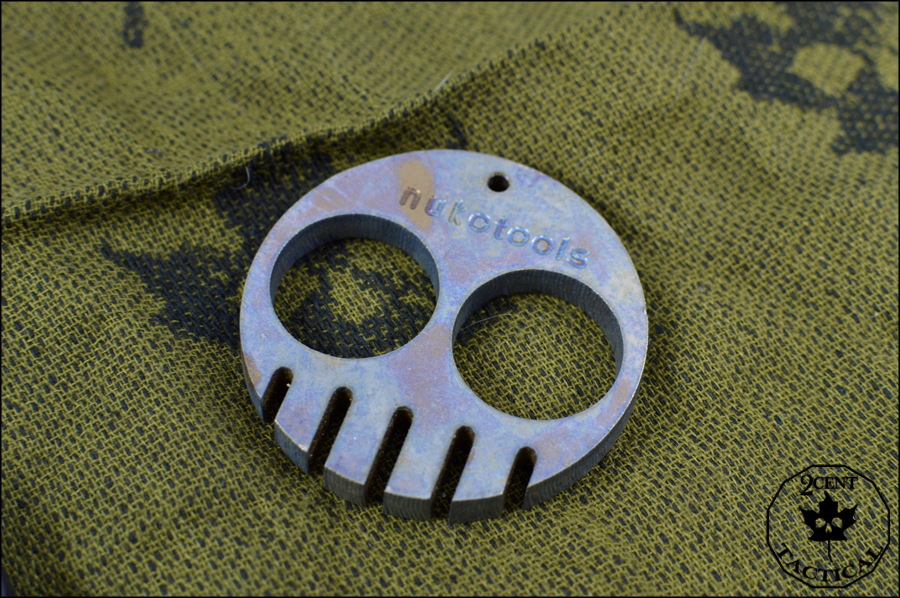 Both the FatBoy and the titanium NukoHeads are two finger punchrings. The teeth of the skull serve as a method of focusing the power of your punch onto a small area. Due to the size of my hand, the top of the skull doesn't sit firmly against my palm so the force is almost entirely on my fingers in a hit. My only reservation with this would be the same force that's hitting the person is also being done perpendicular to the bone in my finger. On the other hand, my wife has a NukoHead and due to here smaller hands she does not have the same comfort issues I do when using it. If you want an easily disguised impact tool that passes for a key fob then check out the NukoHeads.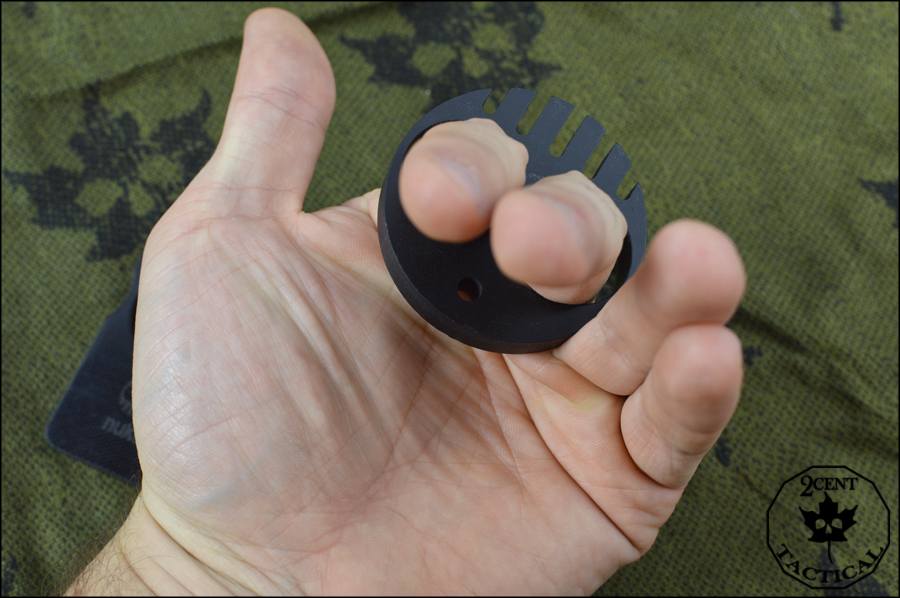 Conclusion
If you're looking for well designed, comfortable, and discreet impact weapons then go have a look at NukoTools' various offerings. Not only is Norman a fellow Canadian and a damn good guy, but he has some pretty cool designs. His wares are most often found at various knife stores and a quick Google search should get you to a shop that carries his gear. He recently did a custom run of FatBoy NukoHeads with a glow layer in the middle that were very cool.