The DSX-D Duty Suppressor System from Maxim Defense was built to optimize quiet performance in a suppressed weapon system. It provides superior direct thread suppression to weapons chambered in 5.56, 7.62, and 6.5 Creedmoor.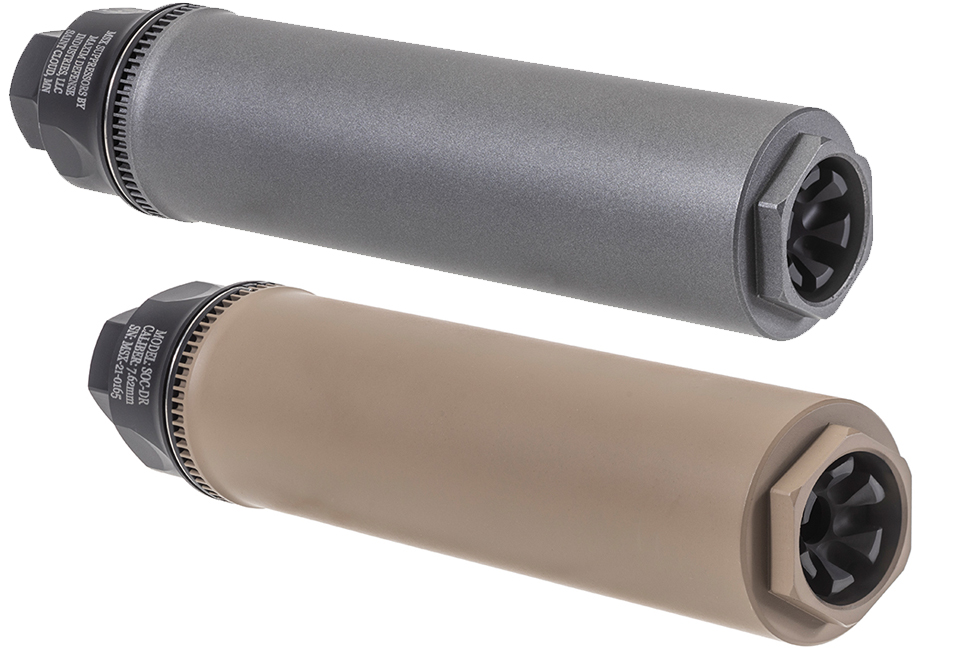 Duty is built for the world's most rigorous demands; this suppressor is designed to be the most robust and strongest suppressor in the category. It has been repeatedly tested with SOCOM tables across various calibers and barrel lengths, down to 8.5″ 5.56 NATO with M855 ball ammunition. It has survived with no damage or significant changes in sound reduction. 
DSX-D: Duty Suppressor System 
The DSX-D Duty Suppressor was explicitly designed to minimize the violent cyclic rate and gas blowback of a suppressed weapon system like the AR15. 
The suppressor consists of a three-piece MonoKore design that adds 7.25″ to the muzzle of your rifle. It is rated for full-auto (with an 8.5″ barrel restriction) in the following calibers:
►  5.56mm 
►  7.62mm
►  6.5 Creedmoor
Increase reliability and longevity with host firearms due to low gas blowback and low gain in host weapon cyclic rate compared to other more traditional suppressor designs.

Drops sound to well below hearing safe levels. The specific reduction amount is based on weapon configuration, ammunition, barrel length, and atmospheric conditions.¹ 

Decreases flash, decreases recoil, increases accuracy. 

Fully and easily serviceable.

Disassembles with common tools.

DSX-D Direct Thread Suppressor FEATURES
State-of-the-art MonoKore design.

Simple 3-piece design.

Military-grade materials.

Adds 7.25″ to the muzzle.

Purposefully built for each available caliber

The suppressor core has integrated carbon cutters for tube cleaning

Full auto rated in all available calibers, 8.5″ barrel restriction

It can be pinned to a 10.3″ barrel to effect a 16″ overall barrel length

Ships with direct thread mount

²

Secondary retention feature for the suppressor tube.
DSX-D Direct Thread Suppressor Technical Specs
Available Calibers: 5.56mm, 7.62mm, 6.5mm

Diameter: 1.75″ outer diameter

Material Composition: Grade-5 Titanium, 17-4 SS

Weight: 21 oz

Length: 7.9″ overall length

Finish: Cerakote DLC (

Diamond-like coating

)

Available in black, gray, or

FDE

.
Watch the Video:

For example, the average measurement per MILSTD-1474D of 134dB on a 10.3″ AR-15 chambered in 5.56 measured at the shooter's left ear.

A ½-28 thread mount for 5.56; 5/8-24 thread mount for 7.62 and 6.5 calibers
To learn more, please visit https://www.maximdefense.com/product-category/suppressors/.
"Maxim Defense: Not built for safe queens."