Massif Universal Combat Shirt
http://www.massif.com/
I accidentally bumped into the Massif booth at SHOT 2011 while wandering the show floor. I had not really seen a whole lot of their offerings other then the odd picture here and there on Soldier Systems of their items in UCP or ACU as most people incorrectly call it. ACU is the uniform cut not the camo. That aside after my chat at the booth with one of their representatives I was thoroughly impressed. Instead of starting with a pre made flame resistant fabric and building the garment around it Massif chose a different path. Massif partnered with Gehring and invented their own yarns and fabrics to meet the needs of today's war fighter. When I got my Multicam sample after using it a bit I was so impressed I snagged an olive drab one also.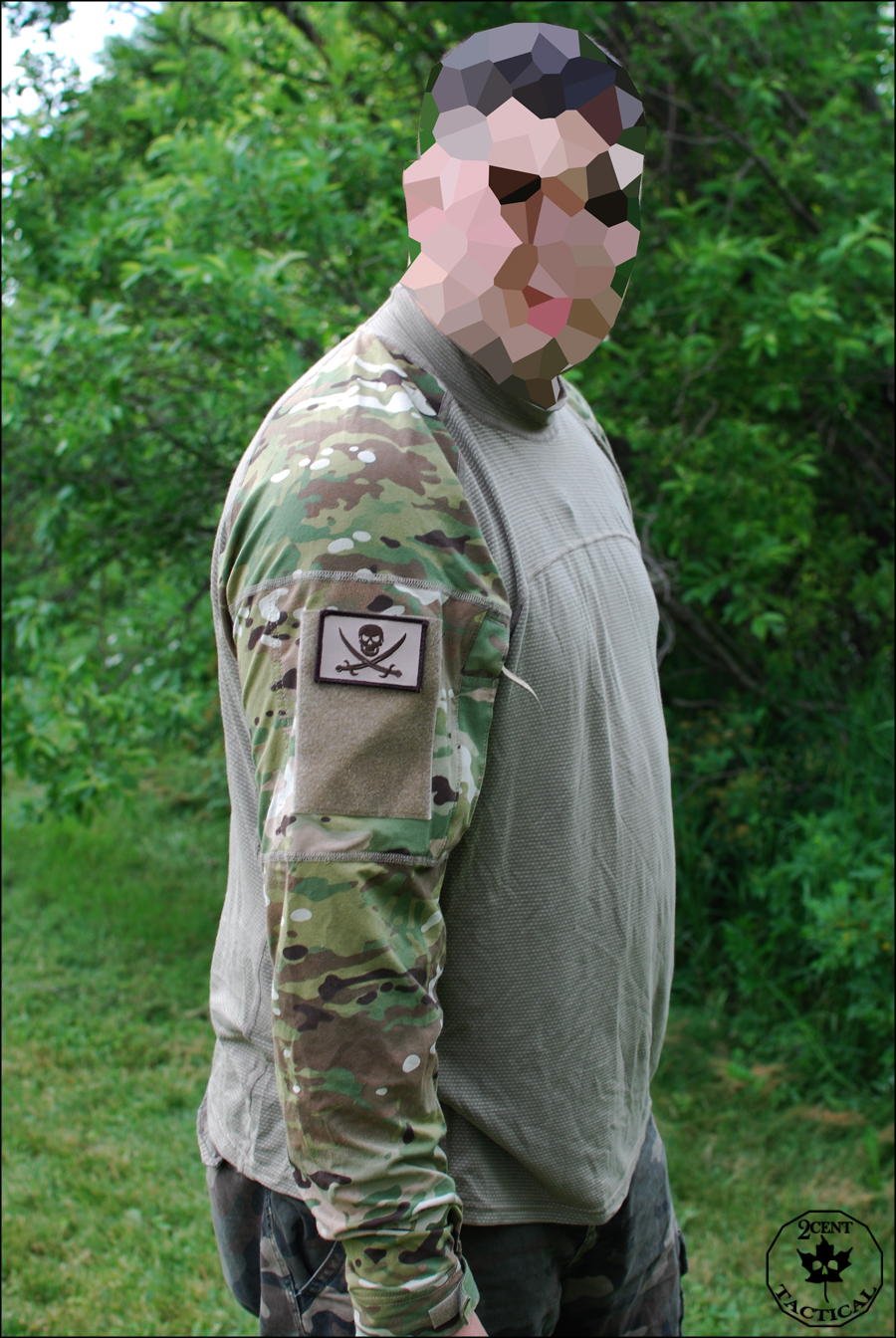 Pro's
-Extremely comfortable and non restricting
-All parts are stitched properly and reinforced where they need to be
-Shirt wicks away moisture especially well in the area that is covered by your vest or plate carrier
-Shoulder pockets unzip to further help vent

Con's
-Pencil holder on shoulder pockets can be a danger (more on that in the article)
-No online shopping cart for international buyers
-If you are prone to nipple chafe the mesh like material of the main body may be an issue (I did not notice this however a friend did)
Overview
The Massif UCS is a flame resistant combat shirt offered at a great price point. However it being flame resistant makes it hard for me to test properly without setting fire to myself and well I am not that dedicated. So instead I will take the American Army approving the ACS, which is the garment the UCS was modeled after, as a FR garment to be good enough as they have fancy testing things that I would certainly never need. However I can tell you what is just as important to the user are the fit, finish.
I have the UCS in both olive drab and Multicam and have worn both quite a bit. Other then the lack of a camo pattern on the olive drab one they are functionally the same. The only difference being the mesh like holes in the main body of the shirt being more noticeable on the OD versions body. They look a little bit like white dots or a thin white line. However this really isn't an issue as 90% of the people who will be wearing these are wearing plates over them. Not only that when I drug the OD version into the woods and set it up you couldn't really notice the dots and it blended as well as a solid color pattern could.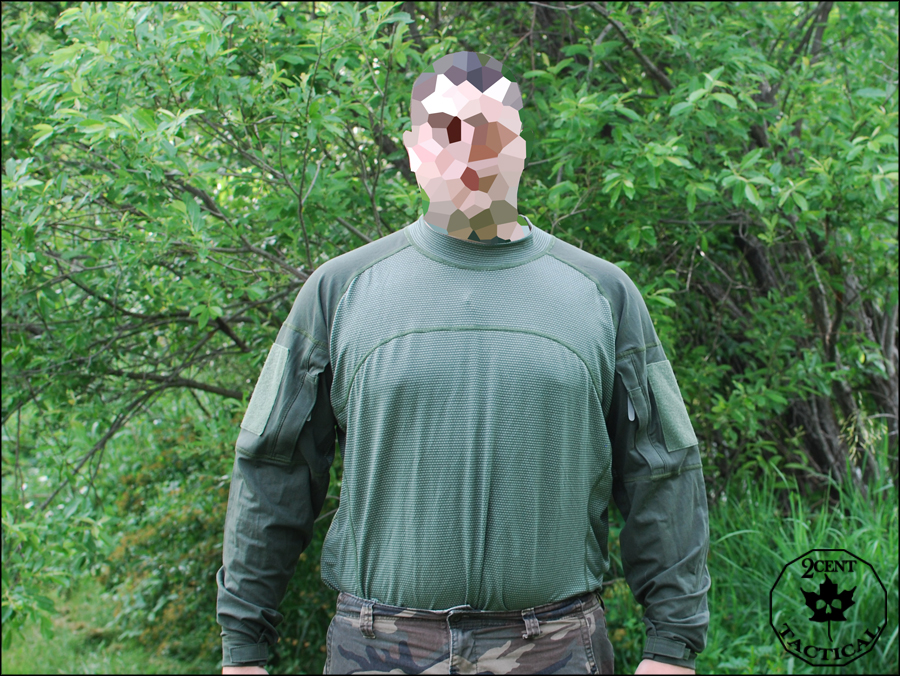 The mesh holes allow the shirt to work similar to a jersey when it comes to ventilation. They aren't holes however they are just small spots that have less stitching in them.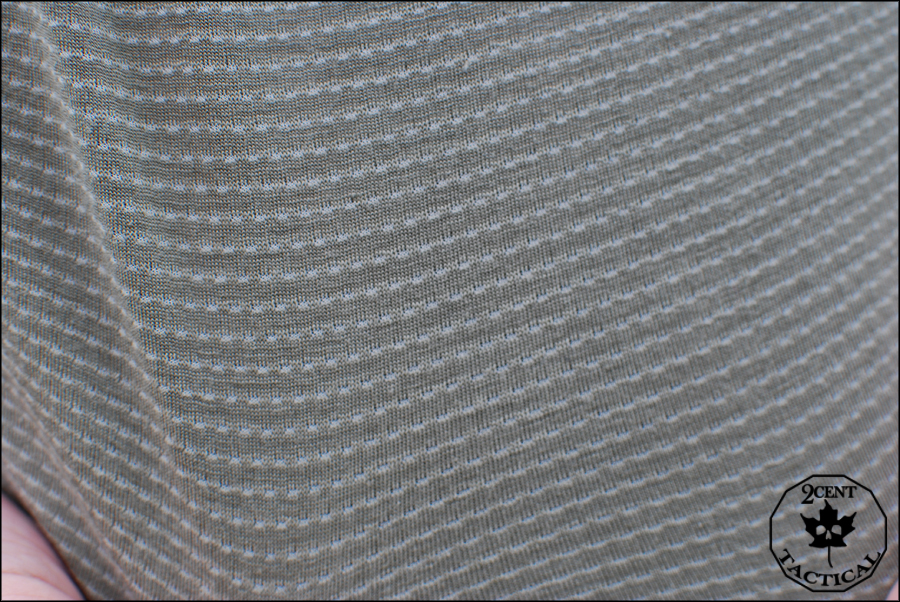 The body of the garment appears to be stitched to keep as much of the seams off of the high contact areas when wearing a plate carrier.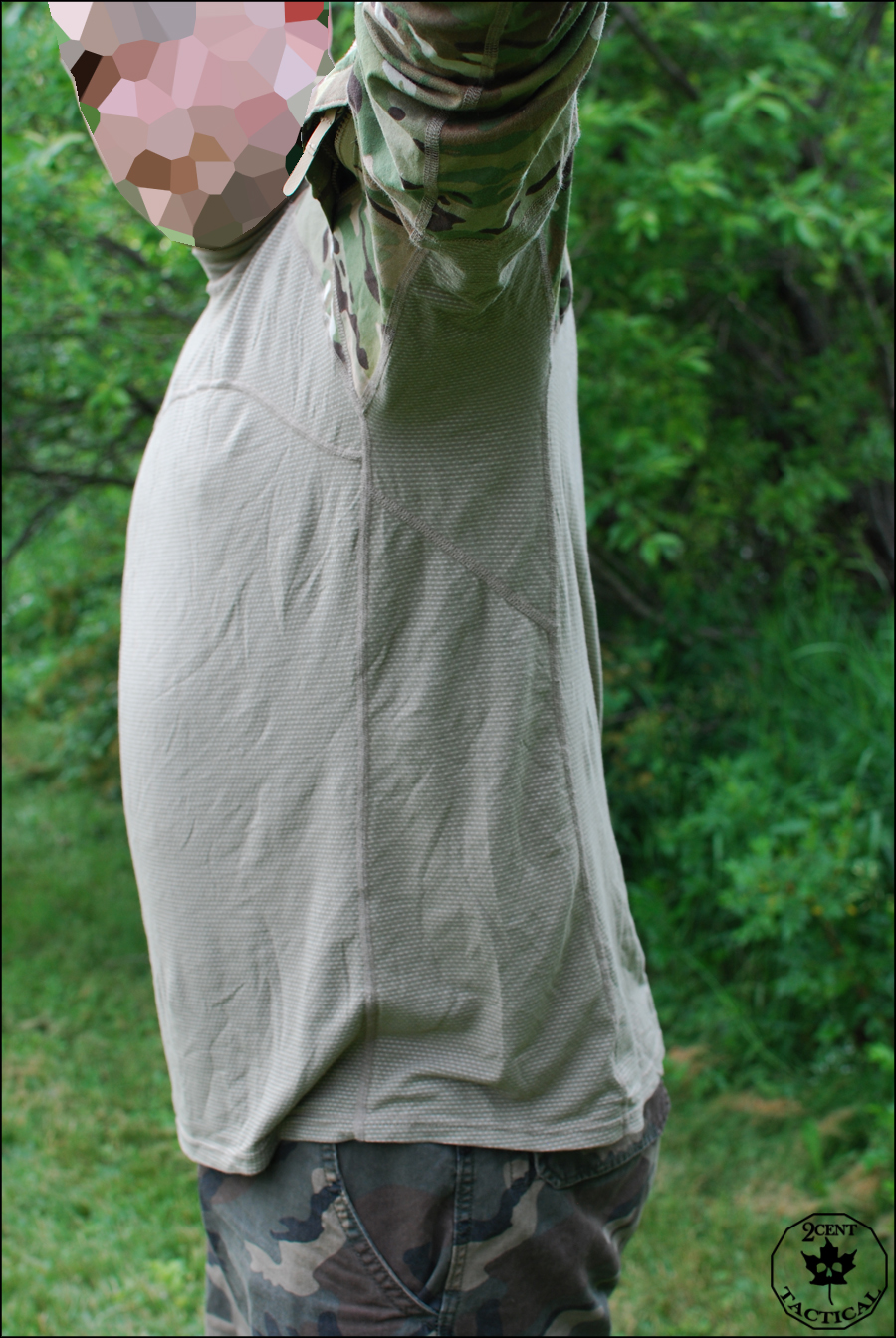 The body material continues up to the collar but does not include the shoulders and arms. The collar is about half to three quarters the size of a normal mandarin collar. I actually prefer this to the normal high mandarin collar as it still provides a bit of chafe protection from a plate carrier collar but doesn't run into your chin area too much. This is good if you are out for an extended period of time and are not having the grooming standards crammed down your throat.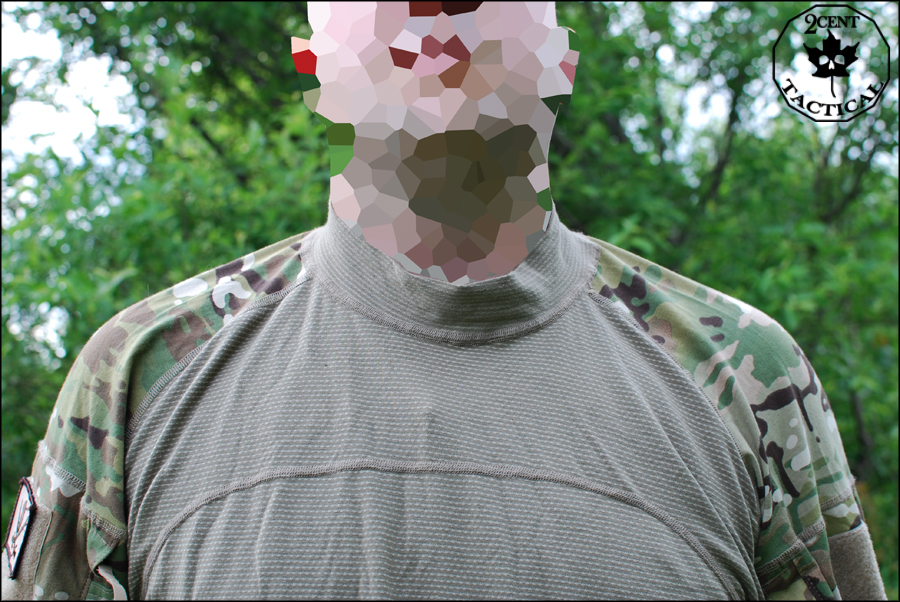 The arms of the garment are made of a tightly knit fabric that is patterned in Multicam on my one shirt and a nice dark green on the OD version. The Multicam print is a bit darker then the majority of my other Multicam items but still blends just fine. I assume this is from various fabrics taking the dyeing process differently. I have noticed quite a bit of variance from the various manufacturers of Multicam cloth. The wrist both have a Velcro adjustment tab to cinch them closer to the arm. I can make it fairly tight against my wrist and still have room to tighten it for those of you with smaller wrists. The fabric material continues up over the shoulder to keep down wear resistance when humping a pack or heavy vest and alleviate hot spots forming on your shoulder.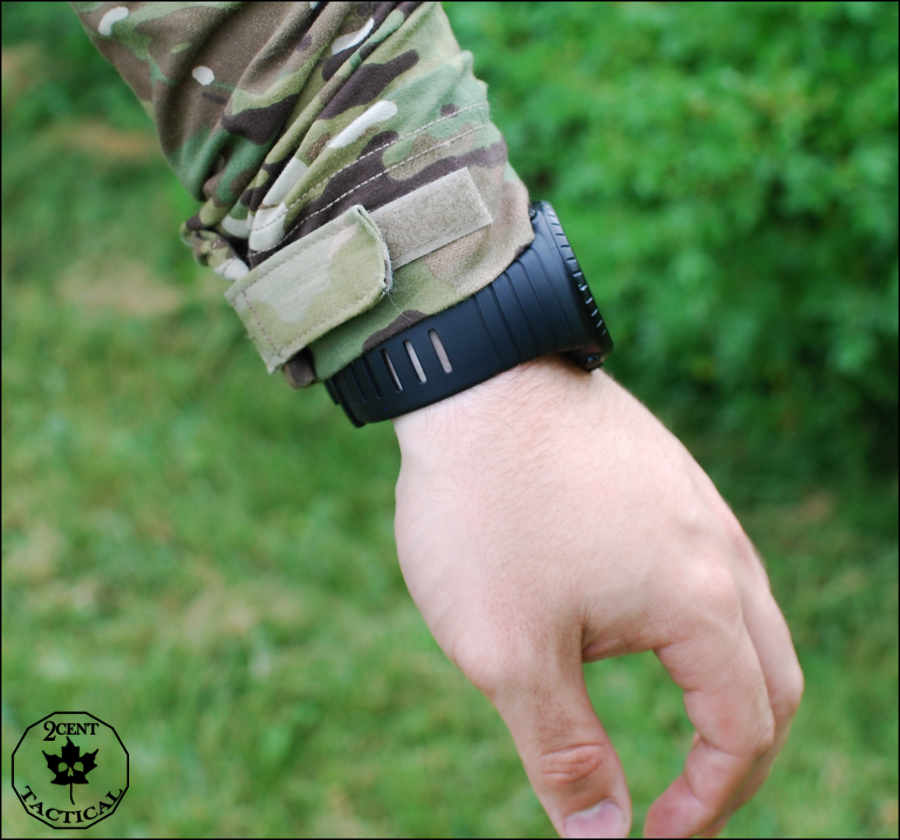 The shoulder pockets are found on each arm and are nice and big. However this is where my only real problem with the garment came from. The pockets have a pen/pencil pocket stitched onto the flap that covers the zipper. With a pen in the slot you can manage to jam it into your throat or face if you take a tumble or hit the prone to hard.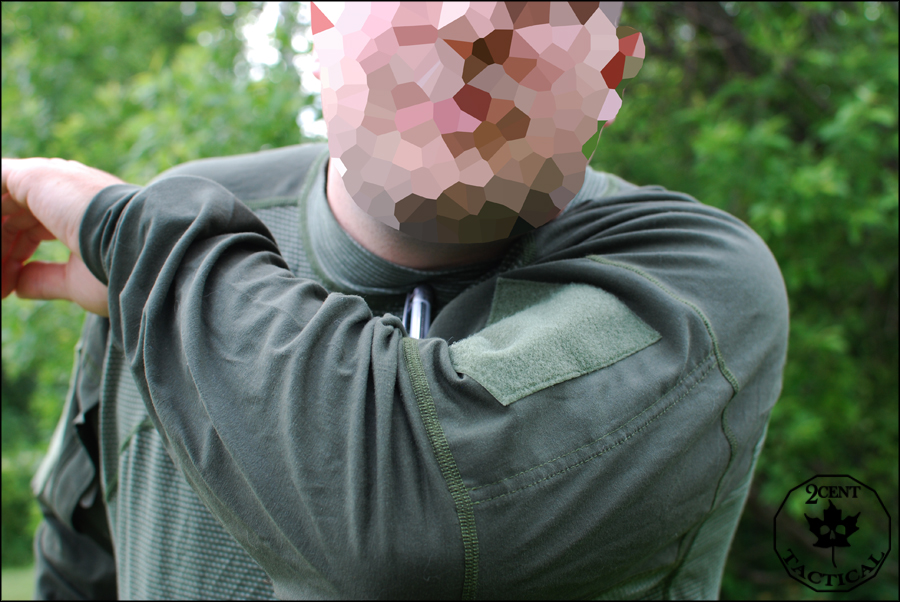 I think this pocket would be better seen stitched on the back edge of the pocket closer to the back. This way you would have to be very flexible to stab yourself but can still grab your writing utensil of choice. I ended up tossing a travel version of the bullet pen in there when I needed pen but would prefer to carry something bigger.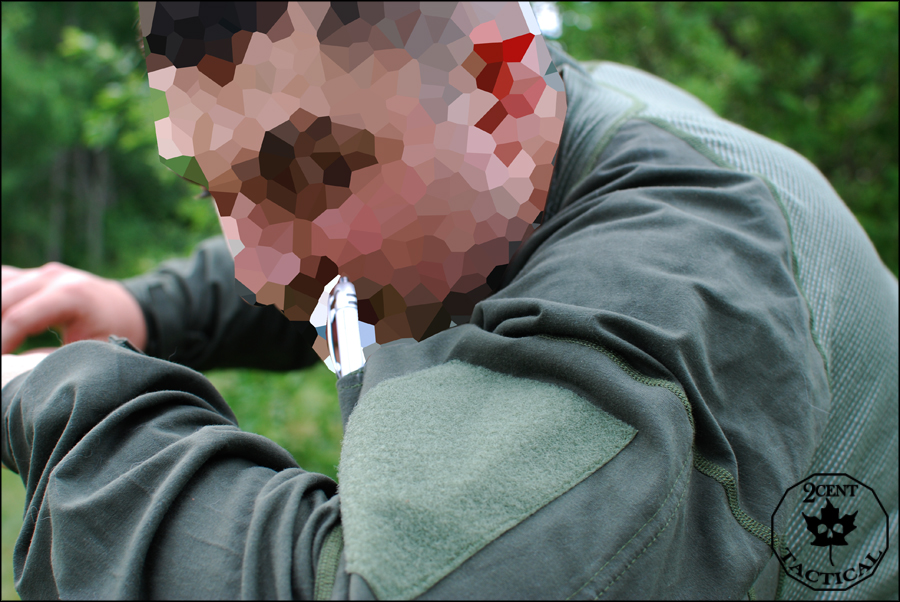 Each pocket is covered in a more then generous female Velcro area to accept unit, morale or IR patches. The zipper enclosure of the pocket is a chunky YKK zipper with a nice thin rubbery pull tab to help when you have gloves on. The inside of the pouch is lined with an actual mesh material to help as a vent when the pocket is open. Each arm pocket is a good size to carry whatever it is you need close at hand be it a quick snack, some radio codes or a can of dip.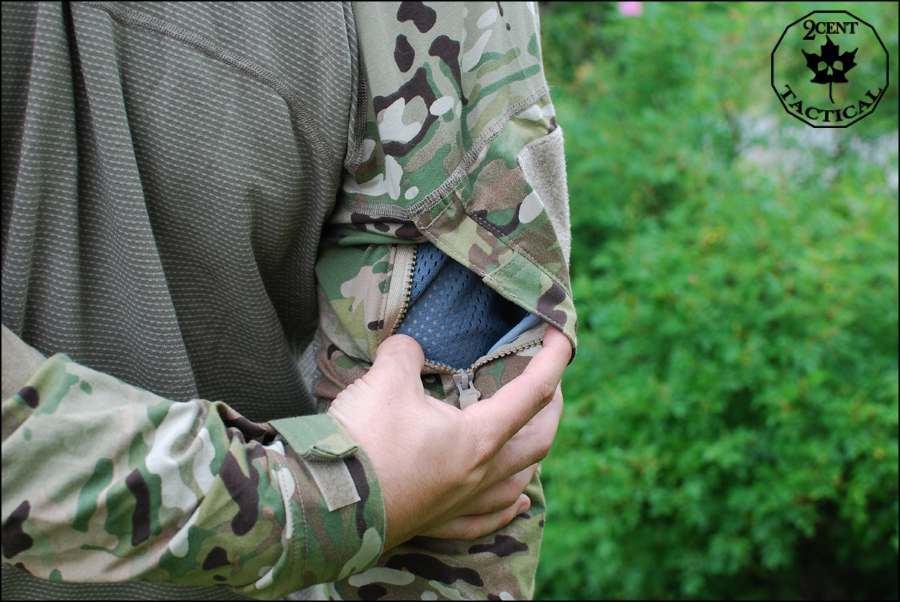 I was out on several hot humid days wearing the two shirts I own. The main body dries very rapidly when your armour is off and still keeps you coolish when the armour is on. I had a massive area of sweat from wearing my HSGI Denali and humping through the very very thick woods. When I dropped my kit at the end of the day I was dry within twenty minutes. At first I was worried about the arms fabric holding up however this was a non issue. I crawled scraped against trees and thorns as I tromped through the woods and can't even see a single pulled thread. I managed to put a small hole on the Multicam versions back when it got hooked on a nail. The garment performed equally well on the various chilly days we have had this summer. It kept my body at a comfortable temperature even late into the night. If the wind picks up an extra layer to toss on would likely be needed.
Conclusion
If what I have seen with this shirt continues through the rest of Massif's inventory they have now found a lifelong customer in me. The shirt performs as described and feels like a regular long sleeve you might wear on civy street. If they change the pen pocket to the outside of the sleeve I will likely snag another one. For those of you who do not require FR garments but would still like to sample Massif's offerings they are just starting to put out the non FR line. The first offering being a soft shell. I hope that Massif opens up international ordering on their website since some prefer not to do phone orders. Although their sales representatives are great to deal with and will work with you if you have special shipping considerations. The Massif UCS retails for $129-159 USD through the Massif website.