Surefire, the long-time manufacturer of premium weapon lights, solved the problem with lights on pump-action shotguns decades ago. They were the first to figure out that you needed a dedicated forend. Thus, we got the many incarnations of the Surefire DSF series, but let's talk about the Surefire DSF 870 specifically.
Surefire DSF 870 WML
By Travis Pike
DSF stands for Dedicated Shotgun Forend, and that describes the weapon light perfectly. The Surefire DSF 870 replaces the entire pump on your shotgun with a Surefire-designed pump with integrated light and control.
Shotgun Light Mounts
You see, mounting lights on pump-action shotguns are hard. You want the light positioned towards the front of the weapon, but you also want to be able to control it. When you work the pump of your weapon, the movement can unplug the pressure switch of the light. Plus, you are constantly moving the platform that houses your pressure switch. This can make it challenging to rapidly use the light when using the shotgun.

Lots of people have tried to solve this conundrum, but very few have been super successful. I think at this point, shotgun aficionados will all agree that – when we're talking about weapon lights – a dedicated forend is the way to go. Surefire did it first, but Streamlight did their own, as well as Eotech, and now Bayco Nightstick is bringing one into the fold as well. However, Surefire did it first, and you can argue they did it best.
Inside the Surefire DSF 870
The Surefire DSF packs two modes a high and low. On the high mode, you get 600 lumens backed by 13,000 candela. When set to low, you get 200 lumens. On high, the run time is 1.5 hours, and on low, the run time is 3 hours. The Surefire DSF 870 runs on two CR123 batteries, and they install behind the lens.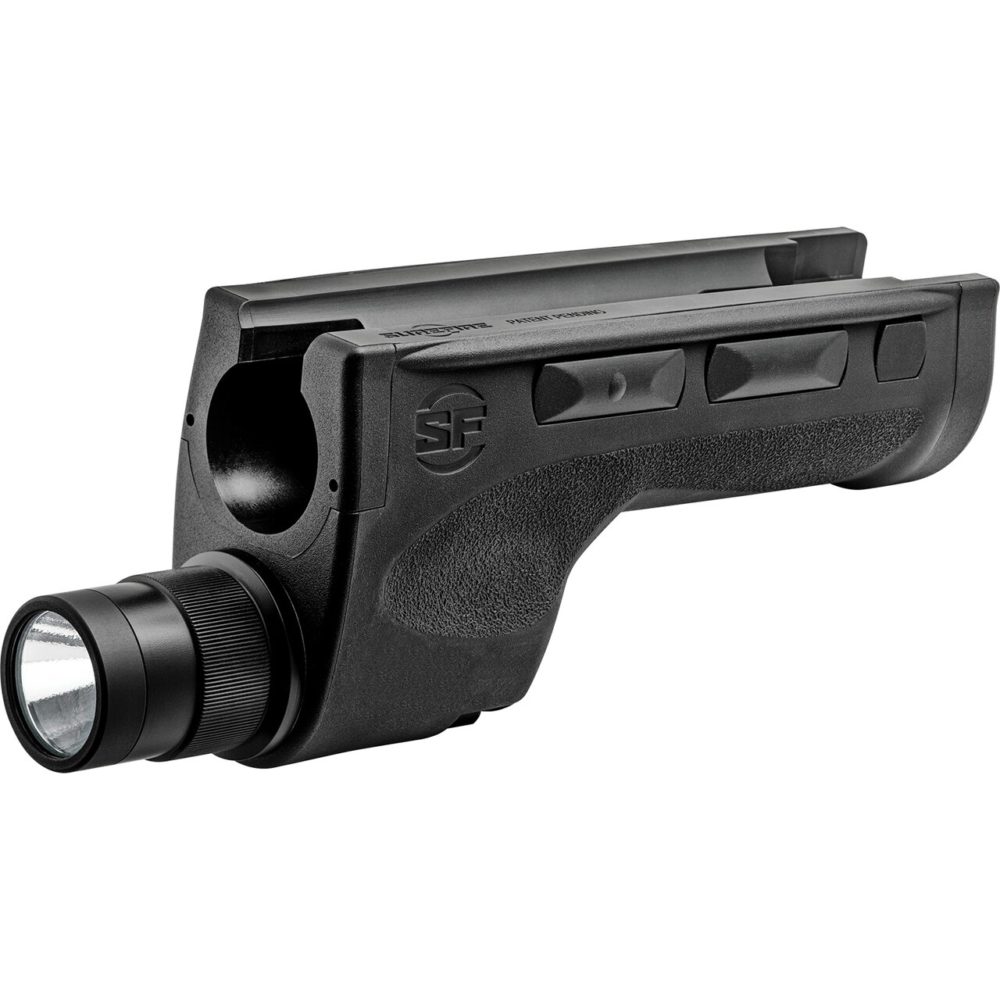 The bezel diameter is 1.37 inches, with a total overall length of 9.2 inches. Weight wise it tips the scale at 17.8 ounces with batteries. It's not a small light by any means, and it ain't cheap with an MSRP of 399.99. Is it worth it?
Well, if you want an extremely strong and duty-ready light, then hell yeah. Surefire mixes aluminum and high-impact polymer in the construction of the light. We get a mostly polymer forend with a hard-anodized aluminum body light. The light's sealed with an O ring and gasket sealed to protect against the worst weather.
Surefire's long been the duty-proven solution for shotgun lights. The Surefire DSF series doesn't cover a wide swath of guns. The modern DSF only fits the Remington 870 and Mossberg 50 series shotguns. Sorry owners of awesome Winchesters and weird Turkish shotguns.

The Ergonomics Rule
What sets the Surefire DSF apart from all the other options on the market is the awesome ergonomics. Well, that and the bombproof design. Ergonomically the controls are made up of five different buttons and a single switch. The switch is your kill switch that shuts the light off for travel, cruiser riding, or just in situations where a light ND is not an option.
The five buttons provide you with ambidextrous controls—two big buttons on either side function to control the momentary and constant modes. The forward button on either side is the momentary mode. The rear button is your constant. This setup works well. Your hand naturally sits on the momentary, and you have to make a dedicated decision to switch to constant.
The fifth button is not ambidextrous and is very small. This small button changes your light's mode from high to low. The Surefire DSF will also remember what setting you left the weapon on. So if you turn it too low, turn it off, and come back a week later when you hit the go button, it will still be on low.

The DSF In Action
Installation is quick and easy. It's as simple as removing the old pump and replacing it with this one. Once installed, you might notice your shotgun get front-heavy. That extra 17 ounces off the front is detectable. It's a double-sided blade for sure. This makes the shotgun feel unbalanced and difficult to handle one-handed. The front-heavy nature of the gun will tire your wrist out quickly when held with a single hand.
On the other side of that blade sits the obvious recoil benefits. More weight equals less recoil, and shotguns like to recoil. The Surefire DSF helps a lot when it comes to muzzle rise reduction. That front-heavy nature becomes quite handy when you start slinging those loads of buckshot.
The controls also become quite nice in action. They allow for an awesome level of control over the light while also maintaining a strong firing grip on the shotgun. I use the push/pull method of recoil mitigation, and that can be tricky for activating lights. However, the push/pull works without issue with the Surefire DSF and its very ergonomic controls.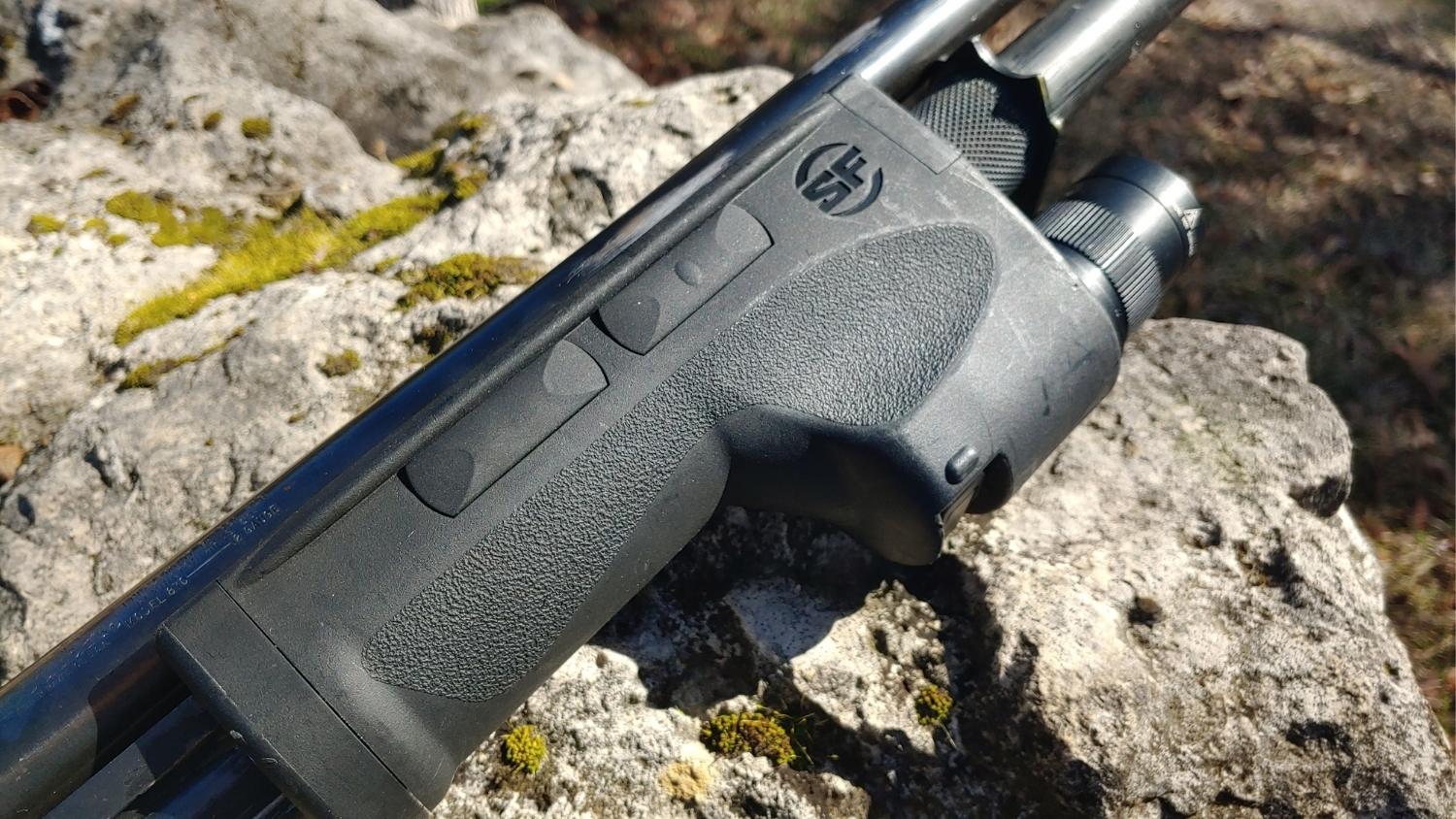 The pump has a big hump where the light sits. This gives you something to press against when you do the push/pull, although admittedly, it pushes back and does hurt just a little. Not enough not matter in the grand scheme of things, but be ready for it.
The Beam
I wear my sunglasses at night because my Surefire's so damn bright! Well, kind of. Admittedly 600 lumens and 13,000 candela are somewhat average in a world where the OWL exists. However, for a shotgun, you do not need 100 to 200 yards of useable light. Six hundred lumens and 13,000 candela create a respectable inside-the-house light or short-range duty light.
As you'd imagine, the light's made for close quarters and casts a wide beam with lots of spill. It lights up your peripheral vision and gives you buckshot range and power. Inside the home, it's more than enough light to fill large rooms and establish positive PID.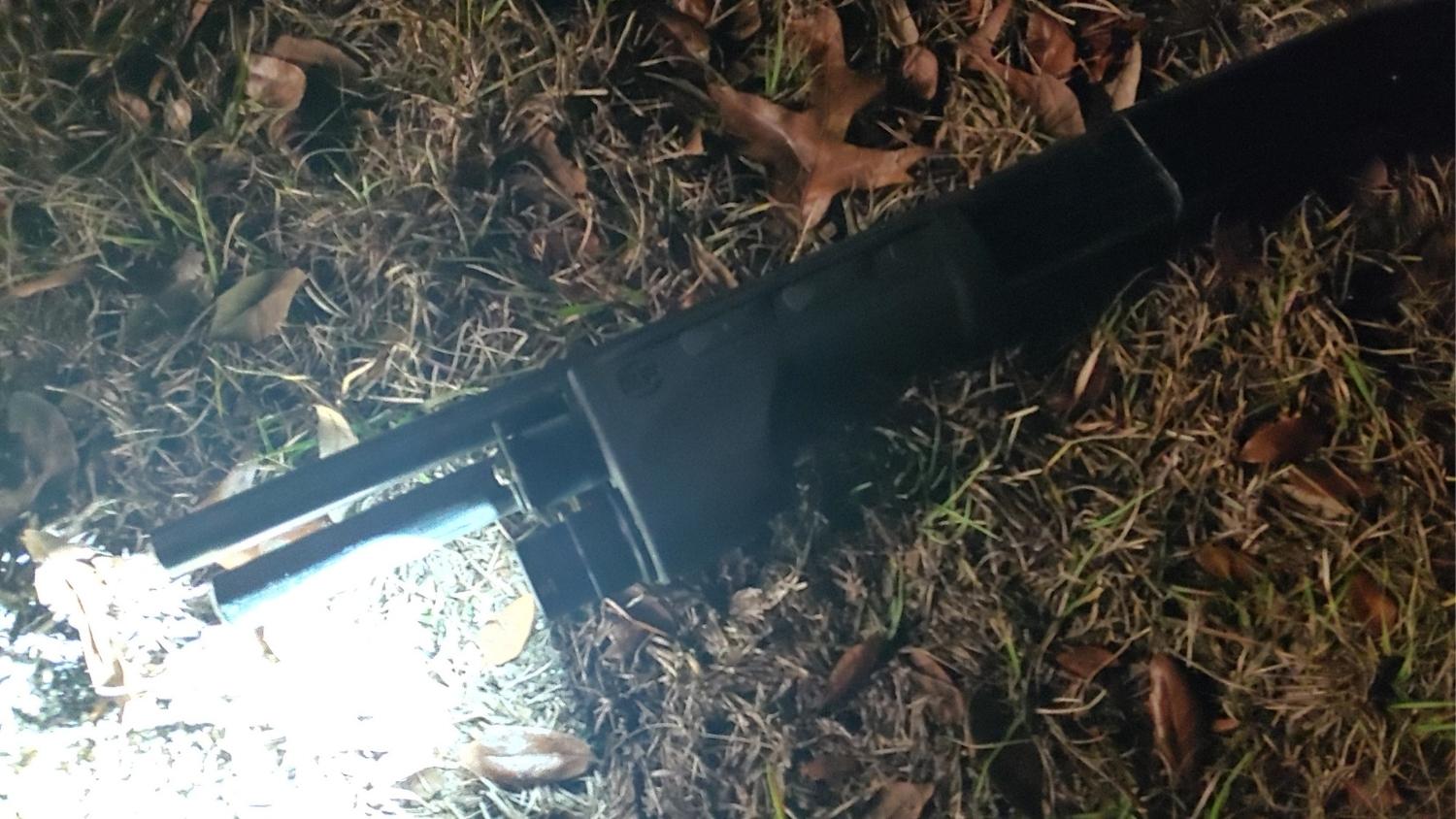 The beam's warm with a wide hot spot. For a defensive or duty shotgun, it's a great amount of light. In terms of barrel shadow, it's really going to depend on your barrel length. The size and shape make it perfect for shotguns with 14-inch barrels. On those short barrels, it lines up perfectly with the barrel and sits almost evenly with it.
Most of us aren't rocking NFA shotguns, so how's it work with an 18.5-inch barrel? Well, the Surefire DSF will have some barrel shadow, but it's mostly aimed upwards and not a major issue. Sure, a big clear beam would be preferable, but a pump-mounted light can only do so much.
Kachunk
If you are rocking a pump-action Mossberg 500 series or Remington 870 series gun for home defense, this might be one of the best upgrades you can make to the gun. It's a robust, reliable, and easy-to-use light. The Surefire DSF offers unbeatable ergonomics, control, and a wide, close-quarters beam. This might be the lighting solution to your shotgun problems.
Surefire DSF 870 Shotgun Light Specs
These are the 870 weapon light specs as provided by Surefire.

Features
• Virtually indestructible, two-output LED generates 600 lumens of blinding light on its max setting and 200 lumens with nearly twice the runtime on low setting
• Precision reflector provides ample reach and surrounds light for close- to medium-range applications
• Switching — Ambidextrous momentary- and constant-on switches, output-mode-selector switch on the left side, system-disable switch on forend bottom
• Slender, lightweight, high-impact polymer forend is textured for secure grip
• Mil-Spec hard-anodized aluminum body; coated, tempted window; O-ring and gasket seals for weatherproofing
• Includes high-energy 123A batteries with a 10-year shelf life
• Fits Remington 870 12-gauge shotgun — no weapon modifications required\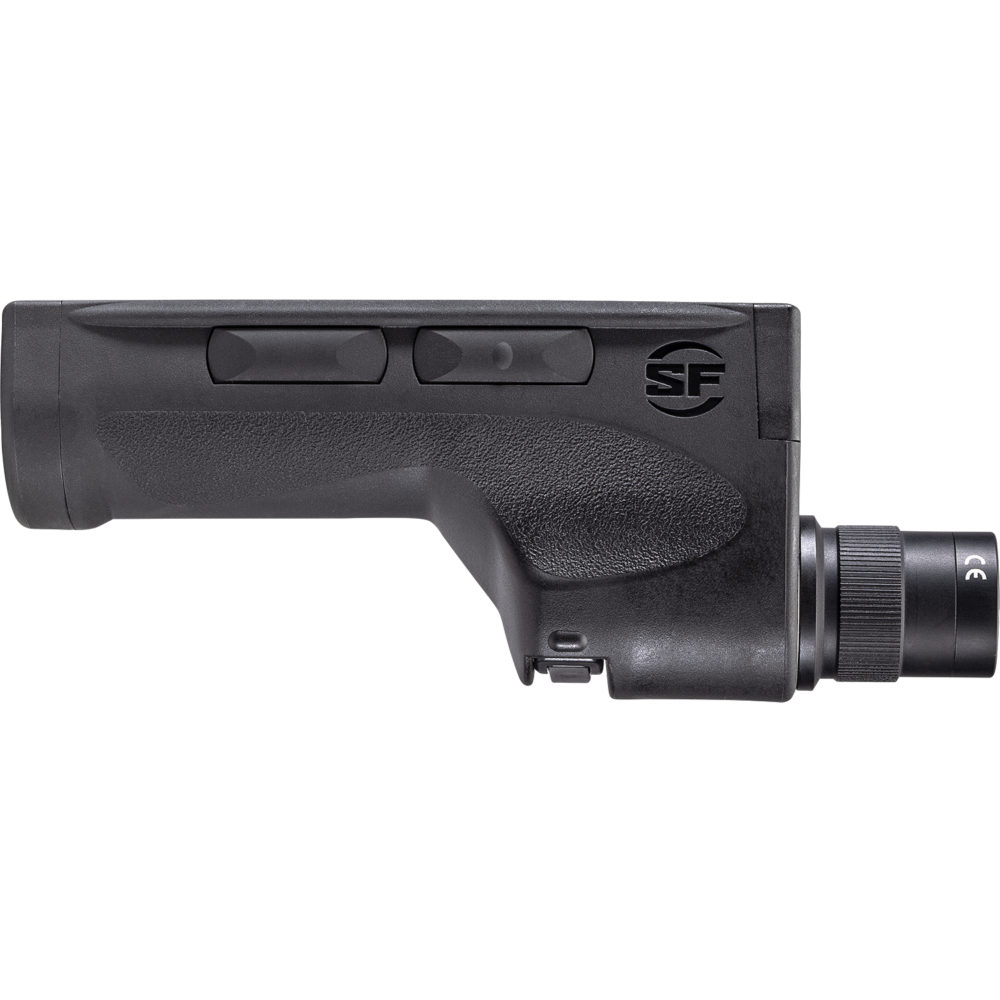 KEY ATTRIBUTES
• High Output: 600 lumens
• Peak Beam Intensity: 13,000 candela
• Batteries: Two 123A lithium (incl.)
• Switching: Momentary-on / constant-on pressure switches
• Length: 9.2 in (23.4 cm)
BODY
• Construction: Polymer / aluminum
• Finish: Mil-Spec Hard Anodized
• Weight (w/ Batteries): 17.8 oz (504.6 g)
• Bezel Diameter: 1.37 in (3.47 cm)
• Liquid Ingress Protection: IPX7

About the Author:
Travis Pike is a former Marine Machine Gunner, a lifelong firearms enthusiast, and now a regular guy who likes to shoot, write, and find ways to combine the two. He holds an NRA certification as a Basic Pistol Instructor. is the world's Okayest firearm instructor, and a simplicisist when it comes to talking about himself in the 3rd person. Hit him up on Instagram, @travis.l.pike, with story ideas.