Screwpop
http://www.screwpoptool.com
Having a small tool on your key chain that can be used on a the odd job like cutting some tape on a package, screwing in a loose screw or popping open a bottle can be useful. It can save you going to the garage to grab a tool or stopping yourself from improvising with the wrong tool. So it's no surprise that I have more than one key chain tool that I put in rotation. The newest tool comes with a hidden ability as an impact weapon.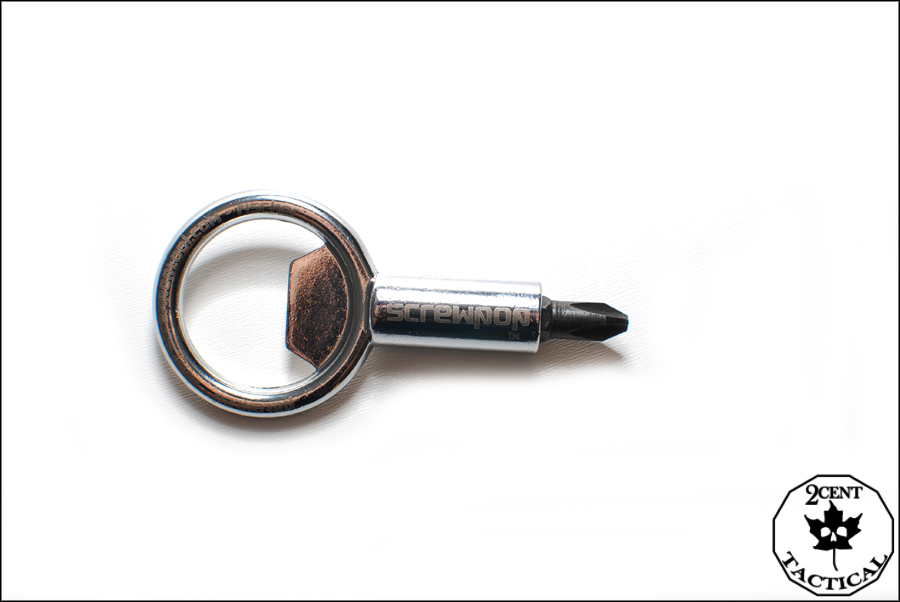 Pro's
-Small and comfortable in the pocket
-Inexpensive
-Doubles as a impact weapon

Con's
-The bit has built in retention not the driver section

Tools
-#2 Flat head
-#2 Philips
-Bottle opener
-Mini pry (flat head section of bit)
-Punch (Philips head section of bit)
-Impact weapon
-1/4″ Hex nut driver
Overview
The Screwpop is a key chain tool that is both inexpensive and quite useful. It makes a great just because gift or a stocking stuffer. The tool is fairly simple and consists of two parts. The first of the two parts is the driver which consists of a ring like handle and 1/4″ hex nut driver that can screw a bolt in or be used to hold the bit. The other part is the bit itself.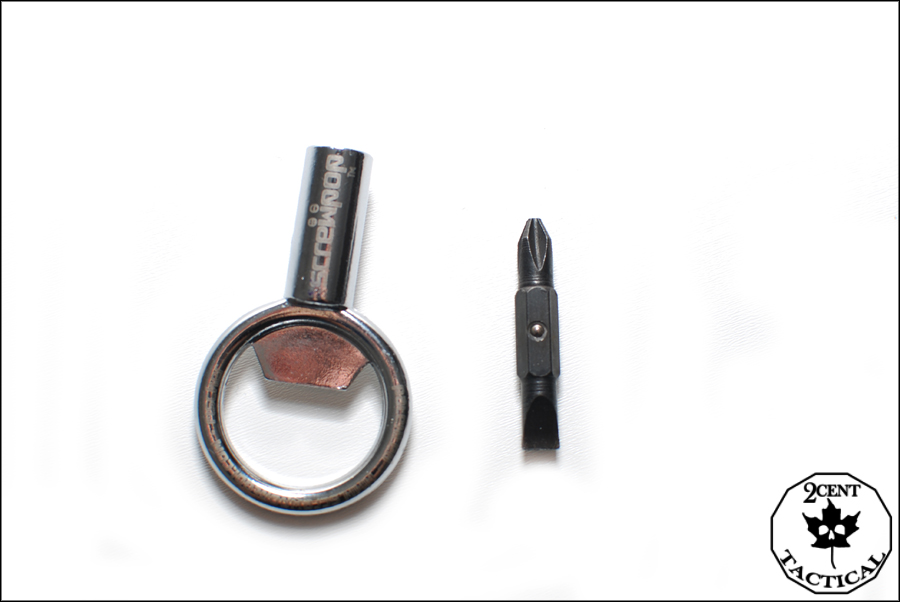 The bottle opener is just a flat section of metal inside the ring. You hook it under the bottle cap and lift up on the driver section of the handle popping off the cap. The bit does all the other tool like applications of the Screwpop. The bit acts as four of the tools when In the driver. You can use it as both a Philips and flat head screw driver, a punch and a pry bar. The flat head also works well if you need to cut tape to get in a box. The Philip's head works good at punching a hole in thin metal like on an oil can.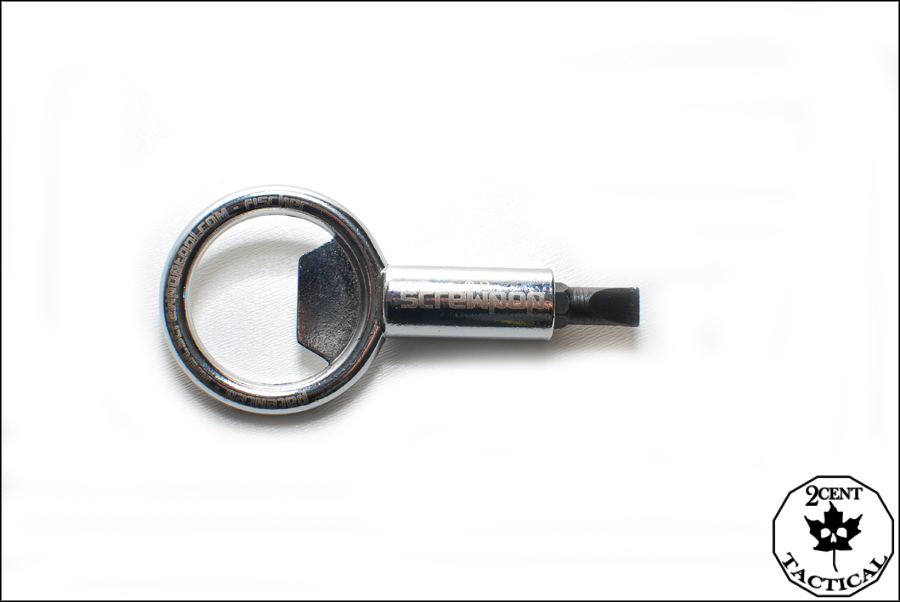 The last use for the Screwpop is one that isn't listed on the site. It would make a handy impact weapon in a pinch. If you hold the ring section of the Screwpop in your hand and protrude the Philips bit through your fingers you can punch with it to do enough damage to push off your attacker. You can also use it to apply force into pressure points to make them comply.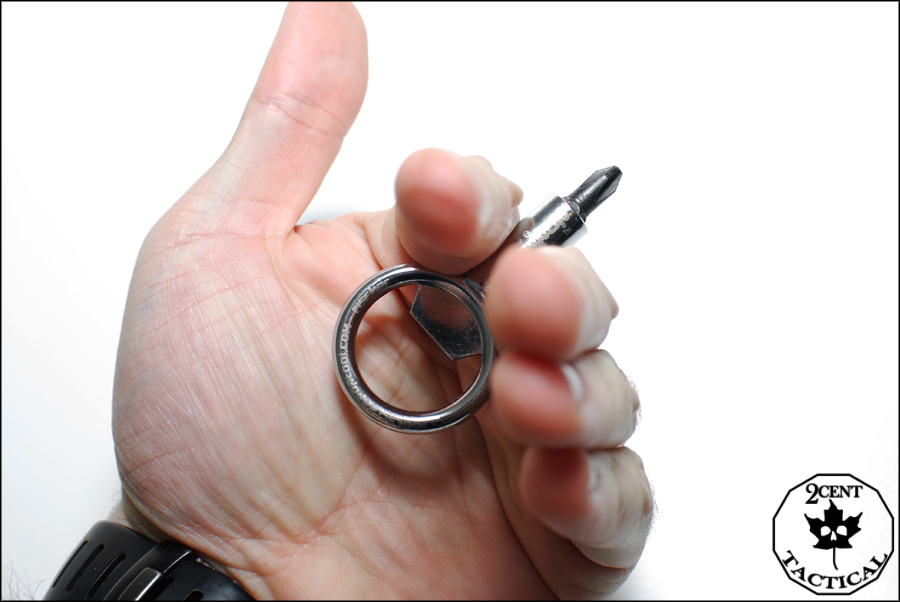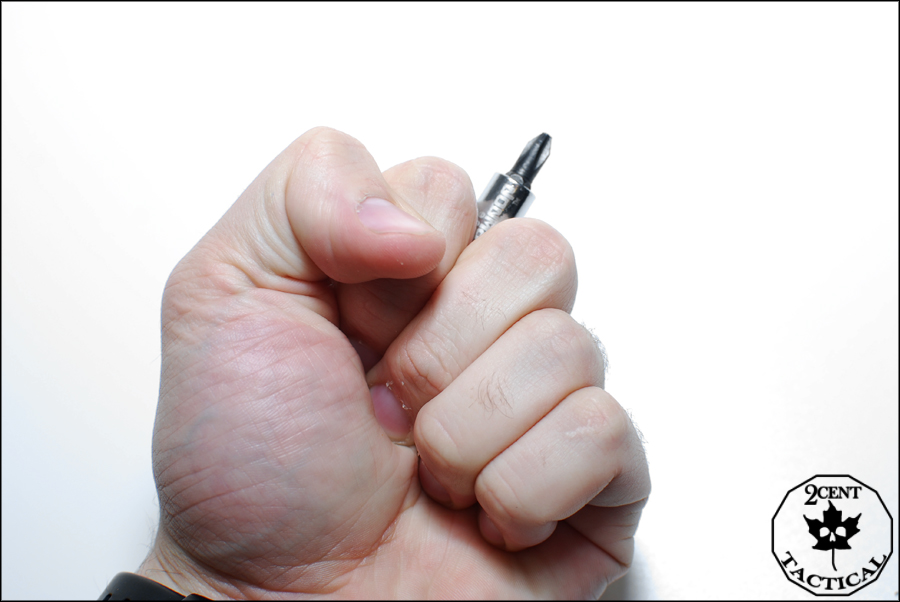 Conclusion
The Screwpop comes in at $6 USD which in the world of pocket tools is super cheap. I have used mine now when removing my PVS14 from the J-Arm, opening packages in the car and opening up a Corona for a friend. The fact that impact weapons are frowned upon in certain places makes the Screwpop ideal as people wouldn't pay it any attention like they would a kubaton. It now comes in both black and chrome finish.