Multitasker Series 2X
http://www.multitaskertools.com/

I first heard of the Multitasker multitool several years ago and got to handle one at SHOT Show that year. My first thought was that it was a solidly built tool by a new name in the game. The Multitasker has a slew of tools for those of you who run an AR/M4. I don't have an AR mainly due to the laws regarding their use in Canada however many of the tools on the Multitasker work with my VZ58 which is awesome.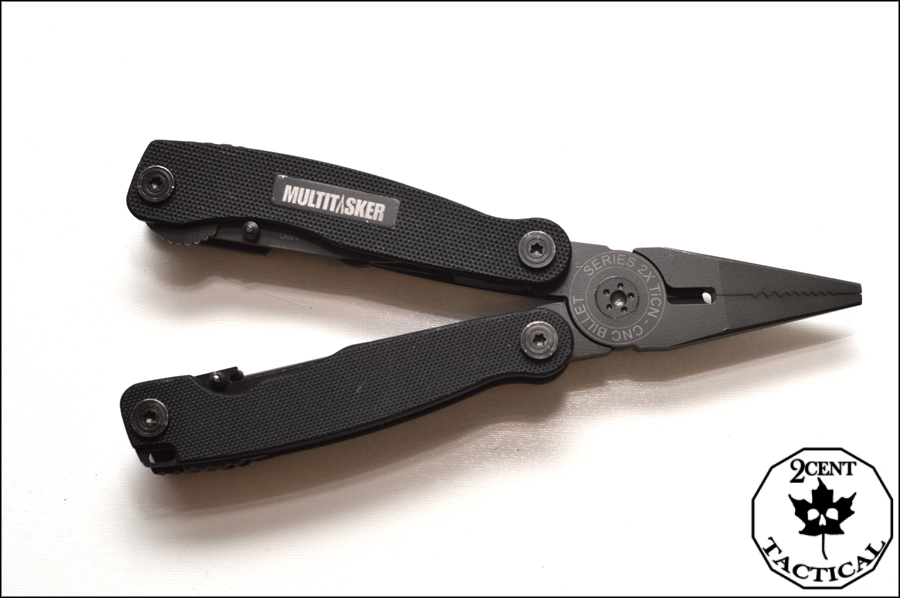 Pro's
-Aggressive teeth on the pliers allow for tons of purchase when pulling or twisting things
-Built very strong
-Tanto knife blade to help keep the tip from breaking when being abused
-Tons of tools to fix your rifle if it fails you
-Works with the Otis cleaning kit providing a much better handle
-Priced better then the Leatherman MUT
Con's
-The case is quite massive and not what most people want
-The grip n the pliers might be a bit too wide for some to comfortably apply a good amount of pressure
-Wire cutters are not replaceable
Tools
-Pliers
-Stock tube castle nut wrench for sliding stocks
-Wire cutters
-Magnetic bit driver with threaded end for future accessories
-Tanto knife blade
-3/8″ box end wrench for Larue mounts and M14 gas plugs
-File with 5/16″ bladed screwdriver at the end
-Front sight adjustment tool for AR/M4
-Pin punch that will work on Glocks and AR's
-Threaded mount for Otis cleaning kits
-Carbon scraper that can double as a bolt over ride tool
-Lanyard mount
-1/4″ drive bits ( Allen bits 3/32″, 7/64″, 1/8″, 9/64″, 3/16″ Torx bits T10, T15, #1 Philips, and two bladed screw drivers)
Overview
Unlike the Leatherman MUT we reviewed earlier the Multitasker Series 2X wouldn't be my choice to carry with me as a EDC multitool. This changes if you are carrying a rifle. If I was carrying a AR or my VZ58 the 2X then goes to the top of my list as to what multitool I want on me. More often than not a multitool is a massive compromise in order to shoe horn a ton of tools into it that most people don't end up using. The crew at Multitasker looked at what sort of tools you would need the most in the field if your rifle is acting up and picked the best of them. You have the ability to take apart the major problem area of your rifle or tighten them if need be on the go. It's a Multitool designed by someone who owns and uses guns regularly instead of by some people who may have used a gun here and there. Much like everything in life nothing is perfect however this is as close as you can get in a rifle tool.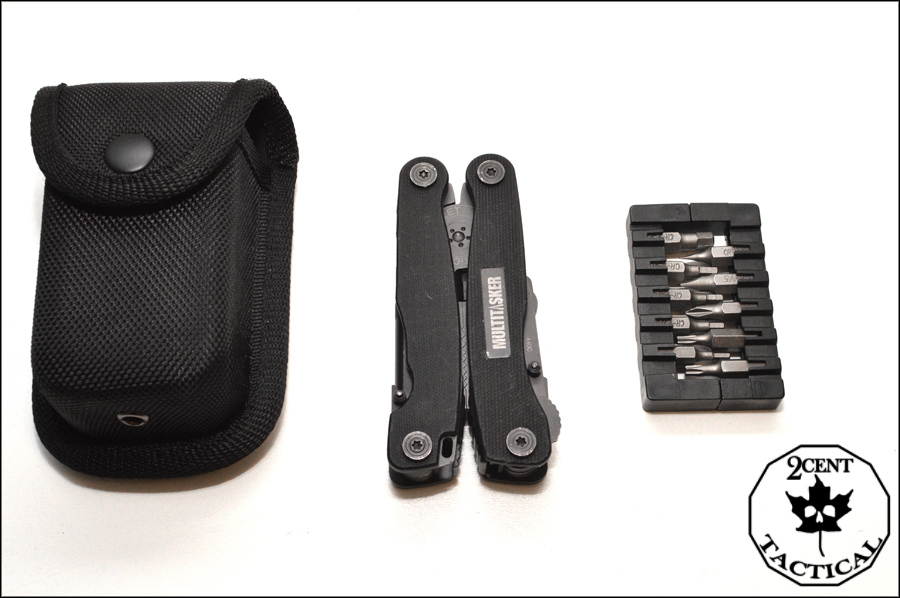 The big issue a lot of people have with the Multitasker is the pouch that it comes with. It reminds me more of pouches I received with Gerber's and other lower end multitools. Its big black and takes up a lot of real-estate. It would not be my first choice when it comes to a pouch to attach to my war belt and looks more like something you would see your Dad have on one side of his belt with his oversized Nokia brick phone in its belt pouch on the other side. Never fear several companies now make a pouch that will fit this tool or the MUT. The big solution I seem to come across on the internet is people using a HSGI pistol TACO pouch. It apparently holds it quite firmly. I currently use my Leatherman MUT pouch as it was already on my belt and fits with the Leatherman bit kit. However I will now go over the pouch that comes with the tool. The pouch is a large black nylon pouch with a flap and single snap closure. At the base of the pouch is a single drainage grommet. The rear of the pouch has the ability to attach to PALS webbing or a belt.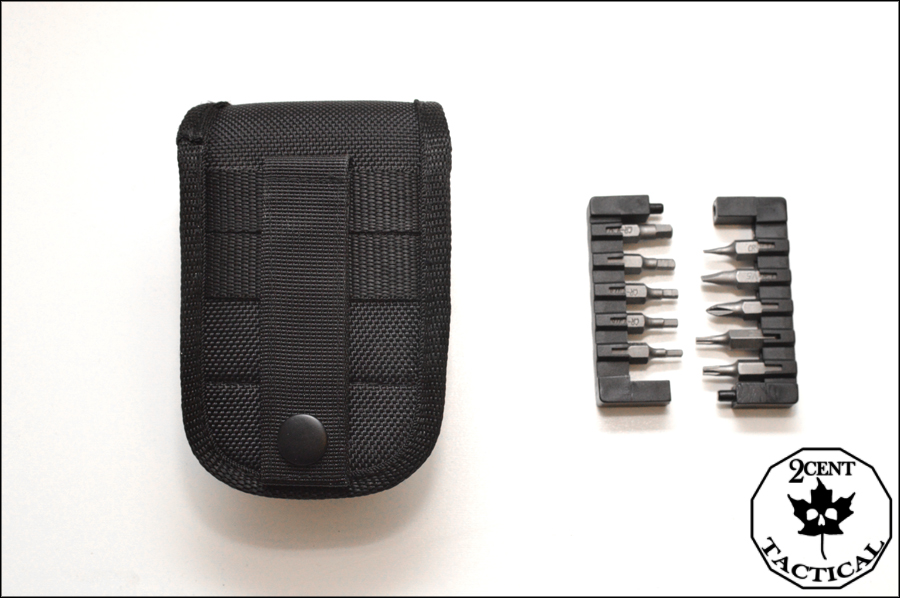 The inside of the pouch is a big opening with an elastic band at the back to hold the Multitasker bit kit. The bit kit that comes with the multitool is a plastic carrier that breaks into two halves. Each half holds 5 1/4″ hex bits.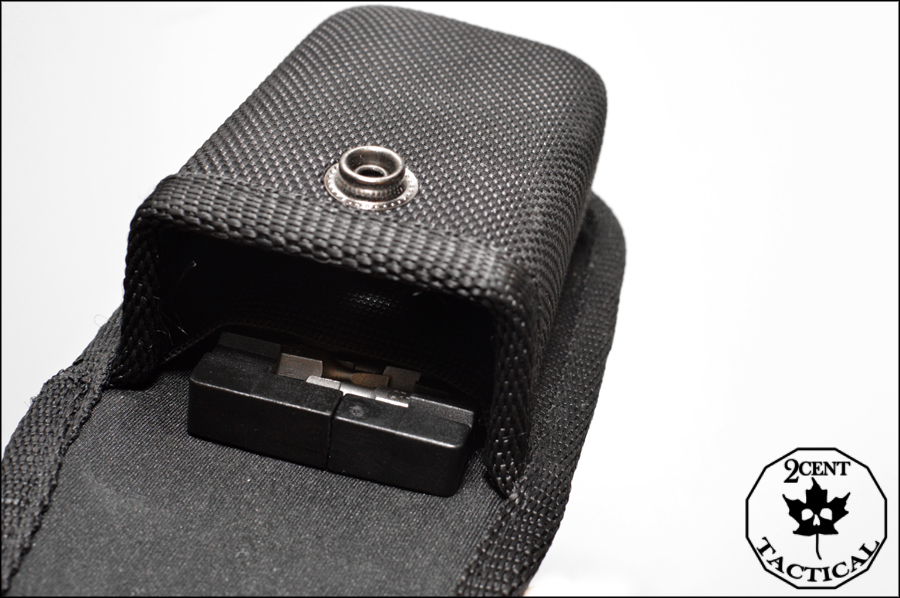 The pliers of the 2X are made of CNC machined billet tool steel. Having the pliers being machined out of a single billet instead of cast allows for greater strength. I am sure any person in the military who has spent some time in the field has seen a Gerber with half of the pliers missing. This change should help to stop that from happening however abuse can still cause the same thing to happen. The teeth on the 2X are really aggressive and if you grab hold of something and pull or twist it won't slip as long as you actually have a grip on the pliers. The tip is less aggressive so you don't destroy what your pulling at but the rear are nice deep V's.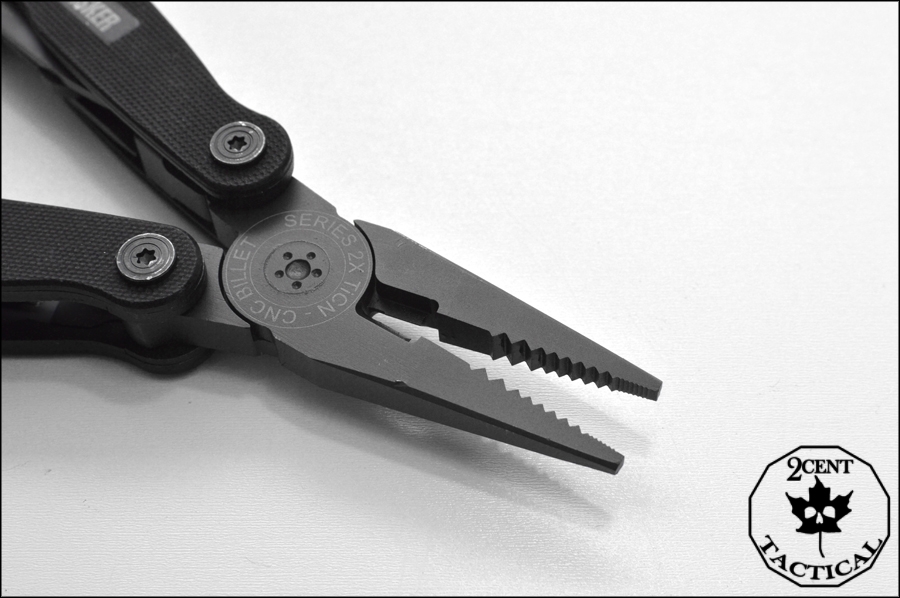 The wire cutters work well however they cannot be replaced. So when someone starts trying to cut things they shouldn't you will get notching in the cutters. That means don't be a moron and try and cut through fences and things all the time with them. Cut comms wire and other small things. The pivot point on the two heads of the pliers has a bearing system in them allowing for smooth operation. The handles of the pliers open and engage with a friction lock. It does a really good job at keeping the arms folded out and requires firm pressure to disengage.
The knife on the 2X is a tanto blade that is sharpened to the tip. For those who don't know tanto blades allow for a bit more meat at the tip to help protect it from snapping when being misused. My only real issue with the blade was with the 440c steel. It sharpens easy however it won't hold its edge very well. I would have preferred a better steel like CPM 30SV. The blade has a single thumb stud to open and like the rest of the tools in the 2X is opened with the handles folded over the pliers in the closed position. The knife is also the only tool that locks in the open position to protect your fingers. The knife locks open with a liner lock that is large and easy to operate with gloves on. When gripping the pliers do it just under the lock so you don't inadvertently unlock it and have the knife close on your knuckles.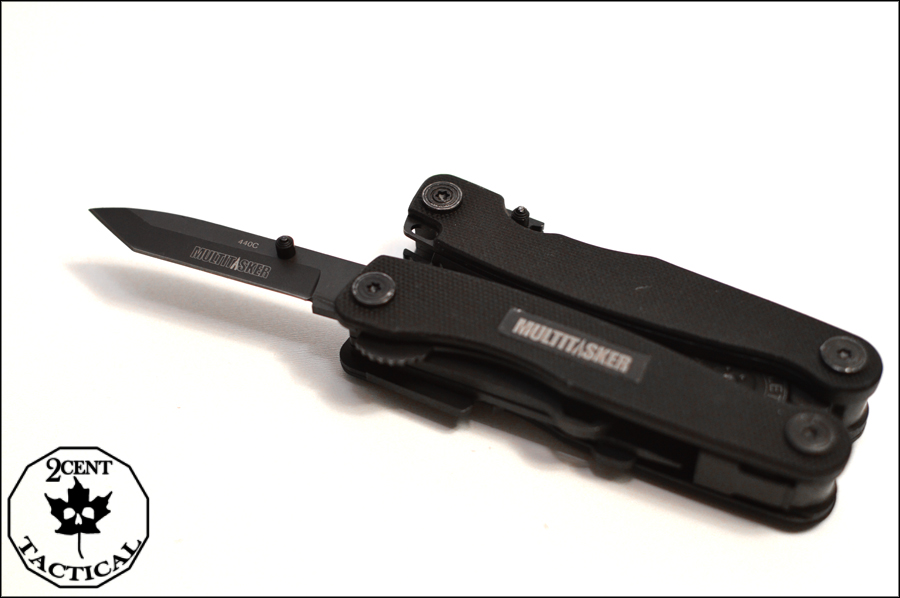 The next tool after the knife is the 3/8″ box end wrench for Larue mounts. It's hard to argue that the Larue mounts are one of the best mounts around. The friction lock that they use works well and this wrench allows you to tighten it up to your desired tightness. It also apparently works on a M14 gas plug however I don't have one here to test that on.
After the wrench is a single cut file one side and a double cut file on the other. This allows you to choose how much material is removed when filing. Other than that it's a file and you shouldn't have to use it much but it's nice to have. The tip of the file is a large bladed screwdriver which will work on certain optics for adjustment.
The last tool on this handle is an AR stock tube castle nut wrench. I actually used this on my rifle recently because the castle nut is not staked. I loosened it off and applied some blue Loctite to it using this tool.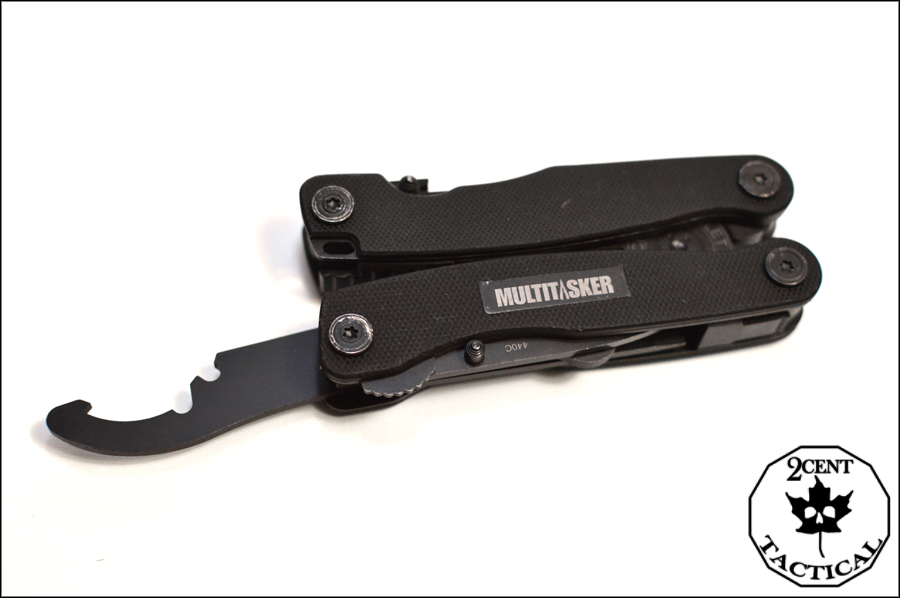 Using the folded pliers as a handle was quite comfortable and allowed me to put a good amount of pressure on the nut tightening it up. You don't quite get the leverage you do out of the much larger stand alone wrenches but as I said compromises need to happen.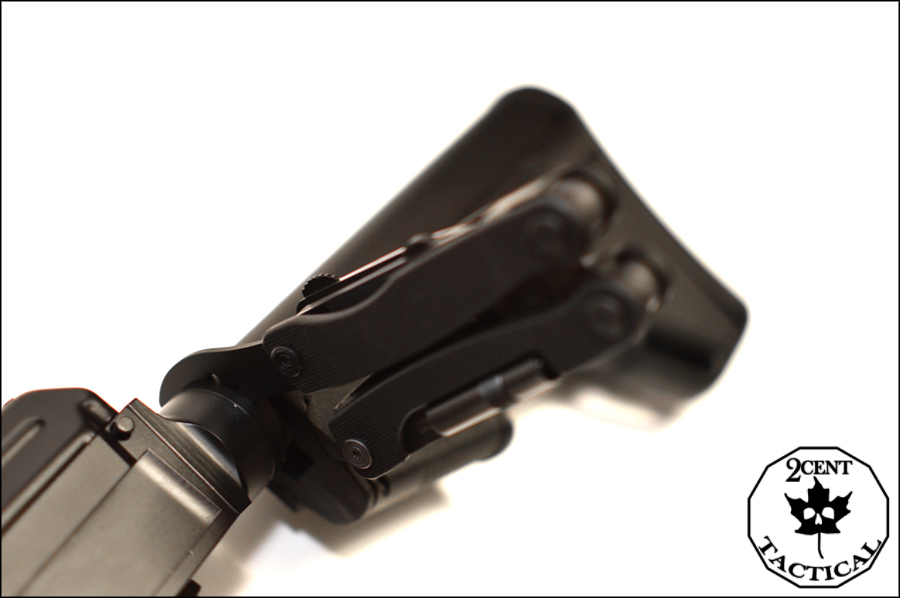 The other handle has the three remaining tools. The first of those tools is the magnetic bit driver. It has a 1/4″ hex driver with a magnet at the base to hold the bit in. This works well with the included bits and front sight adjustment tool. I also used this with my Leatherman bit kit effectively. If you are using normal double ended hex bits some of them may have too long of a bit stopping them from seating deep enough to engage the hex slot of the driver. This means before you toss a bunch of bits in your range bag make sure they work with the driver. The top of the bit driver is threaded which is apparently for items that will be released later.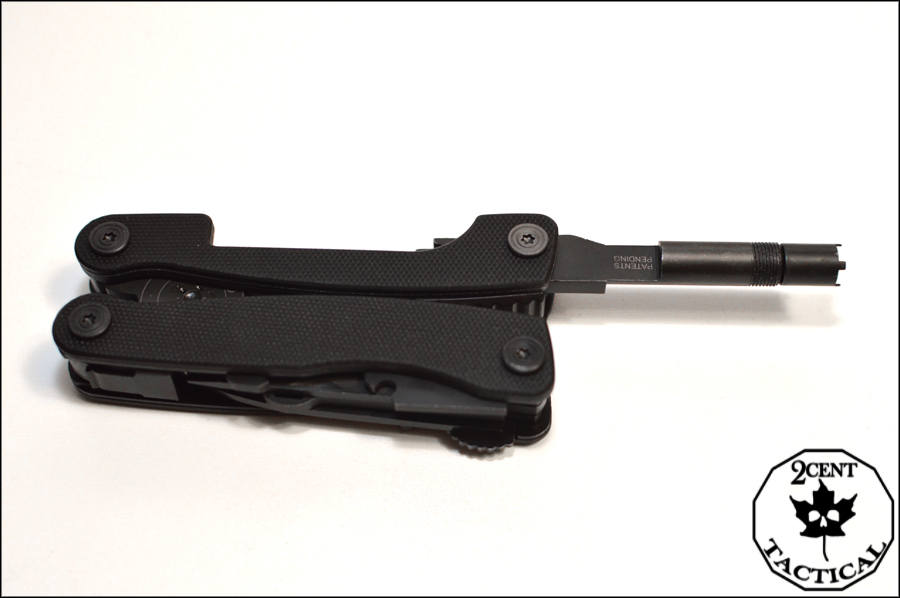 I find the screwdriver works best when out perpendicular to the handle. You then put your pointer finger above the screwdriver and the remainder of your fingers butted up against the screwdriver on the handle to stabilize this. This is because it does not have a locking function. I found using the method I described comfortable and allows me to add a bit of extra torque on stuck screws. The front sight adjustment tool is a stroke of genius. It's a front sight tool that has a hex bit rear so you can use it in the driver or in one of your choosing. Unlike the new one for the MUT that looks like a golf divot tool or cocktail fork this one was designed right. I don't own a rifle with an AR front sight so I had to drive down to a friend's house and test this out. It worked as described and he is currently borrowing it so he can get his front post adjusted properly at the range. In my time in the artillery I only saw one front sight adjustment tool in the rifle lockup and that was when I was doing a verification of all items held. I found it tucked behind some crushed aluminum magazines.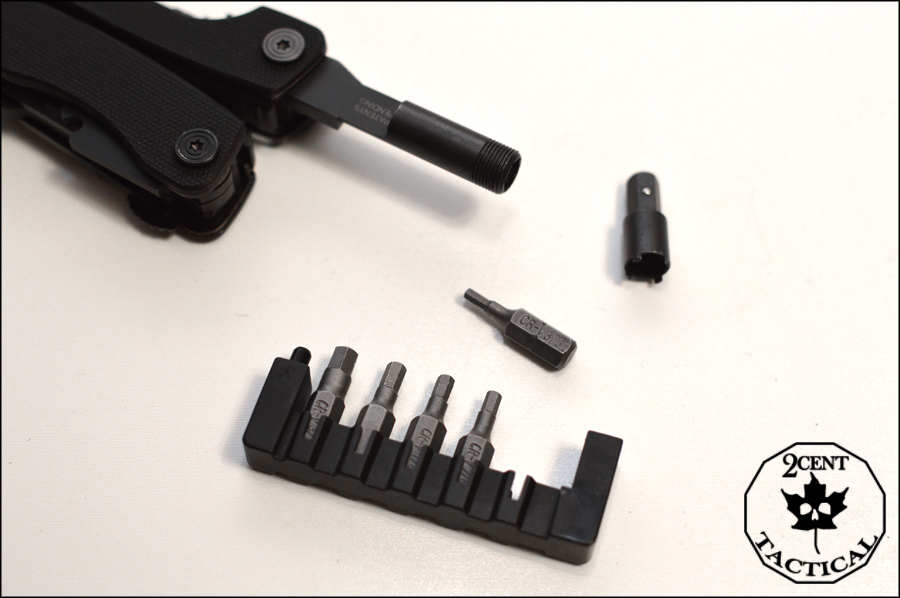 The second to last tool is the pin punch and threaded Otis Cleaning kit adapter. The pin punch unlike the one on the Leatherman MUT is sized so it works with both your AR and is small enough to work on the Glock. It's a pin punch and it punches pins not much else can be said about that.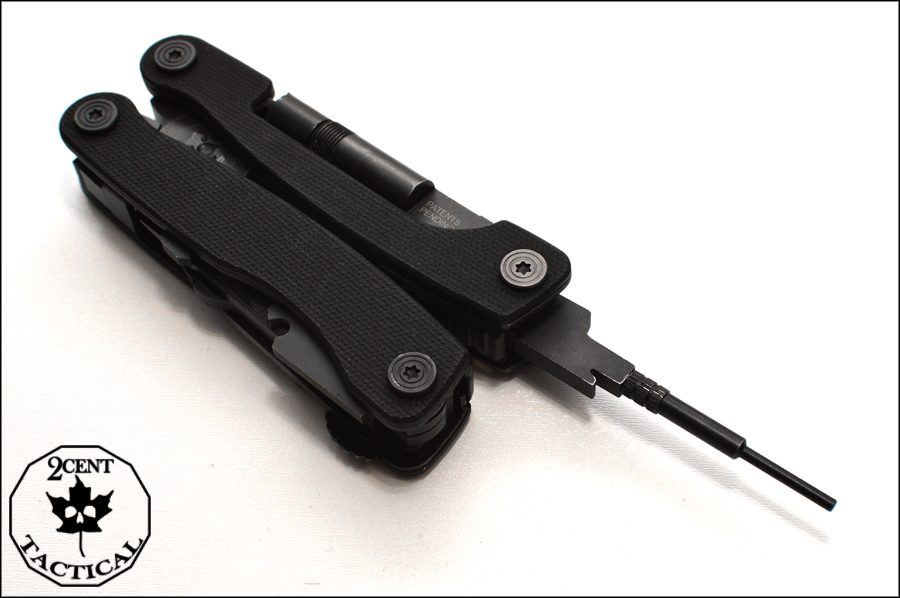 The pin punch unscrews allowing you to attach your cleaning rod from your Otis kit to it. A lot of people have broken the little brass T that you can use as a handle with the Otis kit and the2X makes for a comfortable handle when pulling a tight swab through.
The last of the tools is the carbon scraper. This is one tool that I wish I had those many long days of trying to wedge my fat fingers into the breach of an AR to clean out all the carbon that gets in there. If for whatever reason you need to override your bolt this would work for that. As I said in my review of the MUT I have yet to run into a failure like this where it couldn't be fixed by mortaring the rifle however if you need it can work for that.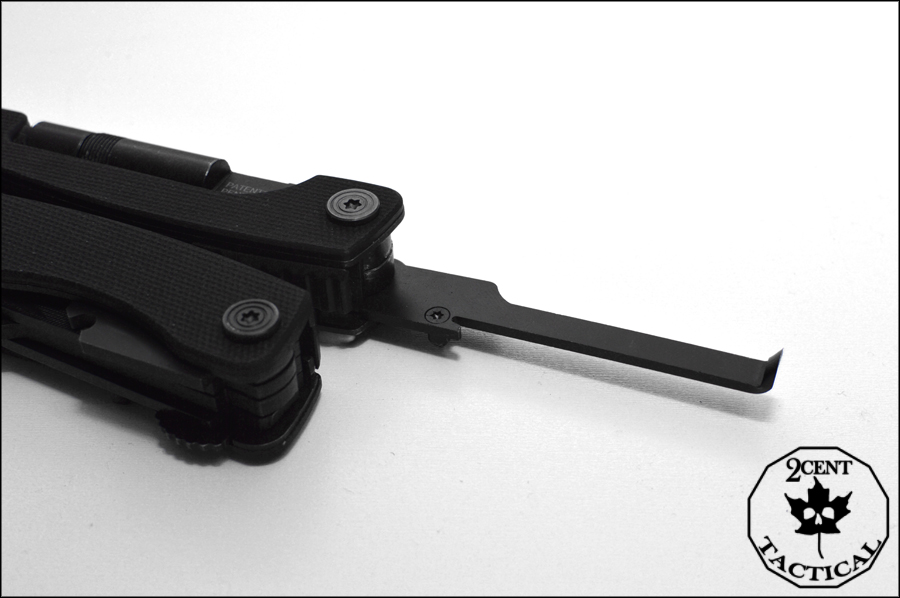 The handles of the 2X have G10 scales on them that allow for a good grip in both wet or gloved hands. The section just behind where the tools fold out has a plastic plate with ridges on it to aid in grip. If you have small hands you may find that the angle the handles sit at when open might be a bit uncomfortable to grip. I didn't notice this but a friend did when playing around with it. The scales and tools are held in by large headed Torx screws. Each of the tools in the handles are separated by AL-Bronze washers allowing for smooth opening.
Conclusion
Whether at the range or in your gun room the Multitasker Series 2X has a place when it comes to working on your rifle. If you outfitted your rifle with a AR stock tube, use Larue mounts or have a need to punch pins out it has your back. With a redesign of the case and possibly adding a locking feature to the bit driver the 2X will most certainly be heading closer to perfection. I know I am happy to have mine and it has since replaced my MUT on my HSGI Suregrip padded belt. The MUT and 2X are priced around the same price so read the two reviews and make an informed decision on which one to pick up. The crew at Multitasker really does need to get a full website up with product information on all their gear. If you're looking for information on them check retailers or their Facebook page. They also just recently released a tan handled version of the 2X which looks really slick.